Furniture is one of those things that most people need to have in their homes. It is essential for some people to have very nice furniture in their homes.
People want to have nice things in their homes, including furniture, as it will improve their surroundings and boost their mental health and mood. Nice furniture will help show others that you have good taste and care about your home. It can feel good to have nice furniture in your home.
Here are seven of our top reasons people want nice furniture in their homes:
Furniture Can Help Improve Your Surroundings
Furniture can help you to improve your surroundings. Your furniture can help you feel calm, serene, and feel comfortable.
The style and color that you may choose for your furniture can help to improve or hinder your comfortableness and surroundings. As Kelly Wearstler, the American designer said:
Furniture Can Help With Mental Health
Our everyday surroundings can have an impact on how we feel. Research has shown that rooms with bright lights, both natural and artificial, can help improve depression and anxiety.
The furniture that you choose can also impact your mental health and wellbeing. If you walk into a room and love the pieces of furniture and how they are arranged, there can be something very mentally powerful about that.
The Canadian Actor Drew Scott eloquently said how furniture can make us feel happy.
Your Furniture Shows You Have Good Taste
Many people like to have nice furniture in their homes as they have a lot of people in their homes the furniture shows others that they have good taste.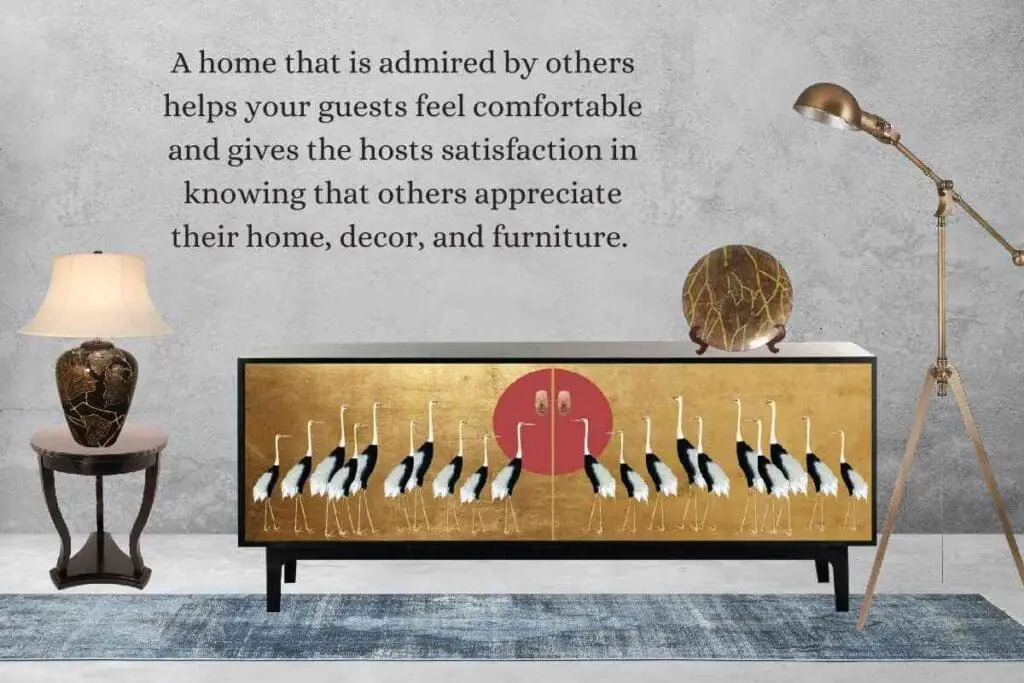 A home that is admired by others helps your guests feel comfortable and gives the hosts satisfaction in knowing that others appreciate their home, decor, and furniture.
In speaking of what he considers good taste for a modern loft design, Nate Berkus said:
Nice Furniture Makes You Feel Good
For some people, it is not about having nice furniture for others to see or even for their mental help, but to them, it just feels good to have nice furniture and pleasant surroundings.
Many people consider their homes to be a kind of sanctuary from the world's cares; having nice furniture is about them feeling good about their home and having their home feel like their own personal sanctuary.
In this quote, the American Architect explained what helped him to make his home comfortable and what made him feel good about his home:
I love this quote because Frank Gehry tells us what feels good for him; what feels good for Frank Gehry may not be what is comfortable for us.
Comfort and what we put in our homes and what we consider nice furniture are individual choices.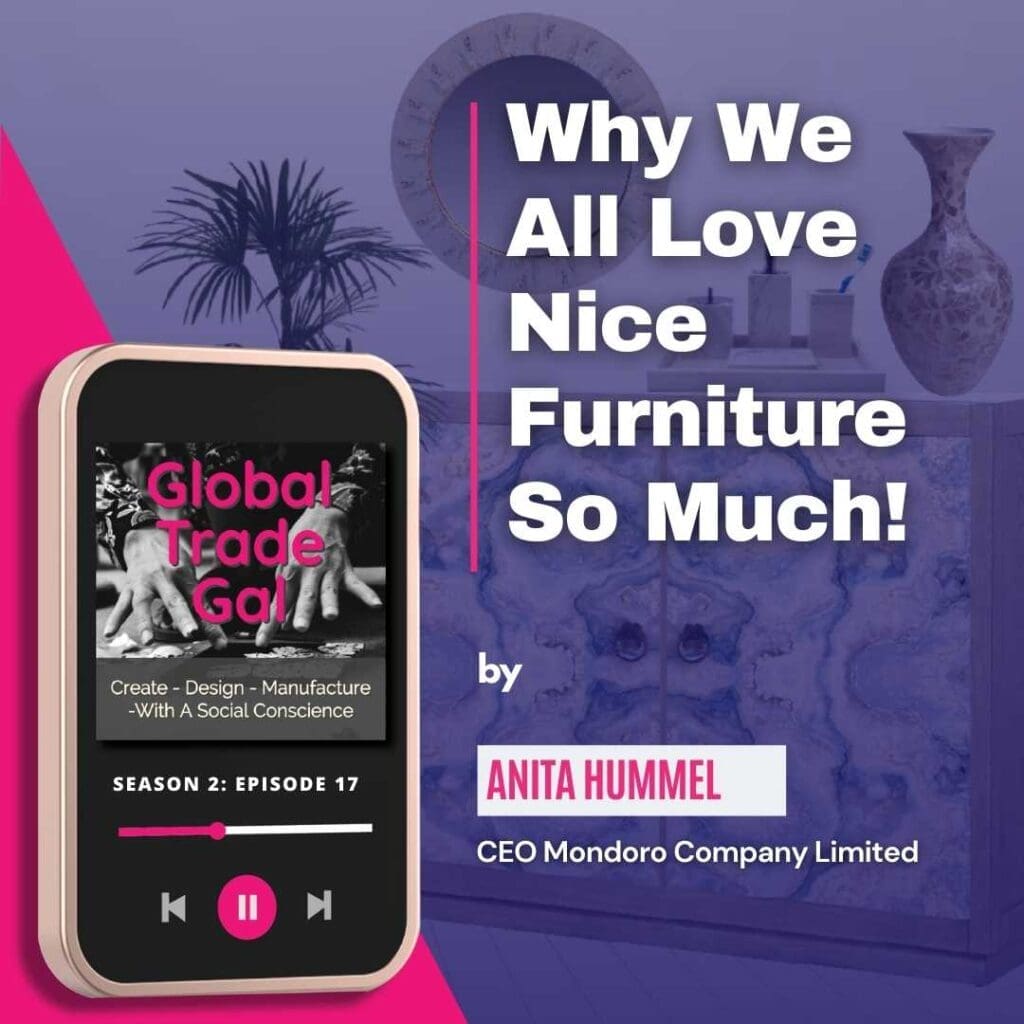 There Is No Home Without Furniture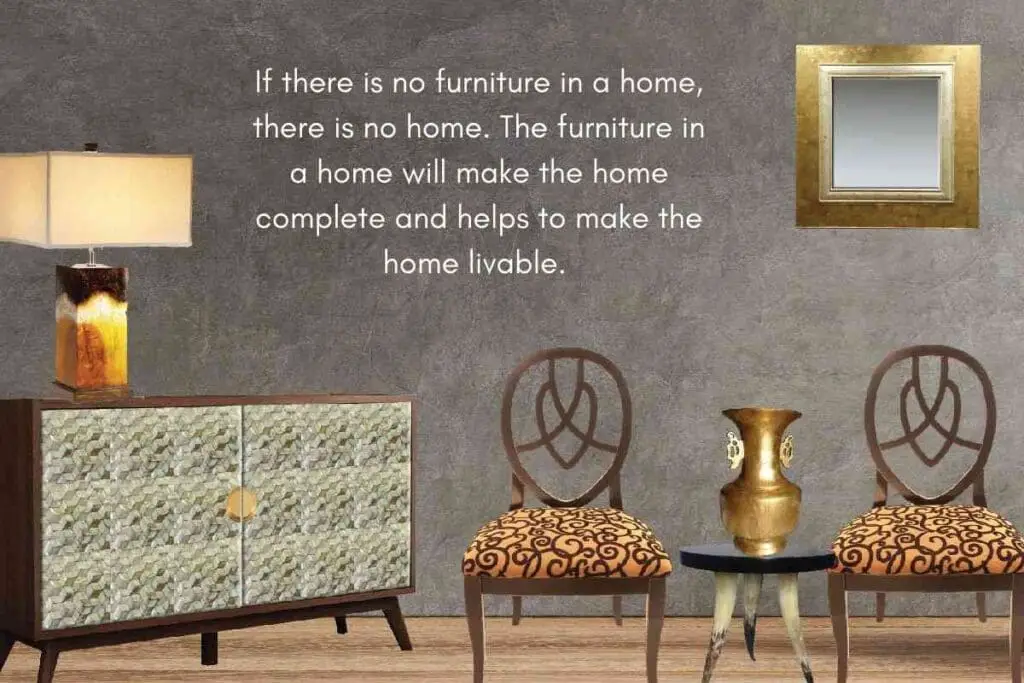 There is no home without some furniture in it. If there is no furniture in the space, it is just a space.
If there is no furniture in a home, there is no home. The furniture in a home will make the home complete and helps to make the home livable.
The British writer Arthur Conan Doyle said this about choosing furniture:
Furniture Helps Define The Look
The furniture in your home helps you define your home's look. Selecting the right furniture helps to define your home and your look.
Having some lovely pieces of furniture helps to define your look and style.
One of the things I love to do is when I go into someone's house, you can tell a lot about their style by their furniture and other knick-knacks they may have around. Nice furniture helps to define your look and style.
We each need to find our style and then enjoy it. Not let others try to define it, but find out what kind of furniture we like and enjoy in our homes and surroundings.
Benjamin Franklin said it best when he said:
Nice Furniture Brings You Comfort
Having nice furniture and, in particular, a nice comfortable bed can help you get a good night's sleep. Studies have shown that a good night's sleep can help to improve your well-being, including your memory.
As Natalie Morales, the American Journalist eloquently said about furniture:
All of these reasons are why a person may want to have nice furniture in their home, apartment, or even office. There can have many different reasons, but one of the most common is feeling good and being comfortable.
If you are interested in seeing how Mondoro can be a valuable partner for your home decor and home furnishing products – we would love to talk to you to see how we can help you.
Find out more about how Mondoro can help you create, develop, and manufacture excellent home decor and home furniture products – don't hesitate to contact me, Anita. Check out my email by clicking here or become a part of our community and join our newsletter by clicking here.
Mondoro gives out a FREE Lookbook to anyone interested. You can receive a copy of our latest Lookbook by clicking here.
Listen to our Podcast called Global Trade Gal. You can find it on all major podcast platforms. Try out to listen to one of our podcasts by clicking here. 
Subscribe to our Mondoro Company Limited YouTube Channel filled with great videos and information by clicking here.
Related Content
Can I Copyright My Furniture Design?
To copyright, your furniture designs a product must be in tangible form. A tangible design has copyright protection but if you want to bring a case to court you must have a registered copyrighted design. The 2010 case of Universal Furniture Vs. Collezione Europa USA gives us a legal precedent.
You can discover more by reading Can I Copyright My Furniture Design? by clicking here.
How Can I Protect My Furniture Designs From Being Copied?
Many designers and furniture companies ask how they can protect their furniture and other designs from being copied. This is a worry of designers and creators everywhere.
You can protect your furniture designs by making sure those you show them have a contract to view them and not copy them; also, make sure the designs are all dated and documented to show they are your original designs.
You can discover more by reading How Can I Protect My Furniture Designs From Being Copied? by clicking here.
Rattan Furniture And Asia and Southeast Asian Colonization
When colonizers came to the new countries, they found materials that they were not used to working with, such as rattan, palm, and bamboo. They used this to create something that can bring comfort to our home, such as chairs to sit on, and they had to start creating an event for furniture that would use local resources and materials.
To learn more about loading a dry shipping container, you can read our blog on Rattan Furniture And Asia and Southeast Asian Colonization by clicking here.