Zen is a word that conjures up in our minds a place that is peaceful, tranquil and even laid-back. During this difficult time, when many people around the world need to stay at home, our homes have become a place of refuge or our own personal place of Zen.
Zen is a form of Buddhism that was originally from Japan. It has now become a way of life. Zen is about striving to live life in a very peaceful and tranquil manner. That is why in the Zen color palette, the colors are neutral but also have a warming effect. The Zen home decor and home furnishing trend is a versatile trend that can be used in many homes and places.
Table of Contents
The Zen home decor and home furniture trend is a trend that is built upon the colorways of the past Nordic Life trend, but the Zen trend also takes on a new meaning and focus.
The Meaning of Zen
Zen is a form of Buddhism that is originally from Japan. Its main emphasis is on mediation. The Zen emphasis is on rigorous self-restraint, meditation practice, personal insight, and looking into the nature of the mind and the nature of things around you.
The word Zen now emphasizes so much more than just meditation. The practice of zen has become a way of feeling or looking at life.
Urban Dictionary And The Word Zen
The Urban Dictionary used these words and phrases to describe zen:
Complete and Absolute Peace
State of Coolness
Laid-back attitude
Inner peace
Meditation between mind and body
The togetherness of body and mind
Zen is a way of being
As we look at all of these words, we realize that Zen is more than just mediation; but it has become a way of life and living. Here are some attributes we can take away from having Zen in our own lives:
Take the time to slow down, meditate, and just enjoy life.
Live and enjoy the moment.
Don't rush to live life, as it can be over before you know it.
Happiness is always close by.
Focus on the process by building healthy habits.
Live each day to the very fullest.
The Zen Trend In Our Homes
Zen as a way of life, is striving to live life in a calm state of mind. Having Zen in our homes and our decor is about having a laid-back yet calming home.
The Zen trend has evolved from our 2019 Nordic Life Trend. But this trend builds upon the laid-back yet calming lifestyle that so many now want.
With the recent events where many are being forced to stay at home through social distancing, we believe that the focus on our homes will forever change. Now, more people want their homes to be a place that feels not only safe but also inviting and a place to rest and regenerate from all that is happening in the world around them. In short, they want their home to give them some of that much-needed Zen in their lives.
The Zen Color Palette
In the Zen color palette, the colors are neutral but have a warming effect. The colors are meant to evoke the meaning of calm yet warmth and protection and uplift us from the outside world and worldly cares.
Here is our Zen Color Palette: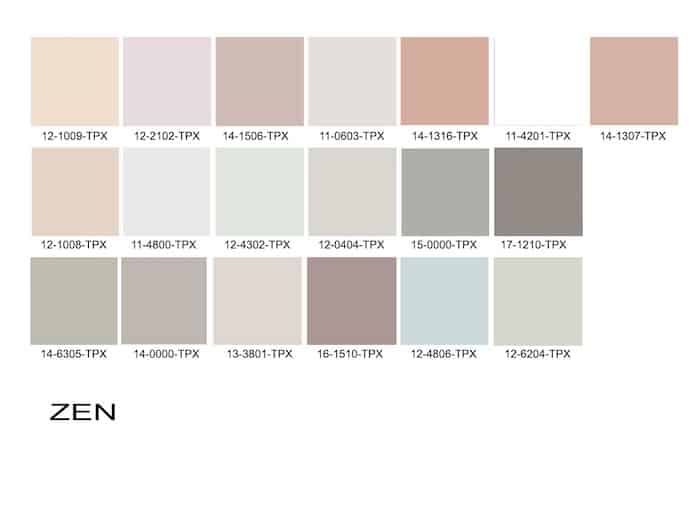 The Pantone colors are all from the Pantone Home & Fashion (TPX) book.
As you can see from this color palette, all the colors evoke a sense of calmness. When we look at these colors, they are meant to bring us a sense of peace and tranquility.
Where To Use the Zen Trend
One of the great things about the Zen Trend is that it can be used in almost any home and in any setting. It is a trend that you can put in one room of your home while having a room next door with bolder or brighter colors. It is also a trend that can work in the city or the countryside.
I had a friend recently refinish her home, and though she usually liked bolder colors, her husband wanted a home that had softer or more Zen colors. He wanted to have a place to come home to and feel that peaceful, calm, and serenity. In short, he was looking for his home to be a place of refuge or Zen.
In speaking of the Trends for 2020, Mitchell Parker, editor for Palo Alto-based renovation website Houzz, said this to the Los Angeles Times:
When To Choose the Zen Trend
The Zen trend is for you if you tend to like things as:
You want a simple yet understated style that incorporates unfussy pieces.
Your walls do not need to be stark white but will be a soft color. You are not afraid to use a soft blue or soft pink on your walls.
Your accents for your home can come in through other things around the house as your pillows, wall art, or accent furniture.
You want a home that feels relaxed yet comfortable. You do not want to go the complete minimalism route, but you want a place that is comfortable and feels lived in.
You have an appreciation for the artisan style. Things that are handmade or even reused or upcycled.
Textures and quality are essential to you. Natural woven shades on a simple lamp base. A side cabinet that is made out of recycled wood or artisan art on your walls.
You want a home that gives you a calm yet comfortable space. A place you can truly unwind and relax.
Some of the wood as our recycled pine wood goes well in this collection. You can read our blog on Recycled Pine Furniture, What You Need to Know by clicking here.
We believe that some form of the Zen trend is here to stay. As people continue to see their home as a safe refuge from the world, they will also want a home that they see as safe, tranquil, and peaceful. Because our home will literally and figuratively become our own bit of heaven – our Zen.
Find out more about how Mondoro can help you create, develop, and manufacture excellent home decor and furniture products – don't hesitate to contact me, Anita. Check out my email by clicking here or become a part of our community and join our newsletter by clicking here.
Mondoro gives out a FREE Lookbook to anyone interested. You can receive a copy of our latest Lookbook by clicking here.
Listen to our Podcast called Global Trade Gal. You can find it on all major podcast platforms. Try out listening to one of our podcasts by clicking here. 
Subscribe to our Mondoro Company Limited YouTube Channel with great videos and information by clicking here.
Related Questions
What Is the Bleu Color Trend for Home Decor and Home Furniture?
Pantone's Color of the Year for 2020 is Classic Blue (Pantone 19-4052). Many of the paint companies that have set color trends also set a color blue as their color of the year. The characteristics and psychology of the blue color is a color that is calm, serene and tranquil. The blue color trend for home decor and home furniture is a trend that will continue through the years and beyond.
You can find out more about the Bleu Color Trend by reading our blog The Color Blue Trends For Home Furniture and Home Decor by clicking here.
What is the Tre or the Natural Home Decor and Home Furniture Trend?
Tre means bamboo. But it also helps to symbolize the strength and ability to be resilient. The Tre trend is about having nature be a part of your life and home. The Tre natural color palette has a lot of lush green tones. The Tre trend can be used together with other home decor and home furniture trends.
You can read more about the Tre Natural Color Trend by reading our blog The Tre Natural Color Trend for Home Decor and Home Furniture, by clicking here.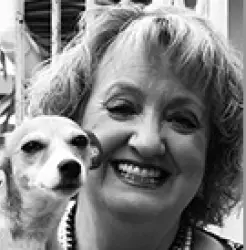 Latest posts by Anita Hummel
(see all)