Many people may not realize that several types of seagrass basket weaving in Vietnam are used for production. Not all seagrass materials are precisely the same.
Five basic seagrass weaving materials or styles are used to weave all seagrass baskets and other Home Decor products. All of these use seagrass material, but their material can give the seagrass product a unique look and feel. 
Table of Contents
One of the great things about seagrass is how versatile the material can be and how many ways it can make home decor baskets or other products.
Even though these are the five major materials used to weave home decor baskets and other products, seagrass is constantly being created to make unique looks and finishes.
Here are the 5 Basic Types of Seagrass Materials Used to Produce Seagrass Products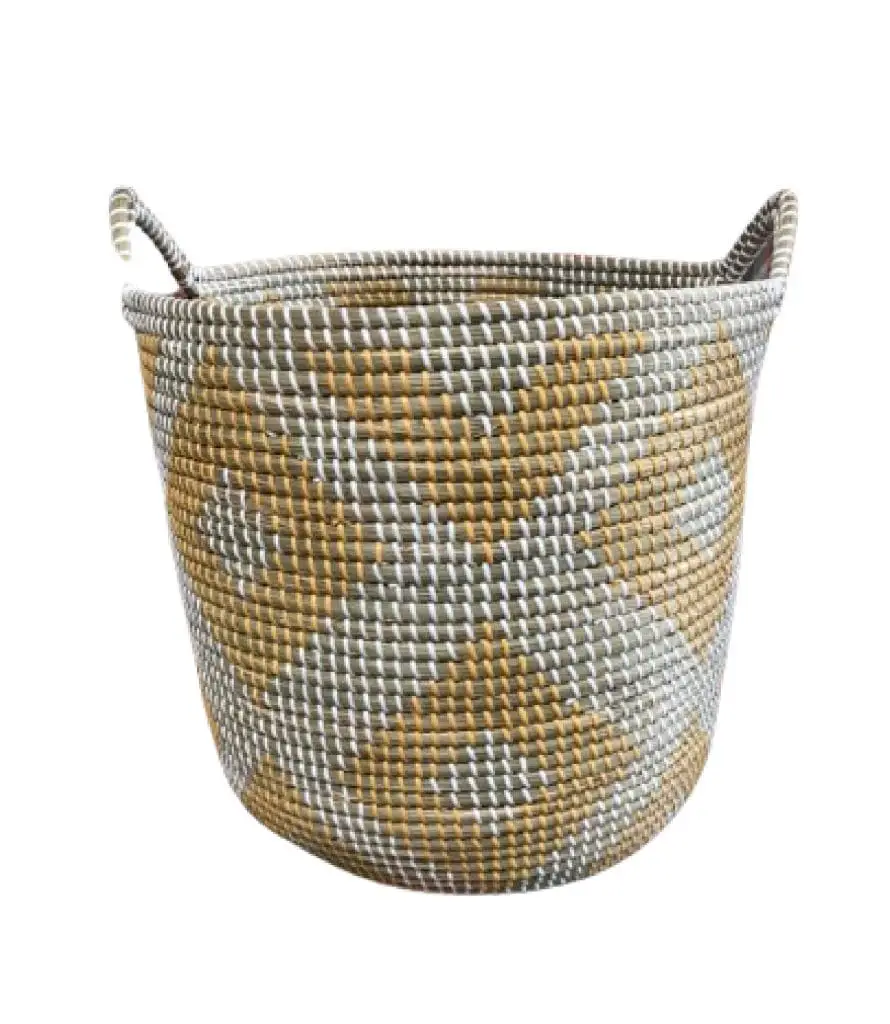 Coiled Seagrass Weaving
As the name implies, the coiled seagrass weaving is a lot; it is coiled and bunched together and then woven in what can be seen as a thicker weave. This weave can often be confused with rattan, as similar weaves are made out of rattan.
The difference with the coiled seagrass weave is that it will often be woven with plastic material to give some color variations. Usually, the color plastic material is used to make a design with this type of weave.
The coil seagrass weave is sturdy and substantial; it will keep its shape even if heavy items are placed inside the basket for a long time. You often find this weave for hampers, baskets, or even the Moses baby baskets.
The twisted seagrass can be dyed in various colors. This dyed helps to give some variety to many of the baskets.
It can also be used as a basket on the wall. The benefits are that the shallow baskets hung as wall art will not lose shape.
This coil weave is most commonly used for plates or baskets. It has become quite popular over the last few years because of its versatility and the ability to use colors together with this thicker seagrass weave.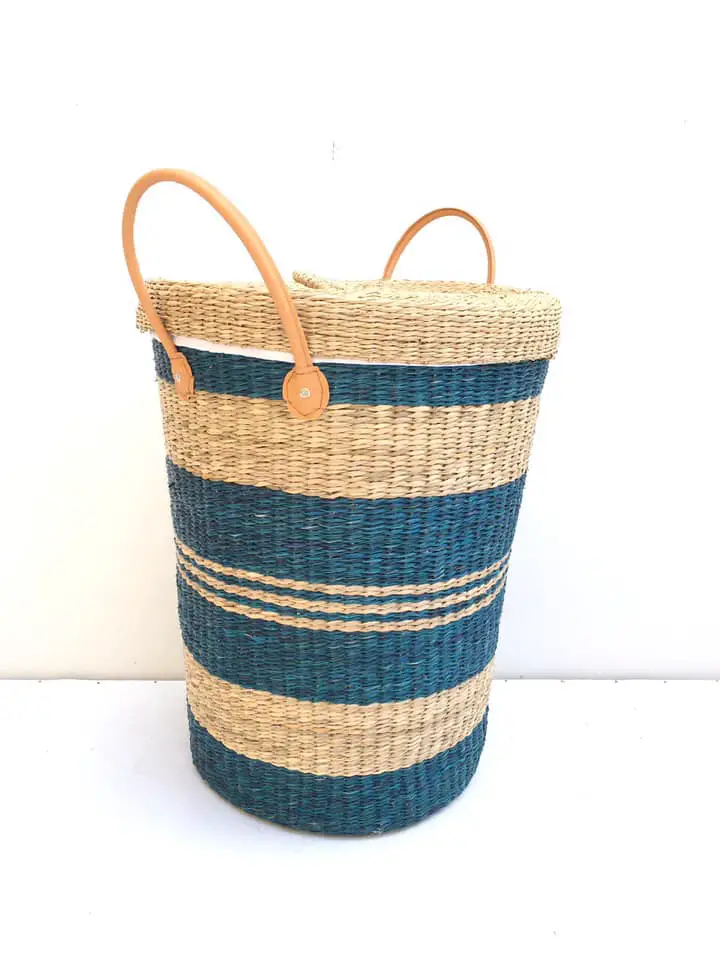 Twisted Seagrass Materials
The twisted seagrass material is what most people commonly think of as a seagrass rope. This is because this material looks like a rope.
The material has been twisted either by hand or machine with a rope-like look of this twisted seagrass. The rope is made by twisting split seagrass to make this rope-like fiber.
This type of seagrass fiber is quite common and is used in baskets, lamps, and carpets. We have also used this material to produce seagrass furniture pieces.
A lot of times, it is woven with a metal powder-coated frame. The metal frame helps to give stability to the home decor and other products when using this material for weaving.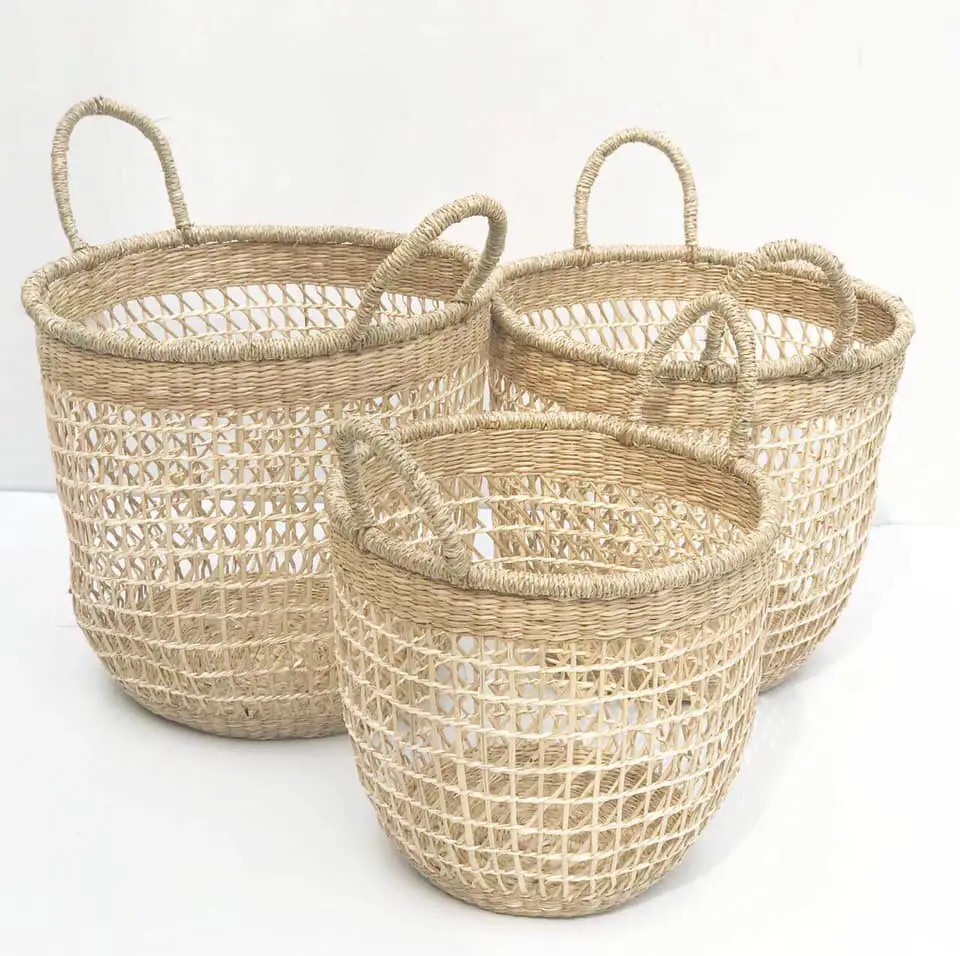 Split Seagrass Materials
As the name implies, split seagrass materials are seagrass, once dried, are split into long thin fibers by machine. It is split by machine as the machine allows consistency in the width of the splitting.
Even though the seagrass is split, it is still a strong material. Because of the characteristics of seagrass, it is a highly durable material that can be used in many different types of products.
The natural color is the most popular for the split seagrass; the split seagrass can also be dyed in various colors.
The split seagrass gives the seagrass a very light and airy feel for the seagrass. This technique is used a lot for baskets or even for lampshades.
Braided Seagrass Material
As the name implies, Braided Seagrass material is first split, then the seagrass is braided together. The braid is similar to how you would braid someone's hair, but in this case, the braid is made from seagrass.
The seagrass is braided into a long material that makes the seagrass material thicker than it usually is, which can braid it into various thicknesses.
The braided seagrass can also be dyed and, if required, even painted; it can use it for a variety and types of home decor products.
Braided seagrass is used to weave baskets with or without a metal frame.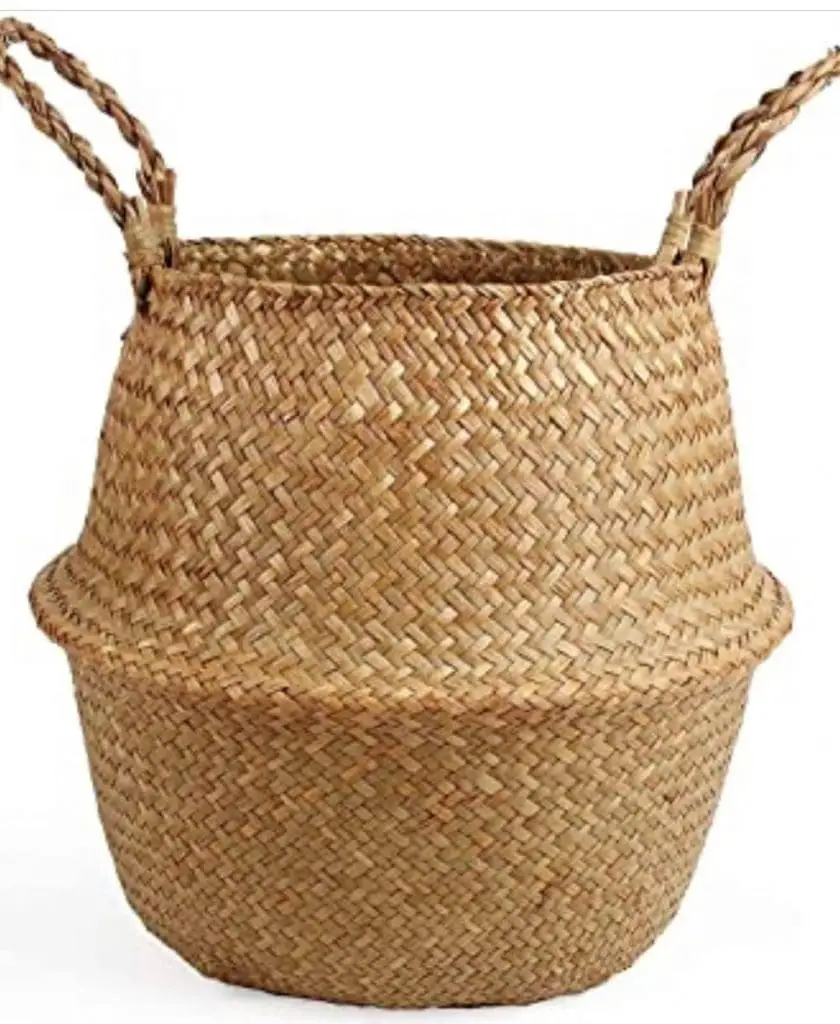 Pressed or Flat Seagrass Materials
Another seagrass material used to weave Home decor products is pressed or flat seagrass. For pressed or flat seagrass, the seagrass fibers are pressed to become soft and flat.
This seagrass is used to weave into various baskets and other home decor products. One of the most popular baskets is known as a belly basket due to its shape.
This seagrass material can also be dyed, though the most popular color is natural colors. This weave is typically used for these baskets as a tight weave; sometimes, you will see the flat seagrass materials with paint on them.
We love the seagrass material. Not only is the material eco-friendly as the seagrass grows very fast, but it also is a tremendous natural-looking material.
As with almost all basket production in Vietnam, baskets are woven by hand. Hand-weaving is the best way to weed baskets.
If you are interested in seeing how Mondoro can help you manufacture seagrass baskets or other products – we would love to talk to you to see how we can help you.
Find out more about how Mondoro can help you create, develop, and manufacture excellent home decor and home furniture products – don't hesitate to contact me, Anita. Check out my email by clicking here or become a part of our community and join our newsletter by clicking here.
Mondoro gives out a FREE Lookbook to anyone interested. You can receive a copy of our latest Lookbook by clicking here.
Listen to our Podcast called Mondoro Company Limited. You can find it on all major podcast platforms. Try out listening to one of our podcasts by clicking here. 
Subscribe to our Mondoro Company Limited YouTube Channel filled with great videos and information by clicking here.
Related Content
Seagrass Baskets Smell, Tips To Clear Out The Odor
Over time the seagrass basket smell will almost disappear. If you cannot wait a few weeks for the smell to disappear, there are some things you can do to help the smell go away. Like most baskets woven by natural materials, seagrass baskets do well if you put them in the sun to air them out.
You can discover more by reading Seagrass Baskets Smell, Tips To Clear Out The Odor by clicking here.
How to Clean A Seagrass Rug?
A seagrass rug is a great natural addition to your home.
Here are ways you can clean a seagrass rug:
Vacuum The Rug Regularly – A seagrass rug needs to be vacuumed regularly with a suction brush. It is good to do this a few times a week.
Scrap off Spills – If you spill something on the seagrass rug, then try first to scrap it off the rug as much as you can. Then also try to vacuum clean off the area,
Clean Up Liquid With A Paper Towel – Clean up any spilled liquid with a paper towel
Wash the Area – You can also wash the area of the spillage. Some soap is a liquid dish soap as dawn or baby shampoo in some water to clean up with a towel to wash the area mix. Try to get the rug as dry as possible. You can try to dry the air with a blow dryer to get the area completely dry.
To find out more about How to Clean A Seagrass Rug? by clicking this link.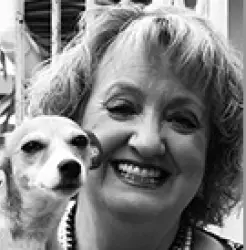 Latest posts by Anita Hummel
(see all)