Teak has long been considered the premier wood choice for outdoor furniture. This is because there is no other wood with the natural properties of teak wood.
Teak wood is a hardwood native to many parts of Southeast Asia. Myanmar has over half of the world's naturally grown. Today, many teak kinds of wood are plantation grown and managed with sustainability in mind. Teak wood has a lot of natural properties that make it a logical choice for outdoor furniture. But with any outdoor furniture, teak wood also needs proper cleaning and care to retain its natural color.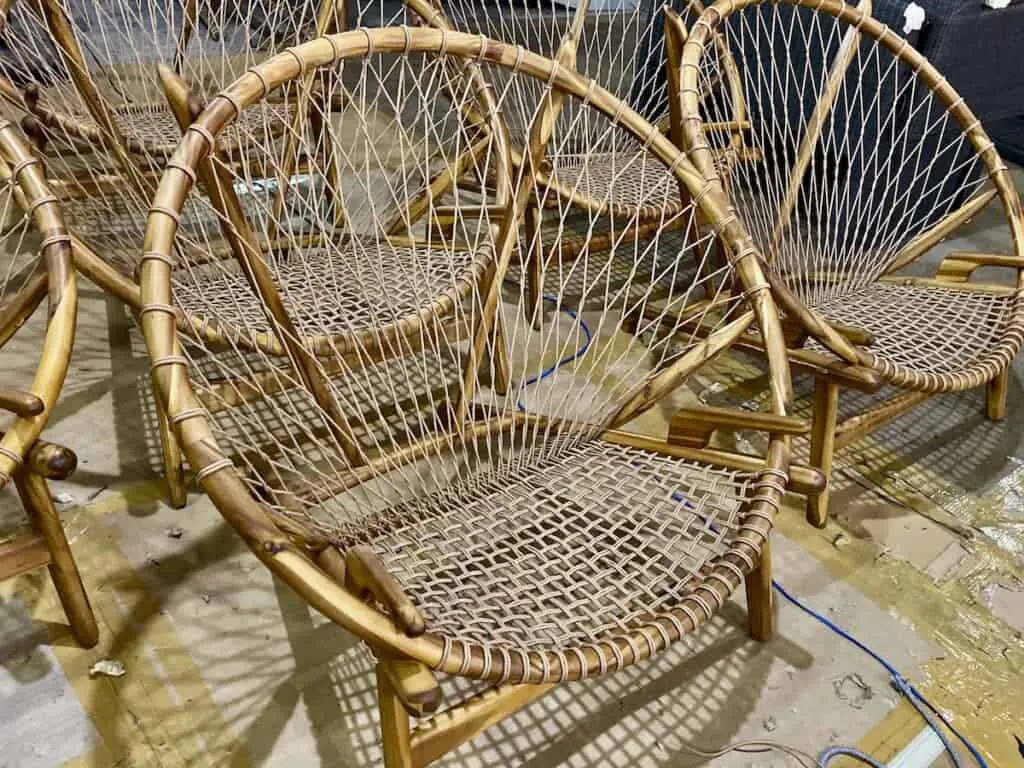 About Teak Wood And Furniture
Teak wood is a tropical hardwood. It is native to many parts of Southeast Asia but is also found in Africa and the Caribbean. Myanmar has over half of the world's naturally grown teak forests.
Many of the world's teak is from Myanmar and Indonesia, but some teak also comes from Costa Rica and South America. Many teak woods are known as plantation teak, which were explicitly grown to be cut down. Plantation-grown teak has the proper forest management to ensure that any tree cut down is replanted with another tree. This is different from naturally grown, which does not always have the same forest management.
At Mondoro, we strive always to use plantation-grown teak as we believe this is a more renewable resource of teak wood. Plantation teak is harvested and managed with sustainability measures in place.
Natural Properties of Teak Wood For Furniture
Teak is considered one of the most beautiful natural woods in the world. There are a lot of inherent properties that teak wood has.
Here are some of the natural properties of teak wood:
Hardwood – Teak is a natural hardwood. To find out more about the difference in hard and softwoods you can read our blog on All About Solid Wood Furniture by clicking here.

Yellowish tones – Teak has a natural yellowish tone to the wood color.

Darkens with age – As teak ages, it will naturally darken.

Will naturally grey – If teak is left outside and untreated, teak will naturally grey. Many people like this look and will leave the teak out to grey on purpose. The greying process is part of the natural properties of teak wood.

Natural oils – What makes teak such a great wood for outdoor furniture is because it has natural oils that help ensure it is the perfect wood to be left outdoors.

Termite and pest resistant – Teak is naturally termite and pest resistant.

Durable – Teak is a very durable wood even if left untreated.
As teak is natural wood, you may see some fine cracks appear on the grain from time to time. These fine cracks can come and go as to the changes in the weather. This does not affect the durability or life of the teak and is part of the natural characteristics of the wood.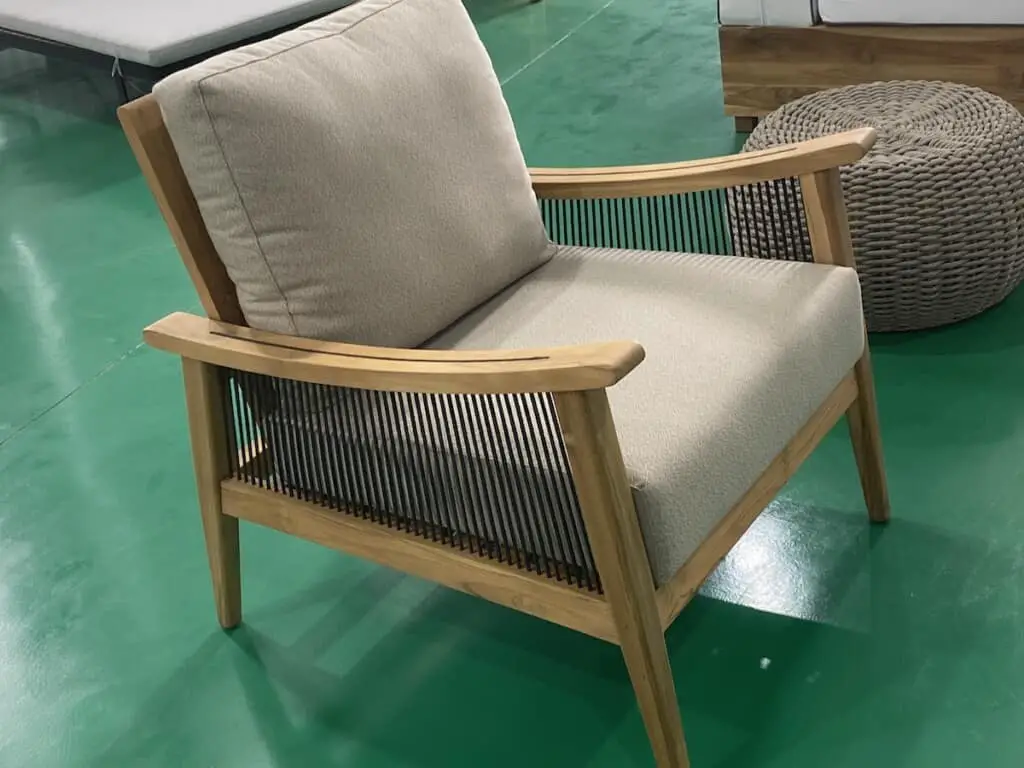 Caring For Your Outdoor Teak Furniture
Teak is a beautiful, durable, and practical wood used in manufacturing outdoor furniture. It is relatively maintenance-free. But with any outdoor furniture, there are some things you need to understand the care and maintenance of your outdoor teak furniture.
The Natural Graying Of Teak Furniture
A new piece of teak furniture will be a honey/brown color. This is teak in its natural state. When we manufacture teak, we will leave the teak wood out in the sun for a few days to help ensure the wood has the natural honey color.
When you receive your furniture, it may even look a bit polished. This is because the wood has natural oils that can come out to the surface when the teak is outdoors for a few days.
But if teak is left outside, untreated, it will naturally grey. This graying process can take 9 to 12 months or longer. It will depend a lot on the climate, the amount of sunlight the teak wood is getting, and the rain it is exposed to. The teak wood may not be all grey evenly.
The greying of the teak does not damage the teak in any way. This is just the aged character of the teakwood and its natural beauty.
Retaining Your Natural Honey Brown Color on Teak Furniture
If you want to retain your teak to preserve the honey/brown color, you should put either teak oil or a teak sealer or protector on your wood. This will help you to keep the honey brown color of your teak. We recommend the products from a Dutch company called Golden Care.
We like the Golden Care Teak protector as it helps keep the honey color of the teak. Though this protector will help keep the honey color, you should clean your teak and reapply the protector every season to maintain the honey color.
Golden Care has a variety of teak products to help you properly care for your teak furniture. They have a variety of colors you can put on your outdoor teak, including a grey color if you want to speed up or control the grey finish on your teak. You can find Golden Care products on Amazon but clicking here. The Golden Care brand is also found at Crate&Barrel. You can find out more about what Crate&Barrel carries by clicking here.
Care and Cleaning Your Teak Furniture
Teak furniture does not require a lot of care, but there are still some things you should do to extend the life of your teak furniture.
A mild solution of soap and water with a teak cleaner like the Golden Care Teak cleaner will help you restore and brighten your teak. You can find out more about the Golden Care Teak cleaner by clicking here. This cleaner will help you restore your teak in the original honey color.
Like any outdoor furniture, if you are not using the furniture during the cold winter months, it is good to bring the furniture indoors to be stored. Also, consider tipping the chairs up when not in use.
Here is some basic information to help you in cleaning your teak furntiure
Supplies You Will Need To Care and Clean Your Teak Furniture
Brush – You will want to have a brush with medium to soft bristles or even a sponge. Do not use a hard-wired brush as it could damage the teak wood.

Water – It would be best if you can wash your teak furniture outside so that you can have a water hose nearby. Do not use a power washer as that could damage the wood and furniture.
Teak Cleaner – You will want to have a cleaner as the Golden Care Teak Cleaner. Follow the directions on their package for the amount you should use for the cleaner and how to use it.

Dry Cloth – It is good to have a dry cloth nearby so that you can wipe as needed.

Gloves (optional) – When working with cleaners consider using gloves. One reason we like the Golden Care brand is that it is considered a non-hazardous teak cleaner.
Teak Furniture Care – 9 Easy Steps To Clean Your Teak Furniture
Remove all cushions – If you have outdoor cushions on your teak then remove them. To find out more about the care of your outdoor fabrics you can read our blog on Buying Guide For Outdoor Furniture Fabrics, What You Need To Know by clicking here. We have listed out basic cushion stains and how to clean them.

Check the metal – If your outdoor teak furniture has some metal, you may want to check and do the care for the metal parts. It is best to do this before your clean the teak. You can find out more about how to care for your outdoor metal furniture but reading our blog Outdoor Metal Furniture Design and Care Guide by clicking here.

Rinse the furniture – You should thoroughly rinse the furniture with your outdoor hose. Make sure it is on a medium setting as you do not want to have it be on a strong setting or power wash that could damage the furniture.

Mix up the cleaning solution – Mix up the cleaning solution and cleaner per the manufacturer's instructions.

Brush the teak – Start to brush and clean the teak wood with the teak cleaning solution. Use plenty of cleaning solution and thoroughly wet the teak wood. Make sure you are brushing the teak wood with the direction of the teak wood grain.

Clean thoroughly – Make sure you are cleaning the teak thoroughly including all corners, cracks, and the underside.

Rinse thoroughly – Once you are finished cleaning the teak wood then rinse the teak furniture thoroughly. Make sure the solution is rinsed off completely.

Use a soft dry cloth – Use a soft dry cloth to clean up any excess water on the furniture.

Allow the teak to thoroughly dry – Allow the furniture to thoroughly dry naturally. This can take from 24 to 36 hours depending on your weather conditions.
Once the furniture is cleaned, you can decide if you will leave the furniture to naturally grey or darken in the sun or if you want to put on a teak protector or sealer. It would be best to only put the teak sealer or special coating on once the teak wood is completely cleaned and thoroughly dried.
Teak wood is the perfect choice for any outdoor furniture. This is because teak wood is easy to maintain yet highly durable.
Related Questions
How Do You Know If Your Outdoor Cushion Is A Quality Cushion?
You will know if it is a quality cushion by looking at several things. The outdoor fabric should be specified for your outdoor furniture cushions. Sewing an outdoor cushion takes technical skills in cutting the cushion pattern and the actual sewing. The cushion needs foam, a waterproof cover, and an outdoor fabric cushion.
To find out more and see the inside of a quality outdoor cushion, you can read our blog on A Guide to Sewing Your Outdoor Furniture Fabric Cushions by clicking here.
What is Outdoor Lightweight Concrete?
Outdoor lightweight concrete is mixed by using cement and coconut fiber dust. The coconut coir dust is a natural material made from coconut shells. As coconut shells are usually an agricultural waste, it is considered an upcycled material. The lightweight concrete has strength and toughness and is relatively crack-free to be used in various home decor and home furniture products. It is used a lot in outdoor furniture tables.
By clicking here, you can learn more about reading our blog on Outdoor Lightweight Concrete Furniture, All You Need To Know.