Vietnam is a country that has a prosperous handicraft industry. Many villages have been making handicrafts products for thousands of years.
Vietnam is known for its Vietnamese lacquerware production and has a long history in manufacturing ceramics and porcelain. It is also has a long history of basket weaving and silk weaving, along with embroidery and horn production.
Here are some of the top handicraft products that Vietnam is known for:
Vietnamese Lacquerware
When many people think about Vietnamese handicrafts; they think about Vietnamese lacquerware. Vietnamese lacquerware is one of the traditional Vietnamese handicrafts.
Vietnamese lacquer is an ancient handcraft manufacturing technique that has been found and produced in Vietnam for over 1000 years. It is believed that the Chinese brought their lacquerware production knowledge to Vietnam.
Lacquerware is produced the same way that lacquerware has been produced for thousands of years. Layer upon layer is sanded and dried in between each layer. Many layers can be anywhere from 10 to 25 or 30 different steps.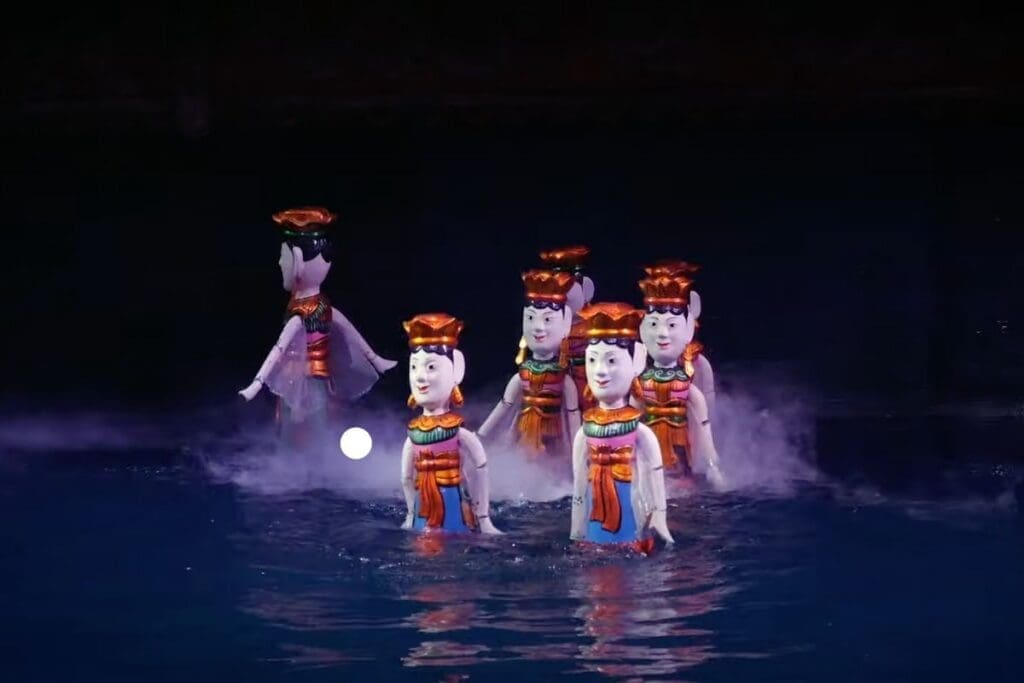 Some of these villages may also be able to find a master at work making some of Vietnam's famous water puppets. Those skilled handicraft men and women created the puppets for Vietnam's water puppet shows.
The old and the new can sometimes mesh together in handicraft villages. Some of the old skills and traditions are still being used, as in the example of producing water puppets. 
Lacquerware production is a highly intensive hand-produced art form. The workers that are sanding and producing the lacquer are highly skilled.
Vietnamese Porcelain, Stoneware, And Ceramics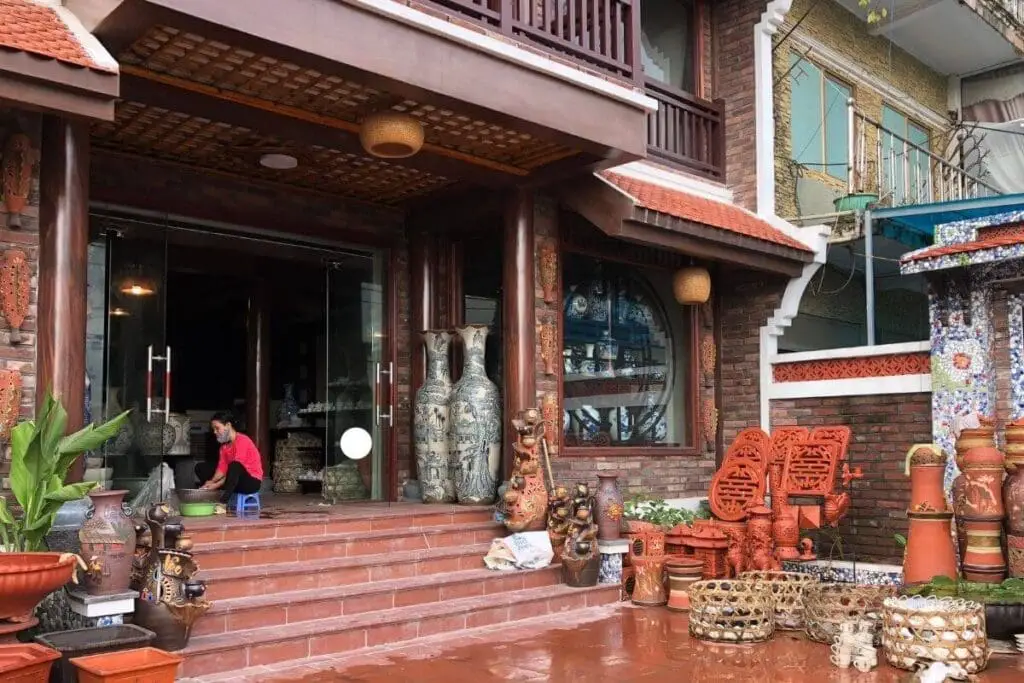 Outside Hanoi, Vietnam, is Bat Trang, is a famous ceramic village. Families have been producing ceramics in the same factories for hundreds of years.
Like lacquerware production, the father would pass all the trade secrets to a son. Those who grew up in these factories learned about the production from when they were old enough to walk.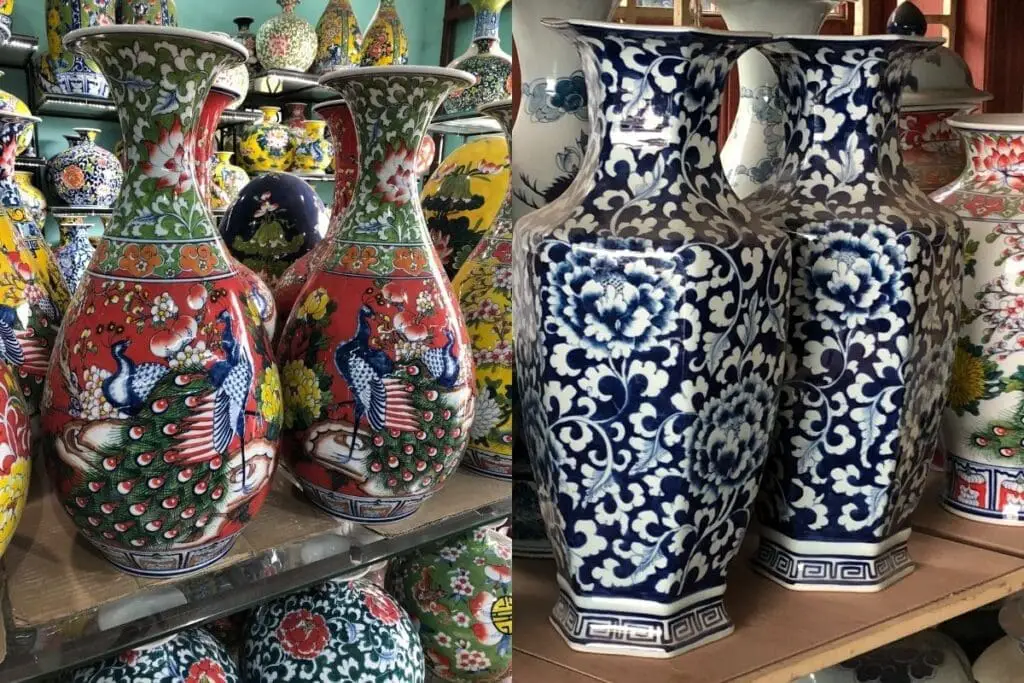 Many of these factories produced ceramics and porcelain for the royal family of Vietnam. Many others also have ceramic pieces in some of Vietnam's many museums.
As so many of these skills have been passed down among the families, the families will keep among themselves their secret recipes for glazes finishes and other techniques. 
Hand Weaving Villages Of Vietnam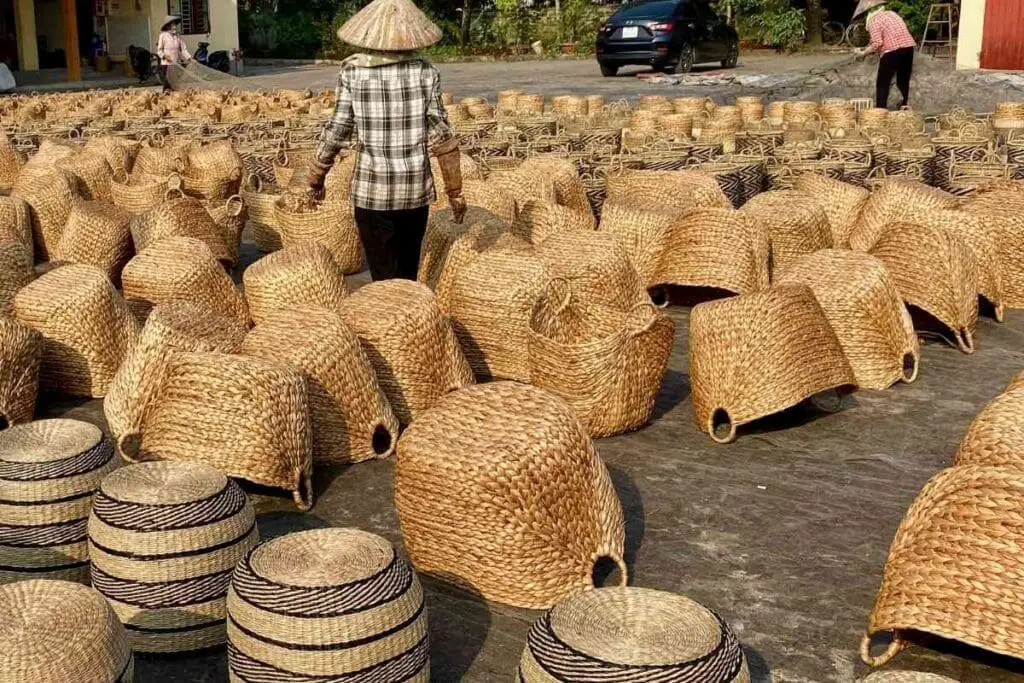 One of Vietnam's major exports is weaving. Like many other handicrafts, there are villages in Vietnam that have been consistently weaving products for hundreds of years.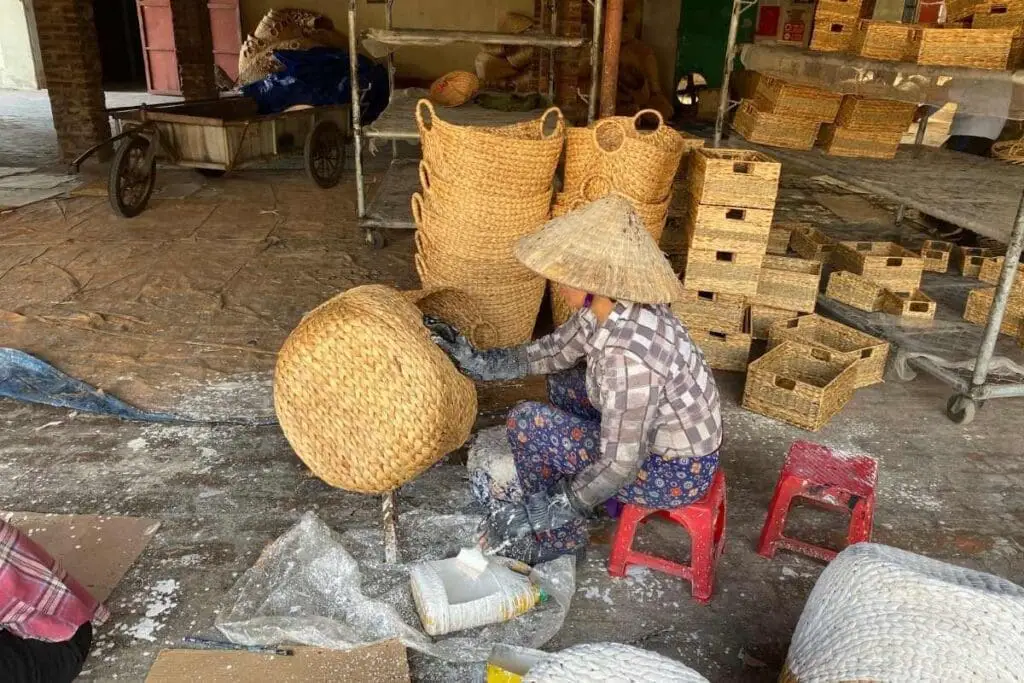 Some villages produce water hyacinth, seagrass, bamboo, and rattan. Each of these different villages and areas has other skills and uses different natural materials. What they all have in common is that they are highly skilled weavers.
Like the other Vietnamese handicraft villages, these villages have also been producing and weaving products within the town so that each household understands all about weaving.
Vietnam's Horn Village
Outside of Hanoi, there is also a small village known simply by the name the Horn Village. This village has been creating products from Buffalo horns and bones of other types of animals and making them into products.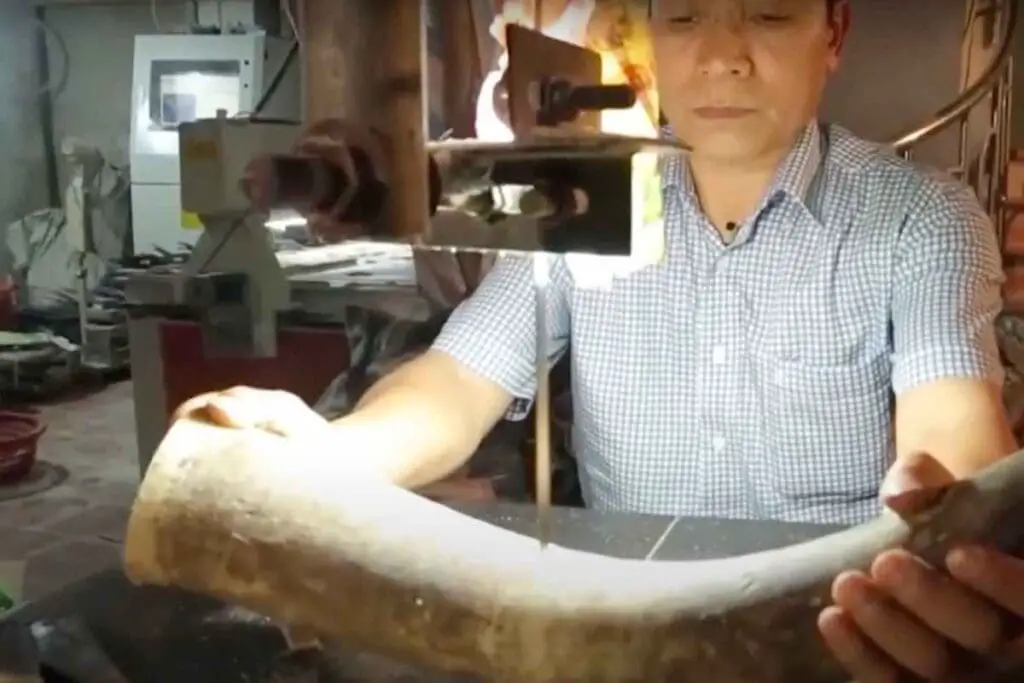 They will cut, sand, and polish the horns into various shapes, sizes and materials. Traditionally many of these products were used for chopsticks and other products. Today they are creating a lot of jewelry and other small items.
The horn factories now import some of the horns from places such as Africa, but the skills and knowledge are the same as they have been creating for hundreds of years.
Silk Village In Vietnam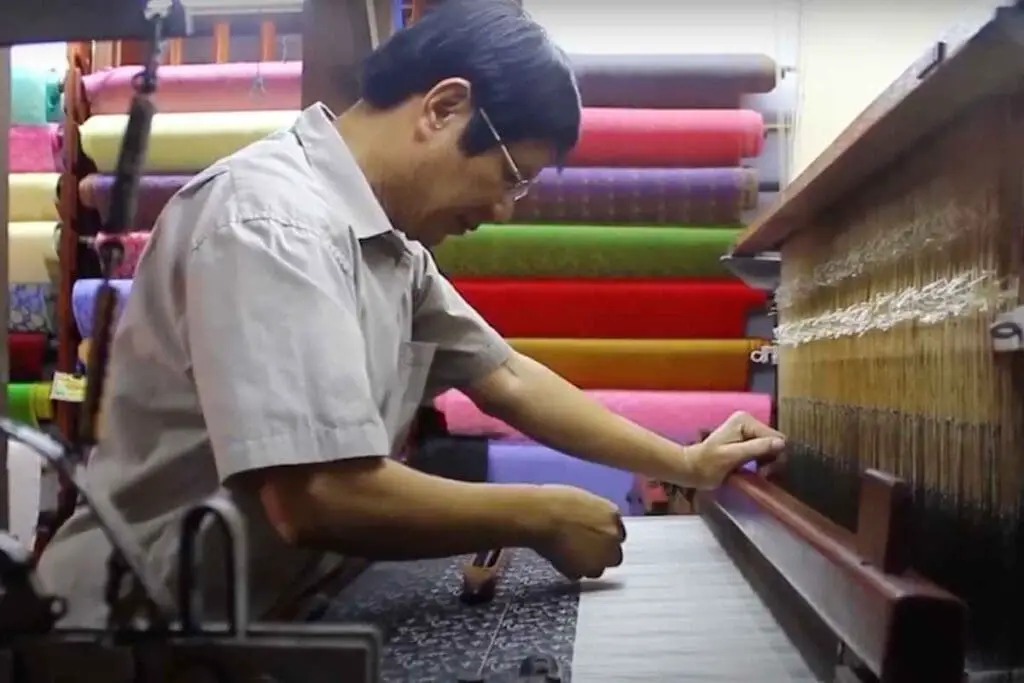 In an area known as Ha Dong, Outside Hanoi is another essential Vietnamese handicraft village that produces silk. Like the other villages, the small factories in this village have been weaving silk for hundreds of years.
The village is unique because years ago, the Vietnamese took their handlooms and added jacquard punch cards and small motors to them. Today, you can see the old French jacquard cards on a motorized handloom.
Like many other villages, the Vietnamese have produced and exported silk for export and local consumption for hundreds of years.
Vietnamese Embroidery Village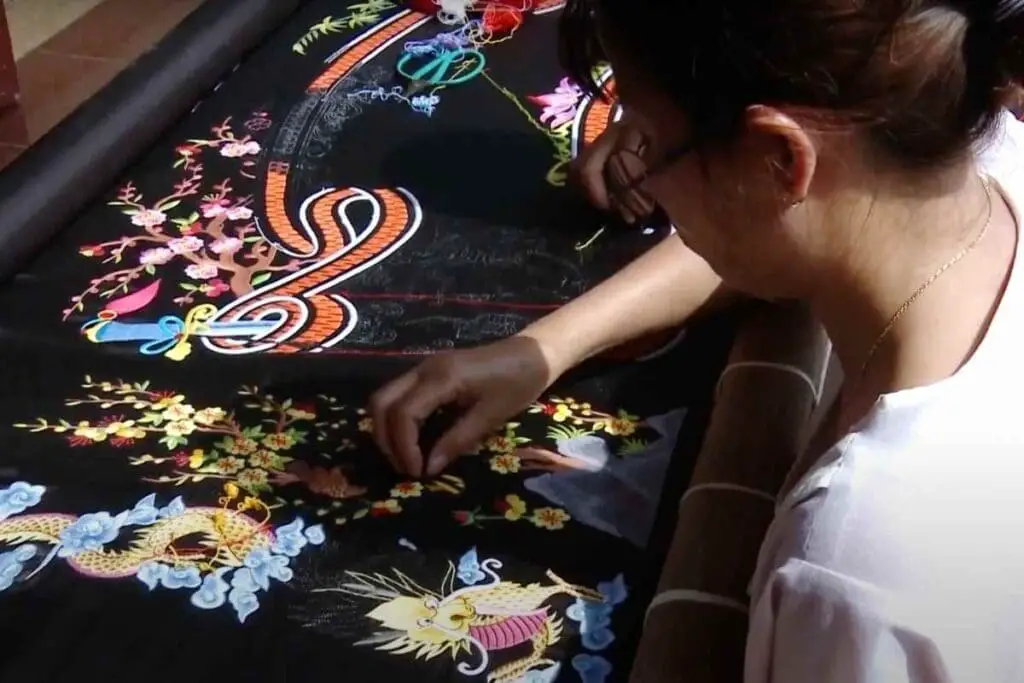 Embroidery is another handicraft that can still be found in Vietnam. Embroidery is one of Vietnam's art forms as the Vietnamese produce works of art that look like oil paintings.
Vietnamese embroidery is also used traditionally for many traditional Vietnamese women's clothing, known as the Ao Dai garment. The Vietnamese women put intricate embroidery on this traditional Vietnamese garment to wear on special occasions.
One of the unique things about these Vietnamese handicraft villages is that the families and small producers have been producing the same product for years; the parents have passed down their skills and trade secrets to their children.
At Mondoro, we work in many of these villages. To find out more about how Mondoro can help you create, develop, and manufacture excellent home decor and home furniture products – don't hesitate to contact me, Anita. Check out my email by clicking here or become a part of our community and join our newsletter by clicking here.
Mondoro gives out a FREE Lookbook to anyone interested. You can receive a copy of our latest Lookbook by clicking here.
Listen to our Podcast called Global Trade Gal. You can find it on all major podcast platforms. Try out to listen to one of our podcasts by clicking here. 
Subscribe to our Mondoro Company Limited YouTube Channel filled with great videos and information by clicking here.
Related Content
Vietnam's Top 10 Handicraft Villages Discovered
Today 10 Vietnamese handicraft villages are still manufacturing many of the same products they have produced for hundreds if not thousands of years. Some of these villages include Bat Trang Ceramic Village, Duyen Thai Lacquer Village, Quat Dong Embroidery Village, Van Phuc Silk Village, Kim Son Sea Grass Village, Ninh Binh Water Hyacinth Villages, Chuong My Rattan Village, Thuong Tinh Horn Village, Thanh Oai Conical Hat Village, and Xuan Lai Bamboo Village.
You can discover more by reading Vietnam's Top 10 Handicraft Villages Discovered by clicking here.
Vietnam's Bat Trang Ceramic Village History
The Bat Trang Ceramic Village in Vietnam has consistently produced ceramics for over 1,000 years. Even during the Chinese or French rule of Vietnam, the Bat Trang Ceramic village never stopped its pottery or ceramic manufacturing. During the Vietnam-American war, many American bombs were dropped on the Bat Trang ceramic village, but they continued to manufacture pottery and ceramic products.
You can discover more by reading Vietnam's Bat Trang Ceramic Village History by clicking here.
8 Reasons to Look Towards Manufacturing Your Products in Vietnam
With the tariffs that countries like the United States have placed on China, Vietnam is one country that has become a clear winner in the trade war. One reason is that Vietnam has a relatively large, young, educated, and skilled population. The Vietnamese Government is also business-friendly, and the country continues to develop many excellent shipping ports.
You can discover more by reading 8 Reasons to Look Towards Manufacturing Your Products in Vietnam by clicking here.