Japandi's interior design is perfect for creating an atmosphere of tranquility and serenity. It features a combination of Japanese minimalism and Scandinavian functionality that creates a unique style with clean lines, natural elements, muted colors, and cozy textures.
Our 15 critical elements about the Japandi interior design trend look at how you can blend the best of the Japanese with Scandinavian design. The Japandi movement beautifully merges the Japanese Wabi-Sabi trend with the Danish Hygge style; these styles between east and west blend together beautifully.
Table of Contents
15 Key Design Features Of The Japandi Interior Design Style
Japandi interior design is a perfect blend of artistry from two distinct cultures emphasizing harmony with nature, simplicity in form and function, and creating aesthetic spaces promoting peace and tranquility. It is the perfect design style for today's modern world.
The Japandi designs combine the Japanese Wabi-Sabi style with the Danish Hygge style. We love many design features of the Japandi Interior design style. 
Here are our 15 key design features of the Japandi Interior Design style: 
Japandi Is About Beauty In The Imperfections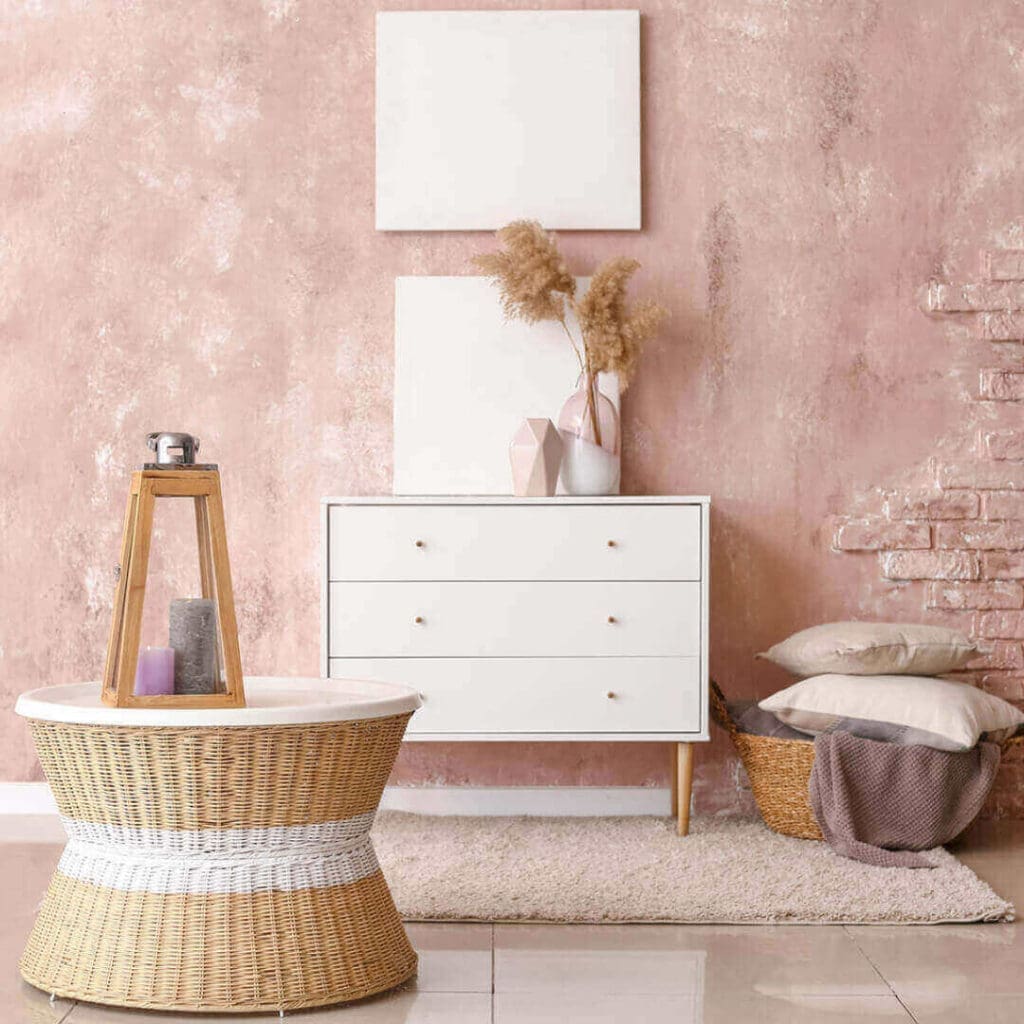 A core belief about the Japandi trend is that there is beauty in imperfections. Not everything that you have in your home has to be perfect. Your furniture can be distressed or even knocked up, old but comfortable.
You could have other things from nature and life that are not perfect. Organic shapes are essential, as are natural imperfections.
The Japandi trend follows the Japanese Wabi Sabi trend that beauty is in life's imperfections.
With Japandi, Seek To Create A Restful, Relaxing Space
The Japandi trend also seeks to create a restful and relaxing interior space. One of the core beliefs of the Danish Hygge trend is that you want an interior space that is comfortable, relaxing, peaceful, and restful.
A home is where you want to return to because you love to be home. It is a place that feels and looks comfortable.
Japandi Incorporates Minimalism Features
A key design feature of the Japandi style is the use of minimalism. They are incorporating things into the design trends, such as clean lines, organic materials, and neutral colors. All these things help create a tranquil atmosphere for the Japandi interior space. 
Another critical aspect the Japanadi Interior Design trend with the minimalism trend is to have a space that is not just tranquil but also modern and cozy. For this trend, having less is better than having more; it is a look that is the opposite of clutter.
Japandi Uses Many Natural Elements
The Japandi trend also uses many natural materials, such as wood, stone, and other materials. Bamboo, rattans, and woven elements work well with this look and style.
The natural elements give you a feeling that you are living with nature. Features include woven rugs, distressed wood furniture (like our recycled pine furniture), stone, or even stone faux lamps and bowls. 
Japandi Uses Greenery
The Japandi look also includes some natural greenery. Real plants, flowers, and other vegetation types will be strategically placed around the room to give the room a natural look. The key here is to have real plants, not fake ones, in the interior space. 
We love natural elements like bamboo and other natural plants and materials.
With Japandi Interior Design Trend Invest In Quality Pieces
One aspect of the Japandi interior trend is that you invest in quality pieces. It is about quality and not quantity.
If you can't afford many rugs, maybe consider investing in one good-quality rug. If you can not have many pieces of furniture, invest in one good quality piece.
For the Japandi trend, quality is also part of the minimalist lifestyle. You want to have something that will last for a long time, but at the same time, you are investing in many quality items, not just quantity.
Japandi Emphasis Function
The Japandi interior design trend emphasizes the function and functionality of the interior space. Furniture, such as items with compartments, can help maximize the space and efficiency of the interior design.
Also, the core of Japandi design is that the entire room should be functional. The interior space should be a room that can be warm and cozy while stylish. 
Japandi Teaches Us To Look At Smart Storage Solutions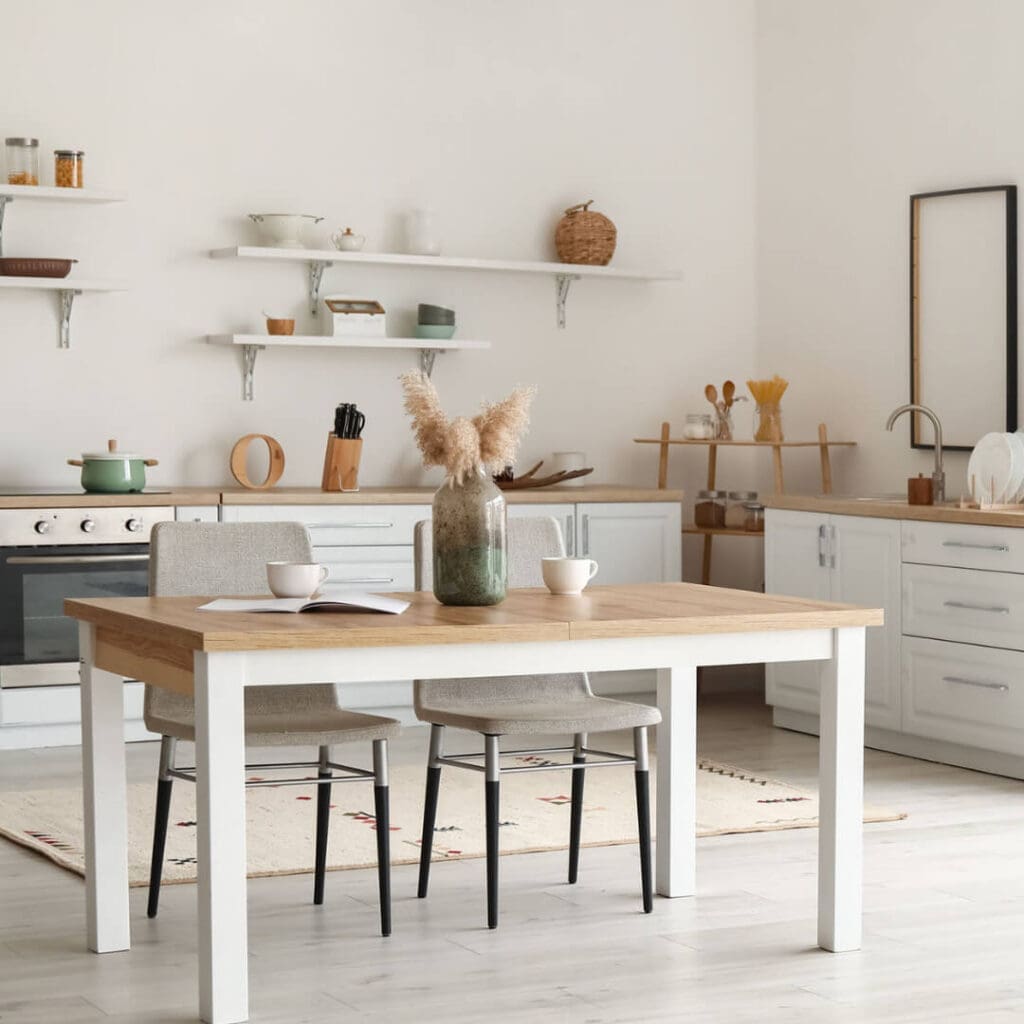 The Japandi trend also teaches us to look at smart storage solutions. In other words, it's not about having your house cluttered, but instead, looking for a house with a place for everything and that you have proper storage for everything in your home.
The Japandi style is the opposite of clutter and a flashy look but is about everything having a proper place in your home and that you look at intelligent storage solutions for things in your home.
Comfortable Furniture For Japandi Design
For the Jpandi design, you want a home that you can feel comfortable returning to you after a long, stressful day. You want to have a home that is lived in and comfortable. 
That is why for the Japandi design, one of the core elements is to have comfortable furniture. Something that you can enjoy and relax in after a long day's work. 
The furniture keywords for the Japandi interior design are comfort, rest, and relaxation. 
With Japandi, Incorporate Cozy Textures And Other Elements Into Your Design
Your home's textiles and other elements should also be cozy and comfortable. The Japandi's style is about comfort and coziness. You should carefully choose the throws for your sofa or the pillows so they look comfortable and cozy and other elements you put in your home.
With the Japandi style, you want a home with an inviting, comfortable atmosphere.
Neutral Colors Help Define Japandi Interior Design
The Japandi style uses a lot of neutral colors. In many cases, the rooms can be white as one of the primary colors. You may find that the walls have white walls and white furniture, which looks like everything is white except for some other natural elements thrown in. 
Other colors would be softer colors such as beige grays, eggshells, alabaster, and even some undertones of pink, soft greens, and other softer colors. 
Simplicity In Patterns With Japandi
For the Japandi trend, the patterns will be pretty straightforward. Everything from the fabric to the rugs. If there is any wallpaper, it will be simple without overwhelming the room's entire design. 
One of the great things about many Japanese patterns, and even Scandinavian designs, is that they can be straightforward and elegant simultaneously. Many of the same patterns will have other elements of the Japandi style, and the patterns might be simple but not perfect.
Imperfection Over Perfection For The Japandi Design
One of the other elements of the Japandi design is imperfection over perfection, especially for some furniture and accessory pieces. That is why you might find some furniture made out of recycled or reclaimed wood. 
Things don't need to be perfect to be beautiful. There can be real beauty in some natural imperfections. 
At Mondoro, we produce some recycled pine furniture. This pine furniture would go well into the entire Japadii design as it is not quite perfect but just beautiful. 
Choose Natural Lighting For Your Japandi Design
For the Japandi design, the critical element is natural light—allowing the natural sunlight to come into the interior space. 
Using things with natural light from window skylights, even doors can create a bright and airy space and feel. It also helps you to be able to connect with nature even during the colder winter months. 
Japandi Use Some Japanese Accents
The Japandi incorporated some Japanese accents. Things such as screens, mats, or even Japanese-style prints on cushions could help bring the entire style together.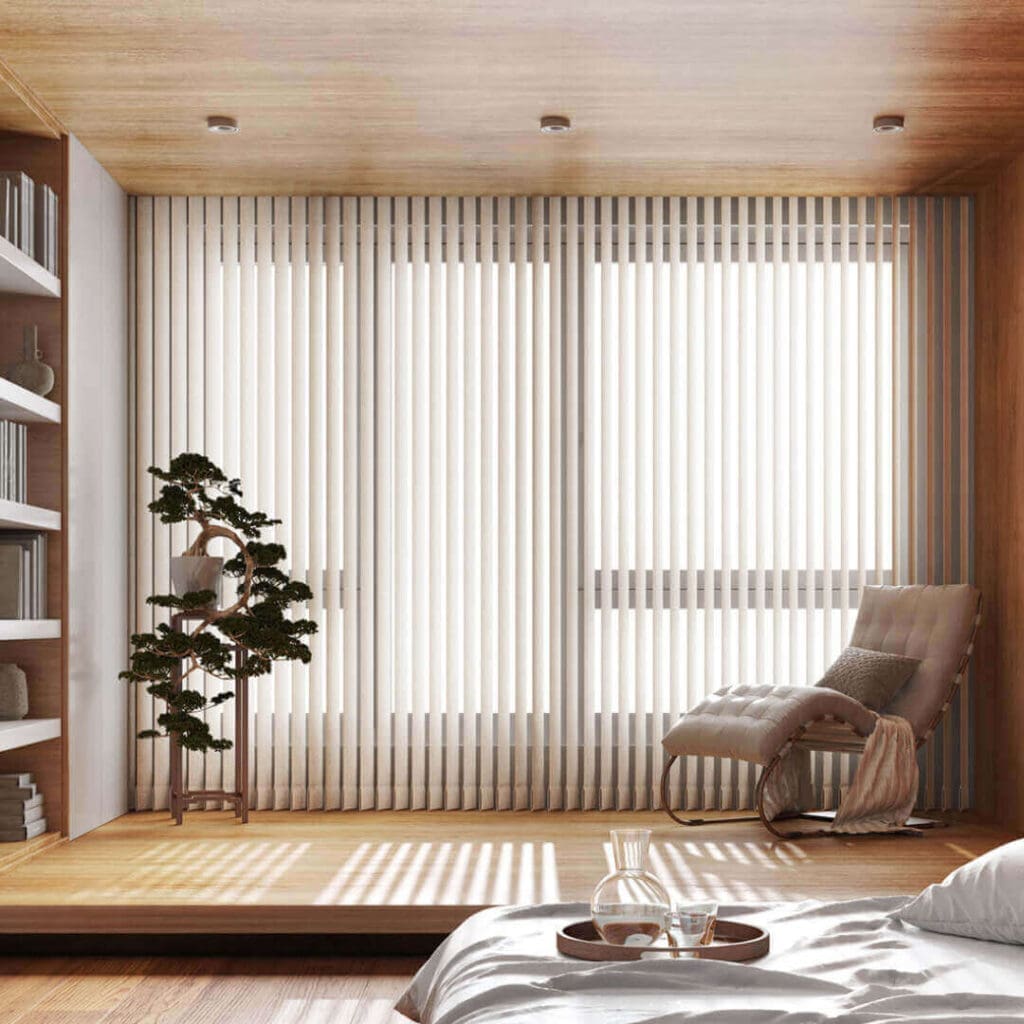 We love the Japandi trend as unlike other contemporary designs, which can be overly chaotic or cluttered with many accessories, this style keeps things simple with a few statement pieces. Japandi is a versatile and timeless interior design that is more than just a style but also a way of comfortable yet stylish living. 
Japandi interior design is a style that has been increasing in popularity in recent years. By blending the best of Japanese and Scandinavian design, Japandi creates a simple, elegant, and functional look.
If you want to incorporate Japandi into your home, keep these key 15 design elements in mind, such as natural materials, subdued colors, minimalist furniture, and a focus on simplicity and functionality.
Contact us today to have Mondoro help you create, develop and manufacture Japandi-inspired home decor and home furniture products.
Find out more about how Mondoro can help you create, develop, and manufacture excellent home decor and furniture products – don't hesitate to contact me, Anita. Check out my email by clicking here or become a part of our community and join our newsletter by clicking here.
Mondoro gives out a FREE Lookbook to anyone interested. You can receive a copy of our latest Lookbook by clicking here.
Listen to our Podcast called Global Trade Gal. You can find it on all major podcast platforms. Try out listening to one of our podcasts by clicking here. 
Subscribe to our Mondoro Company Limited YouTube Channel with great videos and information by clicking here.
Related Content
Is Nickel A Natural Element? All About Nickel And Its Everyday Uses
Nickel is a natural element as it is found in nature. It is a hard yet malleable and ductile metal with a shiny silver color with a slight gold tinge. Nickel is found mainly in Russia, South Africa, Canada, Australia, and some parts of China and Vietnam.
You can learn more by reading our blog, Is Nickel A Natural Element? All About Nickel And Its Everyday Uses by clicking here.
What Is The Mother Of Pearl Shell Used In Home Decor Products?
Mother of pearl, also known by the scientific name of nacre, is a pearl layer on the inner layer of the oyster shell. This pearl layer of the oyster is taken off the outer oyster shell. Then the leftover inner pearl shell is cut into various small shapes and sizes to be glued onto various home decor products such as mirrors, boxes, trays, and lamp bases.
You can read our blog on What Is The Mother Of Pearl Shell Used In Home Decor Products? by clicking here.
Home Interior Mirror Ideas, Manufacturing Home Decor Mirrors
Many Interior designers use mirrors to help them with their decorating. This is because a mirror can become a design focal point for any room. A mirror can help brighten a dark space and make a room look larger.
You can learn more by reading our blog, Home Interior Mirror Ideas, Manufacturing Home Decor Mirrors, by clicking here.