One of our new favorite furniture looks is furniture made from recycled woods. I love that a recycled wood piece of furniture has a natural old and worn look.
Reclaimed and recycled wood may seem to be the same thing but they are not exactly the same. Recycled wood is wood that would have otherwise been discarded or not used. Wood is a naturally sustainable material as it can be regrown and replaced. There are a variety of furniture shapes and styles that can be used to make recycled pine furniture.
What Is The Difference Between Reclaimed and Recycled (Sustainable) Wood?
Though the two may be interchangeably used there is a difference between reclaimed and recycled wood. There is a lot of confusion as to what is really considered reclaimed and what is recycled.
The definition of reclaimed wood is:
Reclaimed wood is wood that was once used in mainly older buildings. Usually, these are buildings that were going to be torn down to make way for new construction. Many of these buildings are old houses, old barns, and older office buildings. The wood is then taken off these buildings and used again for a purpose like a furniture piece or flooring. One of the major ways reclaimed wood is used is with flooring.
Recycled wood is also called sustainable wood and is very similar to reclaimed wood but recycled is usually a newer wood that would normally have been wasted timber or discarded. The definition of recycled or sustainable wood is:
Recycled timber is also known as sustainable wood. The reason is that this is wood or timber that would otherwise be discarded or not used, so this is what makes recycled wood also sustainable wood.
Sustainability Of Wood
All wood is considered to be sustainable as wood can be regrown and replaced. In speaking of how wood is considered a sustainable material, Swedish Wood has said:
But some woods are more sustainable than other woods. For example, pine, which is a softwood is considered to be a very sustainable wood when it is cut down to be used as it grows faster than many other hardwoods.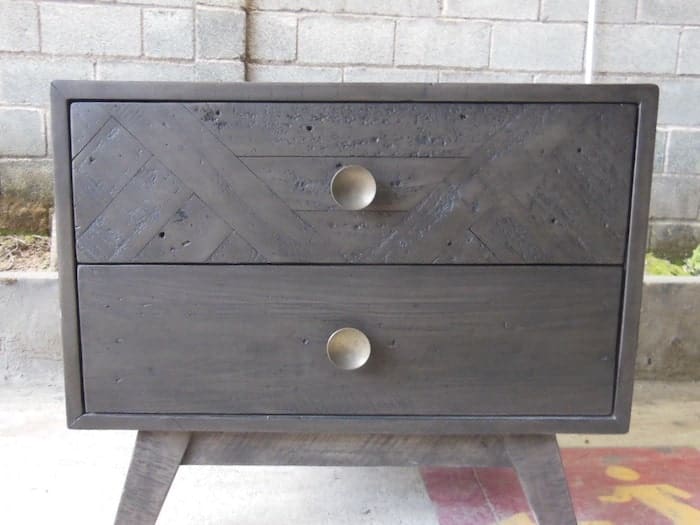 Recycled Wood is Very Sustainable
Since wood itself is sustainable, recycled wood would then be in the category to be very sustainable. The meaning of the sustainable in the Cambridge Dictionary is:
Recycled wood fits into all these categories because:
No wood is cut down – No wood is cut down as the recycled wood is wood that was used for another purpose and now reused again.
No damage to the environment – In using recycled wood there is no damage to the environment.
Continued use for a long time – Recycled furniture is a product that is can be used for a long period. With proper care, the furniture pieces can be used for many years, even generations.
Recycled (Sustainable) Pinewood
We produce recycled (sustainable) pinewood. This wood is collected from a variety of sources and then clean and prepared so that it is ready to be manufactured into furniture pieces. The wood can be combined with metal or other material or also be a solid wood piece
Here are some of the major furniture pieces that can be made out of recycled pinewood furniture.
Coffee and Side Tables – One of the major ways recycled pine is used for a variety of shapes and sizes of coffee and side tables.
Dressers and Cabinets – Many dressers and cabinets are made out of recycled wood furniture. For some of these, the drawer fronts can even have a pattern on them which is also made out of the recycled pinewood.
Sideboards and side tables – The recycled pine can be used for sideboards and side tables.
Bedroom sets – The recycled pine can also be used for bedroom sets.
Dining Tables and other sets – The recycled pine can be used for dining tables and other dining room furniture.
You can choose the recycled pine as it is a wonderful way to not only get a great look for your furniture pieces but to also choose a material that is sustainable in every way.
Recycled and sustainable furniture is a great way to tell the world that you care about the environment. That you are choosing to have a product in your collection that is not only beautiful, but you are also willing to use wood that would have otherwise been discarded and not used.
Related Questions
What Are Some Common Product Sourcing Errors?
Some of the 5 most common product sourcing or procurement errors we have found include, if it looks too good to be true it probably is, or a supplier trying to reel us in with a catch and bait kind of pricing scheme, or not really understanding what the vendor can do for us, or the vendors expecting more orders and quantities than we can give them and not properly vetting the vendor and who they are really are and are capable of manufacturing.
You can read our blog post called 5 Common Product Sourcing Errors by clicking here
How Do I Find an Overseas Manufacturer to Produce my Product Ideas?
Though it is not easy to find reliable overseas manufacturers, there are some basic steps you can take to find a dependable supplier. This process to locate this dependable manufacturer can include things as finding a buying agent, attending trade shows, doing some online searches, talking to some trade organization and getting a referral from someone from the industry.
You can read our blog on How Do I Find an Overseas Manufacturer to Produce my Product Ideas? by clicking here.