Imagine living in a poor mountain village in North Vietnam, and your parents are farmers who can barely make a living by growing corn and other vegetables on the mountainside. Every day you may need to walk over 2 hours, on small mountain paths in all kinds of weather, to get to the nearest town to attend school.
There are many impoverished school children in Vietnam, especially in many of the villages and mountain areas of North Vietnam. Mondoro works closely with Project Sprouts, a Hanoi-based charity organization whose primary focus is to help impoverished elementary schools in Vietnam. Project Sprouts' primary focus is to provide Vietnamese elementary students with school supplies, winter coats, and boots. We also help give the teachers additional teaching supplies.
We believe that seeking to help our communities is very important. We love this quote by Mother Theresa:
And that is what we are trying to do by helping out these impoverished school children through our work with Project Sprouts. We are working to find a way to leave our part of the world somehow a better place and just a bit happier.
To find out more about Project Sprouts and their work, you can get to their website by clicking here.
Project Sprouts – Helping Vietnam's Elementary Schools
We choose to work with Project Sprouts because their main focus is to help impoverished children and schools in North Vietnam. Project Sprouts is a 100% volunteer organization of Vietnamese and foreigners whose main focus is on helping these worthy children.
Project Sprouts focuses on helping these impoverished communities and partners with other organizations and groups who are also working to make a difference Mondoro and the staff at Mondoro are all actively involved in making a difference.
Project Sprouts And Vietnam's Elementary School's Support
Project Sprouts – School Supply Packets for Elementary School Children
Many Elementary school children cannot afford even basic school supplies like a pencil or pen. Or even if they could afford them, many of them live so far up the mountainside that it can take them 1 or 2 hours to get a store that would sell some school supplies.
This is why Project Sprouts helps give the children a school supply kit which includes:
Pens
Pencils
White Chalk
Colored Paper
Notebooks
Colored Chalk
Pencil Sharpner
Crayons
Ruler
Eraser
Children's Scissors
Glue Sticks
Student Chalk Board.
Students in Vietnam will use a small student-sized chalkboard to write on for things like practicing how to write their letter or alphabet. Every child in a Vietnamese school must use this chalkboard.
Many of these same students have never had any extras such as crayons, colored drawing paper, a glue stick, or even a children's size scissor. That is why Project Sprouts also gives the students extra school supplies.
Project Sprouts – Winter Coats and Boots
Many of these same at-risk children also do not have proper winter coats or boots to come to school with. It can get cold in the mountains of Vietnam; sometimes, it may even snow – though the snow does not stay on the ground.
Yet, these children are often walking to school in a pair of plastic flip-flops or shoes at least 5 or 6 sizes too large for their tiny feet. This is because it is the only shoe that they own.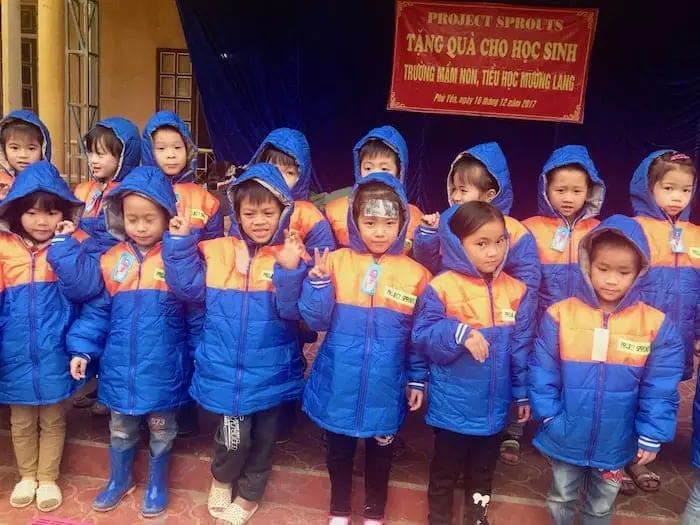 So Project Sprouts will also donate a nice new winter coat and a pair of rubber boots to the children. Many times we have hats and socks also to give the children. We know our winter coats and boots are being used, as each year we will have a new coat design, and when we get back to a village a year or so later, we still see our past winter coats being worn and used.
Project Sprouts – Slightly used clothing, toys, and other household items.
Project Sprouts will reach out to the foreign or expatriate community in Hanoi and accept donations for slightly used clothing, toys, and other household items. Mondoro's office in Hanoi is one of the drop-off locations and the main sorting location for all these slightly used items.
Some of those items we accept:
Slightly used clothing – We will accept all kinds of slightly used clothing in all sizes for men, women, and children. As sometimes we have an abundance of used clothing, we may also give some to our partner organizations, such as Hanoi Homeless or Blue Dragon – an organization that helps street children and girls who have once been sold as sex slaves.

Shoes – We will accept slightly used shoes, especially children's shoes.

Toys – We love to receive toys since we know many children in these areas do not have many toys.

Household items – We accept household items but have received many blankets, sheets, towels, and other household linens. Many of these we may give to the Hanoi Homeless to distribute to some of the people living on the street, especially during the colder winter months.

Books – Schools here in Vietnam have no library, so we love to receive some books to give to the schools and the children.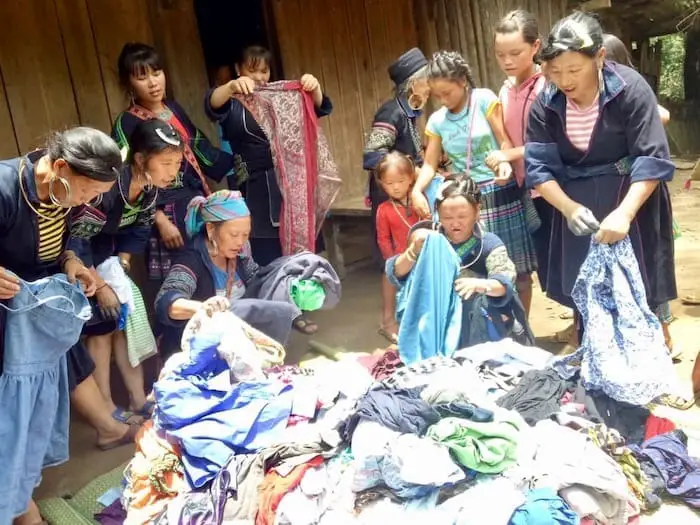 Vietnam's Elementary Students – Why We Help Them
There are many reasons why many of these children and the elementary schools in Vietnam need help from an organization like Project Sprouts. Some of the reasons are:
Some Vietnamese Parents Can't Afford The School Fees
Many parents are so poor they live off less than 1 USD per day, so it is challenging for them to afford the school fees. Though Elementary school is free, there are still other fees associated with attending school in Vietnam. The local school and government will usually wavier the poorest children's fees for these poor children.
But even if the education is free, the children still need to have things to go to school with to study. This is where Project Sprouts comes in to help them by giving them school supplies to help support their study.
In Some Vietnamese Villages, There Are No School Supplies
There are no stores in many of these same villages to purchase any school supplies. The schools are so far up in the mountains that there is no proper road to get to the mountain areas.
For many of these children, getting something as simple as a proper pen or even a pencil may be a 1 or 2-hour journey. And it could be even further to find other supplies like crayons, markers, colored paper, or glue sticks.
This is also why Project Sprouts works with some partner organizations to help us deliver to some of these very remote areas. Some of these areas are so remote that the supplies must be brought in by a mountain bike or a 4 wheel drive truck. And those trucks or mountain bikes will have to cross mountain streams and climb up some steep mountainsides.
Vietnamese Teachers Have A Limited Budget
Most of the teachers we have met at the schools have minimal school supplies. Usually, they will get a few chalk boxes, some pens and pencils, and a ream of paper for the entire school year.
Some of these same teachers may have to travel 26 or 27 kilometers up mountain roads to teach their class in all kinds of weather. Sometimes they need to put chains on their motorcycles to get up the muddy mountain roads.
The teachers we have met in the villages and mountain schools have all been very dedicated. Some sleep on the school floor or in the classrooms as they cannot travel home each day due to hardship and distance.
We have also seen teachers teaching in classrooms without a proper toilet anywhere on the school grounds or a classroom with broken windows, broken desks, or a leaky roof. Or teachers who have no electricity in their classroom, so in the summer months, teaching in the hot, humid classroom without even a fan.
We like to think of these many Vietnamese teachers as unsung heroes and heroines. Men and women are highly dedicated to teaching in some of the most challenging situations that teachers can be asked to teach. We believe they deserve our support.
So Project Sprouts will give these teachers some additional school supplies to make their lives easier and help them with their teaching. We give them pencils, pens, markers, paper, extra chalk, and other supplies.
Vietnam Can Have Some Cold Winters
Winters can get very cold in North Vietnam. In the mountains, the cold can be a bitter wet cold that will pierce through your body right to the bone. Many school children will walk long distances to school in freezing rain and cold weather with hardly a proper winter coat and only a flimsy pair of plastic flip flop sandals on their bare feet.
We have seen children lined up outside in the cold with nothing on their feet as they did not have a proper pair of shoes. We have also seen these same children without a proper winter coat.
This is why Project Sprouts gives winter coats and boots to these needy children. We believe they not only deserve it, but they need it.
Some Vietnamese Villagers Need Clothes
There are so many in the world that have so much and others that have so little. That is why Project Sprouts also works to help redistributed slightly used items to many communities and areas that can use them.
We recently sent up a bag of used clothing to some mountains outside Sapa, Vietnam. In that bag was a Disney princess dress. The girls that saw this were so thrilled. They knew all about the Disney princess, and it was a real prize for them to get a dress.
Mondoro is heavily involved in this as our garage is filled with all these slightly used items. Many of the Mondoro staff help to sort and check them. Others help to arrange the trucking and distribution of all these items.
We appreciate this aspect of Project Sprouts as there is no place here in Hanoi for expatriates and local Vietnamese to give away items they no longer need or use. So this not only helps to give things to those in need but also helps out the entire community so that nothing goes to waste that can then be redistributed to those that need it most.
When we think of Project Sprouts and the small part that we can play in helping to make a difference in the lives of these children, we like to remember the words of Demond Tutu:
If we all work together to do a bit of good in the world, we can all work to help make this world a better place. This is our goal as we work together with Project Sprouts.
Related Questions
Is school free in Vietnam?
The answer to this is yes, but also no. Education in Vietnam is not 100% free. The Vietnamese constitution promises that elementary school is free for all children. But even though this is in the constitution, school fees still need to be paid, such as uniforms, school supplies, and other miscellaneous fees.
Even though the parents still need to pay some fees, I have been to many Vietnamese elementary schools and seen some outstanding principals working very hard to get the children that are not in school back in school.
In some of the hill tribe mountain areas, the children are not in school and may not always be money, as in many of those areas, the fees may be completed waived. The reason these children are not in school can be very complicated. It could be that their parents need the children at home to take care of younger siblings, or the distance is too far for a child to attend school.
How long is the school day in Vietnam?
Children in Vietnam usually go to school six days a week. Many times Saturday is just half a day. School starts in about Mid August and will go from the end of May to the beginning of June.
Many Vietnamese parents who can afford it will send their children to extra classes all day Saturday and Sunday. So many Vietnamese children will study seven days a week.