I have spent quite a bit of time in some of the poor Vietnam areas where many of the hill tribes live. Many of these same hill tribe areas have tiny primary schools.
Children who are struggling with poverty usually have a harder time with education. This lack of education can lead to lifelong struggles and poverty, so education for children is essential.
There are many ways that education can help a child, such as with their nutritional needs, health, disease control, gender equality, and helping the children eventually break out of the poverty cycle.
Affect of Poverty On A Child's Education
Poverty at a young age can lead to a child having lifelong struggles with the poverty cycle. When a child does not receive a full education, they usually struggle their entire lives to get ahead.
Poverty and education are inexplicably linked, especially when children living in poverty leave school to work. The child who leaves school to go to work without proper education, their literacy skills suffer; this hurts their future career prospects.
The many reasons why a child leaves school to go to work are not always easy to answer. Sometimes, it means they need to be caregivers for other children while their parents work. Usually, an older daughter may need to leave primary school to take of the younger siblings while her parents work out in the fields.
Other times the parents may not be able to afford school uniforms, school fees, or educational supplies. Not all countries educate a child completely free; there are added costs to education that many parents cannot afford.
I have found that it's usually not that these parents are bad or do not see the need for their children's education, but it is often just a simple economics matter. They may have no other choice except to ask for the child to stay home to be a caregiver so they can work to provide food for the family.
Some societies and cultures may look at the daughter and feel like she does not need education as much as a son. So they may have a daughter stay home, and the sons go to school. This is because they may view the daughter's future as being a wife and mother and not needing an education as much as their son.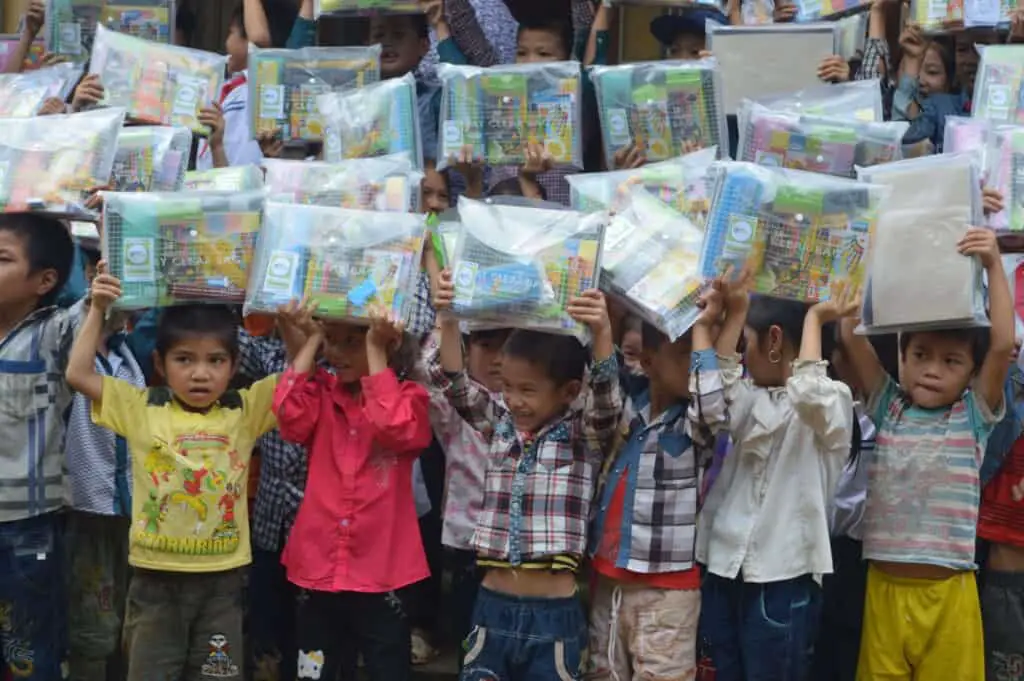 Educations Helps a Child
Education is shown to help children in many different ways and not just in the education itself. Here are some ways that education is shown to help children
Food and Nutrition – In many parts of the world, when children go to school, they may also get lunch or other food from the school system. This will help the child to be able to improve their nutrition and give them some food security.
Improves Health – Many schools worldwide also have facilities as clean drinking water and hygiene classes. Going to school helps improve a child's standards of health.
Controls Spread of Diseases – Most schools worldwide will also help educate the children about the spread of communicable and other diseases. In Africa, under the Ebola crisis, the schools started to teach the children about the spread of a deadly disease. This is one reason why Africa has done so well during the COVID-19 virus; children were fully educated on the disease is spread.
Helps Gender Equality – Education of both the girls and boys help with gender equality. Especially in educating the girls, it helps the girls to be able to make better life choices. It has been found that when the mother is not highly educated, many times, the children could be underweight or undernourished. There is also an increase in domestic violence among uneducated girls. When girls stay at school until the age of 18, they are less likely to have children early and more likely to find rewarding work after leaving school.
Breaks the Poverty Cycle – If a child can get an education, especially if they can be educated and graduate from high school, they can find a way to try to break the poverty cycle. They may be able to go on to college and find a better job. This is one of the reasons why education is for children is so very important.
Education in Vietnam
Education has long been important in Vietnam. Many children to go to extra classes after school.
I know firsthand from my work with Project Sprouts that not every child can or has the luxury to go to school. Many children need to leave school after Primary School because their parents cannot afford high school or other fees. Or the child may need to work to help the family be able to survive economically.
Vietnam has a very high literacy rate. The literacy rate in Vietnam is about 95%. This is higher than in many other countries as India, Bangladesh, or countries in Africa. The good news is that this literacy rate in Vietnam continues to rise each year.
As we have worked in the schools through our charitable work with Project Sprouts, the one thing that has struck me is the teachers' and principals' dedication. Many of the principals and teachers we have met in primary schools known every child in their area and their economic situation. They know and understand their financial situation and can quickly tell you which children need help and why.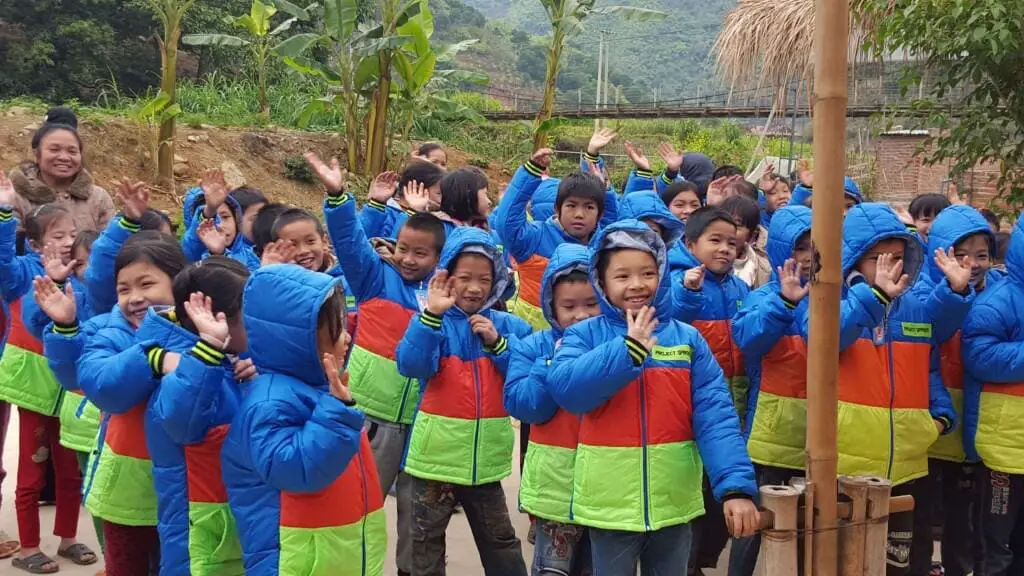 Project Sprouts -Helping Students in Vietnam
At Mondoro, we support Project Sprouts. Project Sprouts is a grassroots organization whose main focus is to help school children here in Vietnam.
We have three main areas that we focus to help the children in Vietnam:
Winter Coats, Boots, and Blankets – North Vietnam can get very cold in the winter; it can actually snow in some areas. Many children in poverty cannot afford a proper winter coat. One of the focuses of Project Sprout is helping children stay warm with winter coats, blankets, and boots.
School and Teacher Supplies – We also work to help the teachers and students with school supplies. Many schools don't have the money for proper school supplies and equipment. Many children may never have owned a crayon or coloring book. We try to bring give these children some of these little extras along with basic school supplies.
Slightly Used Clothing – Project Sprouts accepts donations from the Hanoi community for slightly used clothing and other household items. We will distribute this clothing to areas that have a need.
Many children worldwide cannot get a proper education. One Vietnamese girl who had to stay home to take care of her two younger siblings told me he dreamed about going back to school every day. It seems sad that the children who have an education often don't appreciate their education, and those who don't have an education are dreaming about getting an education. These young children who dream about going to school to get an education clearly understand that education is a way to help them out of the poverty cycle.
Mondoro supports the work of Project Sprouts. If you are interested in how Mondoro can help you create, develop, or manufacture home decor products, you can contact Anita by clicking here.
If you are interested to find out more about Project Sprouts you can go to the Project Sprout website by clicking here.
Related Questions
Why does Project Sprouts Help Impoverished Students In Vietnam?
There are many impoverished school children in Vietnam, especially in many of the villages and mountain areas of North Vietnam. Mondoro works closely with Project Sprouts, a Hanoi based charity organization whose main focus is to help impoverished elementary schools in Vietnam. Project Sprouts' main focus is to provide Vietnamese elementary students with school supplies, winter coats, and boots. We also help give the teachers additional teaching supplies.
You can learn more by reading our blog Helping Vietnam's Impoverished Elementary Schools with School Supplies by clicking here.
What Country Do the Hmong Come From?
The Hmong originally came from China, but during the late 18th Century, the Qing Dynasty started to push them out of China into many Chinese border areas. Today many of the Hmong live in the countries along the Chinese southern border. There are many ethnic groups of Hmong, but most of the Hmong are farmers though many of them have recently started to be involved in the tourism industry.
You can discover more by reading our blog What Country Do the Hmong Come From? Hmong History, People And Culture by clicking here.