Pinterest has a trend tool that helps you to see what people have been searching for. We have used the data from this tool to see the most popular furniture.
The most popular piece of furniture in the United States is the desk. On Pinterest, "desks" were searched more than chairs, tables, and sofas. Another popular search for furniture was coffee tables. This shows that many look at furniture and decor for their home offices and living room spaces.
Table of Contents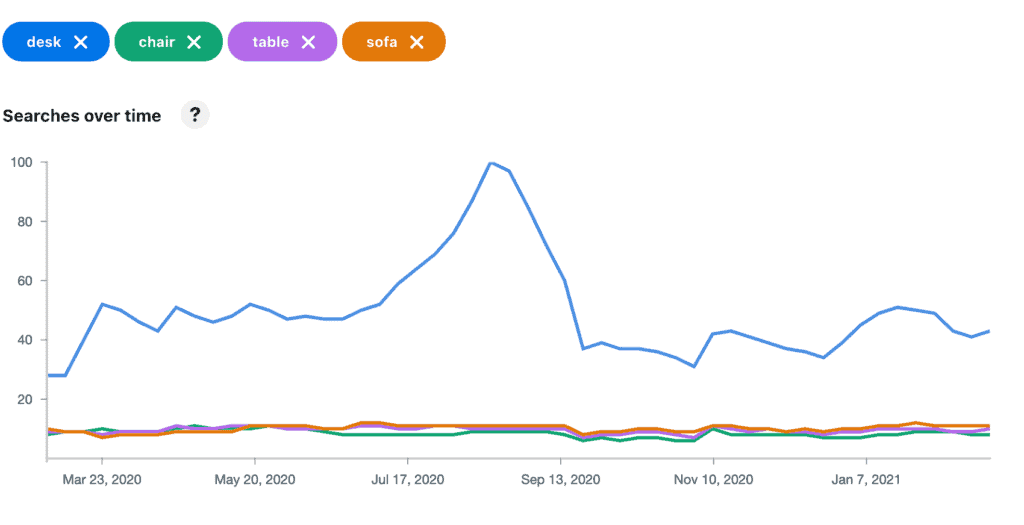 Most Popular Furniture
According to Pinterest search data, "desks" is the most searched term for furniture. There have been huge spikes in the search for "desks" during the last year.
As more people work from home, they search for desks and decor for their home office spaces. We believe this is a trend that will continue.
Interestingly, the Pinterest data shows that desks search is much higher than other basic furniture such as chairs, tables, and sofa. This shows that "desk" is the clear winner for the most popular furniture item.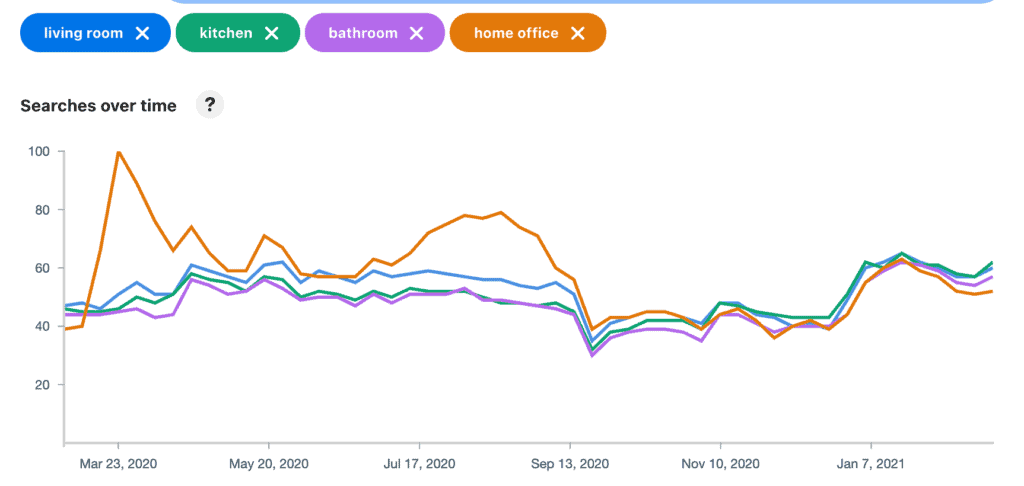 Most Searched Rooms In A Home
On Pinterest, one of the most searched rooms in the house is "home office." You can see some peaks when "home office" was searched—these peaks correspond to the time when more people were working at home due to Covid.
This Pinterest data shows us that having a "home office" is now a significant room in the home. Eventually, the "home office" trend is the same as some of the other major rooms in a home, but we believe the trend will continue.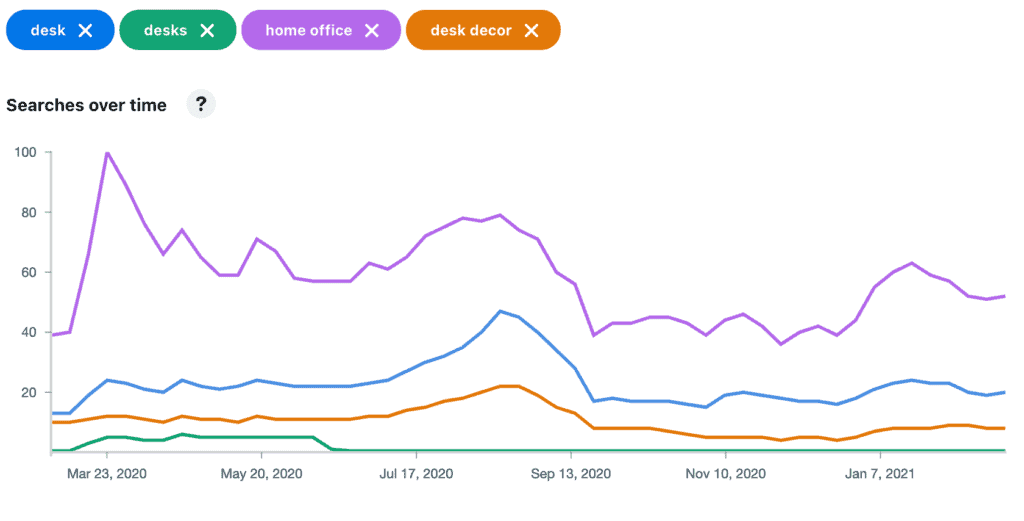 The Home Office Trend
When we compare the "desk" search terms, we find that the "home office" search on Pinterest is more popular than "desk." This shows that people that are searching for desks for their actual home office
This means that home decor companies should consider the home office an important room. People are also searching for how to decorate their home office and find furniture.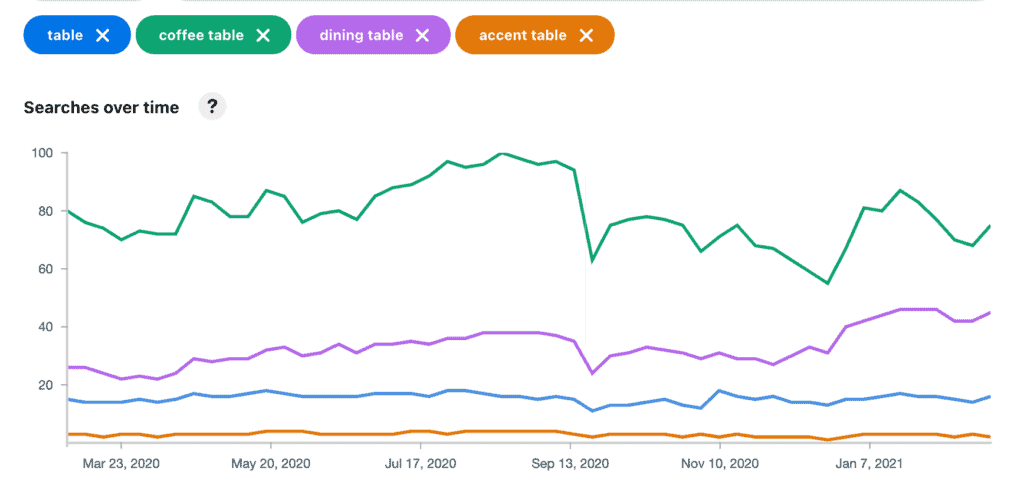 The Table Trend
On Pinterest, the data about the search for "table" also gives us some insights. The number one table people are searching for on Pinterest is coffee tables.
People are looking for coffee tables for their home office or living room space. Quite far down this list on the Pinterest data searches is a dining table, table, and accent table.
People may also be buying a coffee table for their home office. Or as more people are spending more time at home, they want to spend the money on the spaces where their family is congregating.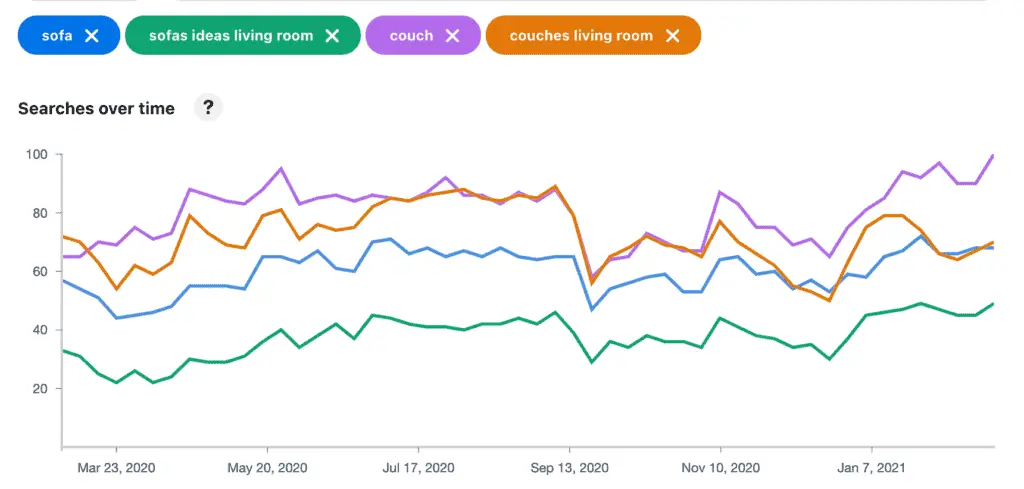 The Sofa or Couch Trend
Pinterest data on the sofa and couch search is also fascinating since people will use either the sofa or couch search term. If we combined these terms, it would be significant searches for this kind of furniture.
This Pinterest data also shows that the living room space is important. People are spending money on their home spaces, which is the most important as the living room.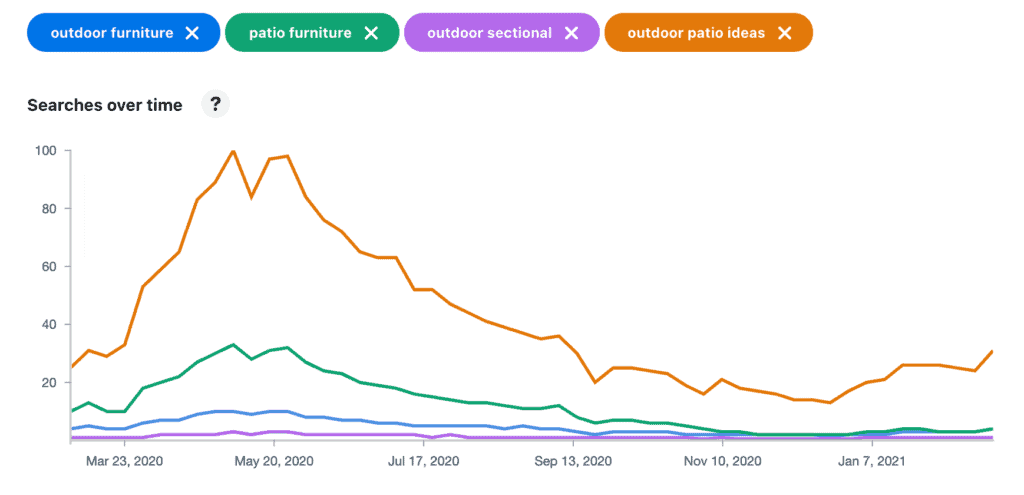 The Outdoor Furniture Trend
The data on Pinterest also shows that people are looking for outdoor furniture. The search for outdoor furniture also corresponds to springtime when people start looking at their outdoor spaces.
A strong Pinterest search term for outdoor furniture was outdoor sectional and patio furniture. These Pinterest search terms show that people view their outdoor space as an outdoor living room.
Pinterest Trend Insights
You can access these trends for Pinterest if you live in the United States, the UK, or Canada. To find the link, click here.
The data is only available now for the United States, the United Kingdom, and Canada. The data only also be accessed only from these locations.
At Mondoro, we would love to help you create, develop and manufacture home furniture and home decor in Asia.
Find out more about how Mondoro can help you create, develop, and manufacture excellent home decor and furniture products – don't hesitate to contact me, Anita. Check out my email by clicking here or become a part of our community and join our newsletter by clicking here.
Mondoro gives out a FREE Lookbook to anyone interested. You can receive a copy of our latest Lookbook by clicking here.
Listen to our Podcast called Global Trade Gal. You can find it on all major podcast platforms. Try out listening to one of our podcasts by clicking here. 
Subscribe to our Mondoro Company Limited YouTube Channel filled with great videos and information by clicking here.
Related Questions
What is the Pantone Color of the Year?
Pantone has chosen two colors as the year's trend color choices: ultimate gray (17-5104 TCX) and illuminating (13-0647 TCX), a bright yellow color. The ultimate gray color is dependable and practical, while the illuminating yellow is optimistic and sunny.
You can learn more by reading What is the Pantone Color of the Year for 2021? by clicking here.
What Are The Latest Social Media Trends?
The 2021 digital and social media trends show that our digital world and social media usage is significantly increasing. Social media usage continues to grow as the world connects more with the internet. One of the more significant social media growths is Facebook for people over 65 years old. Worldwide, women spend more time on social media than men.
You can learn more by reading our blog, What Are The Latest Social Media Trends? Digital & Social Media Trends 2021 by clicking here.