The relatively new 3-D CAD modeling program on the market is Shapr3D. A subscription to Shapr3-D can be pretty expensive for many people.
Shapr3-D is expensive because it is a program made for design professionals. Shapr3D has many training videos so that you can learn how to design 3-D CAD drawings. Shapr3D can help you design 3-D products for your home decor and home furnishing design needs.
If you are a hobbyist and use Shapr3D occasionally, the cost you need to spend on Shapr3D may not be worth it, so you may want to consider their free version.
Table of Contents
Why Is Shapr3D So Expensive?
Shapr3D is one of the new kids on the market for 3-D CAD modeling. What makes Shapr3D so unique compared to many other programs is that Shapr3D is designed to be used on the Apple iPad with an Apple Pencil.
Shapr 3D now offers a desktop version and versions that can be used on platforms besides Apple products.
Shapr 3D Is Constantly Rolling Out New Features For Their Program
Being a Shapr 3D user, I can tell you that they are constantly rolling out new systems and changes; the program is constantly improving and continues to get better and better.
But like many other programs that are out there, Shapr3D is an investment.
Shapr 3D Is A Professional CAD Design Program.
Shapr3D app is a professional design-driven program whose primary focus is to be used by designers, engineers, product designers, and entrepreneurs who want to design and manufacture their products.
Shapr3D offers a free version, but it is limited in what you can do with it. If you are serious about 3-D CAD modeling or need to have 3-D CAD as part of your workflow, you must buy the professional version of Shapr3D.
The Purchased Version Of Shapr 3D Gives You Full Functions
So if you need to have 3-D CAD for your professional work, as we do, then to be able to work with all the functions that Shapr3D offers, you must purchase Shapr3D. The Shapr3D will cost you a standard 239 USD or a business subscription of 499 USD annually.
The Business Version gives you everything; the business version allows you to export 2-D drawings for manufacturing; The Business Version also gives you priority support. You can find out more about Shapr3D and its programs by clicking here.
Is Shapr3D Worth The Money?
The next question that people ask themselves is if Shapr3D is worth the money. After all, many programs for 3-D modeling, like Blender, are open-source and completely free.
If you are in a field that requires 3-D CAD modeling, then Shapr3D is worth the money. Especially if you are an Apple iPad user and feel more comfortable designing using a sketchpad and pencil, Shapr3D will feel natural to you as a sketch on the Apple Ipad with an Apple pencil.
I love how intuitive Shapr3D is. I find it natural to design on an iPad with an Apple Pencil instead of a computer with a mouse.
Also, someone designing using a sketchpad and pencil might find it easier to design using Shapr3D on the Apple Pad. If you like to design this way, Shapr3D may be worth the learning cost and time.
If you are a hobbyist and do not use Shapr3D very often, or it is not a program you need, then the program's cost may not be worth it or the free versions may give you all your need. Consider using their free subscription, which has limited features but will still allow you to check out the Shapr3D program.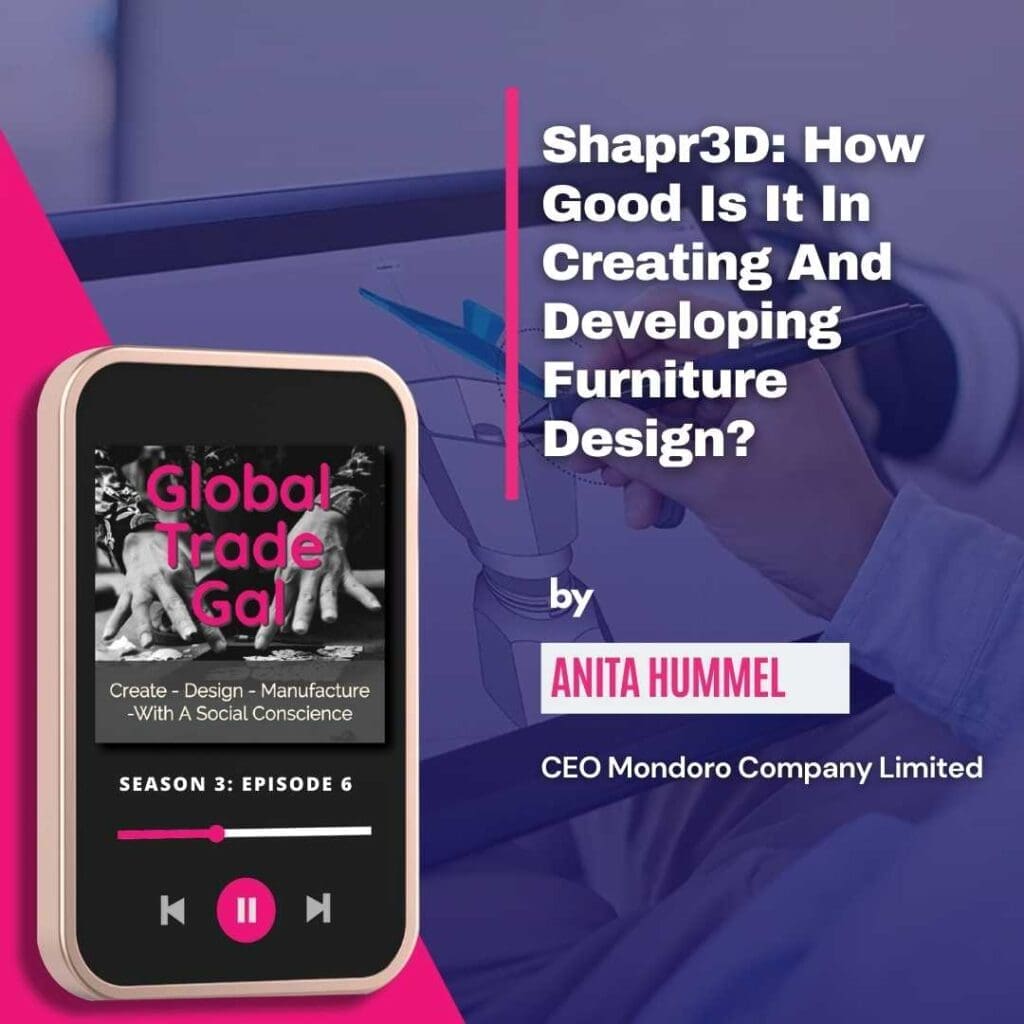 Listen To Our Podcast Shapr3D: How Good Is It In Creating And Developing Furniture Design? below or by clicking here.
What Are Some Advantages of Shapr3D?
I have been using Shapr3D for a while; I am not an expert. But I do like the Shapr3D program. Here are some of the advantages I see with using Shapr3D for 3-D CAD modeling:
Uses Apple Products and Technology – I am a fan of Apple and use all their products. I appreciate that Shapr3D is built and designed using Apple products and technology. I believe the Ipad will eventually become more important than a computer. I must admit that I use my Ipad more than my computer these days.
Can Use On Desktop and Many Other Platforms – Besides using an Apple Ipad and pencil (which I use) you can also use it on many desktops and other platforms.
Sketch On A Screen – I love how Shapr3D allows you to sketch with the Apple pencil. This is another plus of using the Shapr3D program because I appreciate how I can sketch things directly onto the screen.
Video Training – Shapr3D has a huge library of video training. You can start from the basics to more advanced products. They also have a variety of training from designing machine parts to furniture pieces to lamps and lighting. You can find their videos on YouTube or view some of them on the Shapr3D program and follow along with the design on your Ipad screen.
Offer Webinars And Training – Shapr 3D also has some great webinars and training you can join to learn more of their program and see how the professionals design using the program.
New Way To Design using 3D CAD – I believe iPads will be the future for most CAD programs. This is because it is so intuitive and easy to use that eventually, all the CAD programs will start to go in this direction with 3-D CAD design. This was one of the main reasons I decided to pay for a subscription to Shapr3D and learn the program. If I was going to work to learn any program, I wanted to learn one whose technology would be viable for many years to come.
The Shapr3D CAD modeling program is worth the money if you need to do a lot of 3-D CAD Modelling and prefer to use the Apple Ipad and Pencil or even on a desktop. I find it an excellent program, and though there is a learning curve required to learn Shapr3D or any 3-D Modeling program, it is worth the time and effort to learn and master Shapr3D.
Find out more about how Mondoro can help you create, develop, and manufacture excellent home decor and furniture products – don't hesitate to contact me, Anita. Check out my email by clicking here or become a part of our community and join our newsletter by clicking here.
Mondoro gives out a FREE Lookbook to anyone interested. You can receive a copy of our latest Lookbook by clicking here.
Listen to our Podcast called Global Trade Gal. You can find it on all major podcast platforms. Try out listening to one of our podcasts by clicking here. 
Subscribe to our Mondoro Company Limited YouTube Channel filled with great videos and information by clicking here.
Frequently Asked Questions
How much does Shapr3D cost?
Shapr3D offers both free and paid versions. The free version provides limited functionality, while the paid version, Shapr3D Pro, requires a subscription.
Is Shapr3D Pro available for free?
Shapr3D Pro is not available for free. It requires a subscription to access its advanced features and tools.
How much does a Shapr3D Pro subscription cost?
The pricing for Shapr3D Pro subscriptions varies based on different plans and durations. It is best to visit the Shapr3D website or contact their sales team for the most up-to-date pricing information.
Can I use Shapr3D without a subscription?
Yes, Shapr3D offers a free version that allows limited access to its features. However, to unlock the full capabilities of the software, a Shapr3D Pro subscription is required.
What features are included in the Shapr3D Pro subscription?
The Shapr3D Pro subscription provides access to advanced features such as parametric modeling, import/export options with various file formats, advanced drawing tools, and collaborative features.
Are there any student or educational discounts for Shapr3D?
Yes, Shapr3D offers special pricing options for students and educators. They may have discounted plans or educational licenses available. It is recommended to check their website or contact their support team for specific details.
Can I use Shapr3D on multiple devices with a single subscription?
Yes, a Shapr3D Pro subscription allows you to use the software on multiple devices. You can log in with your account credentials on different devices and access your projects seamlessly.
How do I cancel my Shapr3D Pro subscription?
To cancel your Shapr3D Pro subscription, you need to follow the cancellation process outlined by the platform you initially subscribed through, such as the App Store or Google Play Store.
Can I export my designs created with Shapr3D to other CAD software?
Yes, Shapr3D supports exporting designs to various file formats commonly used in CAD software, such as STEP, IGES, and STL. This allows you to collaborate with others or continue working on your designs in different software.
Does the free version of Shapr3D have any limitations?
Yes, the free version of Shapr3D has certain limitations in terms of available features and tools. Upgrading to Shapr3D Pro subscription provides access to advanced capabilities and unlocks additional features.
Can I collaborate with others using Shapr3D?
Yes, Shapr3D Pro offers collaborative features that allow you to work on projects with others in real time. You can share your designs with Shapr3D in real-time. You can share your designs with colleagues or clients, invite them to collaborate, and make edits within the app.
Related Questions
How Do I Self-learn 3-D Modeling?
To self-learn a 3-D modeling program, you need to have the right equipment, an actual 3 D program for you to learn, and enough self-learning videos or manuals for that 3D program to learn and master the program on your own.
You can discover more by reading How Do I Self-learn 3-D Modeling? Why Shapr3D Is Our Pick by clicking here.
What Are the Abode Apps?
Adobe Desktop Apps included Creative Cloud, Acrobat, Photoshop, Dimension, Illustrator, Indesign, Incopy, Premier Pro, Premier Rush, Audition, Media Encoder, Prelude, After Effects, Aero, Lightroom, Bridge, Dreamweaver, Adobe XD, and Animation.   These Adobe apps have a specific purpose and way of working together in the Adobe suite of 'desktop apps. 
You can discover more by reading What Are the Abode Apps? The Adobe Desktop Apps Explained in 8 Minutes by clicking here.