Recently I've been looking for a CAD modeling program that I could learn. I looked at a few programs and finally decided to settle on mastering the Shapr3D program.
Shapr3D is an excellent Ipad based CAD Modeling program. For a powerful CAD modeling program, it is quite easy to learn. The program is intuitive in how they suggest to you can do next. I love how it is easy to navigate in 3D with the Apple Ipad, Apple pencil, and fingers.
Table of Contents
Below are my reasons why I believe the Shapr3D program is an excellent 3D CAD modeling program used for design and product development.
Shapr3D is Easy To Use
Shapr3D is easy to use, especially when compared to other 3D modeling programs. Shapr3D tries to make the user experience user-friendly. I found their instructions and videos to be quite informative.
One thing that I really like about Shapr3D is when I first signed on to Shapr3D, they had a 20-minute video that walked me through a design project. Though it did honestly take me longer than 20 minutes to figure out many things, I found this instruction of having a video right up front on my screen to be helpful.
Shapr3D is An Intuitive Program
I have found Shapr3D to be an intuitive program. When I am working on a project, the system then suggests to me that next step.
I have played around with other CAD modeling programs like Blender, Adobe Dimension, and Adobe Photoshop (3D). I have found both of those harder for me to navigate and learn especially on a Mac laptop.
For a CAD modeling program, you really need to have a mouse. I have an external mouse that I can use with my MacBook Pro, but it is not something I often use, as I mainly use the mouse on my computer. Because of this, found all these 3D CAD modeling programs harder to learn, or they did not have all the functions I needed.
Shapr3D is a Program You Can Take Anywhere
Other 3D CAD modeling programs most people use on a computer. To be able to design most designers are in their office.
I really like how portable the Shapr3D program is as it uses an Apple iPad and Apple pencil. It feels more natural to draw out a shape or an item on an Ipad screen with a pencil than using a computer. I also really appreciate the program's mobility as it is on my Ipad.
Tons of Videos – Especially on Furniture Design
Shapr3D has a ton of informative videos, especially on furniture, lamps, and lighting design. In fact, this is one of the major ways that Shapr3D is being used in some universities.
If you go to their YouTube channel, you can find a series of videos on furniture and lighting design. I have found as they are doing similar items as I am is helping me learn Shapr3D.
Shapr3D Uses Finger and Apple Pen
One of the great things about Shapr3D is you use your finger to move the object around the campus or the screen; your Apple pencil helps you design the 3D drawing. This is very different from other CAD programs as Adobe Photoshop or Adobe dimension or even Blender.
In fact, one of the basic rules for Shapr3D is to move an object around on the screen you use your fingers, but to actually draw the object, you use your pencil. The computer program automatically knows which one you are using.
Shapr3D Gives Exact Measurements
One of the great things about Shapr3D is it will give you the exact measurements of an object or design. I find this very helpful when we are changing proportions or looking at a new design. It helps me to be able to really see how an object will look in the proportions and shapes we have.
Shapr3D Has Colors But No Finishes
Shapr3D has colors that you can use on your 3-D objects but I cannot put actual finishes on them as I can and other programs. We will try to export the OBJ files and use Adobe Dimension or Adobe Photoshop to put on some actual finishes on our 3D designs.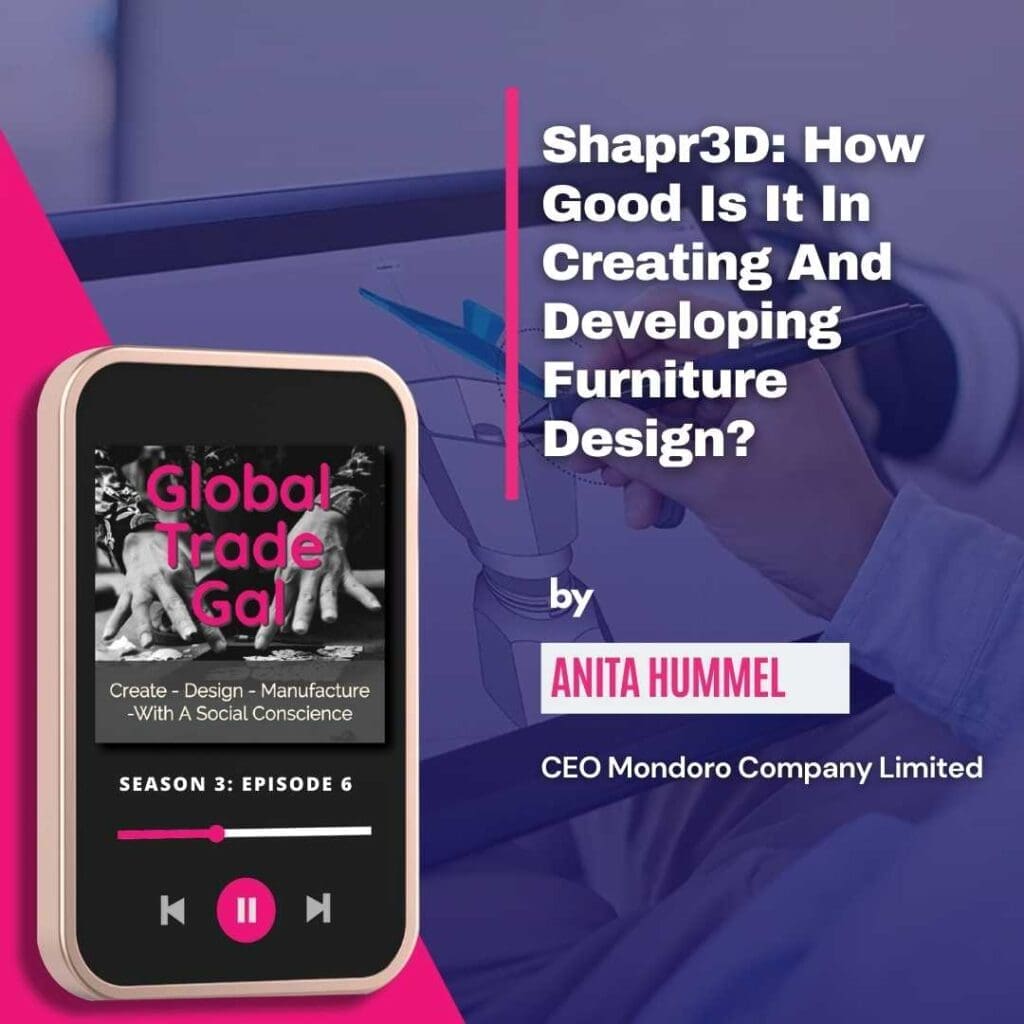 Listen To Our Podcast Shapr3D: How Good Is It In Creating And Developing Furniture Design? below or by clicking here.
Shapr3D Only Uses Apple Products
Shaper 3-D only runs on Apple products. To use Shapr3D, you must have an Apple Ipad and Apple Pencil. It works very well on the Apple Ipad Pro with a new Apple Pencil.
All newer Apple Ipads that use an Apple Pencil should be able to handle the Shapr3D app. This might be a drawback for some people as they may not use an Apple iPad or may not use an iPad with an Apple Pencil.
Shapr3D Allows You To Exporting Files
One of the most surprising things about Shapr3D is for a system operating on your iPad, you can export powerful files. You can export data in file formats as Parasolid file (X-t or X=b), STEP, IGES, or OBJ with the pro version. There is also an STL export option.
Shapr3D also allows exporting other basic files as DWG or the DXF file. If you want to have a screenshot or a JPEG of your drawing, it also allows you to do that easily. You also have the option to download for 3D print and Apple AR (augmented reality).
Even if you do not want to do any CAD modeling, Shapr3D can help your workflow. You can use Shapr3D to open and view all kinds of 3D file types and make quick adjustments on your iPad.
We expect to see continued improvements in Shapr3D. In fact, it would not surprise me if in the future, almost all cat modeling is done this way Dash using an Apple Pencil and your fingers. It's just so much easier to work with an Ipad than the older method of a computer and a mouse.
Shapr3D is Not The Cheapest Program
Shapr3D is not the cheapest program, especially if you compare it to other iPad design programs as Procreate or the Concept app. Shapr3D does offer a full free version for students and universities that qualify under their program.
Shapr3D also has another free version, but this version only allows you a few designs and not all the functions. If you are very serious about 3-D CAD modeling, you will need to buy the pro version of Shapr3D. Shapr3D is about US$25 per month or US$240 per year.
Shapr3D is an excellent program to use for 3D CAD modeling. Not only is it easy to use, but all you need to use it is also an Apple iPad and the Apple Pencil. If you are looking for a 3D CAD modeling program to learn Shapr3D is an excellent choice.
If you are looking for a partner to help you create, develop, and manufacture home decor or home furniture manufacturing in Asia, we would love to talk to you to see how we can help you. Please feel free to contact Anita by clicking on this link or contacting us through our contact page.
Related Questions
Why Use Procreate for Home Décor Accessories Designing?
Procreate is a powerful Apple app with Photoshop features. Procreate allows you to design a home decor accessory item, and then with a few quick adjustments, you can view the same product in a variety of finishes and colors. Procreate is very user-friendly and is a tool that can help any home decor designer, interior designer, and manufacturer.
You can learn more by reading Why Use Procreate for Home Décor Accessories Designing? by clicking here.
What is Procreate's Capture & Swatch Drop For Color Palettes?
Procreate's 5X update includes a capture and swatch drop feature.   This capture and swatch drop feature allows you to create Procreate color palettes with your camera, photos, or computer files. Procreate also integrates with some Adobe file formats. We recommend the Procreate app and Procreate's new color palette features.
You can discover more by reading Procreate's Capture & Swatch Drop For Color Palettes, Insider's Review by clicking here.