Mondoro is dedicated to aiding clients in crafting distinctive and fascinating home decor and furnishing products. We love to help our clients produce unique home decor and home furnishing designs.
At Mondoro, we take great pride in our ability to manufacture and create genuinely distinctive home decor and home furnishing products. We follow a series of fundamental steps to ensure our clients receive the most exceptional products in uniqueness, quality, and affordability. With our expertise, we are dedicated to bringing your product visions to life, transforming your ideas into tangible items and creating for you captivating home decor products.
Table of Contents
7 Steps Mondoro Takes To Help You Produce Home Decor Products
Mondoro's team is dedicated to helping you bring your creative product visions to life. With our comprehensive approach and unwavering commitment to excellence, we take pride in assisting clients in producing extraordinary home decor and furnishing products.
Read on as we walk you through Mondoro's steps to ensure a seamless and personalized experience, resulting in unique home decor creations that genuinely reflect your company's style and preferences.
Collaborative Product Creation With Our Clients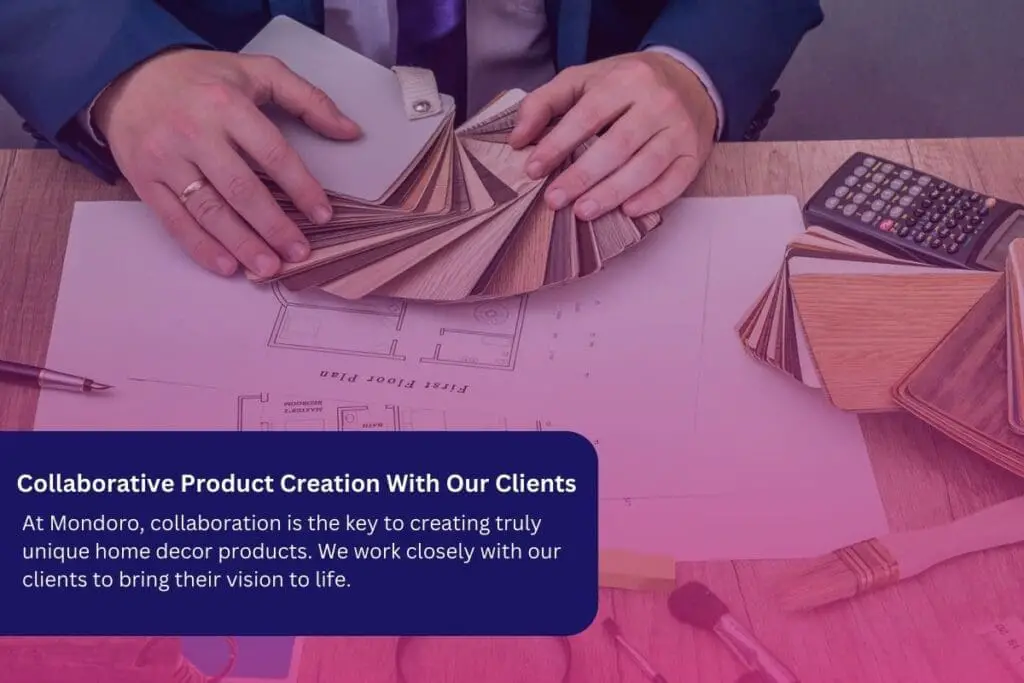 At Mondoro, collaboration is the key to creating truly unique home decor products. We work closely with our clients to bring their vision to life.
Our dedicated team is always thrilled to brainstorm and explore ideas with you, ensuring that the result reflects your company's style and preferences. We value your input and actively seek your involvement throughout product creation.
Customized Design Generation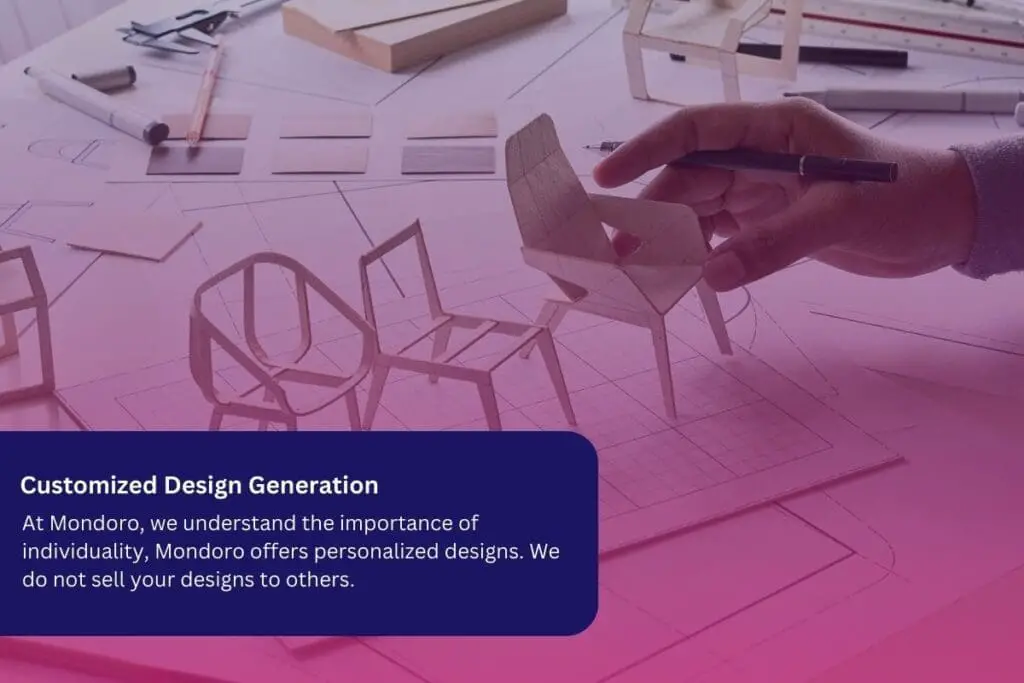 Understanding the importance of individuality, Mondoro offers personalized designs. We do not sell your designs to others.
We also understand that your home decor product collection should reflect your distinct taste and personality. Our expert team will work closely with you, translating your ideas into tangible products.
We Can Help You Develop Unique Color Finishes
Colors and finishes play a significant role in enhancing the appeal of home decor products. At Mondoro, we recognize the importance of offering a wide range of color and finish options to suit your preferences.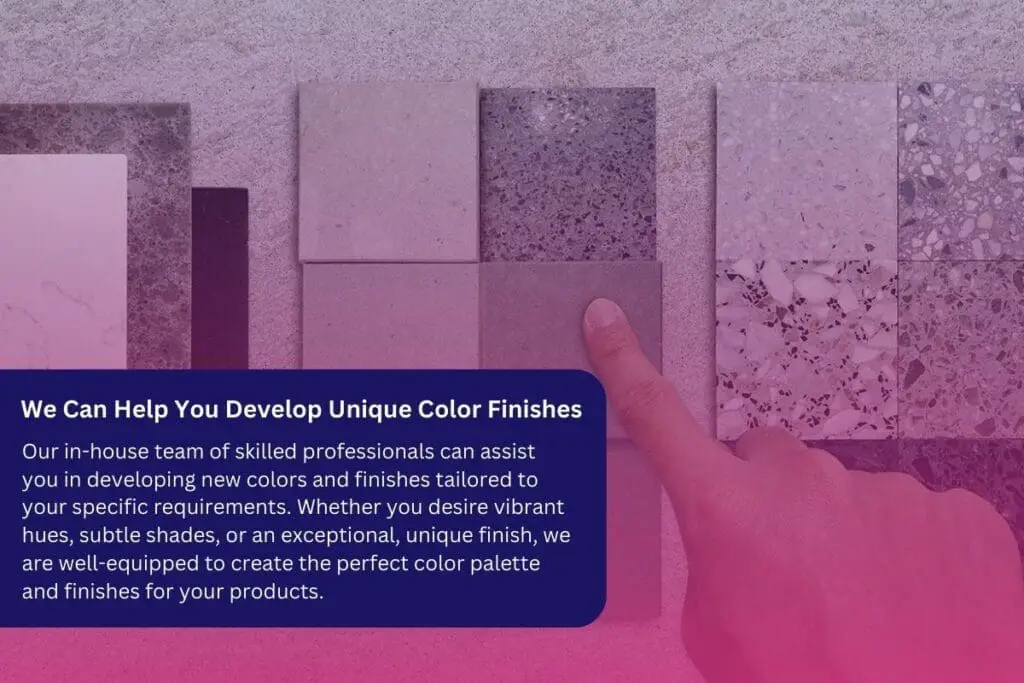 Our in-house team of skilled professionals can assist you in developing new colors and finishes tailored to your specific requirements. Whether you desire vibrant hues, subtle shades, or an exceptional, unique finish, we are well-equipped to create the perfect color palette and finishes for your products.
We Are Partnered With Exceptional Vendors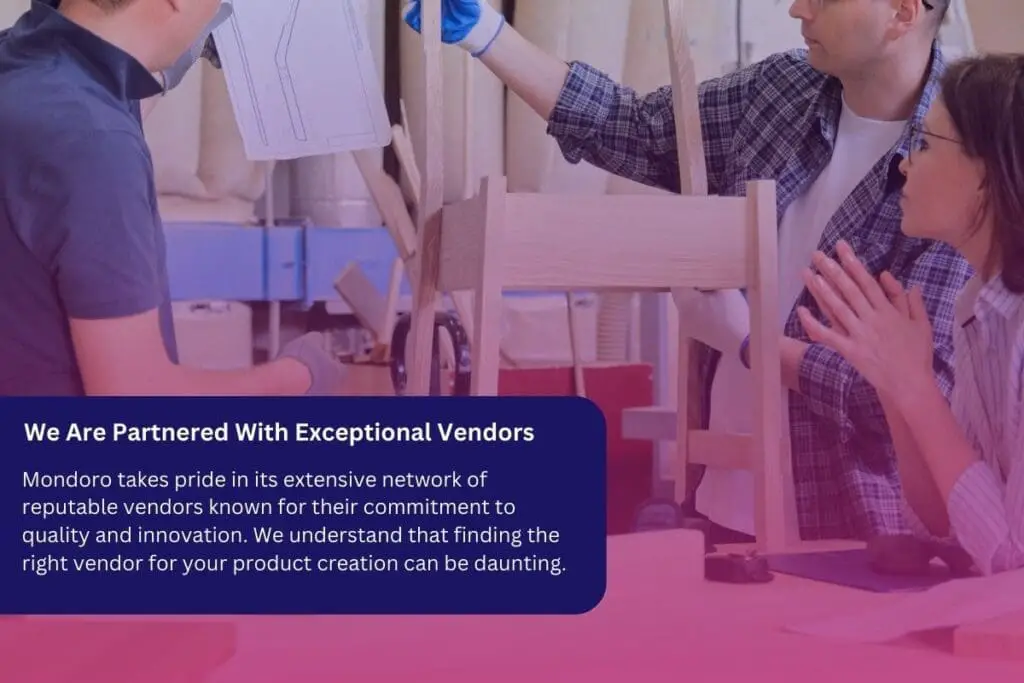 Mondoro takes pride in its extensive network of reputable vendors known for their commitment to quality and innovation. We understand that finding the right vendor for your product creation can be daunting.
That's why we go the extra mile to identify and collaborate with the best possible vendors in the industry. Our strong relationships with these vendors allow us to offer you access to a diverse range of high-quality materials, unique designs, and fair prices.
Our collaboration with vendors goes beyond mere business transactions. At Mondoro, we take pride in nurturing relationships with smaller-scale industries that possess exceptional designs and unmatched quality.
Many of these vendors rely on our assistance for exporting their products to a broader market. Without our support, their remarkable creations would remain undiscovered, confined to local markets.
We believe in the power of these hidden gems and strive to bring their manufacturing expertise to a global audience. By working closely with these vendors, we ensure that their unique designs and superior quality are accessible to discerning customers who appreciate the beauty of finely crafted home decor products.
Together, we contribute to the growth and recognition of these talented artisans and industries, showcasing their exceptional offerings to the world.
Listen To Our Podcast About Creating Distinctive Home Decor: Unveiling Mondoro's Magics below or by clicking here.
Quality Assurance And Testing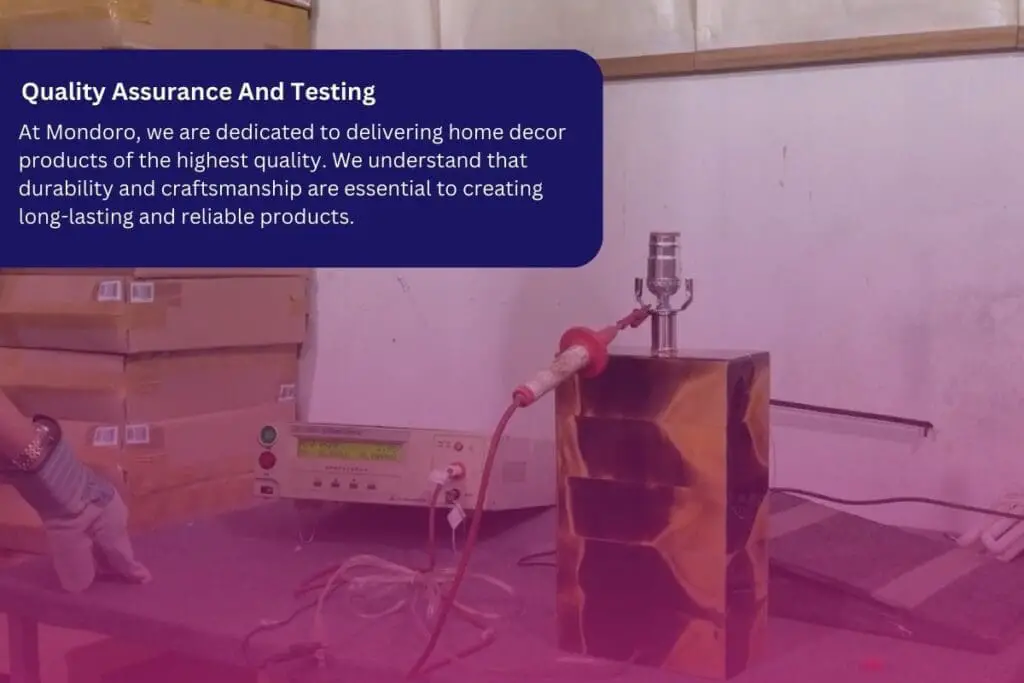 At Mondoro, we are dedicated to delivering home decor products of the highest quality. We understand that durability and craftsmanship are essential to creating long-lasting and reliable products.
To ensure the utmost quality, our team conducts rigorous testing and quality assurance checks at every stage of the production process. From materials sourcing to manufacturing, we adhere to strict standards to guarantee that each item exceeds our client's expectations.
Timely Production And Delivery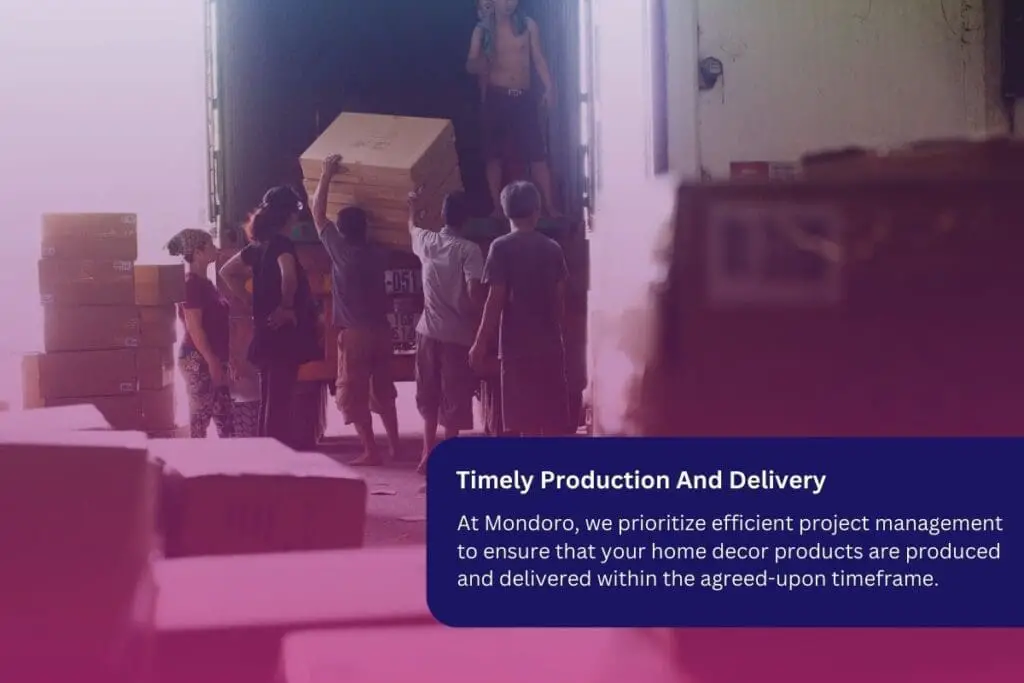 We understand the importance of timely production and delivery to our clients. At Mondoro, we prioritize efficient project management to ensure that your home decor products are produced and delivered within the agreed-upon timeframe.
Our experienced team is well-versed in overseeing production schedules, coordinating with vendors, and managing logistics. You can rely on us to keep you updated throughout the process, ensuring a smooth and punctual delivery of your unique creations.
Mondoro's Ongoing Customer Support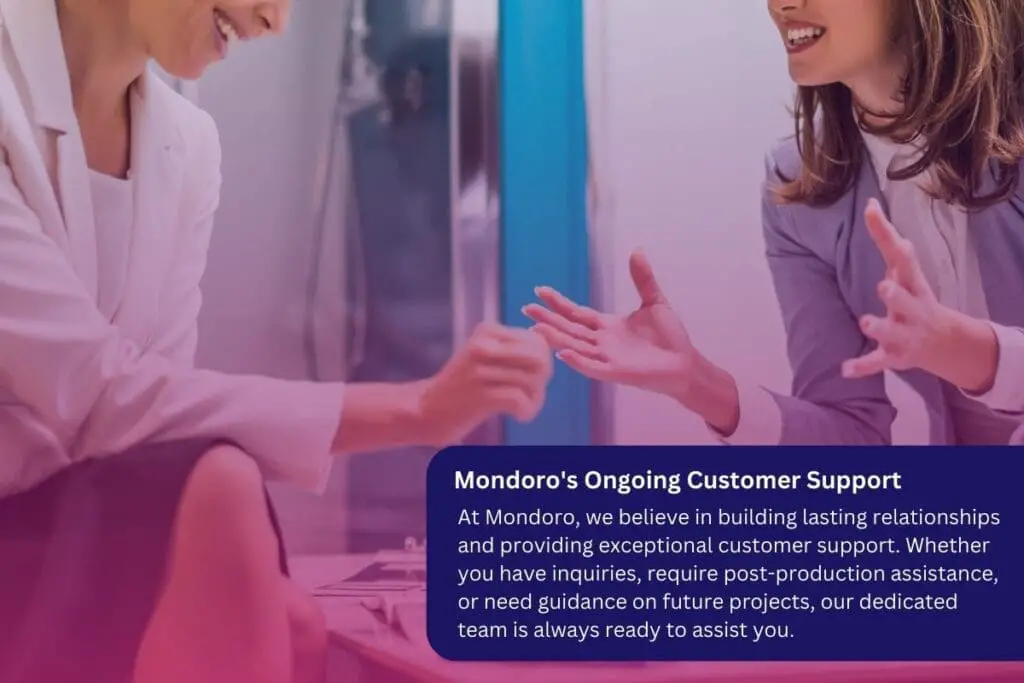 Our commitment to our clients extends beyond the production phase. At Mondoro, we believe in building lasting relationships and providing exceptional customer support. Whether you have inquiries, require post-production assistance, or need guidance on future projects, our dedicated team is always ready to assist you.
We value open communication and strive to address any concerns or requests promptly and effectively, ensuring your complete satisfaction.
Mondoro takes pride in offering a comprehensive range of home and home furniture manufacturing to help our clients produce exceptional home decor products. From collaborative product creation and customized design generation to developing unique color finishes and partnering with top-tier vendors, we are committed to bringing your vision to life.
We strive to exceed your expectations at every step, emphasizing quality assurance, timely production and delivery, and ongoing customer support. Choose Mondoro as your trusted manufacturer in creating truly unique and captivating home decor products that will elevate the style and ambiance of any space.
Find out more about how Mondoro can help you create, develop, and manufacture excellent home decor and furniture products – don't hesitate to contact me, Anita. Check out my email by clicking here or become a part of our community and join our newsletter by clicking here.
Mondoro gives out a FREE Lookbook to anyone interested. You can receive a copy of our latest Lookbook by clicking here.
Listen to our Podcast called Global Trade Gal. You can find it on all major podcast platforms. Try out listening to one of our podcasts by clicking here. 
Subscribe to our Mondoro Company Limited YouTube Channel with great videos and information by clicking here.
Related Content
8 Reasons To Look Towards Manufacturing Your Products In Vietnam
With the tariffs that countries like the United States have placed on China, Vietnam is one country that has become a clear winner in the trade war. One reason is that Vietnam has a relatively large, young, educated, and skilled population. The Vietnamese Government is also business-friendly, and the country continues to develop many excellent shipping ports.
You can learn more by reading our blog, 8 Reasons To Look Towards Manufacturing Your Products In Vietnam, by clicking here.
Is Vietnam Easier Than China To Source Or Procure Products From? Tips To Help
Vietnam does not have a highly developed product procurement or sourcing supply chain with clear and concise information as China does. Sourcing products and finding manufacturers in Vietnam can prove much more difficult than finding suppliers and manufacturers in China.
You can read our blog about Is Vietnam Easier Than China To Source Or Procure Products From? Tips To Help by clicking here.
How Do I Find An Overseas Manufacturer To Produce My Own Product Ideas?
To find a reliable overseas manufacturer to produce your product ideas, here are some basic steps you can take 1) Find a reliable agent to help you find manufacturers, 2) attend trade shows in your industry, 3) research online, 4) talk to trade organization and 5) try to get a referral from someone in your industry.
You can learn more by reading our blog, How Do I Find An Overseas Manufacturer To Produce My Own Product Ideas? by clicking here.