One of the popular colors is the Alabaster paint color. Almost every paint color company has an Alabaster color in their paint collection.
The Alabaster color is a great color to use for your home. Most people will paint the alabaster color on their walls as it can be used on the walls for various looks and designs. Many home decor and home furnishing companies will also use the alabaster color for their product designs; everything from furniture, vases, lamps, mirrors, and ceramics will use an alabaster color.
Table of Contents
What Is The Alabaster Paint Color?
The Alabaster paint color is one of the oldest and most popular paint colors used in home decor. With its subtle yet classic white hues, the Alabaster paint color is a timeless interior color.
The Alabaster paint color is an off-white color with a hint of grey added; the color gives an understated sophistication to any space.
One reason the alabaster color is popular is that it is a very versatile color that can be used in any room to create a classic or modern look and style. The Alabaster color is a color that continues to work well with all kinds of trend colors.
All Major Paint Companies Have An Alabaster Color
The alabaster paint color is available from all major paint companies; this makes it an accessible and popular choice for interior walls and home decor products. It also shows what a classic and popular color the Alabaster color is.
Here are some of the major paint companies that have an Alabaster color in their collections: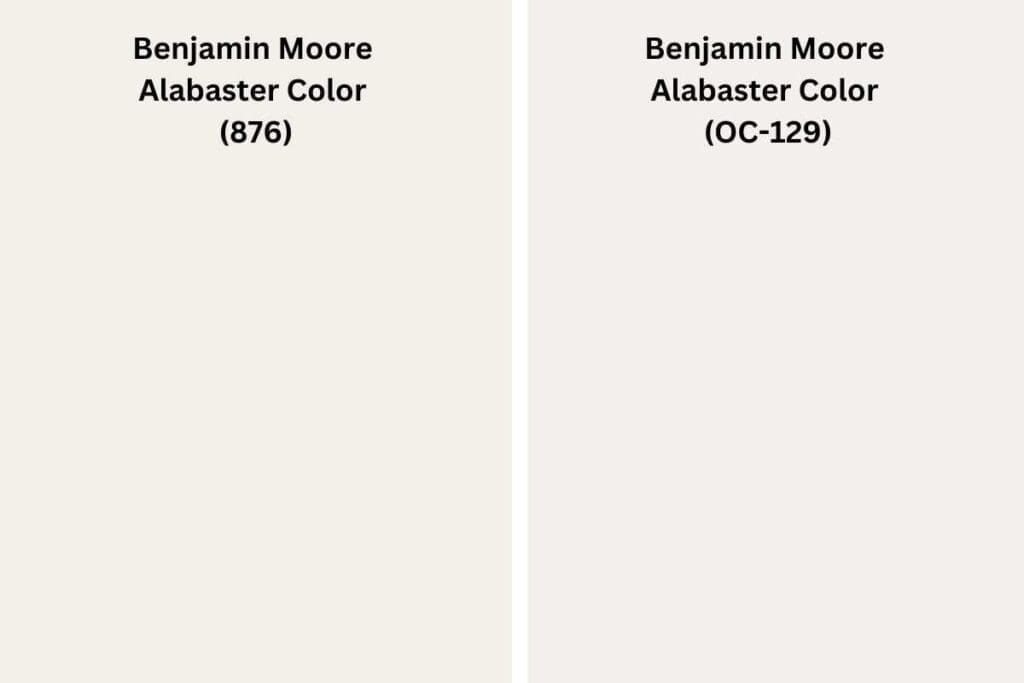 Benjamin Moore – Benjamin Moore has several Alabaster colors, including Alabaster Color 876 and OC-129. Both are great classic alabaster colors.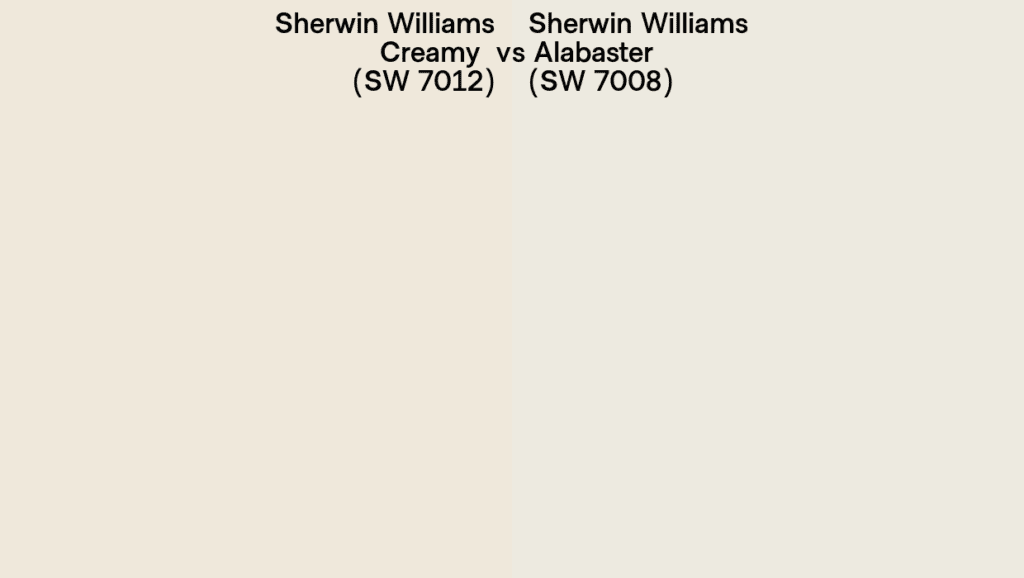 Sherwin Williams – Sherwin Williams offers a variety of Alabaster colors; two popular Alabaster colors include Alabaster White and Alabaster Cream.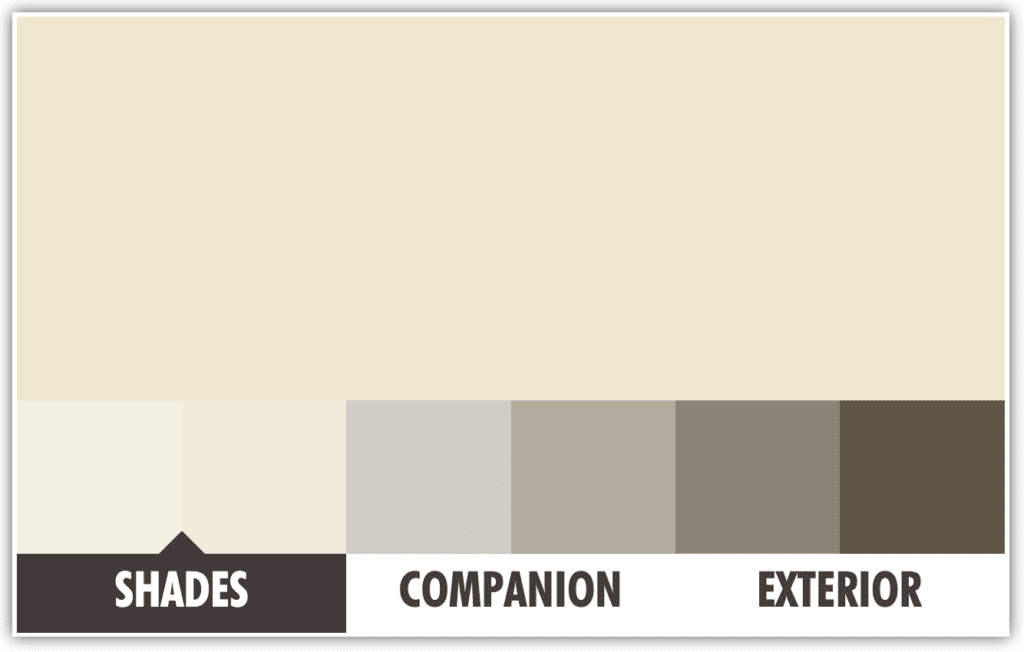 PPG – The paint company PPG has a variety of alabaster colors and can help you match any other alabaster color from other paint companies.

Behr – Behr has an Alabaster color, BXC-62, and other similar white alabaster colors.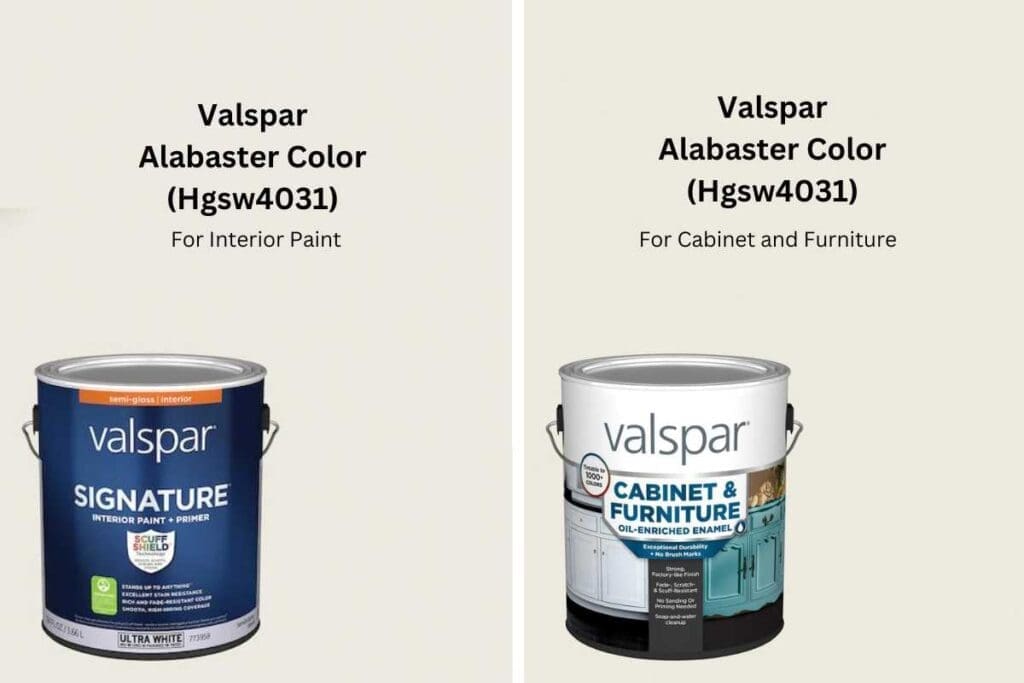 Valspar – Valspar has a classic eggshell Alabaster and some other alabaster and white colors.
Almost every major paint company has an alabaster shade in their collection; most companies have two or more tones of Alabaster. This shows that the Alabaster white color is a classic white color.
Alabaster can often come with different types of sheen, from gloss to semi-gloss to matt color sheen.
Using Alabaster As A Wall Color In Your Home
One reason that Alabaster is a color for almost every major paint company is that Alabaster is a popular color to paint on the wall. Alabaster is a popular and classic color to put on the walls of a home, office, or any other space.
We love the Alabaster paint color for the walls of any home. It is a great color as it is not a bright white but still gives a great white look. The fact that most Alabaster colors have a grey tone to them means that the Alabaster has more of a grey Alabaster tone.
Paint companies from Benjamin Moore to Sherwin Williams offer plenty of alabaster-based paint colors. So no matter what shade of Alabaster you want for your space, Alabaster should be able to find a significant paint company with the color you are looking for.
Alabaster is a great color to bring in accent colors and textures in the home decor to complete the look. Alabaster is a neutral and subtle color that can be easily matched with bolder colors, prints, and art; this makes Alabaster timeless yet trendy.
Alabaster And Home Decor Products
Alabaster is an excellent choice for designing home decor products. Alabaster is used for both furniture and accessories development.
The color is popular and classic for all home decor because of its classic look. Everything from furniture, vases, boxes, trays, lamps, and lighting uses alabaster colors. This shows that the Alabaster color continues to be classic.
Many product design companies prefer the alabaster color instead of a basic white or off-white color. This is because they know that the alabaster color will be able to go with many other home decor and interior design products already out in the market.
The Alabaster color is popular as it is one color that continues to stand the test of time and never goes out of fashion. The alabaster paint color is timeless for any room, home, decor product, or interior space.
Alabaster is a versatile and timeless paint color that can enhance the beauty of your interior spaces, making them feel more spacious, calming, and adaptable to different design styles and color palettes. It's a popular choice for those seeking a neutral, elegant, and enduring wall color.
Find out more about how Mondoro can help you create, develop, and manufacture excellent home decor and furniture products – don't hesitate to contact me, Anita. Check out my email by clicking here or become a part of our community and join our newsletter by clicking here.
Mondoro gives out a FREE Lookbook to anyone interested. You can receive a copy of our latest Lookbook by clicking here.
Listen to our Podcast called Global Trade Gal. You can find it on all major podcast platforms. Try out listening to one of our podcasts by clicking here. 
Subscribe to our Mondoro Company Limited YouTube Channel with great videos and information by clicking here.
Frequently Asked Questions
What is Alabaster paint color, and how would you describe it?
Alabaster is a soft, warm, and off-white paint color. It is often described as a creamy white with subtle undertones.
Is Alabaster a versatile color for interior walls?
Yes, Alabaster is highly versatile. Its neutral and calming qualities make it suitable for various interior spaces, from bedrooms to living rooms and kitchens.
Does Alabaster make rooms feel larger and more spacious?
Absolutely. Alabaster's light and airy quality can create the illusion of larger and more open spaces, making it an excellent choice for smaller rooms.
Is Alabaster a good color for both traditional and modern interior designs?
Yes, Alabaster works well in both traditional and modern design schemes. Its versatility complements a wide range of decor styles.
Does Alabaster pair well with other colors?
Alabaster is an excellent neutral base that pairs beautifully with almost any color palette, from bold and vibrant hues to soft pastels.
Does Alabaster have a calming effect on a room?
Yes, Alabaster's subtle and soothing tone can create a tranquil atmosphere, making it a popular choice for bedrooms and bathrooms.
Does Alabaster work with different types of lighting?
Alabaster is known for its adaptability under various lighting conditions, from natural daylight to artificial lighting, maintaining its elegance.
Is Alabaster a timeless color choice for walls?
Alabaster's timeless and classic appeal ensures that it won't go out of style, making it a safe and enduring option for interior walls.
Does Alabaster make it easier to change decor and accessories in a room?
Yes, Alabaster's neutral nature allows for easy adaptation of decor and accessories, making it simple to refresh a room's look without repainting.
Can Alabaster be used in different finishes, such as matte or satin?
Alabaster is available in various finishes, including matte, satin, and semi-gloss, offering flexibility to achieve different aesthetics and levels of durability on your walls.
Related Content
How to Manufacture Vietnamese Lacquerware?
Vietnamese lacquer requires many manufacturing steps in the lacquer production process, including making the base, preparing the lacquer base to be applied, and finally, applying the lacquer paint onto the surface. Every piece must be carefully sanded to give it a very smooth surface. Vietnamese lacquerware production requires a lot of skill and knowledge.
To learn more, you can read How to Manufacture Vietnamese Lacquerware? An Insider's Guide to Lacquer by clicking here.
What is Gold Leafing Used in Home Decor Products?
The gold leaf is hammered gold. Some gold leaf manufactured today is hammered, copper, or gold mixed with other metals and alloys. The gold leaf is manufactured by gold beating. The process of gold beating is to beat or press the gold into fragile sheets of paper.
You can discover more by reading What is Gold Leafing Used in Home Decor Products? by clicking here.
Home Interior Mirror Ideas, Manufacturing Home Decor Mirrors
Many Interior designers use mirrors to help them with their decorating. This is because a mirror can become a design focal point for any room. A mirror can help brighten a dark space and make a room look larger.
You can learn more by reading our blog, Home Interior Mirror Ideas, Manufacturing Home Decor Mirrors, by clicking here.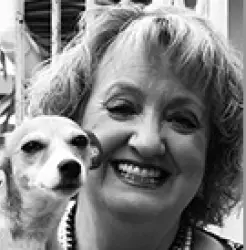 Latest posts by Anita Hummel
(see all)