Deciding on the perfect table to grace your living space is an intriguing aspect of home decoration. Often, the choice narrows down to two popular options: a coffee table or a tea table.
Coffee and tea tables embody different aesthetics, serve distinct functions, and carry a unique heritage, making the selection process a nuanced journey. While they may seem similar at first glance, delving into their specific attributes uncovers an intriguing world of contrasts and possibilities.
Table of Contents
The Coffee Table Vs. Tea Table Conundrum: An In-Depth Look
Coffee Tables vs. Tea Tables are two unique pieces of furniture for any home. Whether you prefer the significant, imposing presence of a traditional Chinese tea table or the minimalistic, compact utility of a Western coffee table, the decision significantly impacts the look and feel of your room.
The choice between the two is not merely a matter of aesthetic preference; it reflects your lifestyle, your habits, and your needs for the space.
The Coffee Table Vs. Tea Table Explored
Are you aware that coffee and tea tables are essentially the same piece of furniture? Let's journey together to the realm of living room furniture and shed light on this often misunderstood topic.
Firstly, what exactly is a coffee table, and what is a tea table? Originating from early China, tea tables were typically rectangular or square. They were designed to match the height of an armchair's armrest and were commonly positioned between two chairs.
Even today, China and many parts of Asia will drink much more tea than coffee. Coffee is a recent Western import.
On the other hand, coffee tables derived their name from the Western practice of drinking coffee.
Over time, the coffee and tea tables evolved into more than simple platforms for serving beverages. They are indispensable pieces of furniture, frequently used for entertaining guests or as convenient spots to place an array of sundry items.
Design And Size Of Coffee Tables Vs. Tea Tables
The design and size differentiate a tea table from a coffee table. Traditionally, Chinese preference leans towards larger-sized furniture. Thus, tea tables often exhibit grander dimensions. Conversely, Westerners incline towards minimalism and functionality, preferring smaller coffee tables or compact side tables or boxes.
Why Coffee Tables And Tea Tables Are Indispensable?
In contemporary times, coffee and tea tables are considered indispensable home furnishing components. A coffee table and tea table can be indispensable for any home.
Here are some things you can consider when considering a coffee table and a tea table.
Practicality Is Key When Choosing
The utility of a coffee or a tea table is undeniable. Positioned in front of a sofa, they serve multiple purposes: a spot to place tea cups, utensils, fruits, books, and more. When guests are over, their items like water cups and bags can be safely placed on the table to prevent any potential mess on the sofa.
Coffee tables transform into handy spots for placing remote controls, chargers, or even a plate of food while lounging in front of the television. Misplacing small items in the crevices of your sofa becomes a problem of the past!
The Tables Add Aesthetic Value
The role of a coffee or tea table is not limited to practicality; it also contributes significantly to the living room's aesthetics. Often the room's centerpiece, a well-curated table, can enhance the overall ambiance.
Whether it's a clean, minimal table with just a tea set for guests or a more personalized space adorned with flowers or table lamps, it expresses your style and taste.
The Tables Help Unify The Room's Theme
An unoccupied space in the middle of your living room can feel oddly incomplete. Adding a coffee or tea table fills this void, tying the room together. Picture placing a table amidst your sofa set—the proverbial cherry atop a perfectly frosted cake.
How To Choose Between Using A Tea Table And A Coffee Table?
The selection between a tea table and a coffee table comes from your lifestyle and personal preferences. A tea table would be a great fit if you like a spacious surface and regularly have multiple items to carry.
On the other hand, if you appreciate neatness, minimalism, and more open space, a coffee table or a smaller side table would be an ideal choice. Ultimately, the choice should be about what brings convenience and functionality to your life.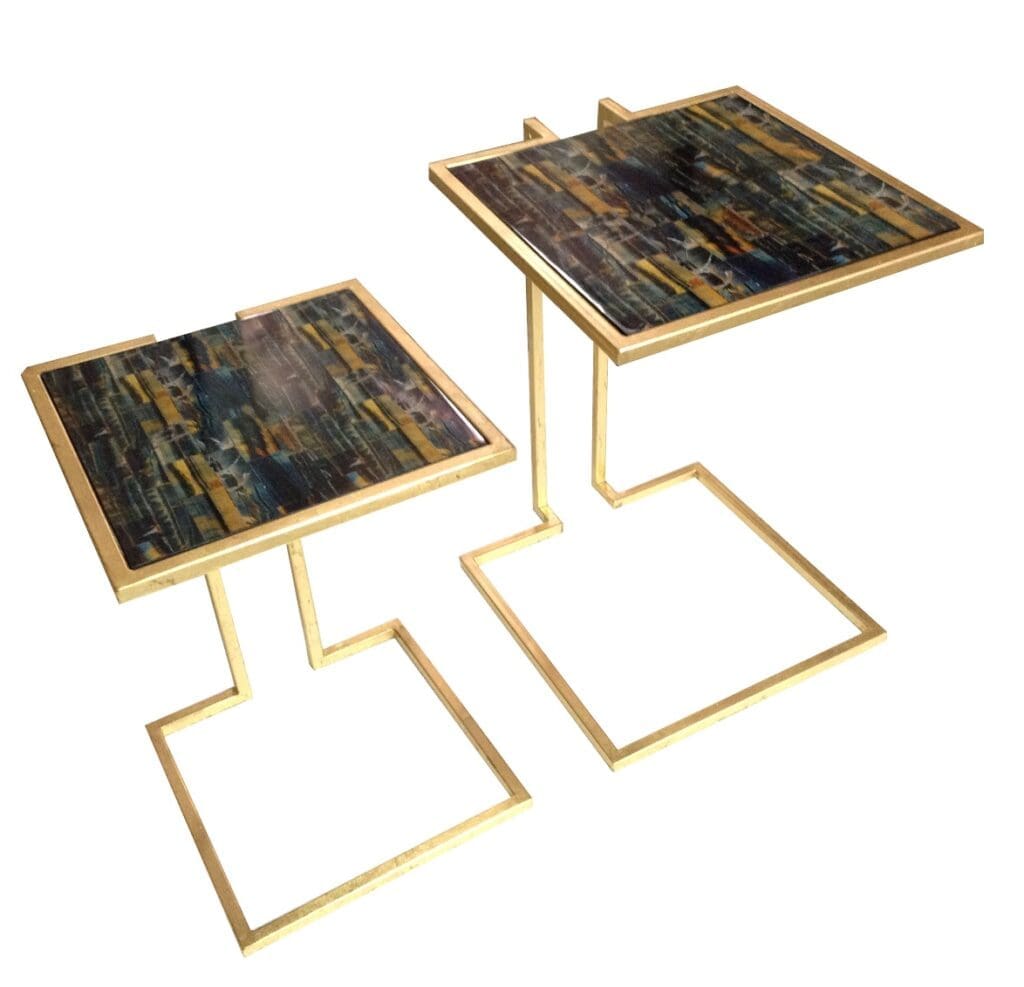 Tea and coffee tables bring an extra layer of aesthetic appeal to any room. Incorporating one, or even both, into your home's interior design truly boils down to individual preference. These tables, each in their way, make an excellent complement to any decor style.
If you're interested in how Mondoro can help with your coffee table, tea table, or any custom design you have in mind – we would love to talk to you about how we can help you.
Find out more about how Mondoro can help you create, develop, and manufacture excellent home decor and furniture products – don't hesitate to contact me, Anita. Check out my email by clicking here or become a part of our community and join our newsletter by clicking here.
Mondoro gives out a FREE Lookbook to anyone interested. You can receive a copy of our latest Lookbook by clicking here.
Listen to our Podcast called Global Trade Gal. You can find it on all major podcast platforms. Try out listening to one of our podcasts by clicking here. 
Subscribe to our Mondoro Company Limited YouTube Channel with great videos and information by clicking here.
Related Content
The Tre Natural Color Trend for Home Decor and Home Furniture
Tre means bamboo. But it also helps to symbolize the strength and ability to be resilient. The Tre trend concerns nature as part of your life and home. The Tre natural color palette has a lot of lush green tones. The Tre trend can be used with other home decor and furniture trends.
You can discover more by reading The Tre Natural Color Trend for Home Decor and Home Furniture by clicking here.
Can Cane Furniture Be Left Outside?
Cane furniture is not outdoor weather-resistant; manufacturers produce outdoor weather-resistant furniture from synthetic, not natural, cane materials. Throughout history, cane furniture was in outdoor settings in many parts of the world; during that time, there was no genuinely outdoor weather-resistant furniture.
You can learn more by reading Can Cane Furniture Be Left Outside? by clicking here.
What Is The Difference Between Rattan, Wicker, And Cane Furniture?
Rattan is a type of palm or vine that grows in the jungles of Southeast Asia. Rattan refers to a kind of natural material. Wicker is a type of weave using rattan materials. Cane also refers to a type of weave that is usually woven using rattan material.
You can learn more by reading our blog What Is The Difference Between Rattan, Wicker, And Cane Furniture? by clicking here.