Walls are the canvases of our homes, presenting a unique opportunity for personal expression. However, decorating these expansive spaces can often feel intimidating.
Filling the void with the right blend of style, function, and personality is crucial for setting the tone of your living room; this is where wall décor comes in, offering endless possibilities to transform your blank walls into an enticing visual narrative. Read on as we delve into twelve creative ideas for your living room wall decor, incorporating elements such as wall art, mirrors, artifacts, hanging plates, and more
Table of Contents
12 Living Room Home Decor Wall Ideas: Breathing Life Into Your Empty Walls
Empty walls can often seem like daunting blank canvases, but they also provide the perfect backdrop for injecting personality and style into your living room. Whether your aesthetic leans more towards the minimalist or the eclectic, there are many ways to transform empty walls into captivating focal points.
Here are twelve creative living room wall decor ideas to inspire you, incorporating elements like wall art, mirrors, artwork, artifacts, hanging plates, and more.
Do A Gallery Wall
An artfully curated gallery wall is a classic way to bring interest and personality to your living spaces. Mix and match various art pieces, photographs, posters, or personal mementos for an eclectic look.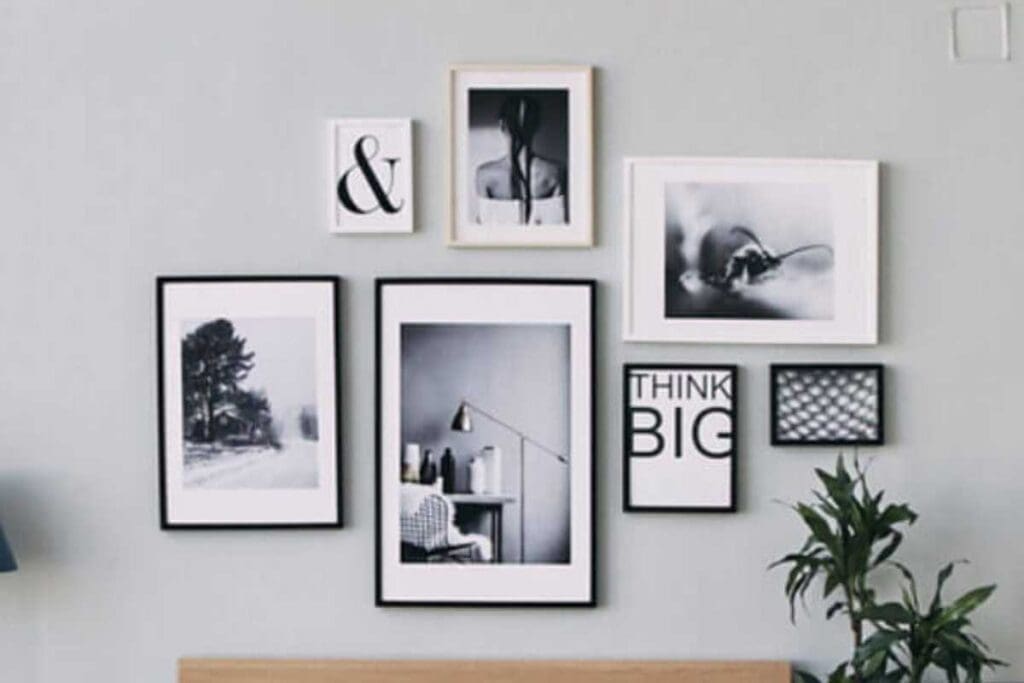 You can stick to a monochromatic theme or let the colors run wild – the choice is yours.
Use Oversized Art
One large piece of art can make a bold statement and set the tone for your entire living room. This works exceptionally well in minimalist interiors, where the art piece becomes the room's focal point.
Choose something that speaks to you – an abstract painting, a dramatic photograph, or a large-scale print.
Mirrors On The Wall
Mirrors aren't just practical and excellent for making a room feel larger and brighter. A beautifully framed mirror can act as a piece of art and, when positioned correctly, can reflect light and create an illusion of space.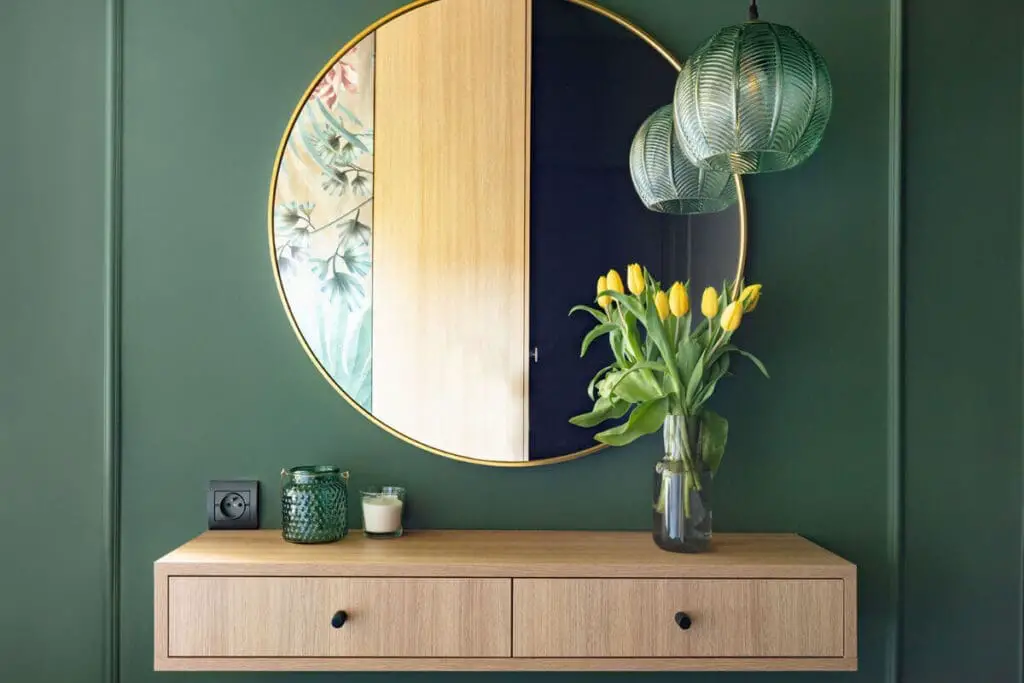 Experiment with different shapes, sizes, and styles to find one that suits your decor.
Wall-mounted Shelves
Wall shelves offer both storage and display opportunities. They're great for showing off your book collection, small plants, photo frames, or other objects you love.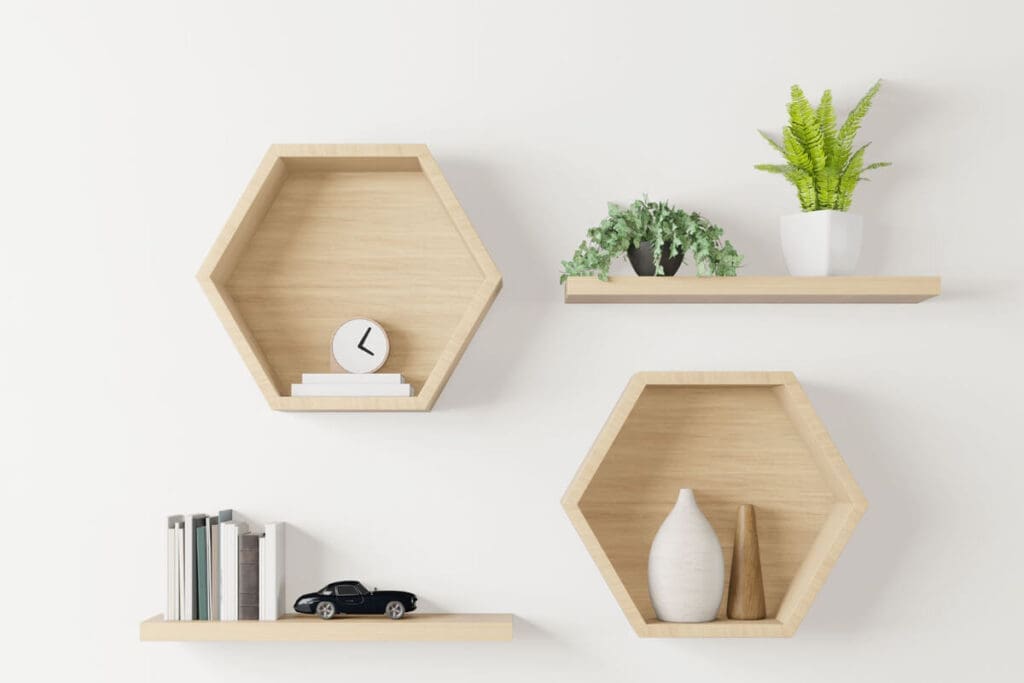 Try different arrangements like staggered, floating, or corner shelves for a unique touch.
Textile Art On The Wall
Textile art is a fantastic way to add texture and warmth to your walls. This could be a beautiful woven tapestry, a vibrant rug, or a quilt.
Hanging textile art uniquely showcases beautiful fabric pieces and can be a softer alternative to traditional framed artwork.
Sculptural Pieces
3D pieces can add depth and intrigue to your living room walls. Consider metal wall sculptures, wooden carvings, or even ceramic wall installations.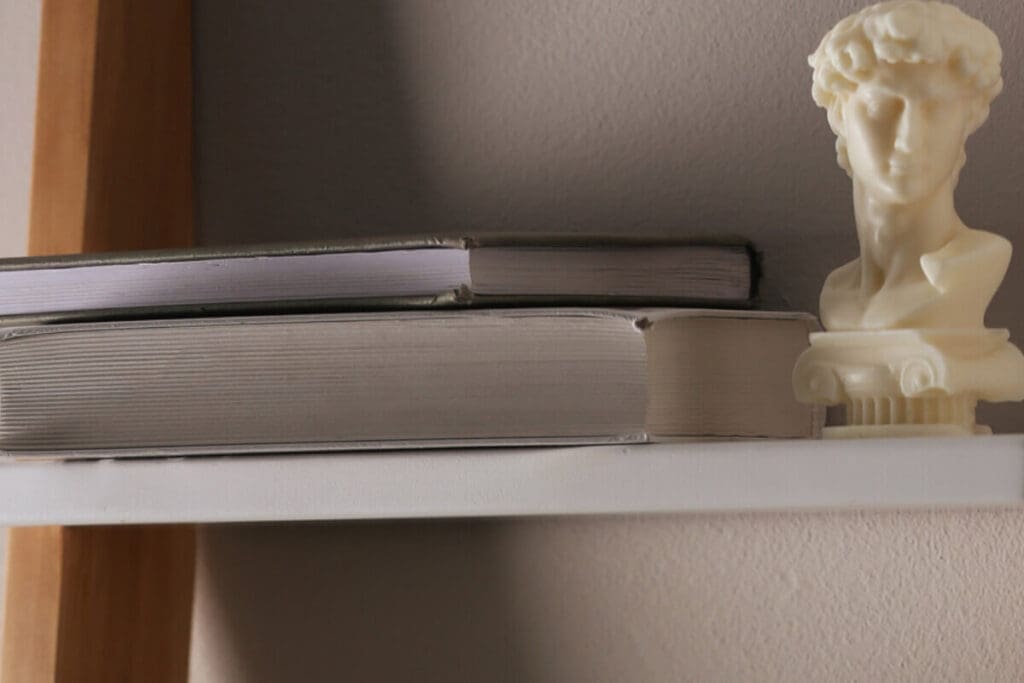 Depending on your preference, these can range from abstract designs to more recognizable forms.
Hanging Plants
If you love greenery, why not take it to the walls? Hanging plants save floor space and bring a sense of freshness and vitality to your living room.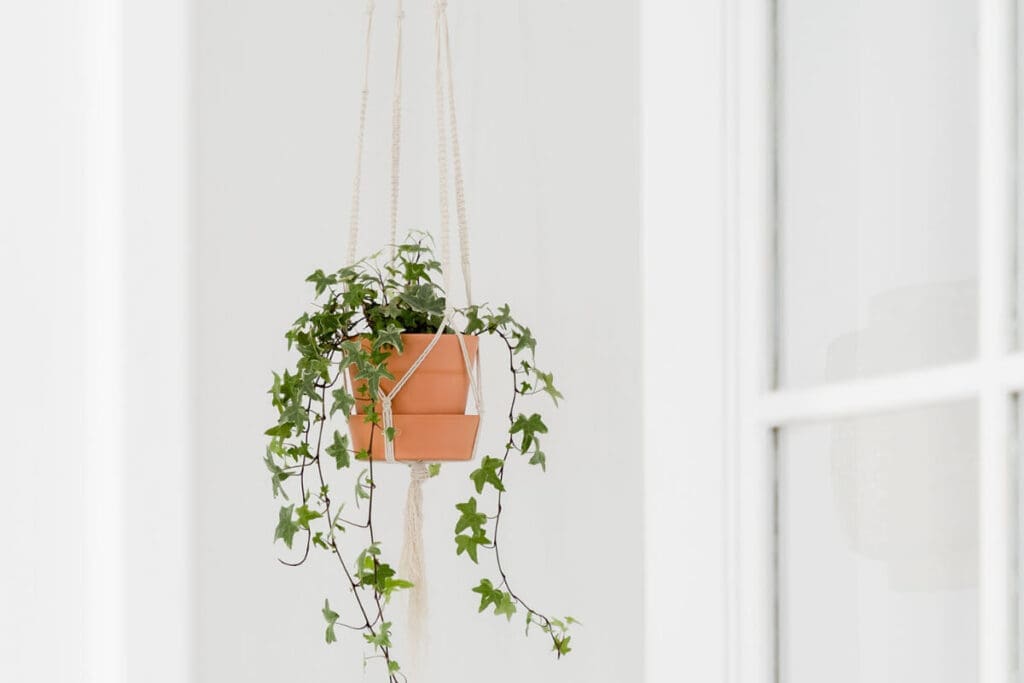 Choose attractive planters and easy-to-maintain indoor plants for a mini vertical garden.
Wall Murals Or Wallpaper
Transform a blank wall into a dramatic feature with a mural or a patterned wallpaper. This could be a tranquil landscape, a graphic pattern, or a bold color – the key is to choose something that complements your overall interior design.
Hanging Plates Or Trays
Hanging decorative plates or trays on the wall can create an eye-catching display. Choose pieces with interesting patterns, colors, or textures and arrange them symmetrically or asymmetrically.
This is a great way to showcase a collection and create a conversation piece.
Wall Sconces
Wall sconces are a fantastic way to add mood lighting while freeing up table space. They come in various styles and designs, so you can find something to suit any decor. Plus, they can cast interesting shadows and create a cozy atmosphere when turned on.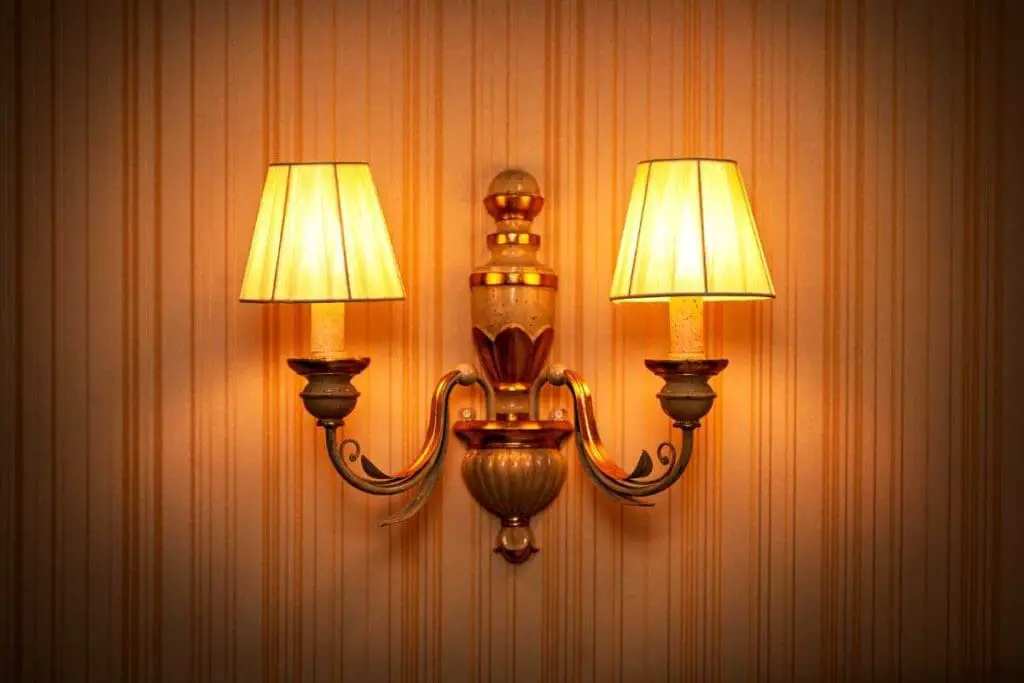 Artifacts And Antiques
If you love history or travel, showcasing artifacts or antiques on your wall can add a layer of personal narrative and intrigue to your living room. From vintage signs and maps to tribal masks or antique plates, these pieces can serve as conversation starters and a link to the past.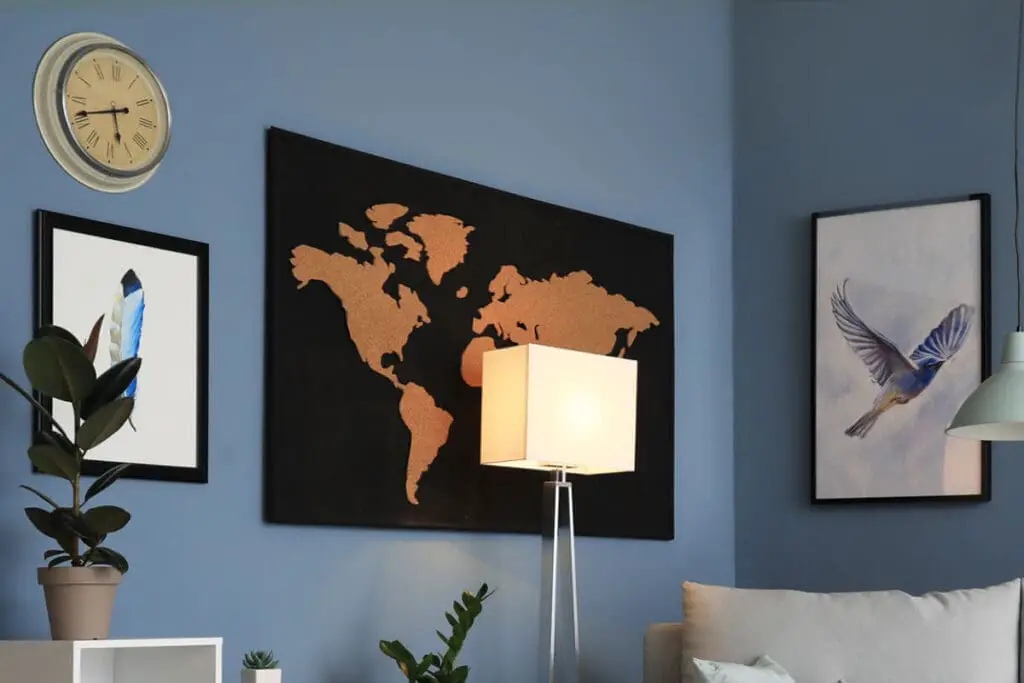 Wall Decals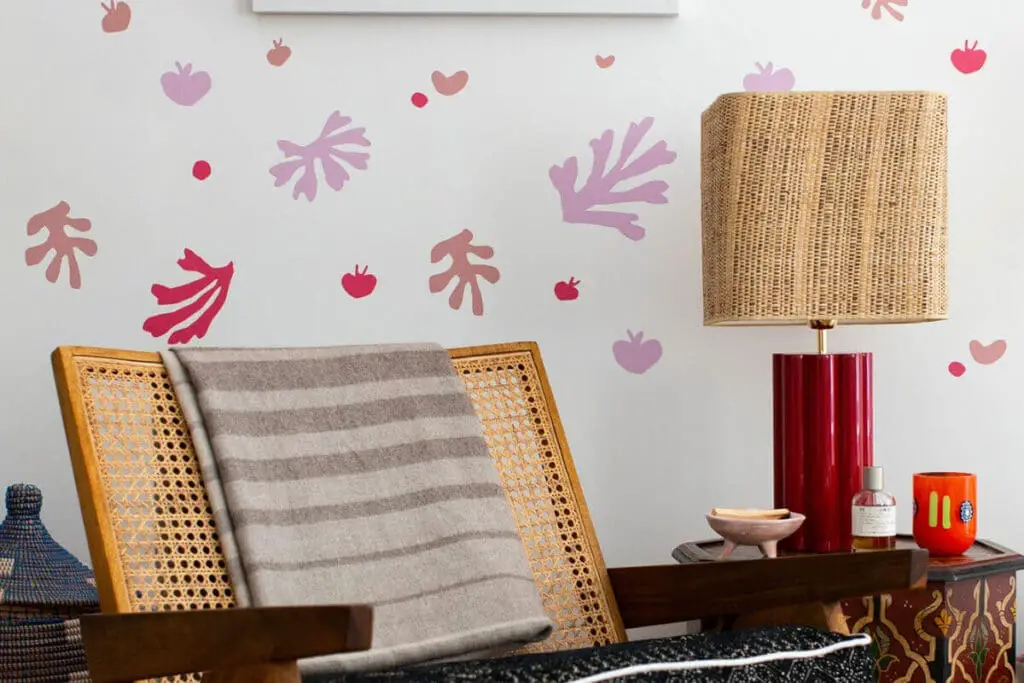 Wall decals are a fun and non-permanent way to add a playful or graphic element to your walls. They're available in countless designs and themes, making them suitable for all ages and tastes. Plus, they're easy to apply and remove without damaging the paint.
4 Tips For Decorating Your Walls
The options for decorating your living room walls are endless, and your choices will depend on your style, the existing decor, and the mood you want to create. Here are a few tips to keep in mind when selecting and arranging your wall decor:
Balance And Harmony
Strive for a balanced look, but don't be afraid to mix different styles, shapes, and sizes. A wall with identical pieces might feel monotonous, while too many contrasting elements can seem chaotic. Find a middle ground that works for you.
Scale And Proportion
Consider the size of your wall when choosing decor. A small artwork might get lost on a large wall, while an oversized piece can overwhelm a small space.
Placement
Hang your artwork or decor at eye level for the best visual impact. If you're creating a gallery wall or grouping several pieces, lay them on the floor first to find an arrangement that works before hammering nails into the wall.
Personalization
Your living room reflects your personality, so don't be afraid to display items that have meaning to you. This could be a piece of artwork you love, a souvenir from your travels, or a family heirloom.
Remember, decorating your living room walls is not a task that needs to be completed all at once. It's an ongoing process that can evolve, just like your tastes and lifestyle.
So, take your time, enjoy the process, and don't be afraid to experiment. You may stumble upon a unique wall decor idea that transforms your living room into a space that's stylish and genuinely reflective of you.
Find out more about how Mondoro can help you create, develop, and manufacture excellent home decor and furniture products – don't hesitate to contact me, Anita. Check out my email by clicking here or become a part of our community and join our newsletter by clicking here.
Mondoro gives out a FREE Lookbook to anyone interested. You can receive a copy of our latest Lookbook by clicking here.
Listen to our Podcast called Global Trade Gal. You can find it on all major podcast platforms. Try out listening to one of our podcasts by clicking here. 
Subscribe to our Mondoro Company Limited YouTube Channel with great videos and information by clicking here.
Related Content
What Is The Modern Farmhouse Interior Design Style?
The modern farmhouse interior design style has become increasingly popular as people look to create a warm and inviting home that reflects a more straightforward, rustic way of life. Combining classic farmhouse elements with contemporary design touches, this style blends the old and the new to create a comfortable and stylish living space. 
You can discover more by reading What Is The Modern Farmhouse Interior Design Style?, by clicking here.
The Traditional Home Decoration Style Explored
The traditional home decor style is characterized by classic, elegant, and sophisticated elements that create a warm and inviting atmosphere in the home. This style is about comfort, familiarity, and a sense of tradition. 
You can learn more by reading The Traditional Home Decoration Style Explored by clicking here.
Spring Color Palette – The Delft Blue Home Decor Trend
The spring color palette of the Delft Blue home decor trend is significant and easy to see why. The Delft Blue trend is filled with all kinds of blue tones and colors that evoke the beauty of the Netherlands, where the famous Delft Blue pottery originated. But the colors also remind us of spring and the beautiful spring season.  
You can learn more by reading our blog Spring Color Palette – The Delft Blue Home Decor Trend, by clicking here.