Your living room is the heart of your home. It's where you gather with family, entertain friends, and unwind after a long day. But what if you find yourself with vacant corners, bare walls, and awkward nooks that seem unfulfilled?
These empty spaces often pose a decorating dilemma and present exciting opportunities to express your style. The key is to utilize them creatively, adding layers of function and aesthetics to your living room. Read on as we explore 10 home decor ideas to transform these empty spaces, using everyday items like table lamps, floor lamps, boxes, trays, and baskets.
Table of Contents
10 Living Room Home Decor Ideas To Decorate Empty Spaces: Adding Style And Function To Your Living Space
Every living room, irrespective of its size, has its own set of challenges regarding decoration. Empty corners, bare walls, or awkward nooks can often seem puzzling.
However, these spaces provide excellent opportunities to express creativity and elevator home decor. By cleverly utilizing these empty spaces, you can add layers of style, function, and charm to your living room.
Here are 10 home decor ideas to help you enhance these vacant spots, using items like table lamps, floor lamps, boxes, trays, and baskets, to breathe life into your living room.
Floor Lamps
Floor lamps are excellent for adding a stylish light source to an empty corner. They come in various designs, from sleek and modern to ornate and traditional, providing ambient light and a sculptural element.
Position a floor lamp next to a chair to create a cozy reading nook, or use it to illuminate a dark corner.
Gallery Wall
Bare walls can be the perfect canvas for showcasing your personality. Create a gallery wall with artwork, photographs, and wall hangings. This adds color and interest and lends a personal touch to your living room.
Indoor Plants
Greenery can instantly energize space. A tall indoor plant like a fiddle leaf fig tree or a monstera can fill a vacant corner, adding a splash of color and a natural element. Alternatively, group smaller plants on plant stands at different heights for visual interest.
Table Lamps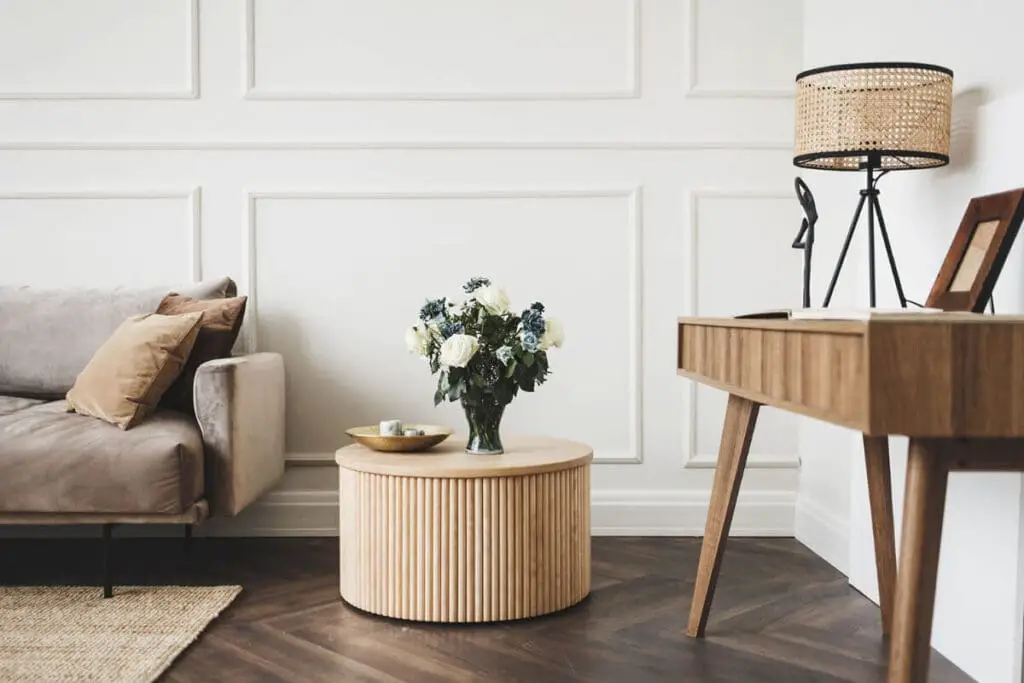 A table lamp can be a functional and decorative addition to an empty surface. It provides task lighting, perfect for reading or writing while serving as a decor piece. Consider a table lamp with a distinctive base or a colorful shade to introduce a style statement.
Open Shelving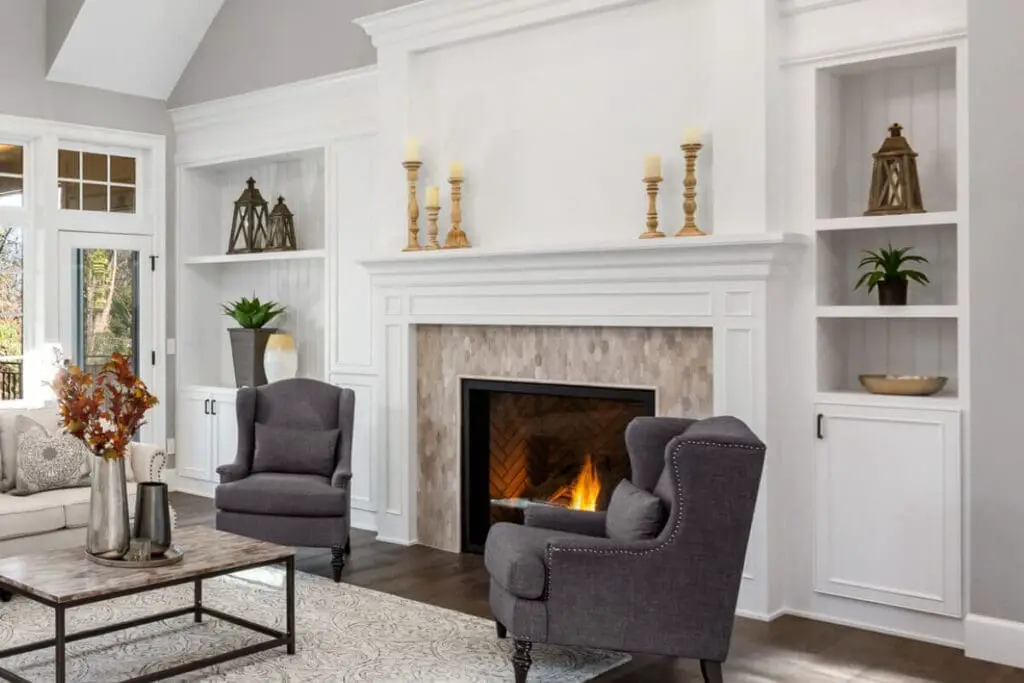 Open shelves are an excellent solution for empty walls. They offer display space for your favorite accessories, books, and plants. Keep the arrangement balanced and not too cluttered to maintain a clean, minimalist look.
Baskets
Baskets are a versatile decorating tool. A large wicker or seagrass basket can fill an empty corner and double as storage for throw blankets or kid's toys. Smaller baskets can be used on shelves or under coffee tables to store smaller items, helping keep your living room tidy.
Decorative Trays
Trays can turn an empty ottoman or coffee table into a styled vignette. They're perfect for grouping smaller items like candles, coasters, and vases, giving them a more cohesive look. Choose a tray that complements your decor—wooden for a rustic look, metallic for glam, or acrylic for a modern twist.
Accent Chairs
A stylish accent chair can transform an empty corner into a functional seating area. Pair it with a small side table or a trunk or a table lamp to create a perfect spot for reading or relaxing.
Decorative Boxes
Decorative boxes are an elegant solution to control clutter. They can hold remotes, coasters, or other small items, keeping surfaces clean.
Choose boxes that complement your living room's aesthetic—natural wood for a Scandi vibe, lacquered for a modern look, or intricately painted for a bohemian touch.
Statement Mirror
A large mirror can make a room feel bigger and brighter. A mirror opposite a window will reflect natural light, illuminating a dark corner. Choose a mirror with a stylish frame that complements your decor for a functional yet attractive addition.
Remember, your living room should reflect your personality and cater to your lifestyle. While these ideas provide a good starting point, feel free to add your creative spin. For instance, you might use a beloved collection of ceramic bowls on an open shelf or fill a basket with vibrant throw pillows picked up on your travels.
There's no one-size-fits-all approach to decorating. It balances style and functionality, creating a beautiful and practical space. Don't be afraid to experiment – change the placement of your lamps, swap out items on your tray or shelf, or switch the position of your accent chair until you find what works best for you.
When decorating your living room, always consider the scale. A large floor lamp might overpower a small room, while a tiny table lamp might get lost in a spacious living room. Ensure each item is proportionate to its space for a harmonious look.
Also, maintain a cohesive color palette throughout the room. This doesn't mean everything should match perfectly, but the colors should work well together. For example, if your living room has a neutral color scheme, consider table lamps, trays, or boxes in complementing tones, or use these items to introduce a pop of color.
Embrace the power of texture. A woven basket adds a tactile element, a brass tray brings a shiny touch, and a velvet accent chair introduces a sense of luxury. By mixing textures, you can add depth and interest to your living room.
Remember that your living room is a space for living. While it needs to be stylish, it should also be comfortable and welcoming – a place where you can kick off your shoes, curl up with a good book, and feel genuinely at home. So make sure the items you choose are beautiful and contribute to creating a warm, inviting atmosphere.
Decorating empty spaces in your living room doesn't have to be a daunting task. With these ideas as your guide, you can create a living room that's stylish and functional, and uniquely yours. Whether you opt for a statement mirror, a cluster of indoor plants, or a chic table lamp, the perfect decor piece can turn a space into your favorite spot in the room.
Find out more about how Mondoro can help you create, develop, and manufacture excellent home decor and furniture products – don't hesitate to contact me, Anita. Check out my email by clicking here or become a part of our community and join our newsletter by clicking here.
Mondoro gives out a FREE Lookbook to anyone interested. You can receive a copy of our latest Lookbook by clicking here.
Listen to our Podcast called Global Trade Gal. You can find it on all major podcast platforms. Try out listening to one of our podcasts by clicking here. 
Subscribe to our Mondoro Company Limited YouTube Channel with great videos and information by clicking here.
Related Content
The Tre Natural Color Trend for Home Decor and Home Furniture
Tre means bamboo. But it also helps to symbolize the strength and ability to be resilient. The Tre trend concerns nature as part of your life and home. The Tre natural color palette has a lot of lush green tones. The Tre trend can be used with other home decor and furniture trends.
You can discover more by reading The Tre Natural Color Trend for Home Decor and Home Furniture by clicking here.
Can Cane Furniture Be Left Outside?
Cane furniture is not outdoor weather-resistant; manufacturers produce outdoor weather-resistant furniture from synthetic, not natural, cane materials. Throughout history, cane furniture was in outdoor settings in many parts of the world; during that time, there was no genuinely outdoor weather-resistant furniture.
You can learn more by reading Can Cane Furniture Be Left Outside? by clicking here.
What Is The Difference Between Rattan, Wicker, And Cane Furniture?
Rattan is a type of palm or vine that grows in the jungles of Southeast Asia. Rattan refers to a kind of natural material. Wicker is a type of weave using rattan materials. Cane also refers to a type of weave that is usually woven using rattan material.
You can learn more by reading our blog What Is The Difference Between Rattan, Wicker, And Cane Furniture? by clicking here.