Cane is a beautiful natural material used centuries to produce all kinds of woven furniture. Cane furniture and caning are making a huge comeback in today's design world.
Cane furniture is not outdoor weather-resistant; manufacturers produce outdoor weather-resistant furniture from synthetic, not natural, cane materials. Throughout history, cane furniture was in outdoor settings in many parts of the world; during that time, there was no genuinely outdoor weather-resistant furniture.
Cane is a natural material woven from the peel or the outer part of the rattan core; the rattan peel is the most substantial part of the rattan. This part of the rattan has been used for centuries to produce all kinds of cane furniture and caning weaves.
Table of Contents
Cane Furniture and Outdoor Use
Most cane furniture is not made specifically for outdoor use. Many people may place some cane or rattan furniture outside, but the cane furniture is not fully weather-resistant.
Furniture made especially for outdoor use is usually woven with synthetic rattan. Good quality outdoor furniture must withstand many kinds of weather, even extreme weather.
Cane is from the outer part of the rattan or the peel rattan, so it is a natural material. This outer peel or s more robust than some of the inner parts of the rattan material.
When making a caning weave used on furniture, the same peel or outer part of the rattan is used. The outer part of the rattan color is taken off the rattan peel and then woven to make the natural caning or other weaves.
If you want to use your natural rattan furniture outside, there are a few things to consider. Like any natural furniture, there are some particular things you need to do to ensure to take care and protect your furniture.
Here are some things you should consider if you want to have your cane furniture in an outdoor setting:
Covered Area – It would be best to place them in a covered area to protect them from elements like rain. This is why cane furniture will last much longer on a covered porch than outside exposed to the elements.
Bring Inside – Bring the furniture indoors during the months you are not using them. This will help to ensure they will last longer.
Keep Dry – Keep the furniture dry, and if you have cane seating, do not sit on it when it is wet, as it can stretch it.
Keep Mold Free – Rattan, especially when wet, can mold. To get rid of the mold, use a soft brush and cloth to clean off the mold with a 50% bleach and water mixture. Leave it out on the sun to dry completely.
Allow Sun On The Furniture – If it is a sunny day, then let the furniture be out of the bright sun. This will help ensure no mold can grow.
So even though most cane or rattan furniture is not made for outdoor use, it can be outside during the year with proper care.
Even though cane furniture is not considered authentic outdoor furniture, many people still used it outside before the world knew about synthetic materials; for over a hundred years, cane or rattan furniture was the main furniture used outdoors in many parts of the world.
History of Cane Furniture Uses (Including Outdoors)
Anyone who visits Southeast Asia may be surprised to find houses with cane furniture or rattan chairs sitting outside. Many of these chairs may also have some caning weaves on them.
Many parts of the southern United States are also famous for having cane, caning, or woven furniture out on their porches or outdoor areas.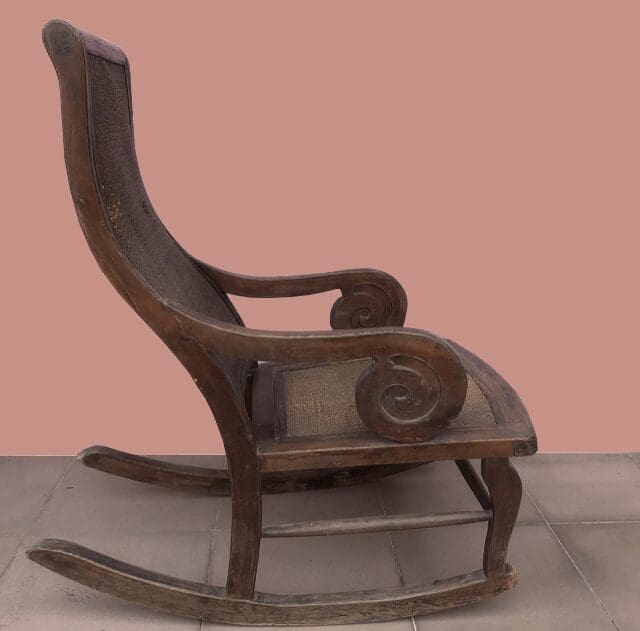 I have an old Chinese Shanghai-style rocking chair in my apartment in China; the seat and back of this chair are made from a cane weave.
Many famous antique Chinese beds known as Opium beds were used in the long-gone Asian opium dens; many also had caning. Caning and cane furniture in Asia has a rich history intertwined with the day's politics.
European colonies tried to make furniture they knew about or had at home using rattan or cane weaving.
Rattan, the primary source of cane, is a product of the Asian tropical forests. But more than that, it is also the story of colonization, where chairs became an essential part of westerners living in Asia and wanting the comforts of home.
My antique Chinese rocking chair is an example of that kind of chair. Rocking chairs are found throughout the western world and are essential for mothers to rock their babies to sleep.
Rocking chairs, traditionally found in Europe and America, are not typically found in Asian homes; most Asian mothers carry their babies with a baby carrier on their backs. My rocking chair is an example of how an Asian craftsman made a rocking chair that includes a comfortable cane-woven seat.
The Dutch and Portuguese trading ships in the 16th and 17th centuries carried the split rattan to Europe and started the popular trend of caning on chairs. That is why today, you will find many antique-style European chairs with handwoven caning on the seats of the chairs.
Most people in Southeast Asia have traditionally sat on mats on the floor. Even today, when you go to a factory, it is common to find someone sitting or even squatting on the floor vs. sitting on a chair.
When the Chinese and Europeans came to Southeast Asia, they wanted to sit in the chairs as traditional chairs; they did not feel comfortable sitting on mats all day. We can say that the Chinese and European colonial powers helped drive forward the emergence of cane, caning, and rattan chairs,
Cane furniture, the caning weave, and rattan furniture are a by-product of Southeast Asia's European and Chinese colonialization. The European trading ships also brought the cane to Europe and later America and helped start the trend of cane seating for chairs, beds, and many other kinds of furniture.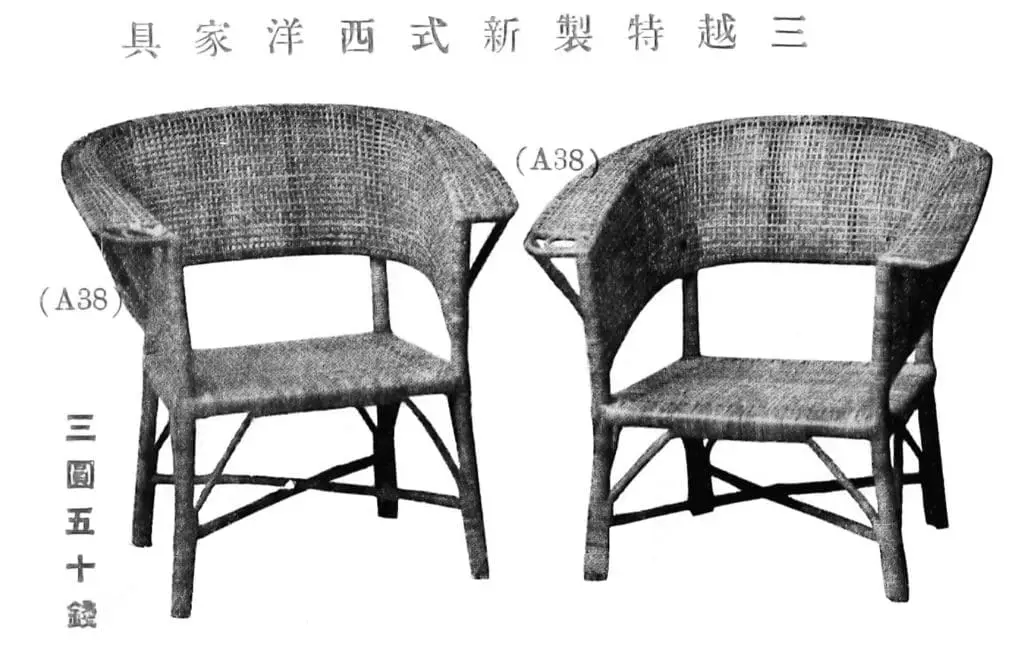 The Japanese, who traditionally slept, sat, and ate on the floor with woven mats, started to use woven chairs in the early 20th century. In 1911 there was an advertisement for some woven rattan chairs at the Mitsukoshi Department store.
I love the Japanese simplicity and classic style of these woven chairs. Today, this chair style is a traditional woven chair style where chair versions are still manufactured.
Today all kinds of cane furniture and weave have come back in popularity. All types of caning weaves are classic natural weaves that continue to be essential in our lives and home decor designs today.
If you are interested in buying home decor or home furnishing products from Asia (China and Vietnam) – including cane furniture – we would love to talk to you to see how we can help you.
At Mondoro, we create, develop and manufacture home decor and furnishing products.
Find out more about how Mondoro can help you create, develop, and manufacture excellent home decor and furniture products – don't hesitate to contact me, Anita. Check out my email by clicking here or become a part of our community and join our newsletter by clicking here.
Mondoro gives out a FREE Lookbook to anyone interested. You can receive a copy of our latest Lookbook by clicking here.
Listen to our Podcast called Global Trade Gal. You can find it on all major podcast platforms. Try out listening to one of our podcasts by clicking here. 
Subscribe to our Mondoro Company Limited YouTube Channel filled with great videos and information by clicking here.
Related Content
What Is Stronger Rattan Or Bamboo?
Bamboo is more robust than rattan. Some bamboo is known even to have a higher tensile strength than steel; this is why bamboo is used as scaffolding in construction in many parts of Asia. Rattan is a vine that grows in the jungles; when rattan is manufactured into furniture, it can be solid.
You can find out more by reading What Is Stronger Rattan Or Bamboo? by clicking here.
What Is The Eco-Friendly Seagrass Materials Used in Home Decor Products?
Seagrass is, exactly as the name implies, a grass that grows in the sea or in saltwater areas. As Vietnam has access to a lot of tropical oceans, seagrass is abundant in Vietnam. A lot of the seagrass used for manufacturing home decor products is farmed to be cut and processed specifically for seagrass weaving. This seagrass is cut, dried, spun, dyed, and then woven into many different items, including baskets, lampshades, furniture, and area rugs. But seagrass also has some great eco-friendly properties, making it a great alternative to plastic.
By clicking here, you can find out more by reading our blog Eco-Friendly Seagrass Materials Used in Home Decor Products.