Chinoiserie and Toile are two names we often hear in home furnishing and home decor. Even though they may seem similar, they still have some unique differences.
Chinoiserie started in 17th to 18th Century Europe to imitate Chinese or Asia design that was still distinctly European. Chinoiserie would use Asian motifs, or what they felt were Asian motifs in their designs. Toile, on the other hand, was mainly a highly detailed European pastoral scene, landscapes, or other motifs printed on canvas fabric.
What Is Chinoiserie?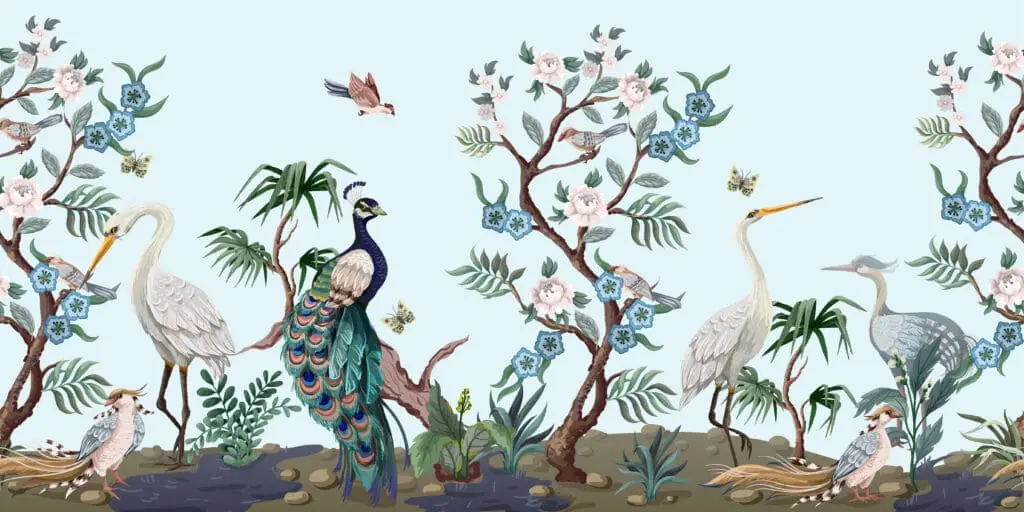 The word Chinoiserie comes from the French word "Chinois," which means Chinese in French.
In the 17th and 18th Centuries, global trade was starting to take place worldwide. Europe, in particular, started to see an influx of trade between European countries and Asia.
Many objects, artifacts, art, and fabrics started to find their way into European markets and European homes. Europe started to become fascinated with anything Chinese, particularly the Chinese porcelains.
The European manufacturers knew there was an interest in Asia, particularly China, so they started to produce European designs that imitated Chinese designs. Chinese-inspired European designs started to spring up in everything from furniture to textiles to fine arts.
The Chinoiserie designs have some of these characteristics:
Chinese Material Or Imitations – The Europeans used Chinese materials or an imitation of those materials to produce their products in Europe.

Chinese Motifs – Many Chinese motifs, such as pagodas, dragons, and florals, were used. They also included in this palm trees and monkeys.

Designs With European Twist – These designs were not 100% Chinese but were created with a decidedly European lens or twist.

Concerned With European Tastes – The designs being created were for the European tastes and not the Chinese tastes or looks. This gave them an Asia feel but with a European look and design.
Chinoiserie was an entirely European design invention; Chinoiserie can best be described as a European design trend with Chinese or Asian influences. The truth is that while having a Chinese feel, Chinoiseries is very different from an authentic Chinese design.
The designers would design on what they supposed to be Chinese designs, but not actually what was Chinese designs and motifs. And the European designers also did not understand that there was a difference between various Asian cultures, so they often blended Japanese or Chinese designs and motifs.
What Is The Toile Design?
Toile is the French word that means "linen cloth" or "canvas" and is a popular canvas-like fabric that has been popular in decorating since the mid-1700s.
The word Toile has several meanings that include:
Canvas-like Fabric – Toile can mean canvas-like fabric.

Repeat Pattern – Toile can also mean a repeat pattern on the fabric.

Test Garment – A test garment that is made from the fabric.
For home decor and home furnishing, the word Toile is used to refer to the repeated pattern that is on the fabric. The repeat pattern for Toile is usually a very complex, detailed, pastoral scene that will show 17th or 18th-century rural life or scenery.
Toile originated in Ireland in the 1700s but quickly spread in popularity to France. Christophe-Philippe Oberkampf opened the first Toile factory in Jouy-en-Josas, France. Toile became known as Toile de Jouy.
It was Oberkampf who worked with the famous designer Jean Baptiste Huet to develop the classic Toile patterns that can still be found today.
The Toile was printed on white or off-white canvas fabric with a single color as black, red, or blue; sometimes, brighter colors such as green or magenta could also be found.
Here is some characteristic of the Toile fabric:
Fabric Printed On White Or Off-white Linen Or Even Muslin – Originally, Toile was printed on a canvas or muslin fabric; this was cheaper than other kinds of fabric and allowed the designs to be perfected on the fabric.

Highly Detailed Patterns – Toile's detailed patterns include scenes from pastoral or country life, nature, flowers, couples, animals, and landscapes.

Simple Yet Bold Colors – Toile patterns will use simple yet bold colors in their patterns. The print is only a one-color print, so that the designs will be red and white, blue and white, black and white, green and white, brown and white, or even magenta and white. Today Toile prints can be found in a variety of colors.
Today, most Toile designs are pastoral scenes that were created or similar to what Oberkampf and Huet created many years ago in France. The Toile designs have been used for home decors such as pillows, curtains, upholstery, bedding and wallpaper, and even some clothing.
Over time the Toile fabric found its way to North America. During the Colonial era, toile was a much sought-after fabric and design. In particular, one place where Toile fabric has been used a lot is in colonial Williamsburg in Virginia.
Historically the Toile design was used only on fabric. Today it can be found on various textile items and other home goods such as porcelain, pottery, artwork, and even wallpaper.
Chinoiserie Vs. Toile Designs
Even though there can be some confusion as to what is Chinoiserie and what is Toile design, the two are quite different. Chinoiserie came about as a way to imitate or bring the Chinese or Asian design to Europe; Chinoiserie is the Chinese look but with European influences.
On the other hand, Toile design was only on fabric for many years and had scenes and motifs from Europe. Toile is very much European design and influenced in particular by France with France-inspired themes and designs.
If you are interested in seeing how Mondoro can be a valuable partner for your home decor and home furnishing products – we would love to talk to you to see how we can help you. 
Find out more about how Mondoro can help you create, develop, and manufacture excellent home decor and home furniture products – don't hesitate to contact me, Anita. Check out my email by clicking here or become a part of our community and join our newsletter by clicking here.
Mondoro gives out a FREE Lookbook to anyone interested. You can receive a copy of our latest Lookbook by clicking here.
Listen to our Podcast called Global Trade Gal. You can find it on all major podcast platforms. Try out to listen to one of our podcasts by clicking here. 
Subscribe to our Mondoro Company Limited YouTube Channel filled with great videos and information by clicking here.
Related Content
50+ Favorite Quotes About Porcelain
We love the look and feel of porcelain, so we have found some of our favorite quotes about porcelain for you. Some of these are funny quotes, and other quotes show us the real why we love the porcelain material so much.
You can discover more by reading 50+ Favorite Quotes About Porcelain by clicking here.
Does Porcelain Crack Under Heat?
Porcelain is a type of material made from clay, and it is used for many different home decor and home furnishing products. Porcelain is a material that has been used for centuries.
Porcelain is a highly durable clay fired at very high temperatures, so it is often called "high fired porcelain." Because it is fired at such high temperatures, it is tough for porcelain to crack or get damaged due to heat.
You can discover more by reading Does Porcelain Crack Under Heat? by clicking here.
Earthenware, Stoneware, And Porcelain Materials
Earthenware, stoneware, and porcelain are all made by various clays and then fired. The kind of clay used and the temperature they are fired at can make a difference as to how soft or hard the actual end product is. Though they can all seem to be similar, they are all very different materials and products.
You can discover more by reading Earthenware, Stoneware, And Porcelain Materials by clicking here.