A well-designed piece of outdoor metal furniture is a wonderful addition to any collection or anyone's backyard. If taken well care of it can last for a lifetime.
The basic metals used for outdoor furniture are aluminum, iron, and steel. For some outdoor metal furniture designs, only certain metals will work well for that specific design. Besides, the design and metal used, the life span of your outdoor metal furniture will be greatly affected by the care and maintenance you give your furniture each season.
If you give your outdoor metal furniture proper care and maintenance, your outdoor metal furniture will last much longer than if you did not properly take care of your outdoor metal furniture.
Designing Outdoor Metal Furniture
Many may wonder why their outdoor metal furniture is made out of a certain metal. This is because outdoor metal furniture only has a few basic choices for what metal can be used. The type of metals that are used to produce outdoor furniture is aluminum, iron, steel, and sometimes some other metals.
Metal can be wrought which means it is will be heated and bent into shape. The metal can also be cast into a shape or a mold, or formed into a kind of hallow tubing and that is then bent a shaped.
Of all the metals used for outdoor furniture, aluminum is the one that is the most rust-resistant. Even though alumumium is the most rust-resistant metal for outdoor metal furniture, it is not always the best choice to be used for the design of outdoor metal furniture because:
Available stock metal size – The metal tubes for most outdoor furniture will come from a stock dealer who may only have pre-determined sizes for the tubes. If you specify a tube size that they do not have or is not available it will be difficult for them to make your furniture in your required size. This is why it is important to first know what metal tube stock size is available before you start to design outdoor metal furniture.
Structure – Not all metal will work for all structures. Many times rod iron is the best choice vs aluminum even though aluminum may be more rust-resistant. The kind of metal you need to use for your design will also depend on the actual design and the structure of the design.
Finish – What finish you want can also affect what metal can be used. Some metals will take some finishes better than others.
This is why even though alumumium is the most rust-resistance of all the available outdoor furniture metals, structurally and design-wise it may not be the best choice. Also, it may not give you the look or finish you desire.
Usually, the best person to help you to decide on what metal you can use for your outdoor furniture design is the manufacture. Good manufacturers will know and understand what metal is the best choice for your outdoor furniture and why that is the best choice.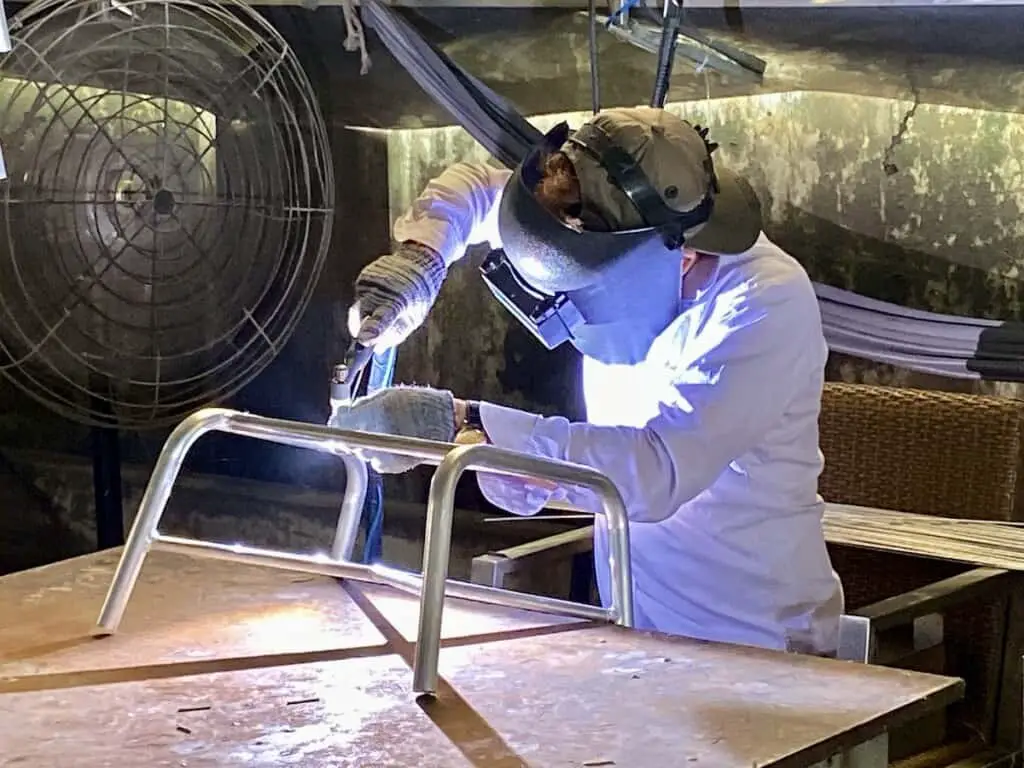 Care and Maintenance of Outdoor Furniture
No matter what metal you choose for your outdoor furniture there are things that you can do to extend the life of your outdoor metal furniture. Metal is still considered the most durable for all outdoor furniture, especially if cared for and maintained properly it can last a lifetime.
All of the outdoor furniture that we manufacture is finished to the highest standard for rust prevention. But after time, especially in areas where there is a lot of saltwater, any kind of metal furniture will be affected by the climate even aluminum. Metal may rust but alumumium can also oxidize.
Here are some things you can do to extend the life of your outdoor furniture products:
Bring Indoors in winter – If you live in a climate that gets very cold or wet during the winter, bring your furniture inside during those months to help keep it dry. Make sure you store it in a place where you can keep the furniture dry. If you store it in a wet location chances are it will just rust or get damaged.
Tip furniture when not in use – Rust happens when water is left on the furniture. If you are not using the furniture and you do not want to bring it indoors, tip your furniture in such a way that water can roll off and not stay on the furniture. This is really important if you have a piece of furniture with a metal seat with a dip in it where the water can easily gather and rust can come.
Use Fabric Covers – You can buy a fabric cover to cover your furniture. The cover needs to be breathable as you want air to get in but not water. Walmart.com has one you can consider by clicking here. Do not use an outdoor plastic table cloth as this will not allow the furniture pieces to breath properly.
Wash Regularly With Mild Soap and Water – You should wash your metal furniture with a mild soap such as a mild car wash soap. Use a soft cloth to make sure it is dried completely in all areas. Do not use a power wash as it could damage the finish of your metal furniture. Never use abrasive scrubbers or cleaners as this can scratch the furniture and damage the metal. Bird droppings and sunscreen should be cleaned off as soon as possible as they are particularly damaging to your furniture.
Check for rust – You should check your metal furniture regularly for signs of rust. If rust happens we suggest that you use 400-grit sandpaper to sand off the rust. You should sand down to the metal but SAND ONLY ON THE AFFECTED AREA. Wash and dry the area before applying touch up paint.
Oxidization – If you find that your aluminum on your outdoor metal furniture is oxidizing then use equal parts vinegar and water to clean the area, then dry completely.
Silicone Spray – If you have a metal swirl chair, glides, or umbrella poles that need to be lubricated you can use a silicone spray to help with this. You can consider using a spray like Rust-Oleum's Rusty Metal Spray Primer it is available on Walmart.com or WD 40 spray.
Protective Top Coats – Though all quality outdoor metal furniture will have on it a protective topcoat, to extend the life of your outdoor metal furniture, you can consider applying an additional protective topcoat. You can use the Guardsman's Outdoor Furniture Metal Protector that you can spray on to help protect your metal furniture. Or you can also use auto paste wax to apply a protective wax topcoat. Apply the auto wax paste with a lint-free cloth, wipe off any excess. Whenever applying a topcoat on your furniture pieces ensure that the weather is not rainy or there is a lot of humidity. It is best when doing any topcoat to do it on a very sunny day.
Outdoor metal furniture is a great choice for outdoor furniture. But with any kind of outdoor furniture, you must do the proper maintenance and care to extend the life of your outdoor metal furniture.
Related Questions
What Is The Proper Care For Your Outdoor Fabric?
Your choice of outdoor fabric for your outdoor furniture collection will make a difference in how long the fabric will actually last as will how you care and maintain the fabric. There are specific things you should do for each kind of spill or stain that will help expand the fabric's life cycle.
Read our full list of care instructions for the outdoor fabric on our blog Buying Guide For Outdoor Furniture Fabrics, What You Need To Know by clicking here.
What Is The Outdoor Faux Rattan Material?
Faux rattan is a kind of rattan that is used to weave outdoor furniture. Vietnam continues to grow its weaving of faux rattan furniture and other faux rattan items. There are several reasons for this including the availability of materials and the factory workers are used to weaving wicker furniture and other items using faux rattan.
To find out more about Vietnam and faux rattan you can read our blog on Hand-weaving Faux Rattan In Vietnam, What You Need to Know by clicking here.