Bathroom accessories can add a lot to the interior and design of your bathroom. At Mondoro we create, develop, and manufacture some luxury bathroom accessories sets.
A complete set of luxury bathroom accessories would include a wastepaper basket, tray, canister, tissue box, soap dish, and soap pump. We can help you manufacture these in a variety of materials from lacquer, gold or silver leaf, mother of pearl, faux paper, metal, ceramic and woven.
We love these luxury bathroom accessory sets as we believe the bathroom should be one of the most important rooms in any home. Alicia Keys reminds us all why we want to have a bathroom that is filled with things that are luxurious and beautiful when she said:
This is why a bathroom should be the one room in any home that is not forgotten. A bathroom should be a refuge and a place to get away from it all and a place filled with luxury and glamour.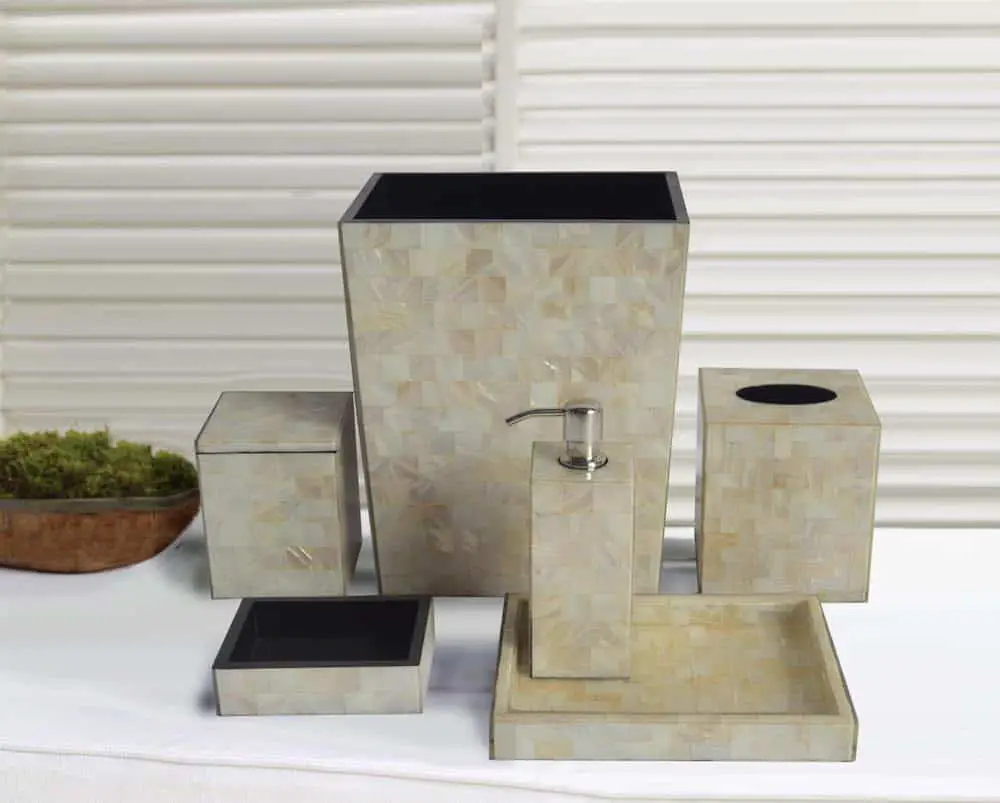 What Is A Complete Luxury Bathroom Accessory Set?
There are several items that should go into a complete luxury bathroom accessories set. Here are the items that we consider to be a complete set:
Wastepaper Basket – The largest part of any bathroom accessory set is the wastepaper basket. The shape and sizes of these can vary. Some of these will have a metal liner in them to help protect the outer wastepaper basket.
Tray – Another essential part of any bathroom accessory set is a small tray. This tray is used to put smaller items on in the bathroom countertop.
Canister – The canister is a small box that has a lid on it. It can be used to put things in as cotton balls or Q-tips.
Tissue Box – Our tissue box is a standard size and will fit a standard tissue box.
Soap Dish – Our soap dishes have two parts. One is the outer part and the other is the inner part where the soap can be placed. The inner part is made of resin and can be washed.
Soap Pump – The soap pump is for liquid soap to be put into the soap pump. We import our pumps and the inner plastic bottles from some very good suppliers. We do this as we want to be sure to give you the highest quality soap pump possible.
All of these items today make up one complete luxury bathroom accessory set. We use the finest materials available to make these beautiful bathroom sets.
Materials to Make Beautiful Luxury Bathroom Accessory Sets
Here are some of the materials we can use to make these luxurious bathroom sets.
Lacquer – We can manufacture these bathroom accessory sets in a variety of lacquer colors. Lacquer can be great to be used in the bathroom as it has some inherent waterproof qualities.
Gold or Silver Leaf – To add a bit of glamour to your bathroom accessories, you can use gold or silver leaf finishes.
Mother of Pearl – We really love all kinds of mothers of pearl and other natural shells that can be used to make a glamourous bathroom set.
Faux Paper – One of our most popular finish techniques is the faux paper. In this technique, we do a variety of finishes from faux horn, to faux agate and to other luxury finishes.
Woven – If you are looking for a natural look, we can also offer you some bath accessories that are woven or made out of natural materials.
Metal – We could do some bath accessories in metal and metal with glass.
Ceramic – Ceramic has long been stable for bathroom accessories. We can do some luxury bathroom accessories out of ceramic.
A luxury bathroom accessories set is a wonderful way to be able to add some design and glamour to a bathroom. At Mondoro we would love to work with you to create, develop and manufacture some amazing bathroom accessory items.
Related Questions
What Are Some Metal Home Decor Products?
Metal is a material that is used a lot in home decor and home furniture product design and development. For centuries metal has been used in home decoration and home decor.
This is because the metal material is versatile, has appeal, durable, hygienic, and green material. We have picked out for you some of our top 6 choices of some simple yet elegant products that use metal structures and are combined with glass or white marble.
To see out top 6 picks for metal home decor products you can read our blog on Metal Home Decor Products and Accessories That We Love by clicking here.
What is Recycled Pine Furniture?
Recycled Pine Furniture, What You Need to Know
One of our new favorite furniture looks is furniture made from recycled woods. I love that a recycled wood piece of furniture has a natural old and worn look.
Reclaimed and recycled wood may seem to be the same thing but they are not exactly the same. Recycled wood is wood that would have otherwise been discarded or not used. Wood is a naturally sustainable as material as it can be regrown and replaced. There are a variety of furniture shapes and styles that can be used to make recycled pine furniture.
You can discover more about this by reading our blog on Recycled Pine Furniture, What You Need to Know by clicking here.