Nothing like being outside in the beautiful summer weather on a very comfortable piece of outdoor furniture. What cushions you use on the furniture will make a difference in how comfortable they are.
The outdoor fabric should be specified for your outdoor furniture cushions. Sewing an outdoor cushion takes technical skills in cutting the cushion pattern and sewing. The cushion needs foam, a waterproof cover, and an outdoor fabric cushion cover.
Table of Contents
Selecting Your Outdoor Furniture Fabric
In many ways, the quality of your outdoor furniture cushion will be directly related to the quality of the outdoor fabric you choose. To learn more about what fabric to use for outdoor furniture items, read our blog on Buying Guide For Outdoor Furniture Fabrics, What You Need To Know by clicking here.
Discover possible outdoor fabric companies we recommend. Learn our top 10 things that you should look for when buying your outdoor fabric and basic maintenance and care for your outdoor fabric.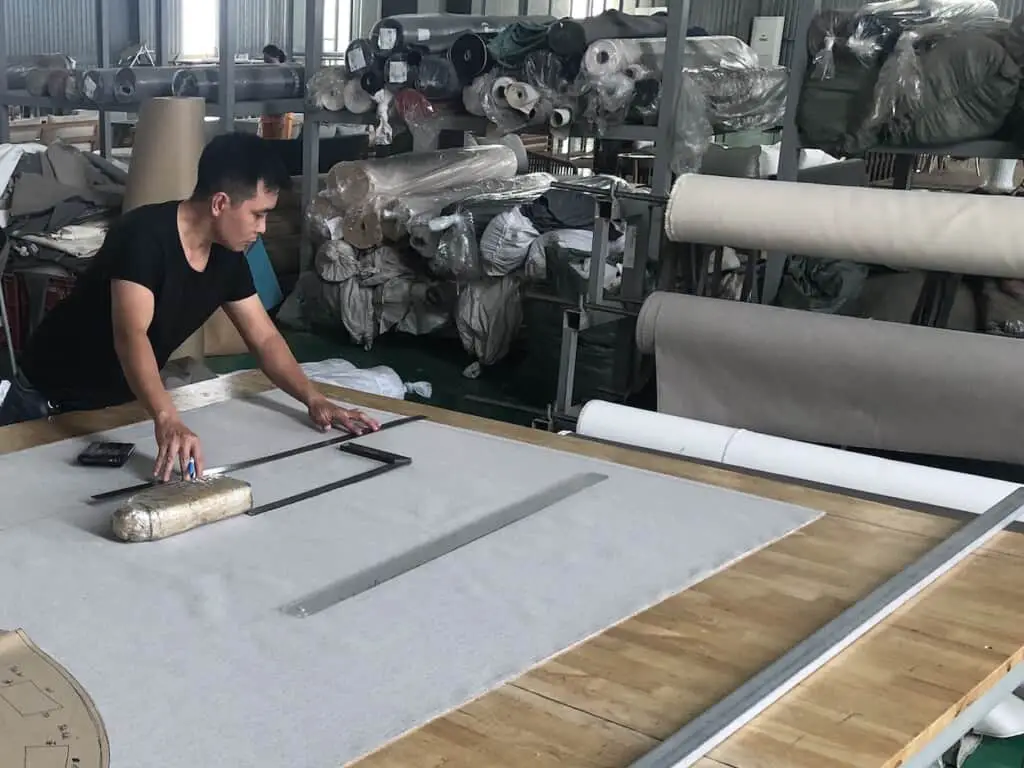 Steps to Sewing an Outdoor Furniture Cushion
When you are sewing an outdoor furniture cushion, several steps must be taken to ensure the cushion is of lasting quality.
Here are the steps that must be taken:
Pattern Making and Cutting For Outdoor Cushions
A proper fit with your outdoor furniture cushion starts with the proper pattern making. Making a pattern from scratch requires some skill. Without the skill, making a cushion pattern is very difficult.
Here are some things that need to be looked at when making a pattern for your cushions:
Sizing – The size of each part of the pattern will make a huge difference in the outcome of the finished cushion. The size must be 100% correct, or all cushion parts will not fit properly.
Understanding the Fabric – A good pattern maker also clearly understands the fabric. They know what parts can be cut where on the fabric. If, for example, you have stripes on your fabric, then all the stripes must match.
Fabric Usage – A good pattern maker knows how to get the highest yield from fabric usage while at the same time manufacturing the highest quality cushion.
Making and cutting the pattern is one of the most challenging steps in making a quality outdoor cushion. That is why one of the most highly skilled workers at any cushion-making facility is usually the pattern makers and those cutting the fabric. This is because a good-fitting cushion should fit tightly against the foam and not have apparent sags.
Watching our video below, you can see how a worker puts a cushion into a cushion cover at a factory. You can see how tight the fitting needs to be on the proper fit cushion.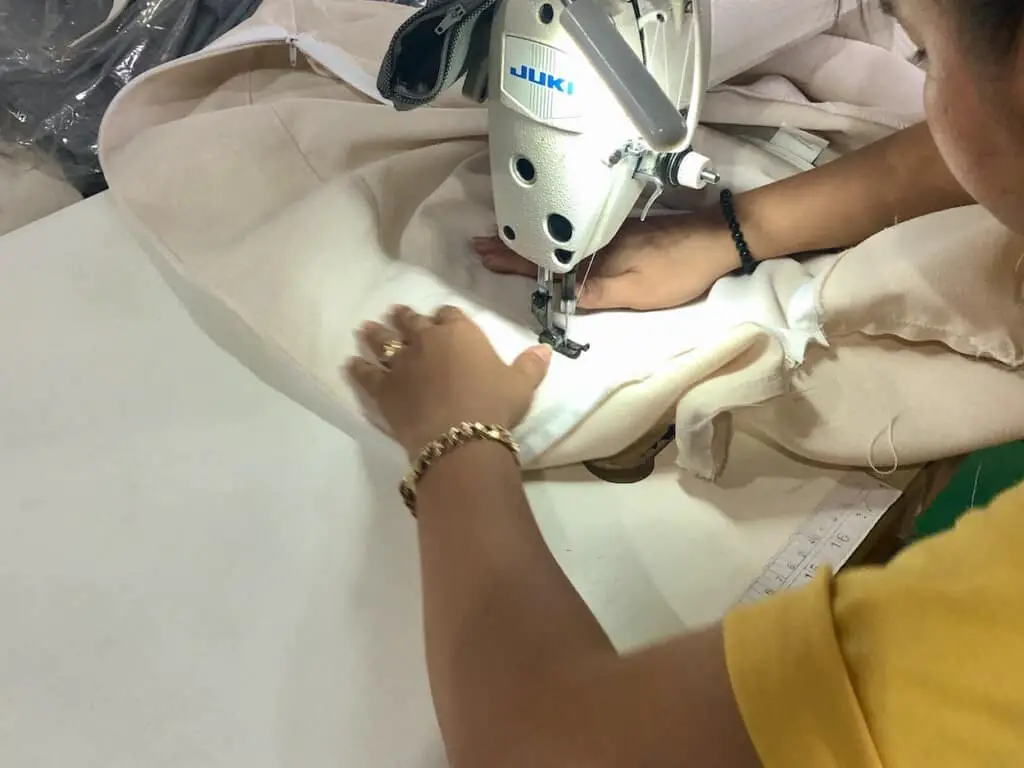 Sewing the Cushions
There are a few things to remember when sewing outdoor cushions:
Machinery and Equipment – one of the most important things is having the right machinery and equipment. Upholstery fabric is heavier than other fabrics, so you cannot properly sew the cushion without the correct sewing machine.
Heavy to sew – Sewing any cushion can be heavy and difficult to sew. There is a lot of fabric you must be able to work with on the machine, so sewing a good cushion requires skill.
Zippers – Putting in a zipper and getting it so that it looks neat is always difficult, but for some of the cushions, this can be extremely difficult.
Video – Visit the Sewing Room of An Outdoor Factory
In this video, we will take you to the sewing room of a high-quality outdoor furniture manufacturer in Vietnam. You can glimpse their pattern making, sewing of the cushions, and how they put the outer cushion and foam together.
Anatomy of a Quality Outdoor Cushion
An outdoor seating cushion is similar to an indoor cushion but has a few differences. Here is our basic anatomy of a quality outdoor cushion:
Guide to our Anatomy of an Outdoor Cushion:
High-density Outdoor Foam Core – The high-density outdoor foam core is, as the name implies, the very core of the outdoor cushion. This foam core must be strong enough to withstand all outdoor elements and be comfortable. Our cushion offers both of these.
Polyester Fiber Warp – We add a polyester fiber wrap to give added comfort.
WaterProof Cover – One of the essential elements of any outdoor cushion is that the cushions should have a completely secured and enclosed waterproof cover.
High-Quality Outdoor Fabric Cushions with a Zipper – High-quality outdoor fabric should be used for your cushion to help ensure the entire cushion will last longer. Also, there should be a zipper in the cushion as a zipper will allow the cushion to breathe. A zipper also makes it much easier to properly maintain and care for your outdoor cushion.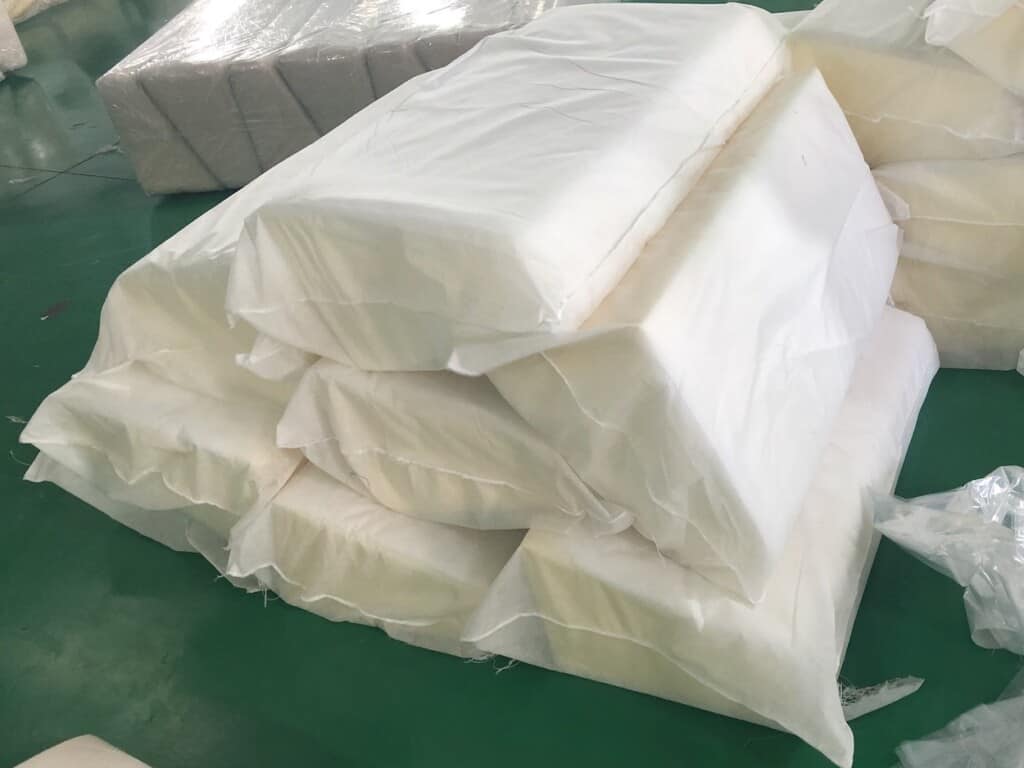 The cushion is just one element of a quality piece of outdoor furniture. But it is also one of the more important pieces to ensuring your outdoor furniture is functional, comfortable, and stylish.
Find out more about how Mondoro can help you create, develop, and manufacture excellent home decor and furniture products – don't hesitate to contact me, Anita. Check out my email by clicking here or become a part of our community and join our newsletter by clicking here.
Mondoro gives out a FREE Lookbook to anyone interested. You can receive a copy of our latest Lookbook by clicking here.
Listen to our Podcast called Global Trade Gal. You can find it on all major podcast platforms. Try out listening to one of our podcasts by clicking here. 
Subscribe to our Mondoro Company Limited YouTube Channel with great videos and information by clicking here.
Related Questions
What is the Outdoor Faux Rattan Furniture Material?
Weaving wicker has a long and varied history, yet many people are confused between the definition of rattan and wicker, including the material faux rattan. Wicker is a type of weave, and rattan is a material used to weave furniture or baskets, including faux rattan furniture. With its thriving weaving industry, Vietnam continues to grow its weaving of faux rattan furniture and other faux rattan items. There are several reasons for this, including the availability of materials and the factory workers are used to weaving faux rattan furniture.
To find out more about the weaving of faux rattan, you can read our blog on Hand-weaving Faux Rattan In Vietnam, What You Need to Know by clicking here.
What is the Seagrass Material Used in Home Decor Products?
Seagrass is, exactly as the name implies, grass that grows in the sea or areas with saltwater. As Vietnam has access to many tropical oceans and salt water, seagrass is abundant in Vietnam. Much of the seagrass used for home decor products are farmed and explicitly processed for seagrass weaving. The seagrass is cut, dried, spun, dyed, and then woven into many items, including baskets, lampshades, furniture, and area rugs. Seagrass has some excellent eco-friendly properties, making it a great alternative to plastic.
To discover more you can read our blog on Eco-Friendly Seagrass Materials Used in Home Decor Products by clicking here.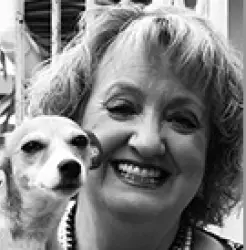 Latest posts by Anita Hummel
(see all)