Today with global warming and the environment being at the forefront of many people's minds, people are looking for companies and organizations that are actively looking at ways to save the environment.
Recycled wood can be used for all kinds of recycled wood furniture products. Recycled wood must be collected and sorted, and processed. But when working with recycled timber, there are some things that you need to remember, such as the furniture will have some marks, distressing and even holes in the wood.
Table of Contents
What Can Be Made From Recycled Wood?
Recycled wood is a great resource to be used for furniture production. It is an excellent resource because recycled wood does not cut down any trees or use new wood to produce furniture pieces.
That means the recycled wood is not tossed out but is used for other reasons or purposes. Recycled wood uses wood for a new purpose, so no trees are cut down to produce an item out of recycled wood.
How To Properly Process Recycled Wood
Almost any product made from new wood can be made from recycled wood as long as the wood is processed correctly.
A few things to remember about recycled wood are:
Wood Must Be Checked For Safety – Some recycled wood may have chemicals and other substances. The wood must be checked and sorted to ensure the wood is safe for all products.

Recycled Wood Must Be Collected – Recycled Wood must be collected so it can be reused. This takes time and effort and can be more expensive than purchasing new wood.

Recycled Wood Must Be Sorted – Not all recycled wood is the same size, length, width, or size. Because of this, the wood must be sorted into sizes to be sold again.

Recycled Wood Must Be Processed Appropriately – The recycled wood must be processed appropriately. This can include pulling out nails, taking off the glue, and taking off finishes—all of these need to happen for the wood to be used in various products.
Working With Recycled Wood
Working with recycled wood is not the same as working with new wood. When designing furniture with recycled wood, there are a few things you need to remember.
Here are some things to remember when you are working with recycled wood:
Marks On The Wood – As the wood has been previously used, there can be marks on the wood. Some of these marks may be seen, so sanding them off or changing them can be challenging. Most people who use recycled wood like the marks as it looks like distressed wood.

Holes In the Wood – There can also be holes in the wood if the wood previously had been used. Holes from things like nails or other things that were placed on the wood can be there as part of the nature of the recycled wood.

Distressed Wood – As the wood has been previously used, there will be knicks and other distressed marks. That is why recycled wood usually does well for products that need a distressed look and feel.
Because the wood has these marks, it makes the recycled wood a unique kind of wood. Not every product can use recycled wood due to the nature of the wood.
That is why most people, when they design products with recycled wood, need to consider if the design will work with wood that can have marks, holes, or other distressed marks on the wood.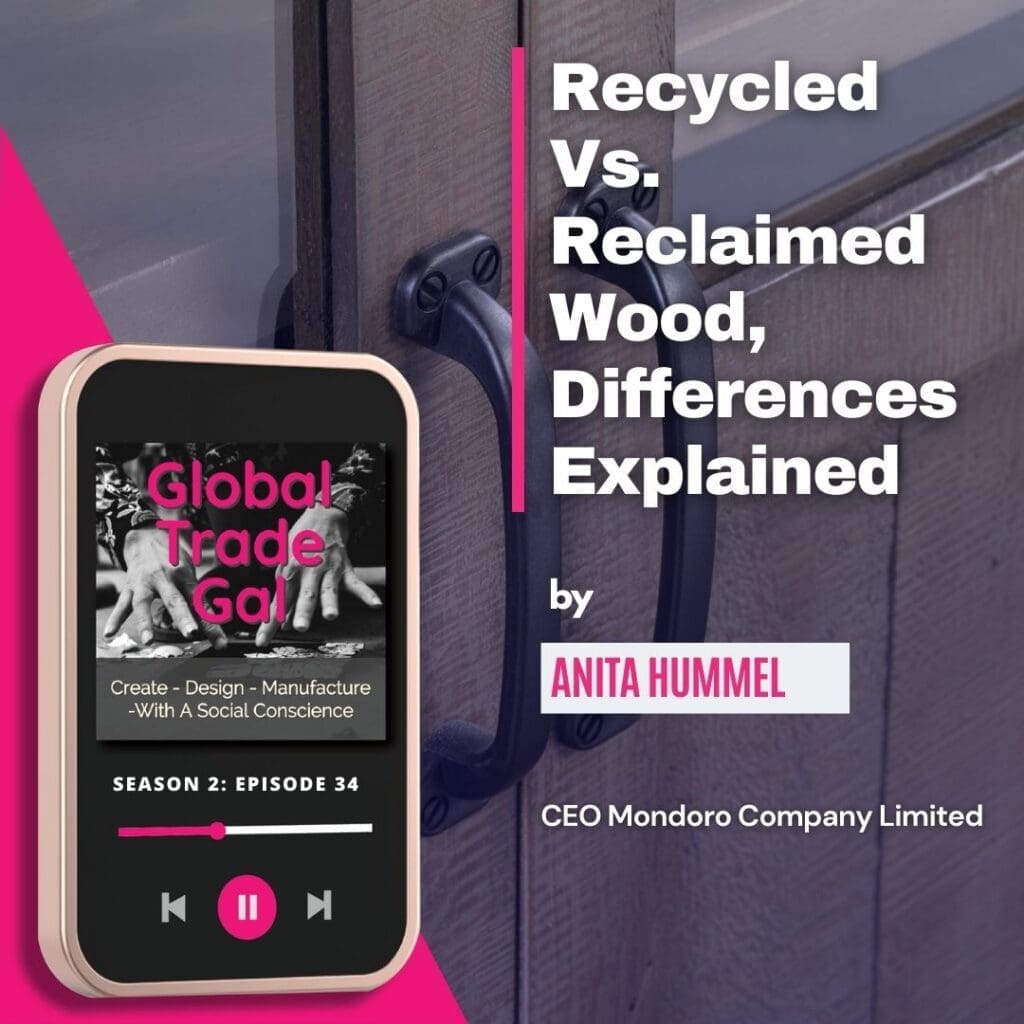 Listen To Our Podcast Recycled Vs. Reclaimed Wood, Differences Explained below or by clicking here.
Home Furniture That We Love That Can Be Made in Recycled Wood
Many home decor furniture products can be made in recycled wood. We make some home furniture in recycled pine wood. This pine wood gives the furniture pieces some great looks.
Here are some of our favorite items that can be made from recycled pine.
Recycled Wood Console Tables And Other Products
Console tables and other furniture products are a great look that can be made with recycled pine wood. Especially for some distressed looks of the furniture. We have made some consoles with recycled pine wood.
Recycled Wood Tables
Recycled wood can be used for all kinds of tables. We love the look of tables that have a recycled wood look.
Recycled Wood Chests
Recycled wood and be used for all kinds of chests and other items. We love how the wood will look old and distressed due to the natural distressing on the wood.
All kinds of cabinets and chests can be made of recycled wood. The recycled lumber gives the chests a great look in various colors and finishes. We can use recycled pine to make a lot of different recycled pine chests.
If you are interested in seeing how Mondoro can help you with your recycled wood and other home decor products – we would love to talk to you about how we can help you.
Find out more about how Mondoro can help you create, develop, and manufacture excellent home decor and furniture products – don't hesitate to contact me, Anita. Check out my email by clicking here or become a part of our community and join our newsletter by clicking here.
Mondoro gives out a FREE Lookbook to anyone interested. You can receive a copy of our latest Lookbook by clicking here.
Listen to our Podcast called Global Trade Gal. You can find it on all major podcast platforms. Try out to listen to one of our podcasts by clicking here. 
Subscribe to our Mondoro Company Limited YouTube Channel filled with great videos and information by clicking here.
Related Content
Designing Furniture – Material And 6 Things To Consider
To design a piece of furniture, you need to consider the ability of the person or manufacturer producing the furniture for you, particularly their quality and skillsets. You also need to consider the materials available to be used, the overall construction of the furniture piece, if it will be a K/D or non-K/D piece of furniture, and the finish and hardware of the furniture.
You can discover more by reading Designing Furniture – Material And 6 Things To Consider by clicking here.
Is Teak a Coniferous, Evergreen, or Deciduous Tree? 11 Teak Wood Facts
Teak is a deciduous, not evergreen or coniferous tree. Teak leaves do not fall off in the wintertime, but they fall off in the dry season; in Asia, where teak trees are naturally grown, the dry season is not always the same as winter. As the teak leaves do fall off, the tree is considered to be a deciduous tree.
You can read our blog on Is Teak a Coniferous, Evergreen, or Deciduous Tree? 11 Teak Wood Facts by clicking here.
All About Solid Wood Furniture
Solid wood furniture is furniture that is manufactured from lumber that comes directly from trees. The wood is cut, treated, kiln-dried, and then shaped to manufacture the furniture pieces. No two pieces of solid wood furniture are exactly the same as the wood will have natural grains, knots, and other characteristics that are similar but, not 100% the same.
You can learn more by reading our blog, All About Solid Wood Furniture by clicking here.