Over the last 10 years, the way companies do their marketing has changed dramatically. Social Media has now become the norm of marketing.
Social Media is essential for home decor companies. Our 5 top social media platforms for the home decor and home furnishings business are 1) Pinterest, 2) Instagram, 3) LinkedIn, and 4) Facebook.
We believe each can help give you brand recognition for your home decor brand. Some of you may have noticed that we did not mention Twitter We know that a lot of brands use Twitter. Though Twitter is a very good social media platform, we do not feel it is the best platform for the home decor and furniture industry.
Table of Contents
Our Top 5 Social Media Platforms For A Home Decor
1. Pinterest
Our number one pick for the home decor business for a social media platform is Pinterest. Here is the reason why we love Pinterest:
Pinterest acts as a search engine
Yes, that is right, Pinterest is not just a social media platform but also a search engine. How often have you searched, and there you see as number one or two on the Google search results also link to Pinterest? This is because Pinterest is no longer just about social media but also a search engine.
Why does this matter? Well, it matters because your pins help to drive people to your brand and your website. I get more links from my pins to my website than any other social media platform.
Pinterest is visual content.
Pinterest is a completely visual platform for the home decor and home furniture business. This means that every pin you put up should have visual content, along with some tags and keywords and a link to your website.
Can use Tailwinds to give your pins more reach
A lot of people who are on Pinterest or known as pinners are using a program like Tailwinds. I have been using Tailwinds for quite a while now.
Tailwinds allow you to join some Tribes. A tribe is a group of people who have a similar interest as you do, such as Home Decor or Home Decor blogging. The Tribes have rules in that usually you share your pins, and then you need to share some of the pins of other tribe members.
What this does is it helps you to get your pins onto more boards and increase your reach. It is a kind of "I help you, and you will help me" program.
Tailwinds also allow you to schedule your pins ahead so you can pin 10, 15, or even 20 pins per day without opening the Pinterest app.
You can learn more about Tailwinds and how to join Tailwinds Tribes by clicking here. To use Tailwinds, you must have a Pinterest Business Account set up and operating.
2. Instagram
Our next favorite social media platform is Instagram. Here is why love Instagram:
The visual look of Instagram
We like the visual look of Instagram. Pinterest normally has pins that are taller than they are wider. Sometimes this can mean that you need to cut off parts of a photo or only show parts of a photo. But most Instagram posts are square. We find this a very nice visual size to put up content.
A Social Platform
We find that, generally speaking, we get many more comments on Instagram posts than on some other social media platforms. More comments, thumbs up, or likes show that people are engaged or at least engaging with the content.
Great Way To Tell Your Story Through Photos
Instagram is a photo story app. So it is a great way to tell your story. You can show people what you do through the stories and messages your share online with your Instagram followers.
3. LinkedIn
Our third social media platform that we like for the home decor and home furniture business is LinkedIn. Here is why we like LinkedIn:
Professional
LinkedIn is not about being social as much as it is about being professional and giving brands a chance to find ways to open doors and find contacts through LinkedIn. Of all the social media platforms, LinkedIn is the only platform that is truly made to be a professionally focused social media platform.
Search Engine Optimize Your Profile
LinkedIn allows you to optimize your search engine profile. You can add specific keywords to your profile, summary, and work experience.
Export Connections
Unlike many of the other social media platforms, LinkedIn will allow you to export your connections. So you can export and manage your LinkedIn contacts in a contact management system.
4. Facebook
Our fourth choice is Facebook. We understand that many people use Facebook, but we have found that Facebook has made it much harder during the last few years to see what your Facebook friends post. But despite this, we still use Facebook, and here are the reasons why:
Top Social Media Platforms Used Worldwide
Facebook is still the top social media platform being used throughout the world. Just by that fact alone means that every company should be on Facebook.
Can Set Up a Company Page
Facebook allows you to set up a company page. Many companies may only use that company page instead of their website. This page usually makes it easy for people to contact or message you.
Can Post From Instagram
One of the things we love about Facebook is that you can post the same content you have put on Instagram to your Facebook Page with just a click of a button. So if you are already posting on Instagram, you can post the same content directly to your Facebook page.
Use Hootsuite To Schedule Post
To post to Instagram, Facebook, and LinkedIn, we schedule and post via the program Hootsuite. Here are the reasons why we like and use Hootsuite:
Can Schedule Posts
Hootsuite allows you to schedule your posts when you want to schedule them and for the day you want to schedule them. This means you can set up posts weeks or even months in advance. This saves you a lot of time.
Easy to Use
We find using Hootsuite very easy to learn. This makes it a great choice to help you manage your social media.
Send You Data
As with any social media program, you should keep track of the data. We like how Hootsuites will send us reports and show us the data for our posts. This helps us to look at our ROI (Return on Investment) for our social media marketing.
If you will pick 4 social media platforms to use for your home decor and home furniture business promotion, we suggest using Pinterest, Instagram, LinkedIn, and Facebook. Each one of these platforms can help give you some outstanding brand recognition.
Listen To Our Podcast About Mastering Social Media For Home Decor Business – Our Top 4 Platforms! Below or by clicking here.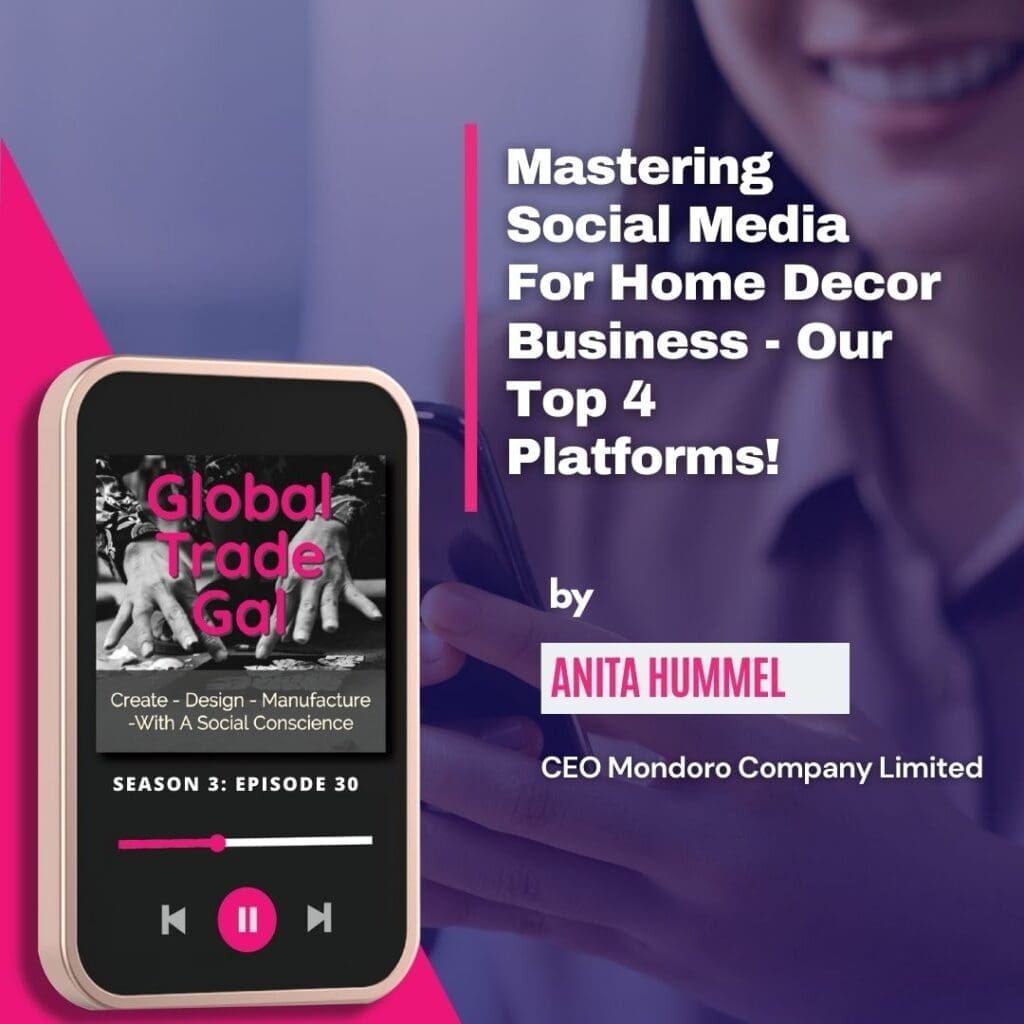 Find out more about how Mondoro can help you create, develop, and manufacture excellent home decor and furniture products – don't hesitate to contact me, Anita. Check out my email by clicking here or become a part of our community and join our newsletter by clicking here.
Mondoro gives out a FREE Lookbook to anyone interested. You can receive a copy of our latest Lookbook by clicking here.
Listen to our Podcast called Global Trade Gal. You can find it on all major podcast platforms. Try out listening to one of our podcasts by clicking here. 
Subscribe to our Mondoro Company Limited YouTube Channel with great videos and information by clicking here.
Frequently Asked Questions
Why is social media important for home decor companies?
Social media provides a powerful platform for home decor companies to showcase their products, engage with customers, build brand recognition, and drive sales. It allows them to visually display their offerings, share design inspirations, and interact directly with their target audience.
Why is Pinterest a top social media platform for home decor companies?
Pinterest is a visual discovery platform known for its focus on lifestyle and design. It provides an ideal space for home decor companies to share high-quality images of their products, inspire users with beautiful designs, and drive traffic to their websites. It offers a strong visual appeal and has a highly engaged user base interested in home improvement and interior design.
How can Instagram benefit home decor businesses?
Instagram is a visually-oriented platform that allows home decor companies to showcase their products through captivating images and videos. It enables them to build an aesthetically pleasing brand presence, engage with potential customers, collaborate with influencers, and leverage features like shoppable posts to drive sales.
How does LinkedIn contribute to the home decor industry?
LinkedIn may not be the first platform that comes to mind for home decor, but it can be valuable for business-to-business (B2B) interactions. Home decor companies can leverage LinkedIn to establish connections with architects, interior designers, suppliers, and industry professionals. It offers opportunities for networking, partnerships, and accessing a professional audience.
What advantages does Facebook offer to home decor brands?
Facebook is one of the most widely used social media platforms, making it an essential channel for reaching a broad audience. Home decor companies can create a Facebook page to share their products, engage with customers through comments and messages, run targeted ads, and take advantage of Facebook Groups to build communities around their brand.
Why is Twitter not as suitable for the home decor industry?
Twitter's format, which revolves around short and quick messages, may not be the best fit for the visual nature of the home decor industry. While Twitter can still be used for sharing updates and engaging with customers, platforms like Pinterest and Instagram provide a more visually immersive experience that aligns better with home decor products.
How can social media platforms improve brand recognition for home decor companies?
Social media platforms offer a vast audience base where home decor companies can establish their brand presence, showcase their unique style and offerings, and engage with potential customers. By consistently sharing compelling content, leveraging user-generated content, and utilizing targeted advertising, these platforms can significantly enhance brand recognition.
What type of content should home decor companies share on social media?
Home decor companies should focus on sharing visually appealing content, such as high-quality product images, room setups, design tips, and before-and-after transformations. They can also showcase customer testimonials, behind-the-scenes glimpses, and collaborate with influencers or industry experts to diversify their content and engage their audience.
Related Questions
What Are Some Common Product Sourcing Errors?
We have found 5 of the most common product sourcing or procurement error. The most common errors are 1) if it looks too good to be true, it probably is, or 2) a supplier trying to reel us in with a catch-and-bait kind of pricing scheme, or 3) not understanding what the vendor can do for us, or 4) the vendors expecting more orders and quantities than we can give them and 5) not properly vetting the vendor and who they are are and are capable of manufacturing.
To find out more about some common Product Sourcing errors, you can read our blog 5 Common Product Sourcing Errors by clicking here.
What Does It Mean To Have a Social Conscience?
There is talk these days about having a social conscience. To have a social conscience is about being concerned about the problems or injustices of society or just simply caring about those less fortunate. Many worldwide suffer from extreme poverty and live on less than 1.9 USD per day. This is why we all must seek to find ways to have a social conscience and help those less fortunate than us. The gender who suffers the most in the world is women and girls. This is why at Mondoro, we seek to find ways to work with small women-based enterprises for our manufacturing needs.
To find out more about having a social conscience, you can read our blog Having a Social Conscience, What Everyone Should Know by clicking here.