A furniture designer or manufacturer can gain a lot of inspiration from the Chinese Ming Style furniture. The Ming-era craftsmen who designed and manufactured the furniture were true artisans.
Ming-style Chinese furniture is antique furniture designed and manufactured during the China period of the Ming Dynasty. (1368-1644). The Chinese Ming-style antique furniture is known for its clean and simple lines, advanced joinery techniques, and the use of high-quality hardwoods. The MIng style furniture was very well made.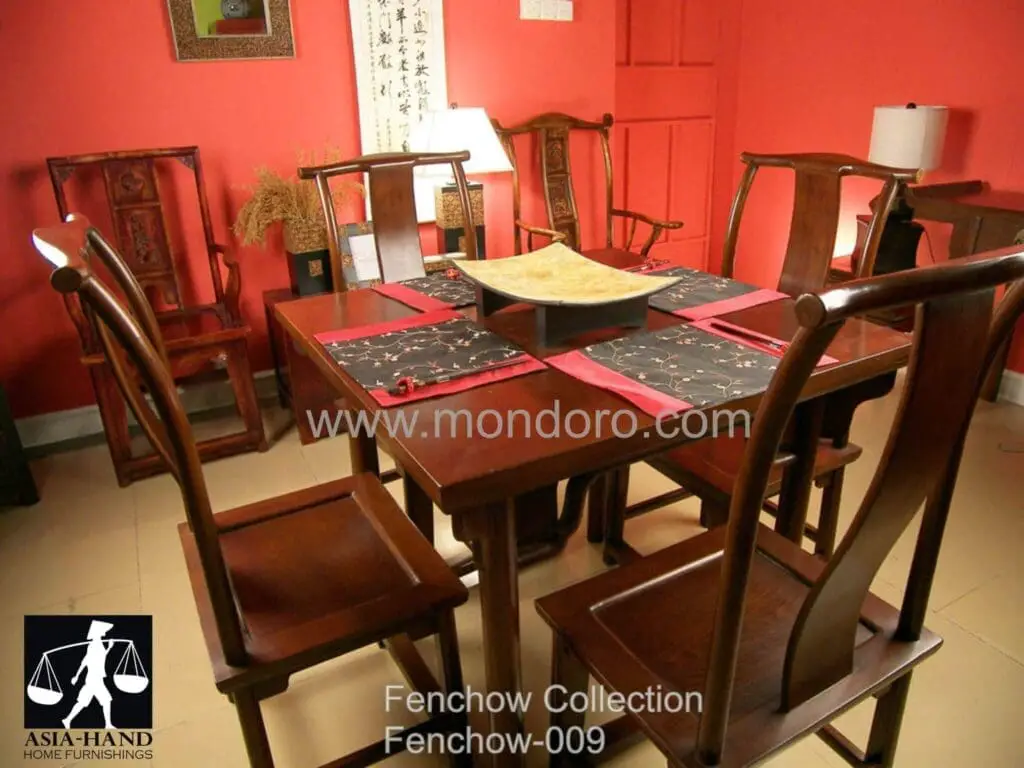 The Ming Style Chinese Furniture Era
Ming furniture was crafted, designed, and used during the Ming dynasty in China. The Ming Dynasty officially ruled China from 1368 to 1644; the Ming Dynasty was the last time Han Chinese ruled a Chinese dynasty.
During the Ming Dynasty, China reached new heights in the design and style of Chinese furniture. This is because the Ming furniture craftsman understood how to make and produce a high-quality piece of furniture.
Anyone manufacturing furniture today should be in awe of the Ming Dynasty and what they accomplished in their furniture craftsmanship. They were master furniture makers; many of their furniture pieces are still used today in households worldwide.
Here are some of our top 10 facts about Ming-style Chinese furniture that everyone should understand.
1. – Ming Furniture Can Hold Hefty Loads
Ming furniture was crafted to support some hefty loads; the Ming craftsmen could do this with minimal materials. The Ming furniture craftsmen's understood the furniture needed to withstand anything that was put on it, like a heavily carved stone bust or vase.
In the Ming era, furniture craftsmen's made furniture that would last a long time. Everything on the Ming piece of furniture was quality, from the wood used to the construction; all this was made to support heavy loads and craft a furniture piece that lasts a long time.
This is why even today, many Ming Chinese furniture antiques are in excellent condition. The Ming furniture can support a heavy load along with hundreds of years of wear and tear; the Ming furniture craftsmen built furniture to last.
2. – Ming Furniture Craftsmen's Understood Trends
The Ming furniture craftsmen understood the importance of trends and making furniture that people wanted in their homes. An example of this is the Ming furniture craftsmen who produced a lot of narrow rectangular tables. These tables are very stable, and ancient records show that Ming households used many long rectangular tables.
The Ming furniture craftsmen understood an important principle – people want to buy something they like, can use, and that is trend-worthy. These narrow rectangular tables show that these Ming furniture craftsmen understood the importance of producing something people wanted and could use.
3. – Ming Furniture Uses Clean Lines
The Ming furniture craftsman understood the importance of how clean lines helped make a great design. This is one of the most appealing aspects of Ming Chinese style furniture and why it has a timeless quality.
Ming furniture designs also have a lot of blended curves along with straight lines. These blended curves give the furniture a sense of balance and harmony.
Ming-style Chinese antique furniture did not have a lot of it carving or ornate decoration; instead, the Minh furniture craftsman emphasizes the beauty of the wood and the shape of the furniture.
4. – The Ming Understood Furniture Ergonomic Design
The Ming furniture craftsmen also understood the need for a person to be comfortable while sitting in a chair or at a table. The Ming furniture designers took ergonomics into account for their furniture designs; they were concerned with how comfortable the furniture was or how people interacted and used it.
Take, for example, the Ming chair that has an S or C curve on the back of the chair; this Ming chair was designed this way to take into account conformity to the human spine. The Ming believed the S or C curve of the back of the chair would help to relieve stress or fatigue.
5. – Ming Furniture Uses Strong Joinery
Ming-style Chinese antique furniture is appreciated for the way the Ming furniture craftsman was able to join the furniture together.
Some of these ways the Ming joined the wood together to make their furniture pieces include:
Four Corner Flush – The Ming furniture craftsmen used a four corner flush which means that a carved spandrel joined the tabletop and legs; the carved spandrel helped give the table stability and strength,
Mortise and Tenon Joints – The mortise and tenon joints are still considered one of the strongest wood joints. The Ming furniture makers understood the mortise and tenon joints; they used them a lot in their furniture construction.
Dovetail Joints – The Ming furniture makers also use many dovetail joints; a dovetail joint is a solid joint that uses interlocking parts. The dovetail joint is used today in fine furniture production.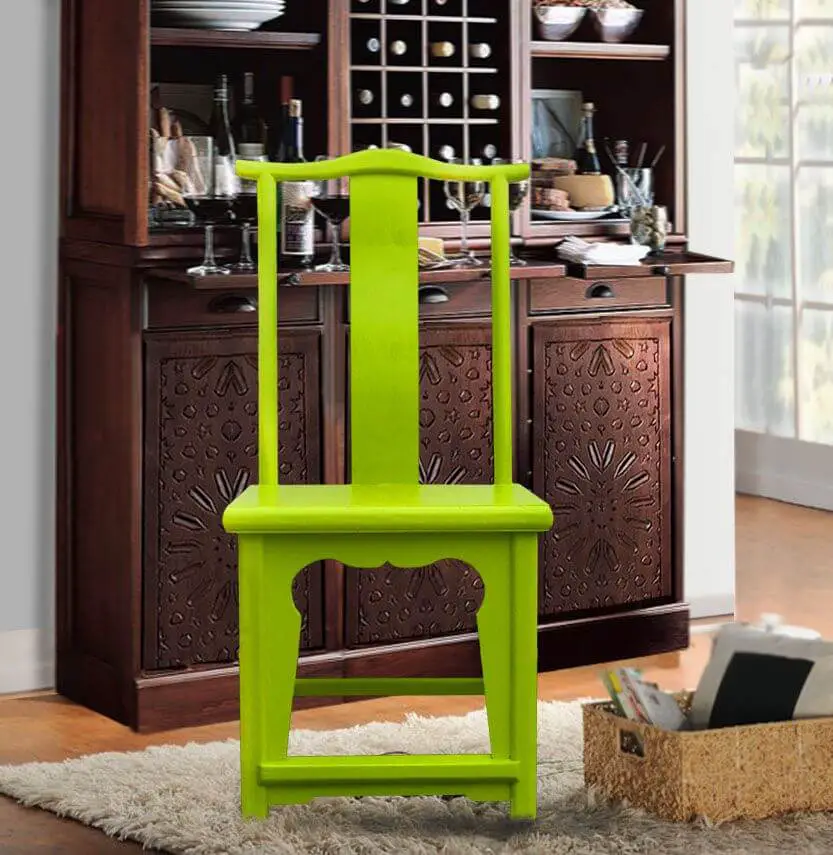 6. – Ming Furniture Uses No Nails Or Screws
Because the joinery was so good, the Ming furniture craftsmen used no nails or screws to join the furniture together. The Ming craftsmen used high-quality wood and sophisticated joining techniques to manufacture their furniture.
When you see a piece of original Ming-style Chinese furniture, you will see that no nails or screws are used anywhere in the construction.
7. – Ming Furniture Is Easy to Assemble
Ming furniture was constructed so that it could be broken down and reassembled. The Ming furniture craftsmen designed the furniture to be easily dismantled and then transported by horse or cart.
The Ming furniture craftsmen first understood the importance of flatpack furniture; it was not IKEA who invented this kind of furniture, but it was the Ming furniture craftsmen.
8. – Ming Furniture Used Excellent Hardwoods
During the era of the Minh furniture production, China had an abundance of high-quality hardwoods. This is why Ming furniture was made from one large piece of precious hardwood. The Ming craftsman was always sure to use the best piece of wood they could find.
Here are some of the more popular hardwoods that were used to make Antique Chinese furniture include:
Chinese Pear, Huanghuali – Chinese Pear Wood or Huanghuali also means yellow flowering pear; it is a hardwood from the rosewood family. The color is reddish-brown to a golden brown.
Red Sandalwood, Zitan – The Red Sandalwood or Zitan is another extremely dense wood from the rosewood family of woods; the red sandalwood is so dense it will sink in water. The color is blackish purple to red.
Camphor wood – Camphor wood was used for wardrobes and storage chests because it has a strong fragrance that deterred insects. This was a softer wood than the other two kinds of wood and is a medium brown color.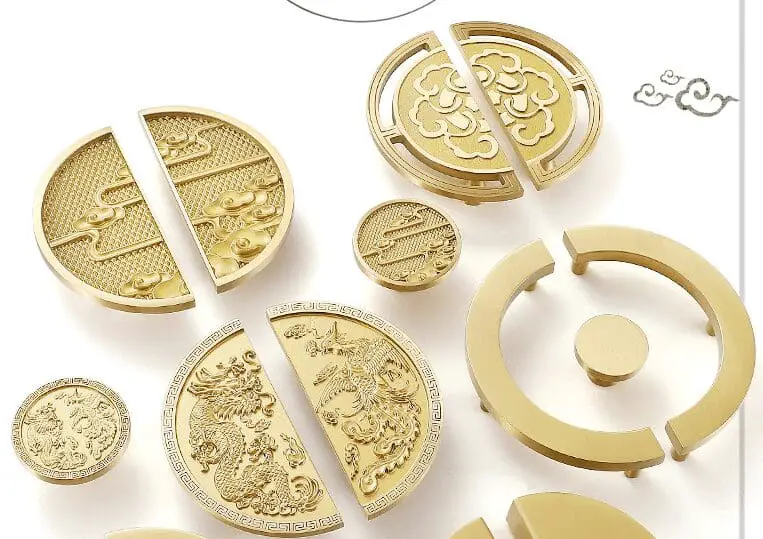 9. – Ming Furniture Uses Solid Brass Style Hardware
The Ming helped create a signature feature of Chinese furniture that uses large gorgeous pieces of brass as hardware. This traditional Chinese brass hardware is not shiny, but instead, the hardware gives a vibrant look and feel.
The Chinese Style of hardware is made from solid brass; one of the basic shapes the Ming used was a round piece of brass hardware that has a bar through it to hold the doors closed. Today this piece of hardware is still used t on many kinds of Asian-inspired furniture pieces.
We can thank the Ming craftsmen for this unique yet beautiful brass hardware design.
10. – Ming Furniture's Influence Is Seen Throughout Asia
China's Ming Dynasty had huge cultural and political influence throughout Asia; their influence was also felt throughout East Asia and Southeast Asia.
This is why antique furniture in many parts of Asia looks similar to Chinese Ming-style furniture. The Ming taught other parts of Asia about furniture design, construction, joinery, and hardware. The influence of Ming-style furniture artisans is felt throughout Asia.
The Ming furniture craftsman were exceptional furniture manufacturers. But more than that, they also understood furniture designs, trends, and how to craft a high-quality fine piece of furniture that would last for hundreds of years. Even though the Ming produced their furniture hundreds of years ago, many of their furniture designs are still relevant today.
If you are interested to find out more about how Mondoro can help you create, develop and manufacture great home decor and home furniture products, – feel free to contact me, Anita. at my email by clicking here or become a part of our community and join our newsletter by clicking here.
Related Content
What Is the Alabaster for Home Decor Product Development?
Alabaster is known as medium-hard gypsum or calcite mineral that is usually white and translucent and has a fine uniformed grain. When Alabaster is put up to the light you can see the small fine natural grain of the stone. As Alabaster is a porous mineral it can be dyed in a variety of colors.
You can learn more by reading What is Alabaster? Alabaster for Home Decor Product Development by clicking here.
What is the Brass and Bronze Material Used In Home Decor Products?
Brass and bronze are both copper alloys, but brass is copper and zinc and the bronze material is copper and tin. They both look similar but have different properties and uses. When brass or bronze is made into home decor products many times they will be sand cast or use a lost wax or investment mold technique. Each of these production methods has different uses and prices that can affect the overall production.
You can discover more by reading our blog What is the Brass and Bronze Material Used In Home Decor Products? by clicking here.