Do you have an outdoor living space begging for cozy seating? Whether it's a large deck or a small balcony, there are plenty of ways to spruce up the area – with furniture.
But before you rush off to buy cushioned pieces, why not take a different approach and go without them altogether? Believe it or not, there are quite a few benefits to choosing outdoor furniture without cushions! And there are specific kinds of materials that work very well without cushions. Read on to discover our guide on outdoor furniture you can buy without cushions.
Table of Contents
Guide To Choosing Outdoor Furniture Materials That Do Not Need Cushions
When looking for outdoor furniture without cushions, it is essential to look for high-quality pieces designed to withstand the weather elements. Materials such as teak wood, metal, woven faux rattan, and lightweight concrete can handle rain and snow exposure.
It is also a good idea to look for good-quality furniture that can protect the finish from UV rays. Here are some top materials for outdoor furniture without cushions and why they are top picks.
Teak Furniture Does Not Always Need Cushions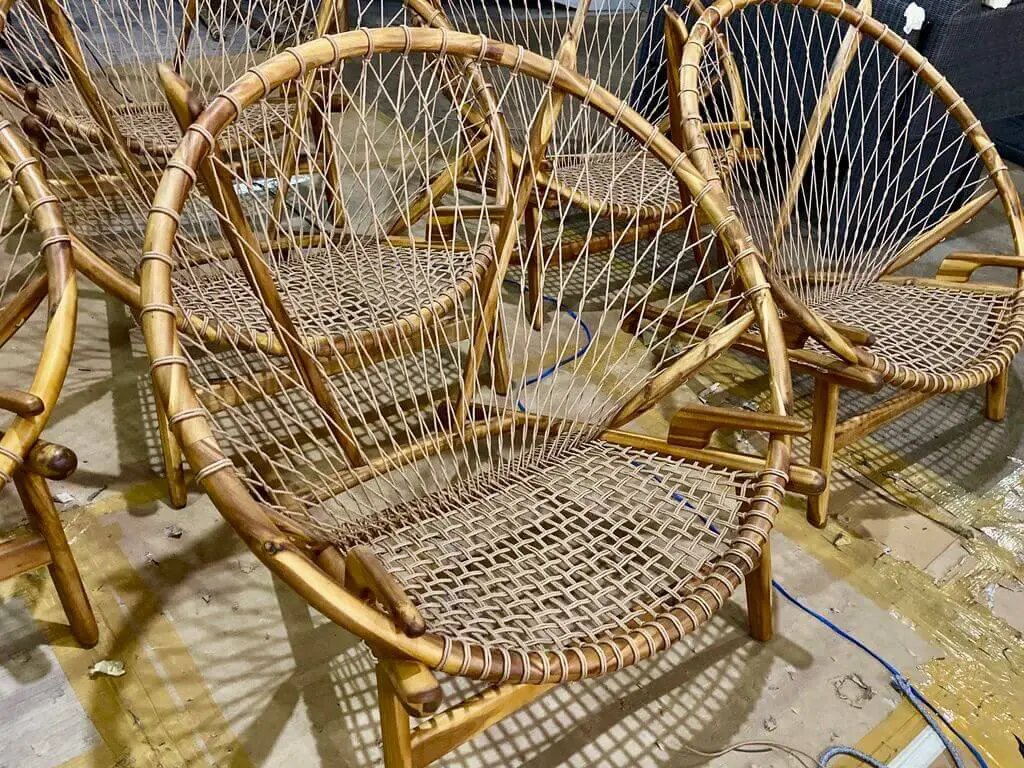 Teak furniture is an excellent material for all kinds of high-quality outdoor furniture. The wood can be stained each year to keep its original looking color, or you can allow it to grey naturally with the elements.
The nature of teak makes teak furniture such great furniture to be used in all outdoor settings. But even more than that, if you buy a good quality teak furniture piece and design, then you will not need to have any cushions on the furniture.
Many teak furniture pieces are designed not to have a cushion but to be used just as they are.
Woven Faux Rattan And Rope Outdoor Furniture Without Cushions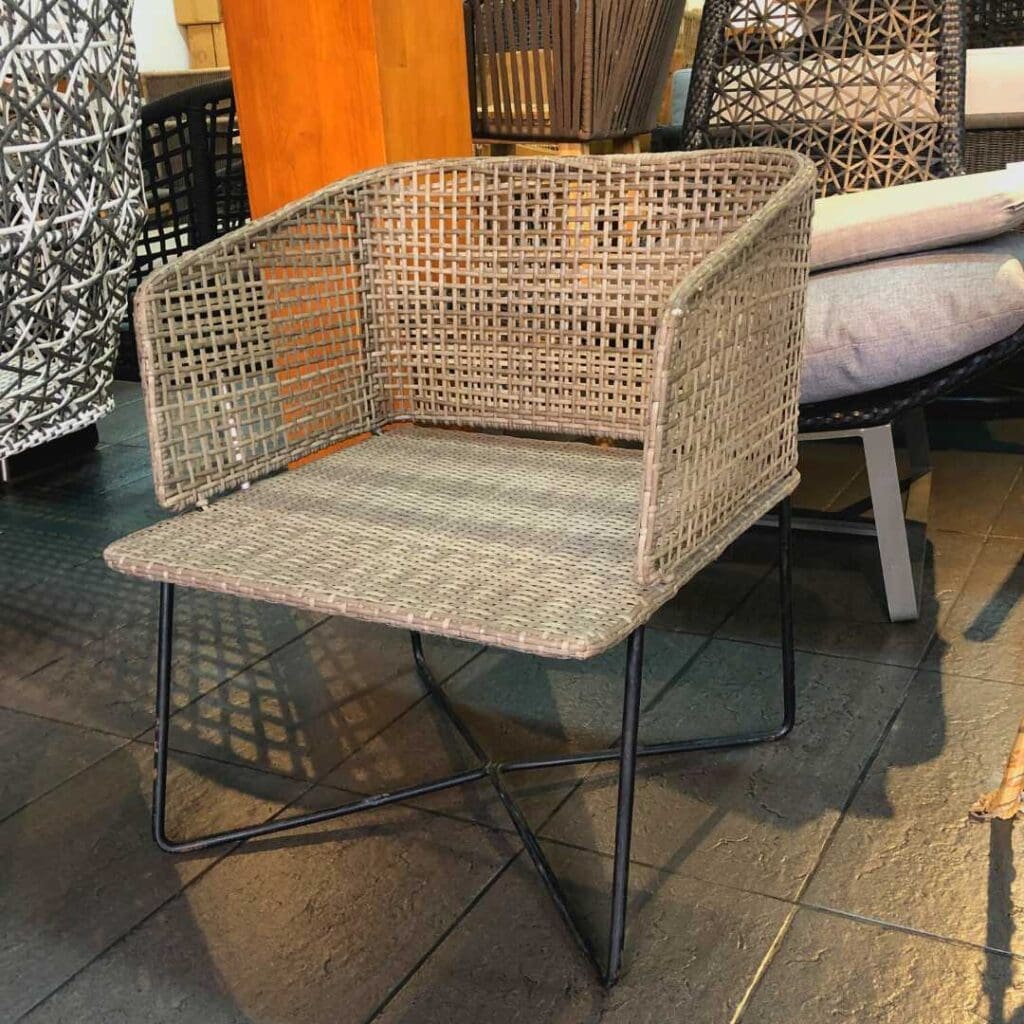 One of our favorite outdoor furniture types is woven with full rattan, synthetic rattan, and rope. If you buy an outdoor piece of furniture in these materials, they should last a long time.
In my experience, most quality manufacturers will ensure that the synthetic rattan they use is of high quality and standard. We want to ensure that the furniture will last through all weather and elements without any problem.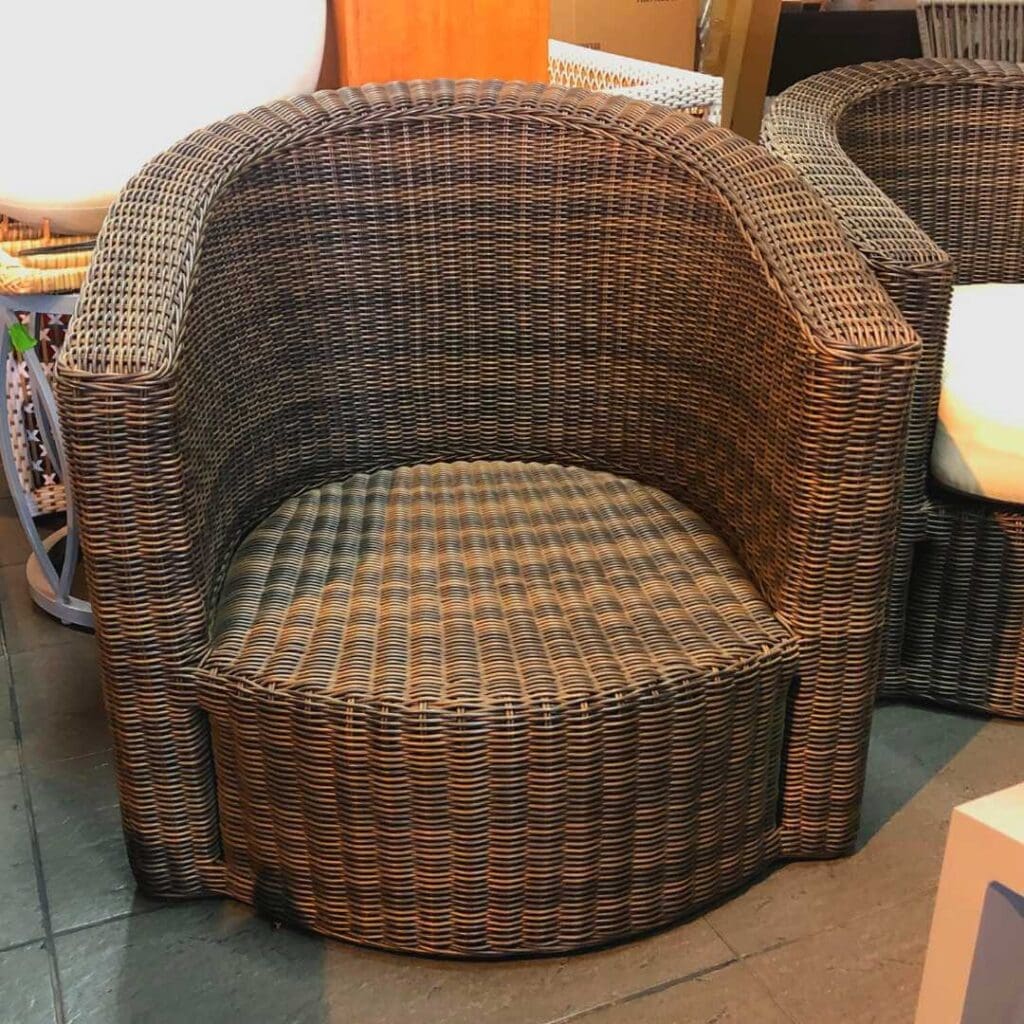 That is why we recommend you buy your high-quality synthetic and outdoor rope furniture from a brand or manufacturer that you know is offering you the quality you need so that it will last a long time. The material should be able to be UV resistant and should not change color over time.
Outdoor Metal Furniture Without Cushions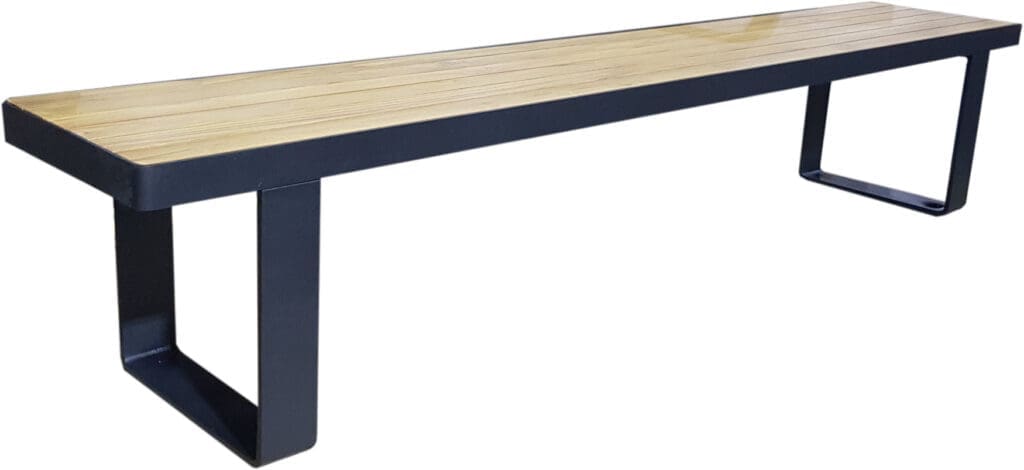 Many kinds of outdoor metal furniture are designed to be used without cushions. We make some chairs mixed with teak and metal that are great chairs to be used outdoors and require no cushions.
Other types of furniture, such as cast aluminum, usually do not require cushions. If you do not want to have cushions for outdoor furniture. In that case, you can look for metal furniture or a combination of metal and another type of material, such as teak or woven fall, rattan, and rope.
Aluminum is an excellent metal for outdoor furniture as it does not rust. It is also lightweight, so if you're looking for a high-quality piece without worrying about rusting, aluminum is a great choice.
Light Weight Concrete Outdoor Furniture Without Cushions
There are many times types of concrete furniture that can be made for the outdoors. Our favorite type is lightweight concrete, lighter than regular concrete but can also be used outdoors without cushions.
Today lightweight concrete can come in various colors, styles, looks, and finishes. So if you're looking for another type of material to have outdoors where you will not need to have cushions, you can look at lightweight concrete as an option for materials.
When choosing furniture without cushions, you may opt for comfortable pieces even without cushioning. Today many designers are creating very comfortable outdoor furniture without cushions.
Choosing outdoor furniture without cushions saves time and money on outdoor upkeep, as cushions require more maintenance and must be replaced regularly. Additionally, outdoor furniture without cushions allows you to customize outdoor space by mixing and matching pieces.
Although outdoor furniture is designed to withstand outdoor elements, it is still essential to bring outdoor furniture indoors during winter. This will help protect your outdoor furniture from harsh weather conditions, such as extreme cold and snow, which can cause damage to outdoor furnishings.
Outdoor furniture without cushions can provide a stylish and comfortable experience in your outdoor oasis while requiring less maintenance than traditional outdoor furniture with cushions. It is important to remember, however, to do everything you can to ensure that your furniture is protected so it will last a long time.
If you want to see a copy of our Outdoor Furniture Collection, kindly contact us at sales@mondoro.com or by clicking here.
Find out more about how Mondoro can help you create, develop, and manufacture excellent home decor and furniture products – don't hesitate to contact me, Anita. Check out my email by clicking here or become a part of our community and join our newsletter by clicking here.
Mondoro gives out a FREE Lookbook to anyone interested. You can receive a copy of our latest Lookbook by clicking here.
Listen to our Podcast called Global Trade Gal. You can find it on all major podcast platforms. Try out listening to one of our podcasts by clicking here. 
Subscribe to our Mondoro Company Limited YouTube Channel with great videos and information by clicking here.
Related Content
A Guide To Sewing Your Outdoor Furniture Fabric Cushions
The outdoor fabric should be specified for your outdoor furniture cushions. Sewing an outdoor cushion takes technical skills in cutting the cushion pattern and the actual sewing. The cushion needs foam, a waterproof cover, and an outdoor fabric cushion cover.
You can learn more by reading our blog, A Guide To Sewing Your Outdoor Furniture Fabric Cushions by clicking here.
Buying Guide For Outdoor Furniture Fabrics, What You Need To Know
Your choice of outdoor fabric for your outdoor furniture collection will make a difference in how long the fabric will actually last. There are 10 key points to consider when making your outdoor fabric selection. Proper maintenance and care will also help expand the fabric's life cycle.
You can read our blog on Buying Guide For Outdoor Furniture Fabrics, What You Need To Know by clicking here.
Care & Maintenance Of Outdoor Synthetic Rattan Furniture
The care and maintenance of the outdoor synthetic rattan furniture are pretty straightforward. Use mild soap and water and a soft brush to clean your furniture at least once a year. With proper storage, you can be sure to add to the longevity of your outdoor synthetic rattan furniture pieces.
You can learn more by reading our blog, Care & Maintenance Of Outdoor Synthetic Rattan Furniture, by clicking here.