One of the new supply chain buzzwords that many people are talking about is ethical sourcing. Many companies are now looking to ensure ethical sourcing set up as part of their supply chain.
Ethical sourcing is about a company, brand, corporation, or individual ensuring that their products are obtained through a sustainable and responsible method. A recent Open Text Survey showed that 83% of consumers globally consider ethical sourcing an essential aspect of their buying decisions.
What Is Ethical Sourcing?
Ethical sourcing is the process of a company, brand, or individual ensuring that the products they are manufacturing are obtained through the responsible and sustainable method. At the core of ethical sourcing is the brand, company, corporation, or individual responsible ensure that they do not contribute to climate change, poverty, crime, deforestation, human rights abuses, and forced labor.
In simple terms, it means that a brand, company, corporation, or individual needs to look at how the goods or services they produce affect the environment, society, and the world.
Ethical sourcing ensures that products or services are obtained through responsible and sustainable methods.
Ethical sourcing can get confusing because it does encompass many different areas—everything from ensuring that workers are paid a fair wage to human rights to ensuring factories are safe and clean environments, and all social and environmental aspects of any manufacturing are considered.
Today, many large corporations will hire an independent auditor to inspect their manufacturing facilities to ensure that they are considered ethical and meet all these essential requirements, especially for workers' rights, safety, and the protection of the environment.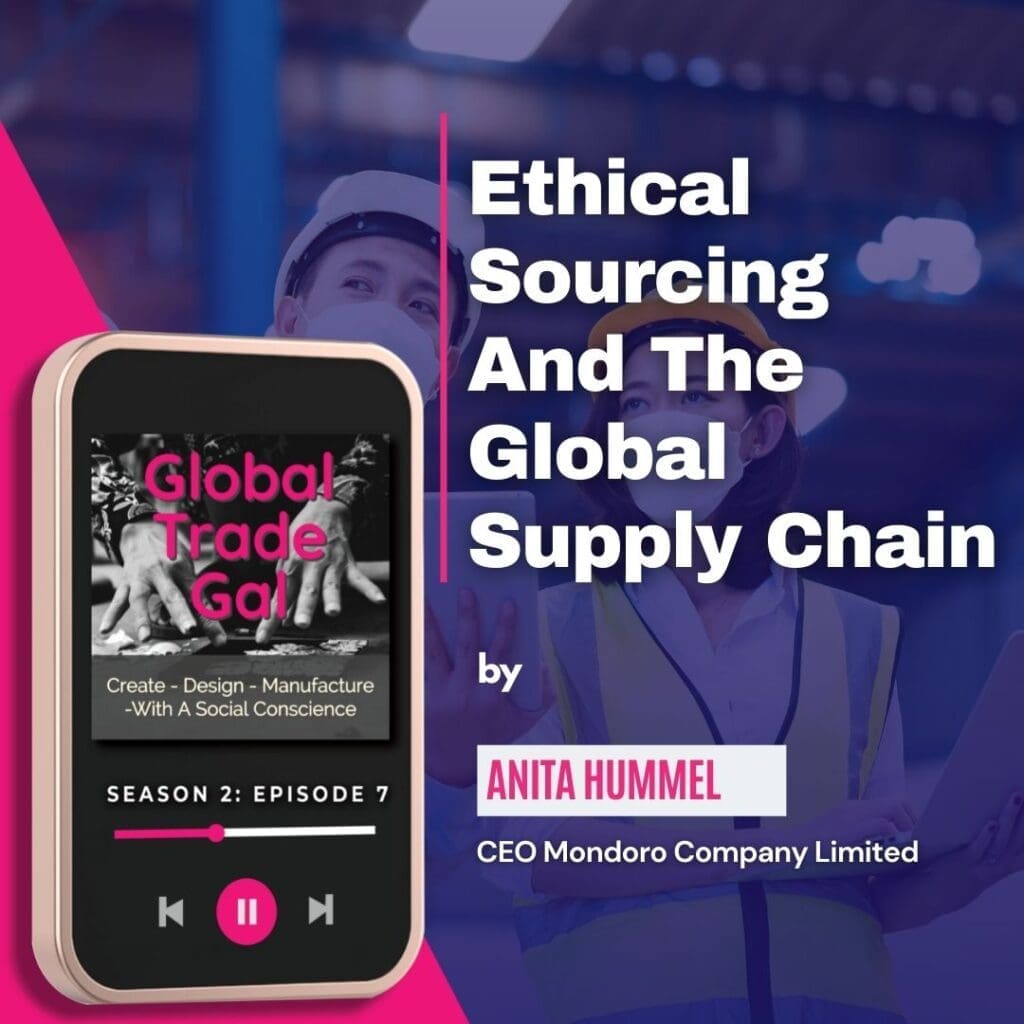 Why Ethical Sourcing Is Important
And a recent Open Text Survey showed that nine and ten global consumers want to buy sources responsibly and sustainably. The same survey showed that 83% would pay more for ethically produced goods.
Open Text Survey survey was given to 27,000 respondents across the globe. They asked which environmental sustainability and socially responsible business practices mattered to the consumers to change their purchasing behavior.
The respondents were anonymously picked consumers from all age groups from the UK, Germany, France, Spain, Italy, USA, Canada, Brazil, Japan, India, Australia, and Singapore.
Ethical Sourcing Survey Shows Importance of Corporate Ethical Sourcing
Here are some of the highlights from the Open Text Global Survey; the results show a clear indication that ethically sourced goods are essential:
83% (9 in 10) global consumers give priority to buy from brands and companies that have ethical sourcing strategies in place. The countries that ranked the highest for the importance of ethical sourcing and their purchasing decisions were India (94%), Italy (90%), Brazil (87%) and Singapore (87%).

10% overall increase from before the COVID pandemic for ethical sourcing being important. Before the pandemic just 58% consumers in Japan felt this way, 71% in Canada and the UK, 72% in the USA. The pandemic seems to have increased the need that people feel for ethical sourcing.

Gen Z and Millennials are leading the driving change of ethical sourcing. The survey revealed that 2/3rd or 64% of 18 – 24 year olds said they will never buy from a company again if that company was accused of working with unethical suppliers. You can compare this to only 2 in 5 or 40% of respondents over 65 years old have the same reaction.

Product Origin is also important. Almost two thirds or 62 % of 25-34 years said they want to know where the product they are buying was produced. Only 47% of the age group 65% and over felt this was important.
These survey results are global; the country that is missing in leading the way on ethical sourcing is America. The younger generation or Gen Z and Millennials are leading the way to try to enforce this change of ethical sourcing.
Survey Results – 3 Questions That Were Answered
Questions One:
When shopping after the pandemic, do you plan to prioritize buying from companies that make it clear they have ethical sourcing strategies in place?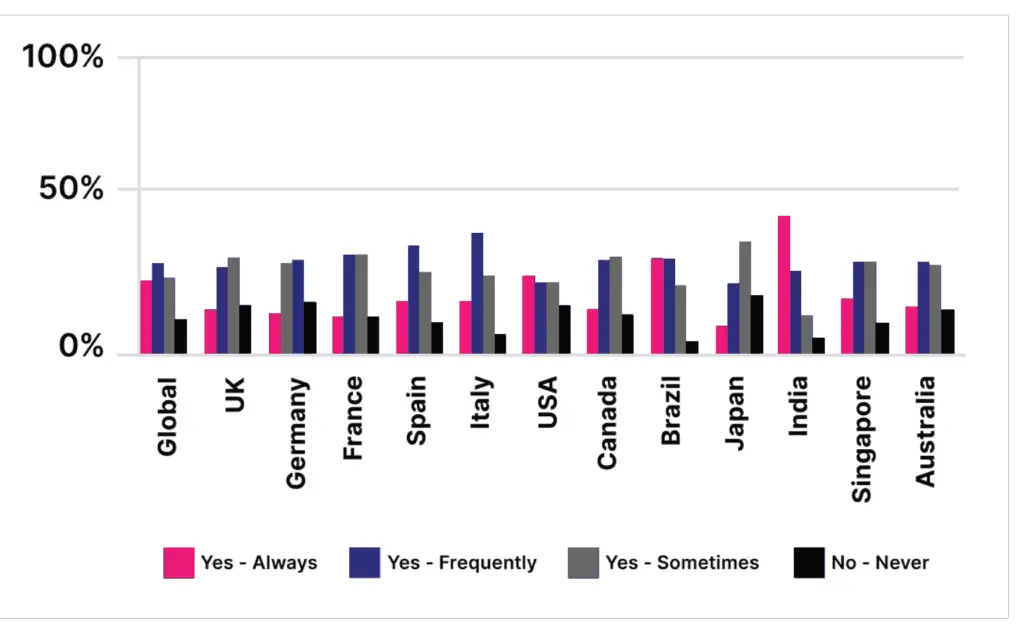 Question Two:
Do you think online retailers should clearly mark whether or not products are ethically sourced where they can?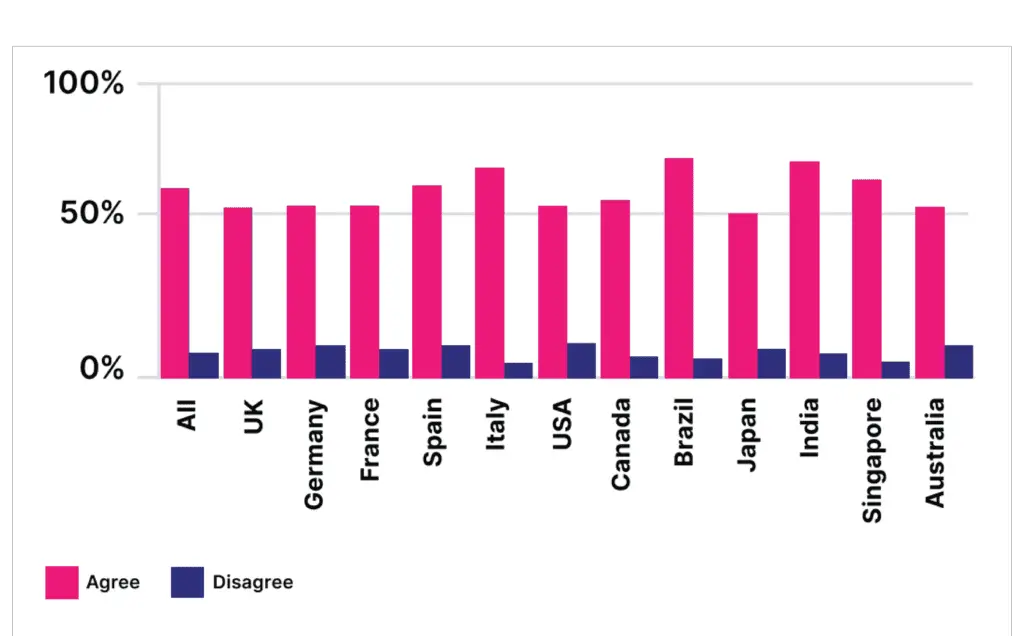 Question Three:
Do you agree that organizations that cannot monitor where goods have come from and don't know whether their suppliers are sourcing goods in an ethical way need to rethink their supply chain now to build in ethical controls?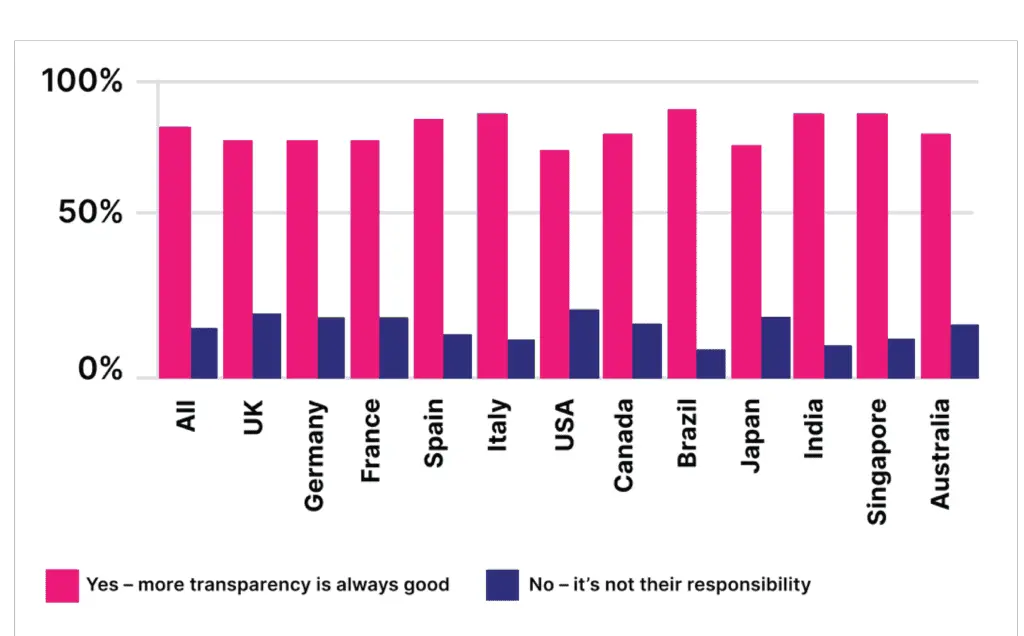 You can view the entire Open Text Survey here.
The World Is Changing – Ethical Sourcing Is Important
The world we live in is fast-changing. Individuals are starting to demand that companies, brands, and corporations look at all aspects of their supply chain, including ethical sourcing. We see this as an area that will continue to be necessary, especially in the years ahead.
As Lou Blatt, senior vice president and CMO at Open Text said this about the results of the Open Text Survey:
The message from this survey is that consumers are looking for companies, brands, and corporations who understand what it means to have an ethical sourcing policy in place. Consumers across the world understand that ethical sourcing, social environmental responsibility, and social conscience all matter when it comes to manufacturing products or services.
Companies, brands, and corporations must start now to rise to the challenge to ensure that their entire supply chain is concerned with the ethical sourcing of their products. People want to buy products they not only like but also come from sources who are socially responsible and have a social conscience.
If you are interested in seeing how Mondoro can help you manufacture socially responsible home decor and home furnishing products – we would love to talk to you to see how we can help you.
Find out more about how Mondoro can help you create, develop, and manufacture excellent home decor and home furniture products – don't hesitate to contact me, Anita. Check out my email by clicking here or become a part of our community and join our newsletter by clicking here.
Mondoro gives out a FREE Lookbook to anyone interested. You can receive a copy of our latest Lookbook by clicking here.
Listen to our Podcast called Global Trade Gal. You can find it on all major podcast platforms. Try out to listen to one of our podcasts by clicking here. 
Subscribe to our Mondoro Company Limited YouTube Channel filled with great videos and information by clicking here.
Related Content
10 Key Skills Every Sourcing Professional Needs
An excellent sourcing professional needs to be someone who can build and not tear down the relationships required to get the products' quality, price, and quantity that you need. Professional sourcing needs to understand the product while at the same time having the mathematical, technical, and analytical skills required for them to source products successfully.
You can discover more by reading 10 Key Skills Every Sourcing Professional Needs by clicking here.
Top 9 Benefits of Global Sourcing
Companies have many benefits to source their products and even services globally. Sourcing their products globally usually allows them to buy a product with the design, price, quality, and quantity they need. It also allows companies to reduce costs while having a streamlined business model.
You can discover more by reading Tips Top 9 Benefits of Global Sourcing by clicking here.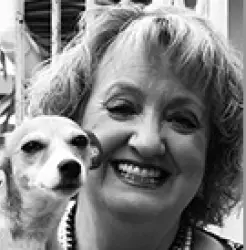 Latest posts by Anita Hummel
(see all)