If you ever ate on a reusable plastic plate, it was probably Melamine or Melmac ware. There can be confusion about the difference between Melamine ware and Melmac ware.
Melmac is the brand name of the melamine ware plates that the American Cyanamid Corporation produced. Most of the Melmac plates are considered vintage plates made in the 1940s to 1970s. Melamine is a chemical substance used to produce various products, including melamine ware, laminate, Formica, and dry eraser boards.
Melmac and melamine ware are essentially the same things, but Melmac is a brand name for melamine ware produced in the United States. Today, melamine ware is usually produced overseas and imported into the United States.
Melmac Vs. Melamine
Melmac refers to the materials used to manufacture melamine dishes popular from the 1940s to the 1970s. If you grew up in that era, they were the dishes that your family may have used.
I remember we had a set of some Melmac dishes that we used to use when we went out on a picnic or were eating outside. Melmac is the word used to refer to the melamine material used for the vintage dishes from this era of time. 
Melmac is not a material but is a brand name of the melamine ware that the American Cyanamid made. American Cyanamid was an American company that produced melamine ware from 1940 to the 1970s. In 1994, American Cyanamid merged with American Home Products, which is now known as Wyeth.
Melmac was a brand name given to the melamine ware that the American Cyanamid produced for their melamine plates and other dishes from the 1940s to the 1970s. Melmac is essentially melamine ware dishes.
Melamine is an organic material used today in melamine dishes and other products. Melamine is made from a substance that is called Melamine-formaldehyde. The dishes form when the molecular structure is heated and molded.
Melmac and melamine are very similar materials, but since the 1970s, the technology for melamine has increased. The dishes made with melamine today are considered safe by the FDA and are FDA approved.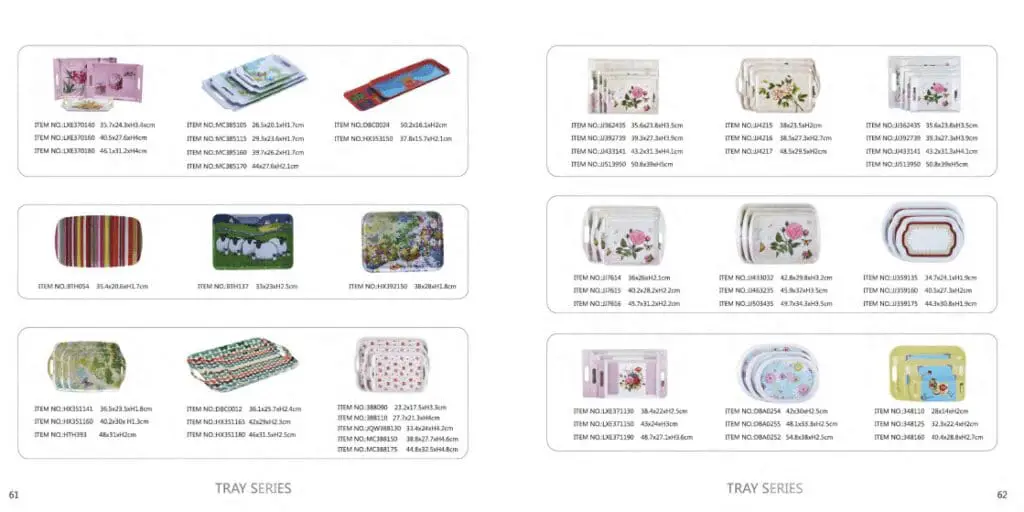 The vintage Melmac dishes may not have FDA approval even if the material is quite similar. Melmac and Melamine ware are the same materials, except that today with technology, melamine ware has had the advantage of having better technology available to us than in the 1940s to 1970s.
Since that time, the FDA and other food agencies have done a lot of testing to ensure that the melamine ware dishes are safe.
FDA And Melamine Safety
The FDA (Food and Drug Administration) has done a lot of testing on melamine to ensure that the material is safe to be used for dishes. Melamine continues to be a trendy material for many people to use for plates and dinnerware.
Melamine is considered by the FDA a chemical and has been approved in the United States for manufacturing some cooking utensils, plates, plastic products, paper, paperboard, and industrial coatings. So you can see that the substance melamine has a variety of uses approved in the United States by the FDA.
Today you can find melamine dishes purchased at almost every major store in the United States that sells any tableware. For many, they are a popular choice as they will not break yet can have intricate designs printed on the surface of the plates.
The FDA recommends that food and drink not be heated using melamine ware utensils; melamine ware is not considered microwave safe. The FDA recommends that you use approved materials such as ceramic or dinnerware listed as microwave safe to heat food in a microwave.
Melamine is confirmed by the FDA to be used to make melamine ware dishes, but it is not approved to be added to foods for human consumption. Some companies may try to add melamine into foods to increase the protein content illegally. Ingesting melamine in large quantities is known to cause severe health issues for human beings.
Melamine is not only used in melamine ware dishes, but the melamine substance can also be used in things are Formica, laminate floors, and even dry eraser broads—all things that many people have in their homes. The melamine substance is also found in insulation, soundproofing materials, and cleaning products such as magic erasers.
Melamine Ware Dinnerware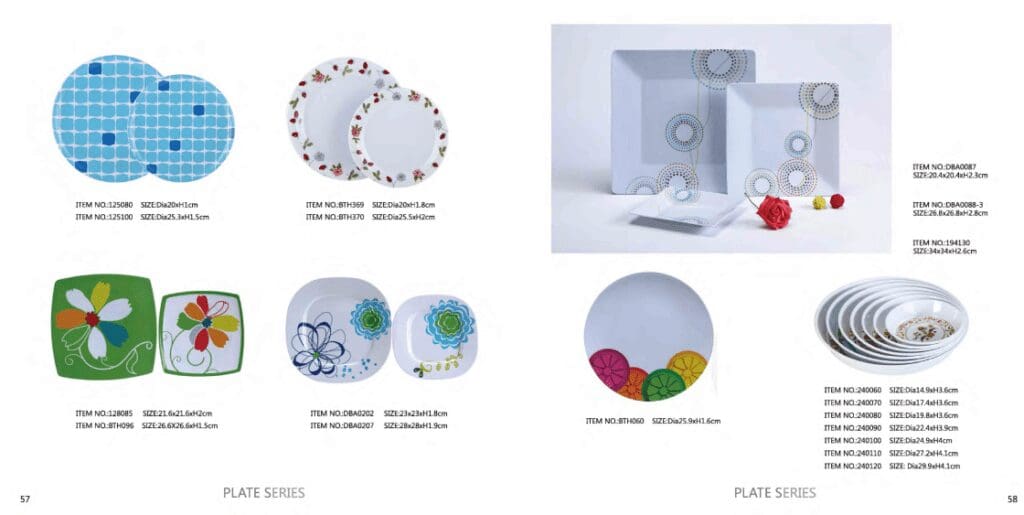 One way that melamine is most known is the melamine dinnerware. Today, melamine dinnerware is popular as it can be produced in various designs and finishes while being unbreakable.
Melamine ware dinnerware is made by combining formaldehyde and other agents to produce melamine resins. The resins are considered highly durable plastic, so that they can be used in melamine dinnerware.
Even though melamine ware uses an agent combined with formaldehyde, it has been known not to pose any risk to human beings in using the dinnerware. All the tableware we produce and ship into the United States is FDA approved as food safe.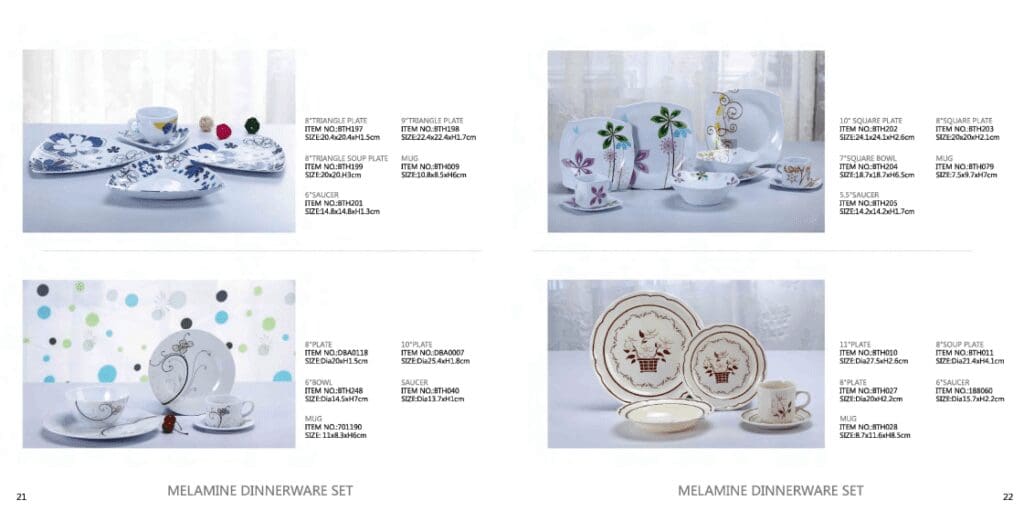 Here are some of the reasons why we love Melamine ware:
Unbreakable – Melamine ware is unbreakable.
Can Be Used Indoors Or Outdoors – Melamine can be used indoors or outdoor. It is a great reusable product for your indoor and outdoor needs, such as camping.
FDA Approved – All Melamine ware is FDA approved.
Dishwasher Safe – All Melamine ware is also dishwasher safe.
Great Patterns – Melamine ware gives you the ability to put a lot of bright and unique patterns on the dinnerware.
Great Price Points – Melamine has excellent price points compared to many other kinds of dinnerware materials.
If you are interested in Melamine products for your home decor needs, we would love to talk to you to see how Mondoro can help you find FDA-approved and export quality melamine ware products for your home decor collection.
Find out more about how Mondoro can help you create, develop, and manufacture excellent home decor and home furniture products – including Melamineware dinnerware – don't hesitate to contact me, Anita. Check out my email by clicking here or becoming a part of our community and joining our newsletter.
Mondoro gives out a FREE Lookbook to anyone interested. You can receive a copy of our latest Lookbook by clicking here.
Listen to our Podcast called Global Trade Gal. You can find it on all major podcast platforms. Try out to listen to one of our podcasts by clicking here. 
Subscribe to our Mondoro Company Limited YouTube Channel filled with great videos and information by clicking here.
Related Content
What Is The Difference Between Stoneware And Earthenware?
Earthenware is an iron-rich clay that is fired at much lower temperatures than stoneware. Earthenware will often have an orange color or cast to it due to its iron content. Stoneware is fired at a higher temperature than earthenware and is used a lot to manufacture tableware.
You can discover more by reading What Is The Difference Between Stoneware And Earthenware? by clicking here.
Earthenware, Stoneware, And Porcelain Materials
Earthenware, stoneware, and porcelain are all made by various clays and then fired. The kind of clay used and the temperature they are fired at can make a difference as to how soft or hard the actual end product is. Though they can all seem to be similar, they are all very different materials and products.
You can discover more by reading Earthenware, Stoneware, And Porcelain Materials by clicking here.
Does Porcelain Crack Under Heat?
Porcelain is a highly durable clay fired at very high temperatures, so it is often called "high fired porcelain." Because it is fired at such high temperatures, it is tough for porcelain to crack or get damaged due to heat.
You can learn more by reading Does Porcelain Crack Under Heat? by clicking here.