Even though Canada is just North of the United States, many people want to know and understand if the UL rating is accepted in Canada or if another safety mark is used in the Canadian market.
The UL rating is only for the United States and is not used in Canada, but Canada does have a rating called ULC or cUL, which is essentially the same as UL but has been approved for Canada. Canada also has a CSA rating that is essentially the same as the cUL rating used in Canada.
Table of Contents
ULC or cUL Rating Approvals For Canada
To sell a UL-approved product in Canada, the product should be the Canadian UL mark known as ULC or cUL. This mark is similar to the UL mark but is specifically for the Canadian market.
The United States UL mark is listed as just UL, but the Canada mark is ULC. This ULC mark is a UL mark that is nationally recognized throughout Canada. The ULC mark is used for many products, including building materials, fire safety, and consumer products.
The UL Canada or the Underwriters Laboratory of Canada, is part of the United States UL Laboratories. The Underwriters Laboratories Canada is accredited by the Standards of Council of Canada and the International Accreditation Service Inc.
The UL, or Underwriters Laboratories, is an independent public safety product service company that has been in business for over 100 years. The Underwriters Laboratories is the international benchmark for product and consumer safety products.
We use a UL mark known as cUL for the Canadian market for lamps and lighting. To sell any lamps to most major retailers in Canada, our lamps must have the cUL standard.
CSA And ULC Ratings Explained
In Canada, there is also CSA accreditation besides the ULC. Both the CSA and ULC are also recognized by the Nationally Recognized Testing Laboratories (NRTL).
The CSA and ULC must show that their tests and safety practices conform to the Canadian and National Electrical Code (NEC). Both standards are interchangeable and accepted within Canada.
UL Vs. cUL Ratings In Canada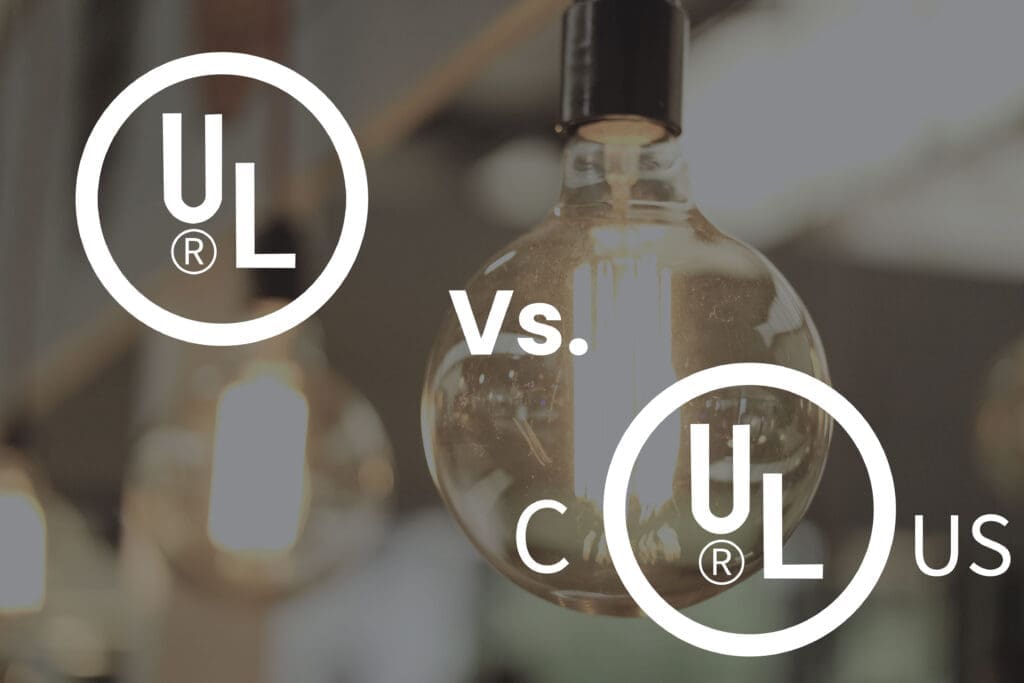 In the United States, UL is the standard rating for many safety and consumer products. The UL rating is a rating that is accepted throughout the United States.
For the same consumer product to be recognized in Canada, the product should have the cUL approval. The UL mark is not recognized in Canada and applies only to the United States.
When we produce cUL-approved lamps, all the parts, components, and testing are essentially the same as the UL lamps or lighting. We have essentially the same testing, the same parts, the socket, and the same safety standards.
But for the lamp to be considered UL recognized in Canada as having the UL certification, the light must also have the cUL mark. In fact our UL sticker on our lamps has both the UL and cUL marks to show that the lamps adhere to the UL and cUL standards.
Products with a cUL standard are considered to adhere to Canadian safety standards. And since the UL and cUL standards are essentially the same, most manufacturing will produce the products with both the UL and cUL mark, even if the product has no intention to be sold in Canada.
Selling Products To Canada with cUL or CSA Approvals
Similar to laws in the United States, a cUL or CSA rating or approval is not required to sell products into the Canadian market. The cUL and CSA ratings are voluntary, but like in the United States, many major retailers will not accept a product to be sold in their stores unless they have either the cUL or CSA mark and approvals.
Many retailers will not purchase products from wholesalers or manufacturers unless they have CSA or cUL approval. They want to ensure the product has gone through some safety and other procedures; the retailers do not want any product on their floor that could have any safety or other issues.
The UL and cUL certifications show that a company can adhere to the strict safety and other standards that UL has set forth. It shows that the manufacturer can align its production to the best industry-wide practices.
Even though having a UL or cUL listed certification is not legally required in the United States or Canada, it has become a common practice because it shows that a company is manufacturing products up to the nationally recognized productions safety and other standards.
Knowing If a Product Has a cUL Rating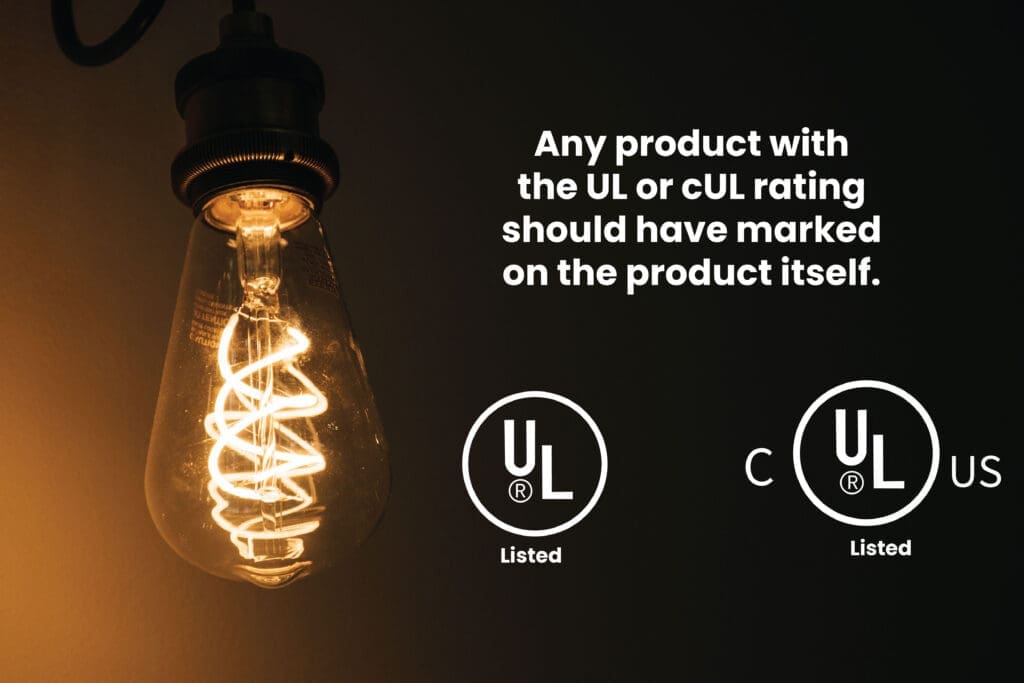 One of the best ways to check if the product you are purchasing has the cUL approval is to check the product. Any product with the UL or cUL rating should be marked on the product.
We have to put a sticker on the socket that says that the product is UL and cUL approved for our lamps and lighting. Other times the marking may be encased right into the product itself.
Anytime you buy a UL or cUL-approved product, the approval should be somewhere on the product to show that it meets all the requirements of safety as set forth by the Underwriters Laboratories.
When you see the UL or cUL ratings mark as a consumer, you can be sure that the product you are purchasing has gone through rigorous testing to ensure it is safe and without quality issues.
If you are interested in seeing how Mondoro can help you manufacture UL-certified tables and floor lamps or other products – we would love to talk to you to see how we can help you.
Find out more about how Mondoro can help you create, develop, and manufacture excellent home decor and home furniture products – don't hesitate to contact me, Anita. Check out my email by clicking here or become a part of our community and join our newsletter by clicking here.
Mondoro gives out a FREE Lookbook to anyone interested. You can receive a copy of our latest Lookbook by clicking here.
Listen to our Podcast called Mondoro Company Limited. You can find it on all major podcast platforms. Try out listening to one of our podcasts by clicking here. 
Subscribe to our Mondoro Company Limited YouTube Channel filled with great videos and information by clicking here.and certification services.
Frequently Asked Questions
Is UL certification accepted in Canada?
Yes, UL (Underwriters Laboratories) certification is generally accepted in Canada
Is UL listed approved in Canada?
UL listing is widely recognized and accepted as an approved certification in Canada.
Is UL certified in Canada?
Yes, UL offers certification services in Canada and provides certifications for various products and industries.
Is UL approval required in Canada?
While UL approval is not always mandatory, it is highly recommended as it assures compliance with safety standards and can facilitate market acceptance in Canada.
Are there any additional certifications required in Canada besides UL?
Depending on the product or industry, there may be additional certifications or requirements beyond UL that are specific to Canada. It is important to research and understand any specific regulations applicable to your product.
Do Canadian retailers and consumers recognize UL certification?
: Yes, Canadian retailers and consumers are familiar with UL certification and often consider it as a mark of safety and quality.
What are UL standards in Canada?
UL standards refer to the technical requirements and specifications set by Underwriters Laboratories for product safety and performance. These standards are used in Canada as well.
Are UL-certified products accepted by Canadian authorities?
Yes, UL-certified products are generally accepted and recognized by Canadian authorities and regulatory bodies.
Related Content
How Underwriters Laboratories (UL) Make Money
Underwriters Laboratories makes their money from contributions and grants, servicing and other fees, and investment income. When you view their tax returns, you can see that the primary way they make money is through their servicing and fees structure.
You can discover more by reading How Underwriters Laboratories (UL) Make Money by clicking here.
Is UL Approval Required On All Items Sold In The USA?
A product sold in the United States does not need UL approval; no law mandates that a product must have UL approval to be sold anywhere in the United States. UL is a benchmark for safety standards for most manufacturers, retailers, and wholesalers that want to produce or sell products with UL approval.
To find out more about the Is, UL Approval Required On All Items Sold In The USA? by clicking here.