Tuk-tuk is one of those modes of transportation that many tourists love when they see tourist sites in areas with tuk-tuks available for hire. Whenever we go to Cambodia, we will always hire a Tuk-tuk for the day to take us around town and even drive us to the airport.
Some of the 20 interesting, fun facts about the Tuk-tuks are that they are not the first three-wheeled vehicle, but they were designed as motorized rickshaws, so in many places, they were called auto-rickshaws. Even today Tuk-tuks around the world not only transport people around but also transport goods or are used as a service vehicle. Many of the newer models are not E-Tuks or electric Tuk-tuks.
20 Interesting Tuk Tuk Facts:
Fact 1 – The Tuk-tuk is not the first three-wheeled vehicles.
The Tuk-tuk is not the first three-wheeled vehicle. In 1934 Japan started to export three-wheeled vehicles to Thailand. This was not a Tuk-tuk as you know it today, but more like a three-wheeled truck.
In 1947 Corradino D'Ascanio, an aircraft designer at Piaggio and the inventor of the Vespa, came up with a new invention to build a light three-wheeled commercial vehicle. He built this with Italy's post-World War II reconstruction in mind, so there was an easy and economical way to carry goods around cheaper than a larger vehicle.
Fact 2 – Another name for the Tuk-tuk is the Auto Rickshaw.
Another name for the tuk-tuk was the Asian rickshaw; this is because the tuk-tuk as a vehicle to carry passengers and goods was inspired by an actual Asian Rickshaw. It used to be a person would pull another person in a rickshaw, but then a motor was put on the back of the rickshaw to allow for a driver to pull the passengers in a kind of wagon. This was the start of the Tuk-tuk for passengers to travel in.
Fact 3 – Tuk Tuks or Auto Rickshaws are found around the world.
Tuk-tuks can be found around the world. No doubt Thailand and now Cambodia is also famous for having Tuk-tuks. Thailand has become a major exporter of Tuk-tuks around the world. But there are still many versions of the three-wheeled vehicle around the world.
Here is a list of the places that have been known to have a three-wheeled light vehicle or a tuk-tuk: Egypt, Gaza, Madagascar, Nigeria, South Africa, Sudan, Tanzania, Zimbabwe, Bangladesh, Cambodia. China, India, Indonesia, Nepal, Pakistan, Philippines, Sri Lanka, Thailand, France, Italy, United Kingdom, El Salvador, Guatemala, Cuba, Peru, and Iraq, to name a few.
Fact 4 – The US at one time had a vehicle similar to a tuk-tuk
In the 1950s and 1960's the United States Postal service used a three-wheel vehicle called the Westcoaster Mailster to deliver mail. This small vehicle could haul up to 500 pounds of mail. In 1966 there were about 17,700 Westcoaster Mailster's in operation around the United States. There were also other smaller vehicles for parking enforcement and other kinds of applications. Though not the same as the tuk-tuk, it is quite similar in that it has three wheels.
Fact 5 – The name is from the sound the Tuk-tuk makes.
The name Tuk-tuk comes from the sound that the Tuk-tuk makes. If you have ever been in a tuk-tuk, you can easily realize that the Tuk-tuk can make some popping or other sounds when it starts up or at other times. So this is where the name tuk-tuk came from. In Egypt, the tuk-tuks are called to toks.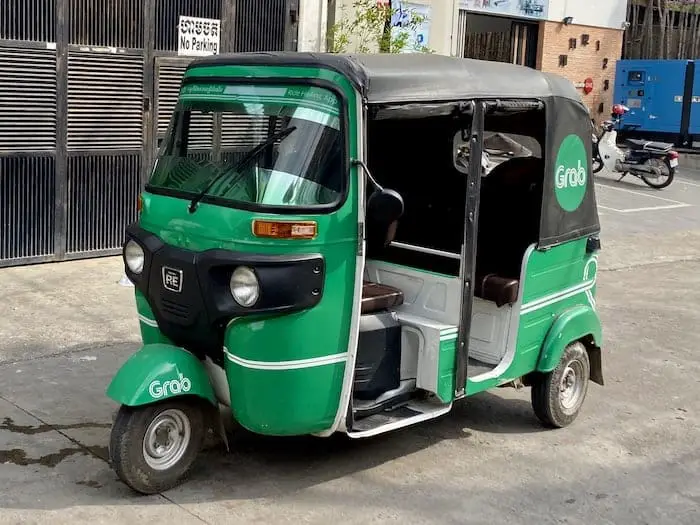 Fact 6- Newer versions are always emerging.
Newer versions of the Tuk-tuk are always emerging. On a recent trip to Cambodia, we saw many newer versions of the Tuk-tuks out on the streets. Our driver, who was still in an older version of the Tuk-tuk, told us that the new Tuk-tuk cost was about 4,000 USD, which was a lot of money for many present-day Cambodian Tuk-tuk drivers.
Fact 7 – Drivers can use their carts as also a way to take a nap or sleep
For many of the Tuk-tuk drivers in poorer areas of the world, the drivers can use their Tuk-tuks to take a nap or sleep. I have seen drivers hang up a kind of hammock on their Tuk-tuk to take their afternoon nap.
Fact 8 – You can fit 2 American adults and 2 bicycles in a larger tuk-tuk
Many may think that tuk-tuks are too small to carry much, but we have fit two American adults and two bicycles in a larger Tuk-tuk in Siem Reap, Cambodia. We were on our way to the Cambodia Bike4Kids Race, and we used a Tuk-tuk to help transport us and our bikes.
If you are interested in finding more about the Cambodia Bike4Kids Ride or cycling around Angkor Wat, you can read Why Every Cyclist Should Ride Around Angkor Wat? by clicking here.
Fact 9 – Tuk Tuks are a great way to transport goods around
The original tuk-tuks were all about being able to transport goods around town using a three-wheeled lightweight vehicle. Today in many parts of the world, this is still very true as tuk-tuks are not just used for passenger travel but also used to transport other goods and provide other services. Some of them are even turned into food trucks to sell food and other things.
Fact 10 – You need to know the local prices or you may get overcharged.
Tuk-tuk drivers, especially those in mainly tourist areas with no meters on the Tuk-tuk, are notorious for overcharging foreigners who do not know or understand their transport's fair price. To make sure you do not get overcharged, it is best if you can clearly understand the fair price you are paying for your Tuk-tuk ride.
Fact 11- Tuk Tuks have become a kind of protest vehicle in Bagdad.
In a CNN segment, they spoke of how the Tuk-tuk has been used in the frontline protest again the government in Bagdad, Iraq. You can watch the CNN segment of How the three-wheeled carts have become protest symbols by clicking here,
Fact 12 – Lisbon, Portugal is the self-proclaimed E – Tuk Captial of Europe.
Lisbon, Portugal has self-proclaimed themselves the E-Tuk Capital of the world as their tuk-tuks are now electric and pollution-free. They have E-Tuk tours that you can take around Lisbon. To find out more about these E-Tuk tours, you can click here.
Fact 13 – Many newer models in Cambodia are using LPG fuels.
Though many of the Tuk-tuks in Cambodia are not electric, most of them are burning a cleaner gas known as an LPG gas. When driving around the city, you can see on the back of many of the Tuk-tuks LPG stickers to show they are using LPG gas.
Fact 14 – This is a way for many to earn their livelihood
For many of us, when we are driving around in a Tuk-tuk, we may forget that this is their only way to earn an income for many of the drivers. Having spoken to many Tuk-tuk drivers in Cambodia, they may have come from a low-income family, so they had no chance to go to high school and much less college. For them to own and operate their small business of having a Tuk-tuk helps them and their families.
Fact 15 – It is a great way to see a city.
Tuk-tuks offer a great way to be able to see a city up close and personal. It is so much more interesting to be in an open car and to be able to see the sites, sounds, and even smells of a city than to be in a closed vehicle. I realize that many prefer a closed vehicle, but I feel to really see a city, it is best if you can always see it up close and personal like in a Tuk-tuk.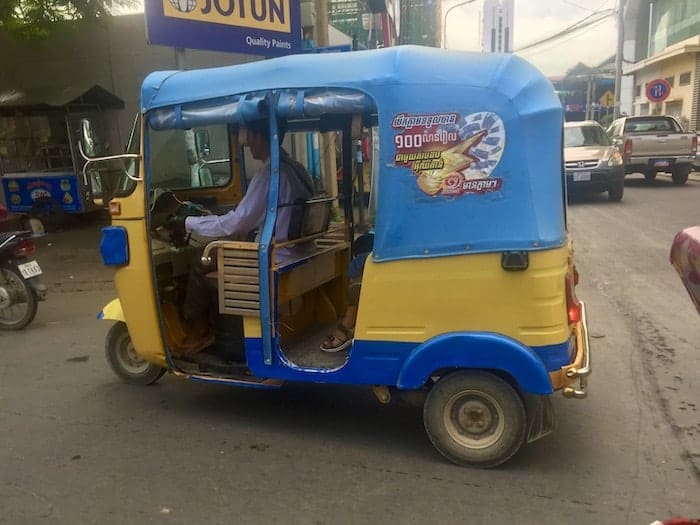 Fact 16- You can buy a Tuk-tuk in America
E-Tuk now has dealers in American that are selling E-Tuks across the USA. These E-Tuks are 100% electric and can charge in as little as 3 hours. They are made in America and have a zero-carbon footprint.
The E-Tuks are now in 32 states and 86 cities, but are not yet in every state and city. Since Tuk-tuks are open and not a closed vehicle, they are usually better suited for warmer instead of colder climates or used mainly in the summertime in some areas of the United States.
People are buying them to give tours and also for a small food cart. You can find out more about the E-Tuks in America by clicking here.
Fact 17 – Tuk-tuks are now street legal in the USA
As of 2015, E-Tuks is now legal in the streets in the United States. The E-Tuks made by E-Tuks in Colorado were able to pass all the USA standards to allow them on the streets.
Also, since they are a 100% Electic vehicle, they can be used in indoor spaces. To find out more about this, you can read the blog called The First Street Legal, Electric Tuk Tuks in the United States by clicking here.
Fact 18 – Tuk-tuks can go very fast.
Matt Everard from England has recently set a new world record for how fast a Tuk-tuk can go. His Tuk-tuk was timed on a track at the Elvington Airfield near York, England. His Tuk-tuk was able to go 74.306mph (119.583kph). As part of the requirement, he had to have a passenger in the back, so his cousin, Russell Shearman, volunteered to be his passenger.
Matt Everard says he purchased the 1971 Bangkok modeled Tuk-tuk one night after being drunk as he was so impressed with a recent Tuk-tuk ride he had in Bangkok, Thailand. Since that time, he has spent countless hours working on the vehicle and getting it ready to go at higher speeds than originally made for.
Matt Everard is now in the Guinness World Record books as having had the fastest Tuk-tuk in the world. You can read the article by the BBC entitled Tuk-tuk world land speed record holder 'over the moon by clicking here.
Fact 19 – Riding in a Tuk-tuk is just plain fun.
Most people who have ridden around in a Tuk-tuk will tell you that riding in a Tuk-tuk is just plain fun. Part of it is that it is a great way to see a city, and part is that Tuk-tuks are a bit like riding a motorcycle, but you are the passenger in the back.
Fact 20 – Some Tuk-tuks can flip over.
Many people may ask how safe is a Tuk-tuk, and can it flip over? In most Asia cities, I have ridden tuk-tuks the Tuk-tuks are generally not going at a very high speed, so they are relatively safe. But I was also in a Tuk-tuk n Bangkok Thailand that did flip over. I was not hurt, and the driver was not hurt, but it was scary to be in an open vehicle that flipped over.
But taking this into account, I have also been in cars that have flipped and motorbikes that I have fallen off. The truth is that sometimes we need to live our lives and not live them in fear. Despite my experience of flipping in the Tuk-tuk, I still do ride Tuk-tuks today.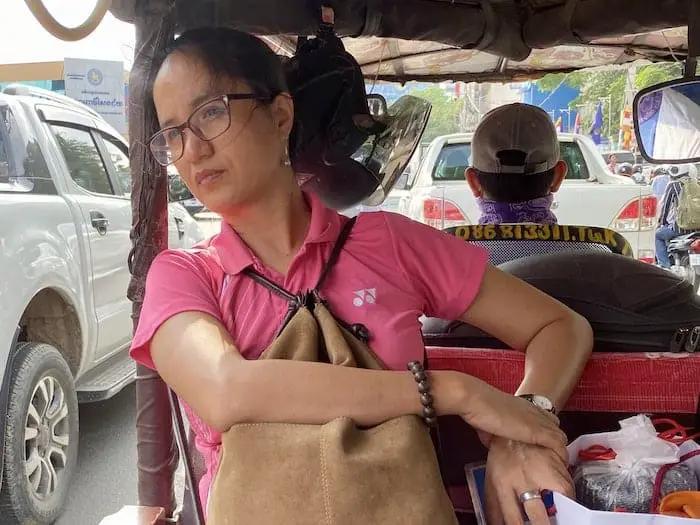 Tuk-tuks are an enjoyable way to go around town. They are a great way to see the sites, and it is a wonderful way to take in some of the local cultures of the places you are visiting. So when you are out there riding in your Tuk-tuk, it is always fun to know just a bit more about this three-wheeled mode of transportation that can also be called the auto-rickshaw.
Related Questions:
What are some tips for riding in a Tuk-tuk?
When riding in a Tuk-tuk in most places in the world, here are a few tips to make your ride more enjoyable and safe:
Be prepared to haggle for the price – In most places in the world and for most Tuk-tuk rides, you will need to haggle for the price. Depending on what we are doing with the Tuk-tuk, we may not haggle as hard as other times if I know the driver. But know the fair price you should be paying for the ride.
Beware of scams – Many Tuk-tuk drivers may have a deal for cash payments or commission for certain shops or restaurants. Be aware of this, especially in a touristy area. I will usually refuse what they suggest unless I know it is a good suggestion.
Avoid rush hour – If you are in a highly polluted city, which is like a lot of the cities around the world, especially in Asia, you may want to try to avoid a Tuk-tuk in rush hour as all you may do is sit in traffic with car exhaust being blown in your face and getting into your hair and eyes.
Keep your belongings safe – In many parts of the world, a motorcycle driver may come up to your Tuk-tuk, grab your bag, and then drive off. At that point, it is almost impossible to catch up and find them. In some cases, your Tuk-tuk driver may be working together with these thieves. So when we travel in a Tuk-tuk, we hold onto our bags, and we also usually wear our backpacks on our front side to make sure they are secure and safe. As you are in an open vehicle, you must be aware of this and keep your eyes out for these robbers.
What is the difference between an E-Tuk or a Tuk-tuk?
An E-Tuk is a term that is now used for an electric Tuk-tuk. These E-Tuks are all-electric three-wheeled vehicles that have a zero-emissions footprint. A Tuk-tuk is similar to an E-Tuk in that it is also a three-wheeled vehicle, but Tuk-tuks usually run by gas or LPG gas and are not an all-electric vehicle like the E-Tuk.