A fascinating kind of ceramics is Raku ceramics. Raku is a ceramic technique that has been around for hundreds of years and has a fascinating history.
Raku is traditional Japanese style pottery whose main technique is that the clay object is removed from the kiln during the firing process.   Raku was invented in Japan in the 1580s. The Japanese family that invented this ceramic technique was given the name of Raku; today, members of the Raku family continues to make raku ceramics.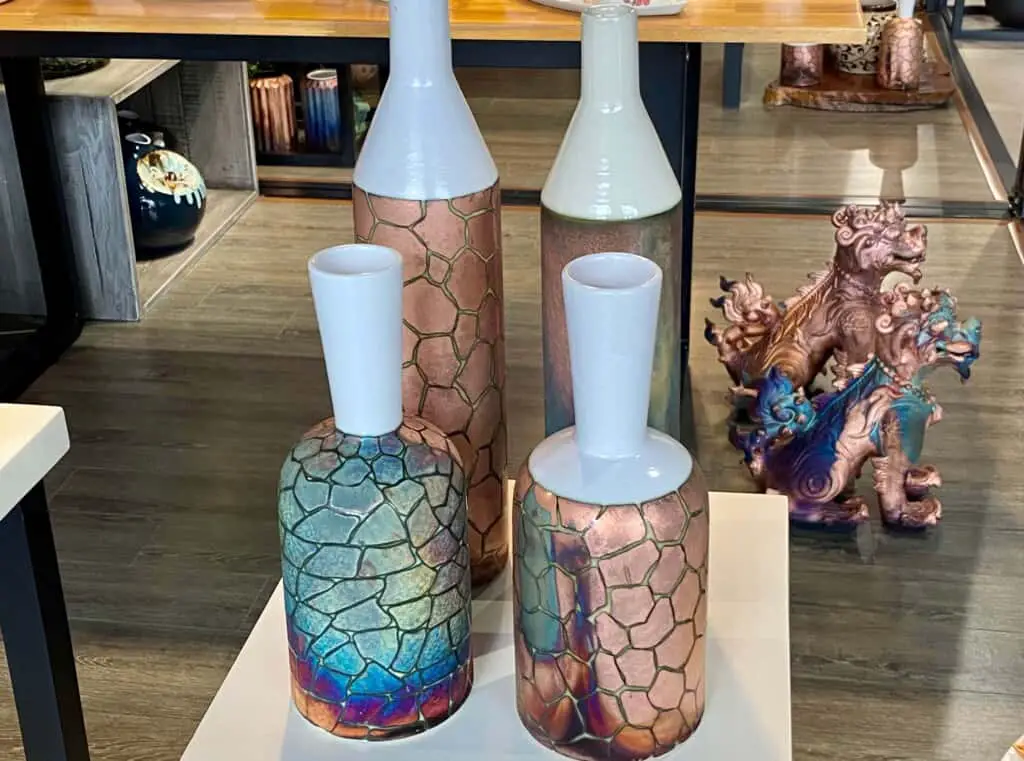 What is Raku Ceramics?
Raku is a traditional Japanese style of pottery that was first used in the 1580s. Raku pottery's main characteristic is that the clay object is removed from the kiln at its firing height.
This removal of the clay object from the hot kiln causes it to cool extremely quickly. This cooling process helps ensure each raku pottery piece has unique colors and patterns.
For many years this kind of pottery production could only be found in Japan. But modern-day pottery makers during the 20th century began to experiment with the raku form of pottery production.
One of their first challenges for anyone making raku pottery is the kilns used. The type and style of the kilns used in raku are critical to the final raku product's outcome.
This is why it can take a lot of testing for the modern-day raku ceramic manufacturers to get the correct balance between the clay, heat, kiln for them to get the desired effect and look of the raku. In short, it usually takes a master potter to be able to master the raku pottery technique.
Japanese Wabi-Sabi and Raku Ceramics
Traditionally in Japan, the raku pottery was found in the form of tea bowls; it started with the Japanese ceramic masters who appreciated the tea bowl's unpretentiousness and believed in the Japanese ideals of Wabi-sabi.
Wabi-sabi is a Japanese term that is based on Buddhism principles about transience and imperfections. It is about finding beauty in imperfection. Wabi-sabi is all about accepting your imperfections in life.
Here is a definition from Thomas Oppong that I feel really defines the two words Wabi-Sabi:
When you look at Wabi-Sabi's Japanese definition, you can see how the traditional ceramic masters could see raku ceramics as the Wabi-sabi of ceramics. When it comes out of the kiln, each piece of Raku ware has a uniqueness; no two-piece is the same.
The Japanese Raku Family of Potters
As with many art forms that started in Japan, raku ceramics has a fascinating story. What is even more interesting about this is that the same family is still making raku ceramics in Kyoto, Japan, today.
Tanaka Chōjirō (about 1516 – 1592) is considered the founding father or first generation of Raku potters. Traditionally Japan raku production was used to make Japanese tea bowls.
In 1584 the master potter Tanaka Chōjirō also produced ridge tiles for Toyotomi Hideyoshi's Jurakudai palace. When he completed the work in 1584, Toyotomi Hideyoshi presented Tanaka Chōjirō with a seal where the character 楽 or raku was inscribed.
From this time on, the family adopted Raku as their family name, and the Japanese form of raku ceramics was born. Today the 15th generation of the Raku family is producing traditional style Japanese raku ceramics in the same method that Tanaka Chōjirō originally produced.
Raku Kichizaemon is the 15th generation grandmaster of the Raku family that is producing raku ceramics. He is known to produce about-grade raku ceramics. You can see some of his ceramics while he discusses his philosophy by watching the video below:
The Japanese Method of Raku Ceramic Production
The Japanese raku pottery is not made the traditional way that most ceramics are made. Rupert Faulkner, the senior creator from the Japandepartment at the Victoria and Albert Albert Museum told this to the blog Something Curated about the traditional Japanese raku ceramics method that was used for raku pottery production:
If you would like to see the traditional Japanese raku pottery method, you can watch the video below that shows a method that has been around for hundreds of years. This method is used to make the black raku pottery.
Raku Pottery Today
Today, some pottery makers in Vietnam have been working to duplicate some of the Japanese raku ceramic masters' work while adding a uniquely Vietnamese touch to the technique. The advantage to this is that they can do some small production runs for home decor and home furnishing brands to use as part of their collection.
Here is some fun information about Raku ceramics and glazes:
The raku glaze requires 4 firings.
A thin layer of silicone coating is made inside the vase if the vase needs to hold water.
Raku glaze is natural metallic glazing, not the same as other glazes; when a raku glaze contacts directly with the environment, the color might get darker after several years due to the oxidation process. If in contact with other harsh chemicals, the colors might disappear.
Raku glaze is a rough and rustic glaze, so the products' surface might not be as smooth as normal glazing.
Sometimes there are small crackles in the glaze; this is considered normal. 
Raku glaze is reactive to temperature and fire, as the results, each product will be unique, and the finish for each piece will be different.
For the raku glaze, the products are taken out of the kiln or fire one by one.
The maximum size we can produce for a raku glaze is now D40cm x H70cm or D15.75″ x H 27.5."
If you are interested in Raku pottery for your home decor and home furnishing collection, we would love to hear from you and see how we can help you. Please feel free to contact me, Anita, through my email by clicking here or by checking out our contact page by clicking here.
Related Questions
How Does The Firing Temperature Affect Ceramics Production?
If a ceramic piece is not fired at the correct temperature, it will make a huge difference in the final product's outcome. It is also important that the correct kiln is used for the production process. This is because many things must be considered when using a kiln to fire ceramics. During the firing process, many things can cause the final product to fail or crack.
To find out more you can read our blog How Does The Firing Temperature Affect Ceramics Production? by clicking here.
What is 3-D Porcelain Manufacturing?
Home decor and home furnishing products in 3-D continue to be an important home decor trend. Many types of home furnishing products use 3-D elements. The 3-D porcelain is a very unique product in that it is using modern-day computerized technology to efficiently produce a variety of 3-D shapes and sizes.
You can find out more about 3-D Porcelain by reading our blog 3-D Porcelain Manufacturing, All You Need to Know by clicking here.