A packing drop test helps ensure that manufactured goods will make the journey without any major issues or problems. At Mondoro, we do a lot of packing drop tests before we ship out any goods. We do many of these drop tests in our warehouse or at a factory.
A product packaging drop test is a pre-shipment test where the goods are packed as if they were for shipment. The package is then dropped on every corner and side of the carton. The carton is opened and checked as to how the packaging and the product withstand the freefall drops.
Table of Contents
A drop test helps ensure the product reaches its final destination without any issues or problems. It can also help you see if any issues or errors in the manufacturing process need to be addressed.
Of all the tests that are conducted at the factory, a drop test is one of the more accessible tests that can be done to ensure that the goods are packed up to the required standard and quality.
What is a Product Packing Droptest?
A product packing drop-test is a test where the goods are packed as they will be for shipment and then the carton is dropped on each corner and side of the package to see how the product and packing can withstand normal shipment handling.
The packaging drop test should be a regular part of any packaging inspection, especially if the goods are packed to be handled by an air courier company at some point in their transit. It is also one of the easiest packaging tests to conduct as it requires no real equipment, training, or time.
Why Do a Packaging Drop test?
A packing drop test is designed to help everyone see where the weaknesses of the packing may be for a specific product. Here are some reasons why it is always good to do a drop-test before shipping any products, especially if this is the first time you are shipping this kind of product.
Stimulate Transportation
When a package is put in a container, it is handled many times before reaching its final destination. Because of this, a drop test on a package is to designed to help stimulate how the packaging and more importantly, the product in the package will withstand normal transportation and handling. It can help you see any errors or problems in the product's packaging.
Errors in Production
By conducting a drop test, you may find some errors in the actual product manufacturing. A part may break off or snap due to the drop test. Something else may get damaged or need replacement.
The purpose of this drop test is not only to see if the packing has an issue but also to check the quality of the product as well.
Packaging Drop Testing Standards
There are several standards for product packaging drop tests. There is an ISO 7965-1:1984 standard for packaging. This standard is basically to help ensure the goods arrive at the final destination not damaged.
In our industry of home decor accessories and furniture, the industry standard is the ISTA standard.
ISTA (International Safe Transit Association)
The ISTA, or International Safe Transit Association, is an organization that writes testing procedures on how a package should be packed or should perform to ensure that it will reach its final destination undamaged. You can find out more about ISTA and its standards by clicking here.
As part of their guidelines, they have set out the universal standard of weights and heights that should be used as a drop-test guide.
ISTA Drop-test Standards
In the ISTA drop test, they use the weight of the package and then drop it from so many inches or centimeters from the ground. The first thing you need to do is weigh the package to determine what height it must be dropped from. This weight will be the gross weight or the weight of the package, including all the packing materials.
For example, a package that weighs 100 pounds would need to be dropped from 12" or 30.48 cm from the ground to pass the drop test. A package that is 20 pounds would have a free-fall drop of 30 inches or 76.20 cm from the ground.
When we say free-fall drop, we mean a regular drop. You do not toss or drop the package really hard, nor do you throw it across a room. You pick it up and drop it as if it fell out of your hands.
Here is the standard of the ISTA free-fall drop test for packaging:
Weight Of Package (Pds and Kgs)
Free-fall Drop Height
1 pound to 20.99 pounds
(.454 kgs to 9.52 kgs)
30 inches (76.20 cm)
21 pounds to 40.99 pounds
(9.53 kgs to 18.59 kgs)
24 inches (60.96 cm)
41 pounds to 60.99 pounds
(18.60 kgs to 27.66 kgs)
18 inches (45.72 cm)
61 pounds to 100 pounds
(27.67 kgs to 45.36 kgs)
12 inches (30.48 cm)
101 pounds to 150 pounds
(45.37 kilos to 68 kilos)
8 inches (20 cm)
ISTA Packing Drop Test Standard
7 Step To Conducting the Packaging Drop-test
Here are our basic seven steps that you can follow to conduct a packaging drop-test:
Prepare ground – In conducting the drop test, you first need to put something down on the ground so that the packing does not get damaged or dirty. You do want to drop it on a hard not a soft surface like a carpet, but you also want to be sure to keep the area is clean.
Weigh Carton – Then, you must weigh the carton to see what height it needs to be dropped from.
Measure Dropping Height – Then, you need to measure the dropping height. Our inspectors like to put tape on their pants legs so they do not have to measure the height each time they drop the package.
Drop on Corners – We will first drop on every corner. That would then be eight drops or one time on each corner.
Drop on the Face of Carton – Then we will drop on the face or every side of the carton. That would be another six times.
Drop on Manufacturer's Joint – You should also drop the carton on any manufacturer's joint. The manufacturer's joint is where the carton was put together. This can be a weak spot if the carton is not strong enough.
Open the Carton and Check the Product – Then you will open the carton and check out the inside product and see if there is any visible damage or breakage. You should completely unwrap the packing and also check all the packing. Are there areas of a damaged corner pad that you may need to increase? Are there other areas that are damaged you could improve?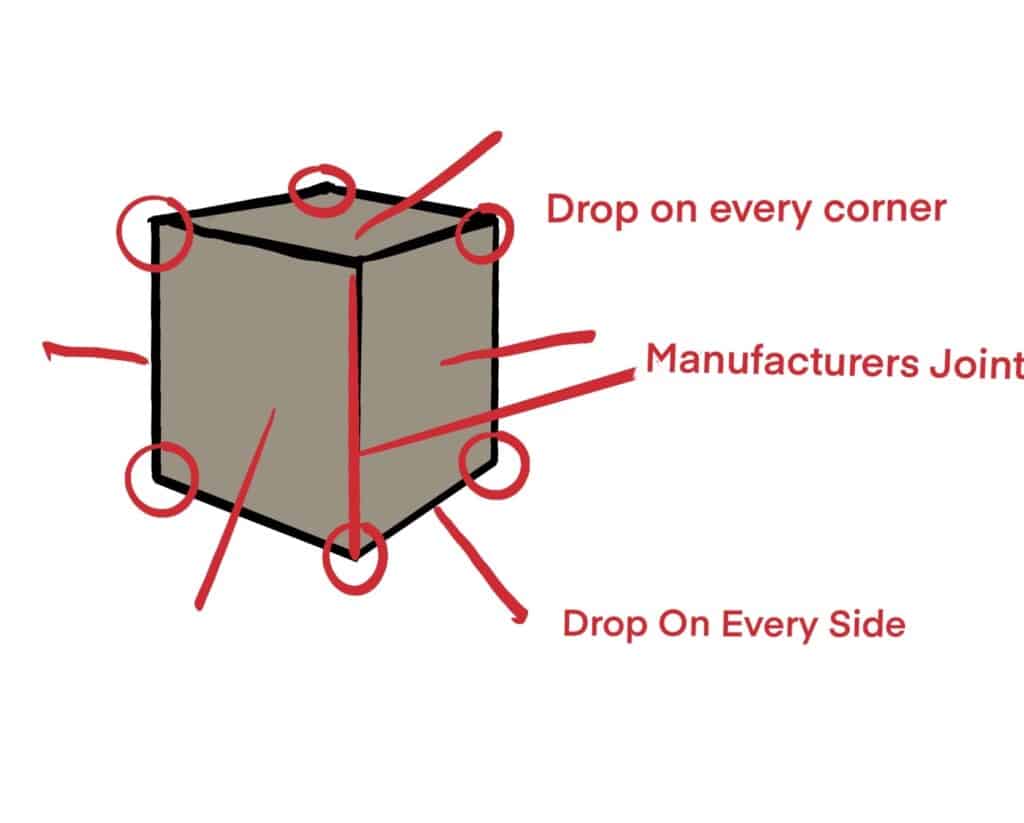 About Professional Drop-testing
If you do not want to do the drop-test yourself at the factory or you have a customer that requires a certified drop-test, then you can send your package to a certified testing center such as SGS or Bureau Veritas and have them test the package for you. They will then certify if the packing passes the ISTA or any other packing standard you may need. They will give you a testing report about the testing. These testing facilities have the equipment and machinery to do the drop-testing, and they also do some additional packaging tests.
Some of the tests they may conduct are:
Freefall drop test – A freefall drop test is a machine that stimulates the dropping of the package on all sides and corners in a free-fall manner. This is similar to the drop test I outlined above.
Vertical shock test – The vertical shock test is when the package is given a vertical shock on all sides to see how it is able to withstand the shock.
Vibration test – The vibration test will put the package on a machine where they will stimulate the vibration that a package could get. An example of the importance of this is if a package was on a truck that was vibrating.
Incline tests – They will also do some incline tests to see how the package will do on an incline and drop. They have an alternative incline test and an alternative horizontal test.
As you can see from this list, these tests cover all the bases, from freefall to shock to even vibrations. This is because they want to be sure that the package can withstand all these different conditions for the handling of the product.
A drop test is an essential quality test that is easy to do but helps ensure the product arrives at its destination without any errors or problems. If you want to learn more about Mondoro's quality standards or how we can help you create, develop or manufacture any home decor or home furnishing products, feel free to contact us by clicking here.
Find out more about how Mondoro can help you create, develop, and manufacture excellent home decor and furniture products – don't hesitate to contact me, Anita. Check out my email by clicking here or become a part of our community and join our newsletter by clicking here.
Mondoro gives out a FREE Lookbook to anyone interested. You can receive a copy of our latest Lookbook by clicking here.
Listen to our Podcast called Global Trade Gal. You can find it on all major podcast platforms. Try out listening to one of our podcasts by clicking here. 
Subscribe to our Mondoro Company Limited YouTube Channel with great videos and information by clicking here.
Related Questions
What is the Pre-shipment Inspection or PSI?
A Pre-shipment Inspection or (PSI) is an inspection that takes place once the goods are completed and ready to be shipped. The Pre-shipment Inspection helps ensure that the manufactured products are of the quality, quantity, and price ordered.
You can find out more about the pre-shipment inspection by reading our blog The Pre-shipment Inspection Guide and Product Quality Assurance by clicking here.
What is the DUPRO or During the Production Product Inspection?
The DUPRO Inspection is a product inspection conducted during the manufacturing phase of production. The DUPRO is also known as during the production inspection. Its main purpose is to find any errors during the product's manufacturing phase. Most manufacturing errors are easier to fix during the production process instead of when goods are completed.
You can find out more by reading our blog DUPRO, During the Production Product Inspection Guide by clicking here.