Choosing a suitable material can be overwhelming if you search for a long-lasting bed. Purchasing a bed can be a significant home furniture investment for many people.
A solid wood bed is your best option for durability and other benefits. Keep reading to discover why solid wood should be your go-to choice for a bed that endures.
Table of Contents
What Are The Benefits Of Solid Wood Bed Frames? 15 Reasons To Make The Switch
When choosing the right bed frame, the options can be overwhelming. However, consider investing in a solid wood frame if you're looking for a new bed. Not only do these frames offer timeless style, but they also come with many benefits that can improve your overall health and well-being.
Read on to discover 15 compelling reasons to consider a bed with solid wood parts.
1. Durability And Longevity
One of the most significant advantages of solid wood bed frames is their durability. Crafted from robust materials, these beds can last for decades, offering excellent value for your investment.
2. Timeless Style
Solid wood bed frames never go out of style. Their classic look complements various interior design trends, making them versatile for any bedroom.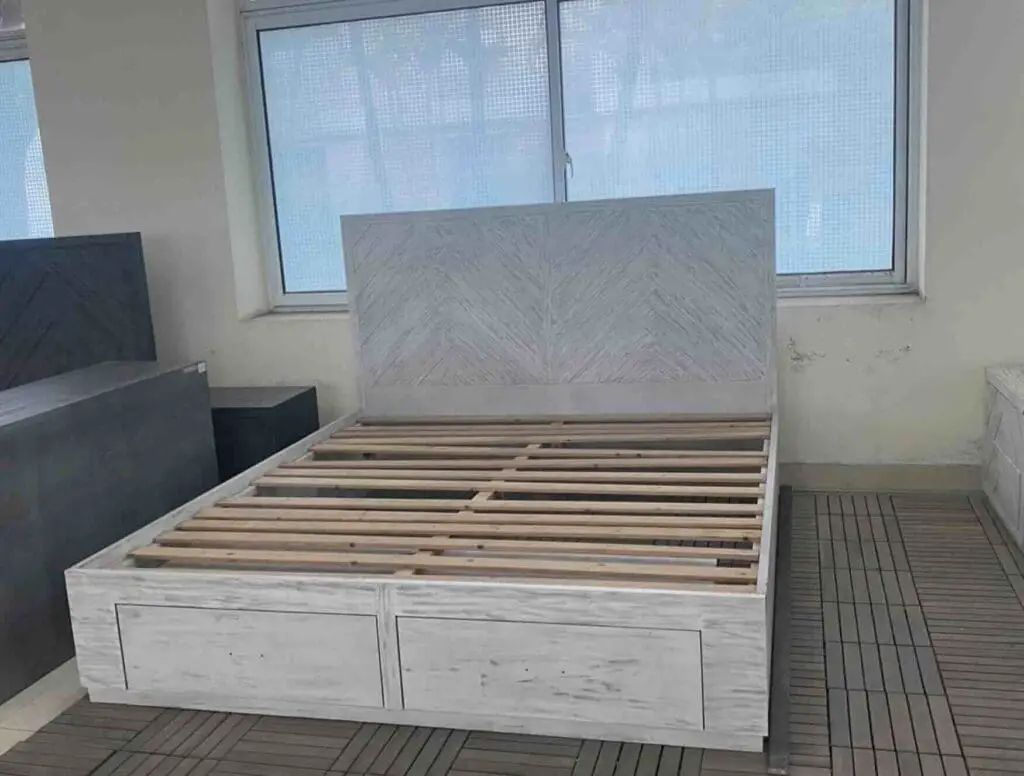 3. Anti-Microbial Properties
Wood naturally contains anti-microbial agents that help kill bacteria and fungi. Solid wood beds are an excellent choice for those with allergies or respiratory issues, including asthma.
4. Formaldehyde-Free
Unlike synthetic materials, solid wood is free from formaldehyde, a chemical linked to various health issues, including cancer, respiratory problems, skin irritation, and allergies.
5. Eco-Friendly
Solid wood is a renewable resource, making it an environmentally friendly option. By choosing a solid wood bed frame, you're contributing to sustainable living.
6. Improved Air Quality
Solid wood doesn't off-gas harmful chemicals, helping maintain better indoor air quality, essential for a healthier sleep environment.
7. Customizability
Solid wood frames can be easily customized. The possibilities are endless, whether you want to repaint, refinish, or carve it.
8. Resale Value
Thanks to their durability and timeless style, solid wood bed frames often have a higher resale value than their synthetic counterparts.
9. Better Support
Solid wood beds offer excellent support for your mattress, ensuring it wears evenly over time. This contributes to both the longevity of the mattress and better spinal alignment.
10. Temperature Regulation
Wood is a natural insulator, helping to regulate temperature by retaining heat in winter and dispersing it in summer, contributing to a more comfortable sleep environment.
11. Easy To Repair
In the unlikely event that your solid wood frame gets scratched or damaged, it's relatively easy to repair. A quick sanding and refinishing can make it look as good as new.
12. Natural Aesthetic
The grains and patterns in solid wood bring natural beauty into your bedroom, creating a warm and inviting atmosphere.
13. Good For Emotional Well-Being
Natural elements like wood are known to enhance emotional well-being. Incorporating a solid wood bed frame into your bedroom can make the space more tranquil and balanced.
14. Allergy-Friendly
For those sensitive to allergens, solid wood beds offer a less conducive environment for dust mites than upholstered or synthetic frames.
15. Unique Character
No two solid wood bed frames are identical, thanks to the natural wood grain and color variations. Owning one means you have a piece of furniture that is uniquely yours.
From their aesthetic appeal to their myriad health benefits, solid wood bed frames make for an excellent investment for anyone. Whether you prioritize durability, style, or well-being, these beds tick all the boxes, offering longevity and a safer, healthier sleeping environment.
Considering the compelling reasons listed above, the choice becomes clear: a solid wood bed frame is more than a piece of furniture; it's an investment in quality living.
What Is Solid Wood And Why Is It the Preferred Material For All Kinds Of Beds?
Solid wood is a great choice when you are looking to buy a bed. Knowing precisely what is considered solid wood is suitable for understanding why.
What Is Solid Wood?
Solid wood refers to the natural lumber harvested from trees, which is then processed and cut into slabs or boards. Unlike engineered wood products like particleboard or MDF, solid wood is not composed of glued wood fibers or veneers.
Solid wood retains the natural grain, texture, and inherent properties of the wood from which it is made. This results in a more robust, more durable product with aesthetic qualities unique to each piece.
Why Is Solid Wood Preferred For Bed Frames?
There are multiple reasons why solid wood is often considered the go-to material for bed frames. Here are some key points to consider:
Durability
One of the most outstanding characteristics of solid wood is its durability. A well-crafted solid wood bed frame can last generations, making it a long-term investment. The natural robustness of the material ensures it can withstand the rigors of daily use without showing signs of wear and tear.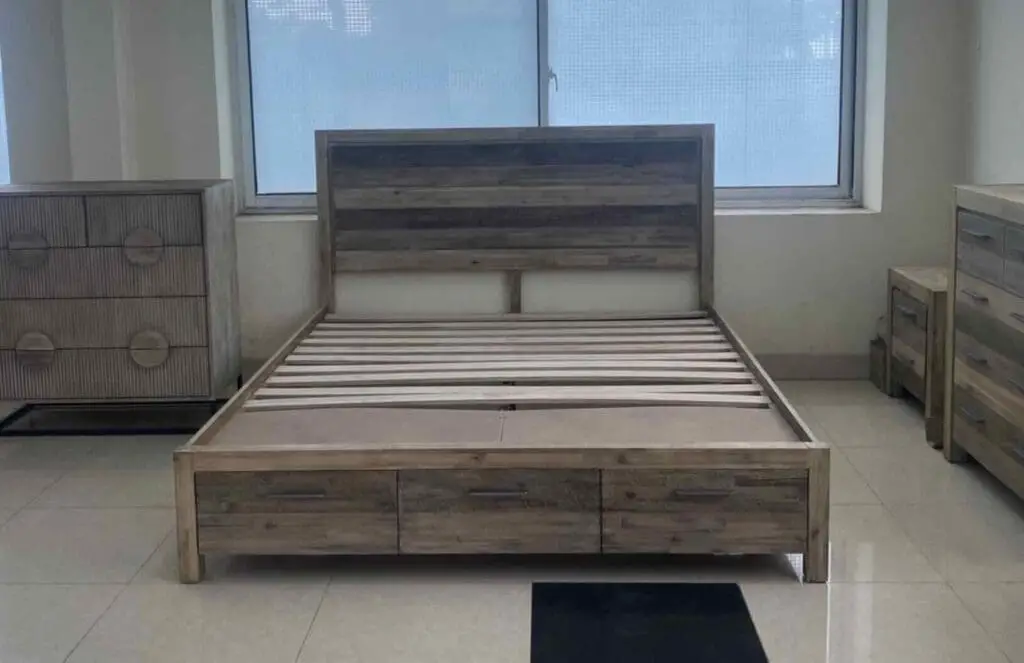 Aesthetic Appeal
Solid wood has an innate beauty characterized by its natural grain patterns, color variations, and unique markings. These features make every piece of furniture one-of-a-kind. The richness and warmth that solid wood brings to a room are unmatched by synthetic materials.
Versatility In Design
Solid wood is incredibly versatile when it comes to design possibilities. Whether you're into contemporary minimalism, rustic charm, or classical elegance, a solid wood bed frame can be crafted or finished to match any aesthetic.
Eco-Friendly
Wood is a renewable resource; many solid wood furniture pieces are made from sustainably harvested trees. This makes solid wood an eco-friendly option compared to beds made from non-renewable, petroleum-based materials.
Health Benefits
Solid wood has natural anti-microbial properties that can help reduce bacteria and fungal growth. This is particularly beneficial for people with allergies or respiratory issues. Additionally, solid wood doesn't emit harmful chemicals like formaldehyde, unlike some engineered wood products.
Solid wood is an unrivaled material for bed frames, offering a blend of durability, aesthetic versatility, and health benefits. Its natural properties make it ideal for anyone looking to invest in a piece of furniture that is not only long-lasting but also contributes to a healthier and more beautiful living space.
Whether you're upgrading your bed or furnishing a new home, a solid wood bed frame is a choice that offers a host of advantages you'll appreciate for years to come.
If you're in the market for high-quality solid wood beds, we'd be thrilled to discuss how Mondoro can assist you in designing and manufacturing top-tier solid wood bed options. Reach out to us today.
If you want to see how Mondoro can help you export and manufacture high-quality solid wood furniture, we would love to talk to you.
At Mondoro, we would love to help you decide which material would be best for manufacturing your home decor and furniture product.
Find out more about how Mondoro can help you create, develop, and manufacture excellent home decor and home furniture products – including lacquer furniture. Don't hesitate to contact me, Anita. Check out my email by clicking here or become a part of our community and join our newsletter by clicking here.
Mondoro gives out a FREE Lookbook to anyone interested. You can receive a copy of our latest Lookbook by clicking here.
Listen to our Podcast called Global Trade Gal. You can find it on all major podcast platforms. Try out listening to one of our podcasts by clicking here. 
Subscribe to our Mondoro Company Limited YouTube Channel filled with great videos and information by clicking here.
Related Content
10 Types of Grain Patterns of Solid Wood Furniture Explored
We will explore ten different types of grain patterns found in solid wood furniture, including Maple, Beech, Hickory, Oak, Teak, Pine, Rubberwood, Walnut, Douglas Fir, and Spruce. We will delve into the characteristics of each wood type and examine how their distinct grain patterns contribute to their suitability for furniture production.
You can discover more by reading 10 Types of Grain Patterns of Solid Wood Furniture Explored by clicking here.
Is Solid Wood Furniture Expensive? 3 Factors To Consider
Three main factors can significantly influence the furniture price if you choose solid wood. These factors include the type of wood used, the size of the furniture piece, and the construction techniques employed, all of which play a crucial role in determining the final cost. Read on as we explore each of these.
You can learn more by reading Is Solid Wood Furniture Expensive? 3 Factors To Consider by clicking here.
Why Is It So Hard To Find Solid Wood Furniture Manufacturers?
Locating trustworthy solid wood furniture manufacturers can be an intricate endeavor for retailers and wholesalers. The task's complexity is rooted in many factors related to solid wood furniture's production and manufacturing procedures. Read on as we explore the complex task of the search for solid wood furniture manufacturers and how Mondoro can help you.
You can learn more by reading our blog Why Is It So Hard To Find Solid Wood Furniture Manufacturers? by clicking here.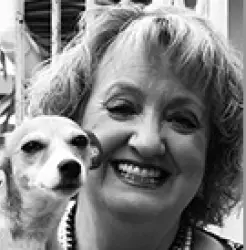 Latest posts by Anita Hummel
(see all)