Reclaimed wood represents a sustainable and aesthetically pleasing material for construction and design. Harvesting this wood entails meticulously disassembling aged structures to retrieve any viable timber.
The reclaimed wood method minimizes waste, decreases the necessity for new lumber production, and conserves the timber's innate allure and historical essence. Moreover, reclaimed wood comes in various types, each possessing unique attributes and rich narratives. Characteristics such as weather-worn patinas, nail indentations, saw traces, and various other blemishes enhance the charm of reclaimed wood, making it a treasured choice among designers and builders.
Table of Contents
Can Reclaimed Wood Find Its Place In The Market?
It's projected that the global reclaimed lumber industry is projected to experience a Compound Annual Growth Rate (CAGR) of 4.7% from 2023 to 2028. That means that reclaimed wood and the use of reclaimed wood is expected to continue to grow for the foreseeable future.
Reclaimed lumber is used for repurposed wood recovered from its original use to be processed and reused in new applications. This type of wood is typically harvested from decommissioned buildings and used in wood packaging.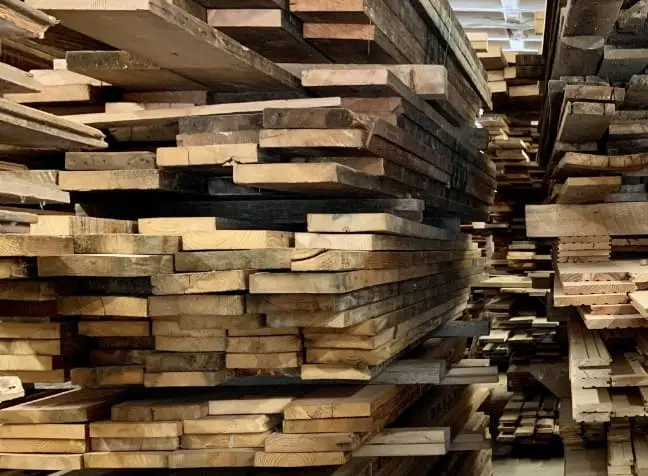 The process involves carefully disassembling the wooden components from these structures to preserve the condition and shape of beams and boards. Reclaimed wood products find extensive use in various applications, including flooring, furniture, paneling, siding, cabinetry, and more.
Consumers favor reclaimed wood as it helps reduce landfill waste and minimizes the need for new lumber production, lowering the carbon footprint associated with construction projects.
Primary Driver Reclaimed Wood Is Construction Projects
The primary driver of the global reclaimed lumber market is the robust growth of the construction industry. The trend of renovating and reconstructing old buildings and houses has increased the demand for reclaimed lumber products.
This is partly due to the comparative durability of reclaimed wood versus new lumber and heightened public awareness about recycling and reducing waste in construction materials.
The increasing trend towards green construction worldwide has also boosted demand for environmentally friendly materials like reclaimed lumber. This trend is supported by government initiatives in many countries promoting using sustainable materials to reduce waste and achieve green building certification.
Reclaimed Wood Is Used In Furniture Construction
Furthermore, reclaimed wood is increasingly used to create antique furniture, adding another element of market growth. Reclaimed wood's unique aesthetic and design appeal to these pieces has increased its popularity among consumers.
At Mondoro, we manufacture and have some sources for reclaimed solid wood tables, beds, and other furniture projects. We love the look of the reclaimed wood furniture.
Reclaimed Wood In Interior Design
Beyond construction and furniture, reclaimed lumber is also making strides in other industries. The rise in the popularity of rustic and vintage aesthetics in interior design has led to using reclaimed wood in smaller decor items such as picture frames, wall art, and even kitchenware.
Additionally, as sustainability becomes a focal point in consumer decisions, businesses across various sectors realize the benefits of reclaimed wood in their product lines.
For instance, many retail stores use reclaimed wood for shelving and display fixtures. This creates a unique visual appeal and promotes their commitment to sustainability, which resonates with a growing number of environmentally conscious consumers.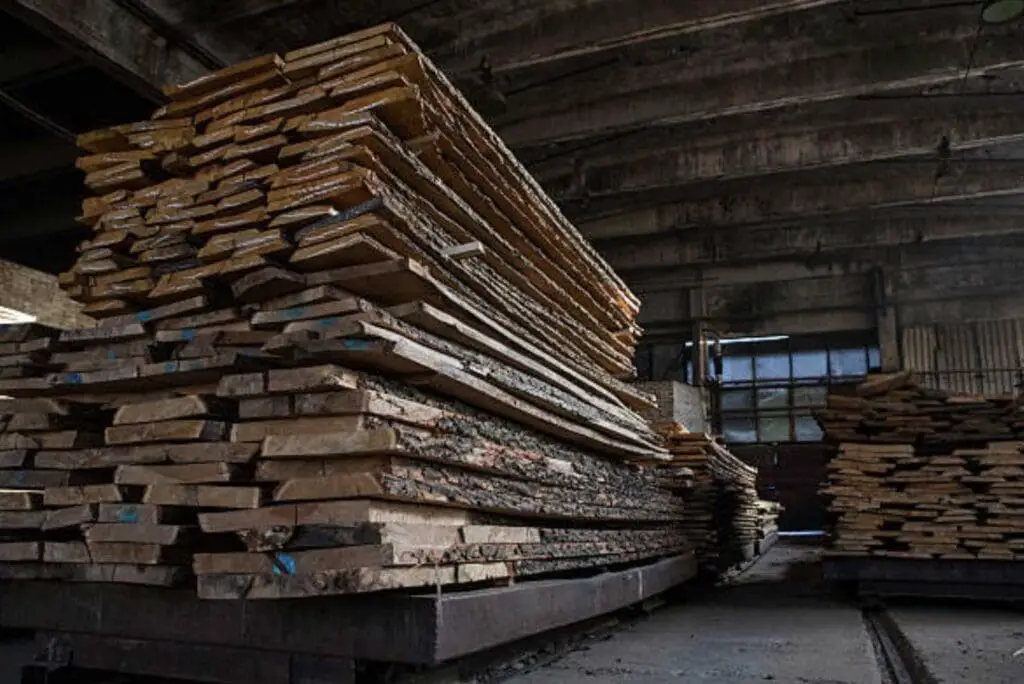 There is also a growing trend in corporate offices to use reclaimed wood in their workspaces. This environmentally friendly material aligns with corporate social responsibility policies and creates a warm and welcoming environment.
Technological Advances Has Helped The Reclaimed Wood Industry
Furthermore, technological advancements have played a vital role in the increasing acceptance of reclaimed lumber.
Processes like kiln drying and insect and mold prevention treatments have made reclaimed wood safer and more durable for various uses. This has helped to overcome some of the perceived drawbacks of reclaimed wood, such as potential insect infestation and moisture retention.
Finally, the proliferation of online platforms has made it easier for consumers and businesses to source reclaimed wood. Various websites and apps now connect reclaimed wood sellers with buyers, simplifying the procurement process.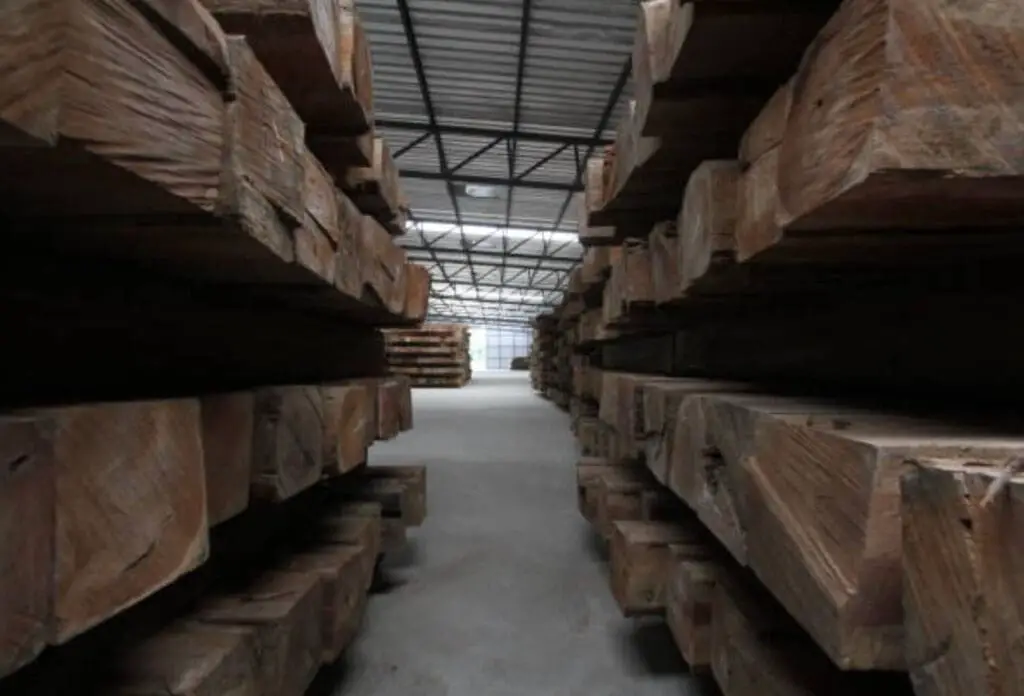 All these factors together contribute to the optimistic outlook for the reclaimed lumber market. The trend towards sustainability, coupled with technological advancements and growing consumer awareness, is expected to continue driving the growth of this market well into the future.
Mondoro: Your Premier Source For Reclaimed Wood Furniture
When sourcing reclaimed wood furniture for export in the retail or wholesale trade, Mondoro stands out as a leader in the industry. With an extensive range of beautifully crafted products, Mondoro presents the perfect blend of sustainability and aesthetic appeal that you can rely on for all your furniture needs.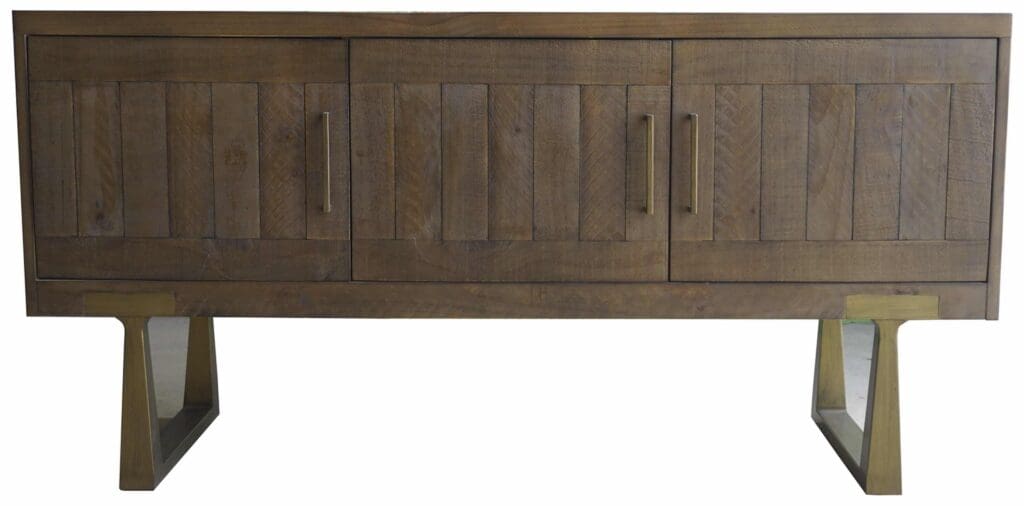 Being a pioneer in the reclaimed wood furniture industry, Mondoro is deeply committed to creating environmentally friendly products.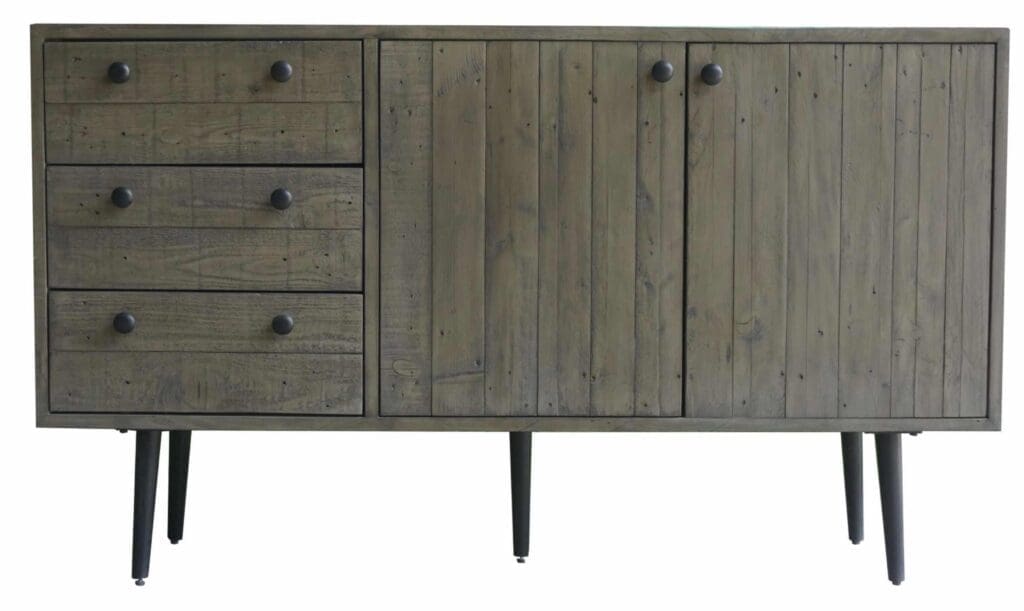 By repurposing old wood, we are helping to reduce the demand for new lumber and simultaneously contribute to waste reduction. Our practices are as much about environmental sustainability as they are about preserving the unique history that comes with each piece of reclaimed wood.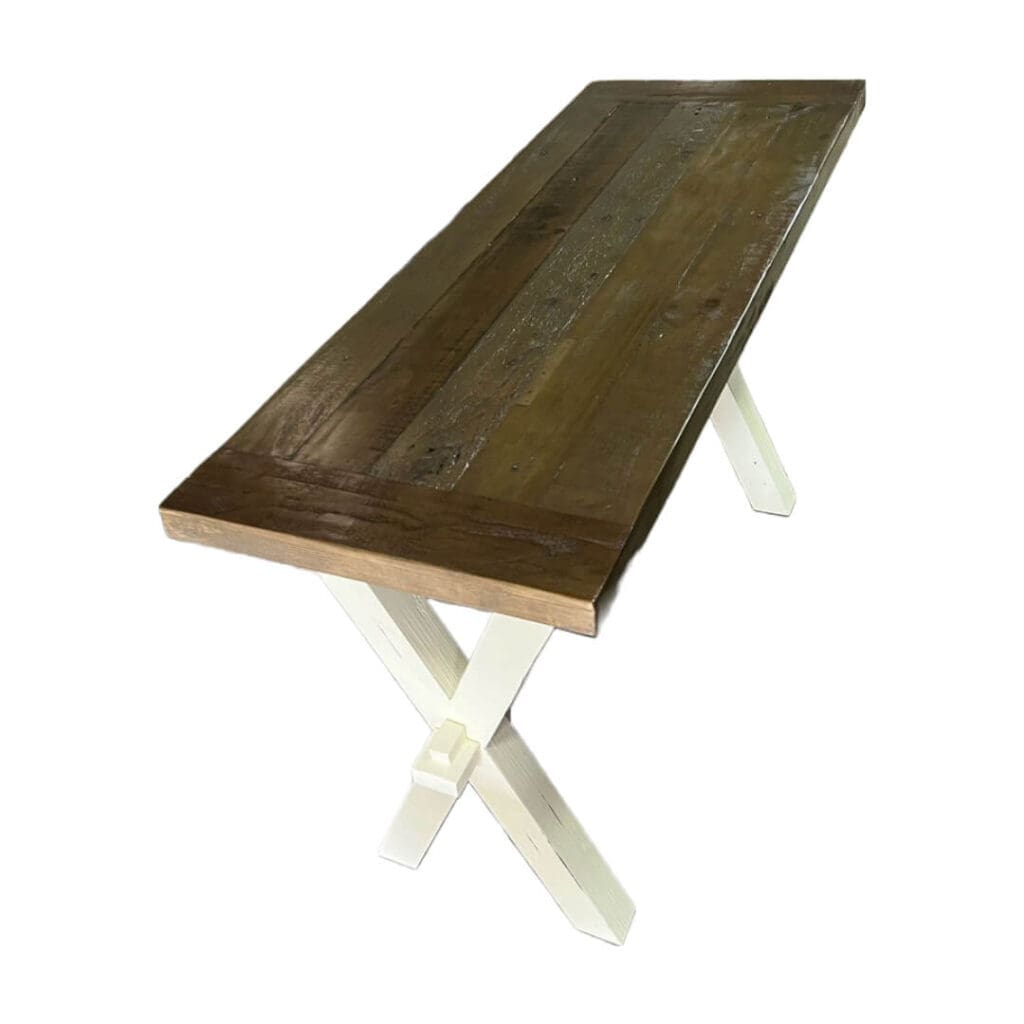 One of the standout characteristics of Mondoro's product range is the variety. With a collection spanning diverse furniture categories, you will find pieces that suit your needs. Our assortment caters to different styles and environments, Whether for residential, commercial, or office spaces. Our products range from tables, chairs, and bookcases to cabinets, bed frames, and much more, all crafted with utmost attention to detail and quality.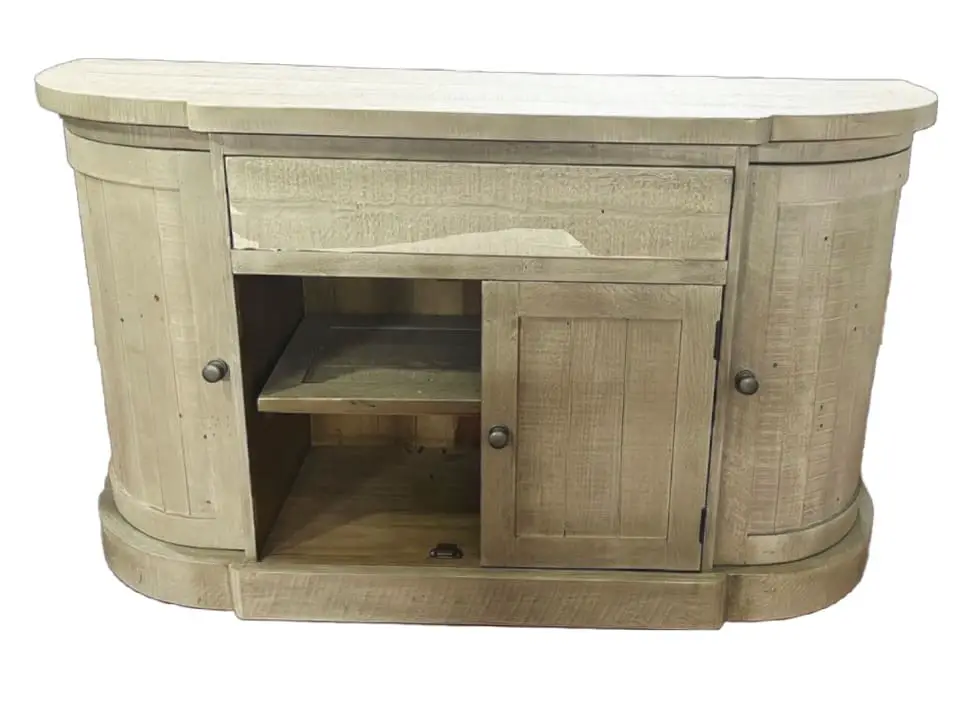 A hallmark of Mondoro's offering is the unique aesthetics of our products. Each piece of furniture crafted from reclaimed wood carries weathered patinas, nail holes, saw marks, and other elements of its previous life. These unique characteristics give each piece a distinct look and a rich narrative, making them more than just functional items but conversation pieces with a story to tell.
With a strong foothold in the export trade, both in retail and wholesale, Mondoro ensures our customers a smooth purchasing and shipping process. We understand the intricacies of international trade and logistics, and our team is dedicated to facilitating a seamless transition of our products from our production line to your doorstep, no matter where you may be.
Mondoro is your one-stop source for quality, variety, and sustainable choices regarding reclaimed wood furniture. Whether you are a retailer, a wholesaler, or an individual customer, Mondoro promises to deliver products that are not just furniture but a unique blend of history, sustainability, and design.
If you are looking for reclaimed wood or any wood products to manufacture in Asia, Mondoro would love to help you.
Find out more about how Mondoro can help you create, develop, and manufacture excellent home decor and furniture products – don't hesitate to contact me, Anita. Check out my email by clicking here or become a part of our community and join our newsletter by clicking here.
Mondoro gives out a FREE Lookbook to anyone interested. You can receive a copy of our latest Lookbook by clicking here.
Listen to our Podcast called Global Trade Gal. You can find it on all major podcast platforms. Try out listening to one of our podcasts by clicking here. 
Subscribe to our Mondoro Company Limited YouTube Channel with great videos and information by clicking here.
Related Content
Is Teak a Coniferous, Evergreen, or Deciduous Tree? 11 Teak Wood Facts
Teak is a deciduous, not evergreen or coniferous tree. Teak leaves do not fall off in the wintertime but in the dry season; in Asia, where teak trees are naturally grown, the dry season is not always the same as winter. As the teak leaves do fall off, the tree is considered to be a deciduous tree.
You can learn more by reading our blog, Is Teak a Coniferous, Evergreen, or Deciduous Tree? 11 Teak Wood Facts, by clicking here.
Why Is Cherry Wood Furniture So Expensive?
Cherrywood is a wood found to be harvested in America and Europe. There are many reasons why Cherrywood is expensive when used on furniture pieces, but the price will also depend upon what kind of wood is used.
You can learn more by reading our blog, Why Is Cherry Wood Furniture So Expensive? by clicking here.
What Are The Types Of Wood Used In Furniture?
Wood for furniture is divided up into complex and softwood. Though the woods have some similarities, they also have some differences. Different looks and types of furniture may require a certain kind of wood. Some wood species will be higher priced, and others will be cheaper; price, durability, look, color, finish, and structure can decide what wood to choose for your furniture piece.
You can learn more by reading What Are The Types Of Wood Used In Furniture? by clicking here.