The world is full of inspiration. Creativity is all around us – in our homes, our communities, and even in the books we read. Inspiration can come in many shapes and many sizes.
Today we have some of our great pearls of wisdom in the form of inspiring quotes for home decor, design, and just some everyday living and wisdom.
Table of Contents
Fifty-one curated and inspiring quotes on home decor, design, and words of wisdom
f you're looking for inspiration for your home decor and design projects, look no further than our curated collection of quotes. From famous designers and architects to artists and writers, these inspiring words of wisdom offer insights and ideas on everything from color and texture to form and function.
Whether you're looking to refresh a room, update your style, or simply add a touch of beauty to your living space, these quotes will provide the inspiration and motivation you need to create the home of your dreams.
Our Top 51 Quotes For Home Decor, Design, And Words Of Wisdom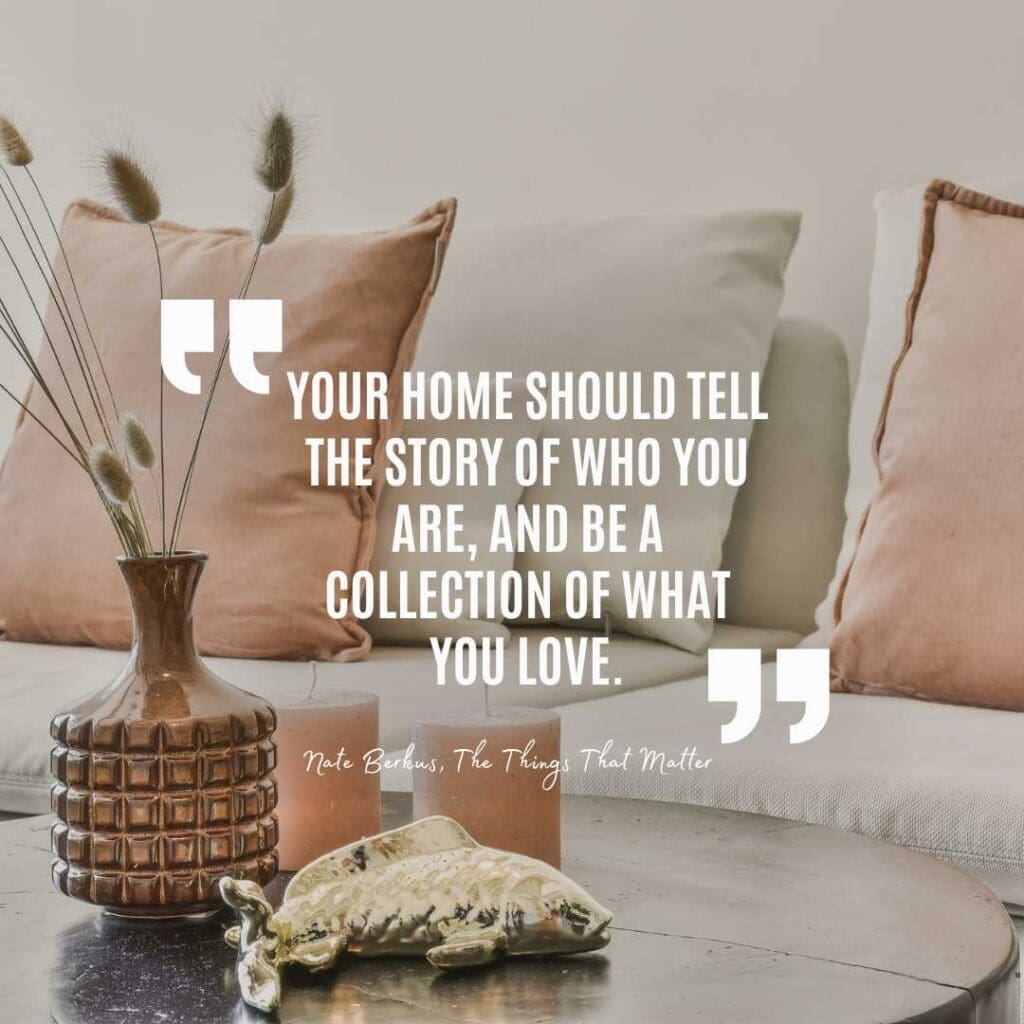 "Your home should tell the story of who you are and be a collection of what you love." ― Nate Berkus, The Things That Matter
"The ornament of a house is the friends who frequent it." – Ralph Waldo Emerson
"You can design and create, and build the most wonderful place in the world. But it takes people to make the dream a reality." – Walt Disney
"To create something exceptional, your mindset must be relentlessly focused on the smallest detail." – Giorgio Armani
"Space and light and order. Those are the things that men need just as much as they need bread or a place to sleep." – Le Corbusier
"Every design choice we make has a sensual effect on us." -Lebo Grand
"Understanding the person or people living in a home is a far greater need in design than focusing purely on the aesthetics. The home is designed around emotional needs." ― Amanda Talbot, Rethink: The Way You Live
"Design is not just what it looks like and feels like. Design is how it works." – Steve Jobs
"In order to be irreplaceable one must always be different." – Coco Chanel
"The artist in me cries out for design." – Robert Frost
"After all," Anne had said to Marilla once, "I believe the nicest and sweetest days are not those on which anything very splendid or wonderful or exciting happens but just those that bring simple little pleasures, following one another softly, like pearls slipping off a string." –  L.M. Montgomery, Anne of Avonlea
"Optimistic design isn't a particular look, it is a movement of residential anarchy. It goes much deeper than using bright colors – it's an attitude displaying self-empowerment, nurturing a more upbeat approach to living. It is about doing things differently, to kick against what is currently on-trend. The only guiding principle is that there is no guiding principle.
It is a crusade where a new breed of self-curating, design-smart amateurs who blog about their rebellious design have led the way. They have coined the world 'undecorate." ― Amanda Talbot, Rethink: The Way You Live
"Any product that needs a manual to work is broken." – Elon Musk
"keep strong and always interior" ― Designated Experts
Anyone who is passionate about what they do will have a better chance of connecting with future generations than those who simply follow transient trends. At least their work will have a distinctive character, and this is what people respond to, I believe. – Giorgio Armani
"Simplicity and repose are the qualities that measure the true value of any work of art." – Frank Lloyd Wright
"Decorating is a completely personal expression (much like fashion). If I am lucky enough to have a flourishing career based on my taste and skill, I would advise my clients as I do myself: rules are to be understood, then judiciously broken." – Alexandra Meyn
"Our interiors are an insight into our brains. It is a collaboration of design, art, humor, irony, functionality, and the street." – Amanda Talbot, Rethink: The Way You Live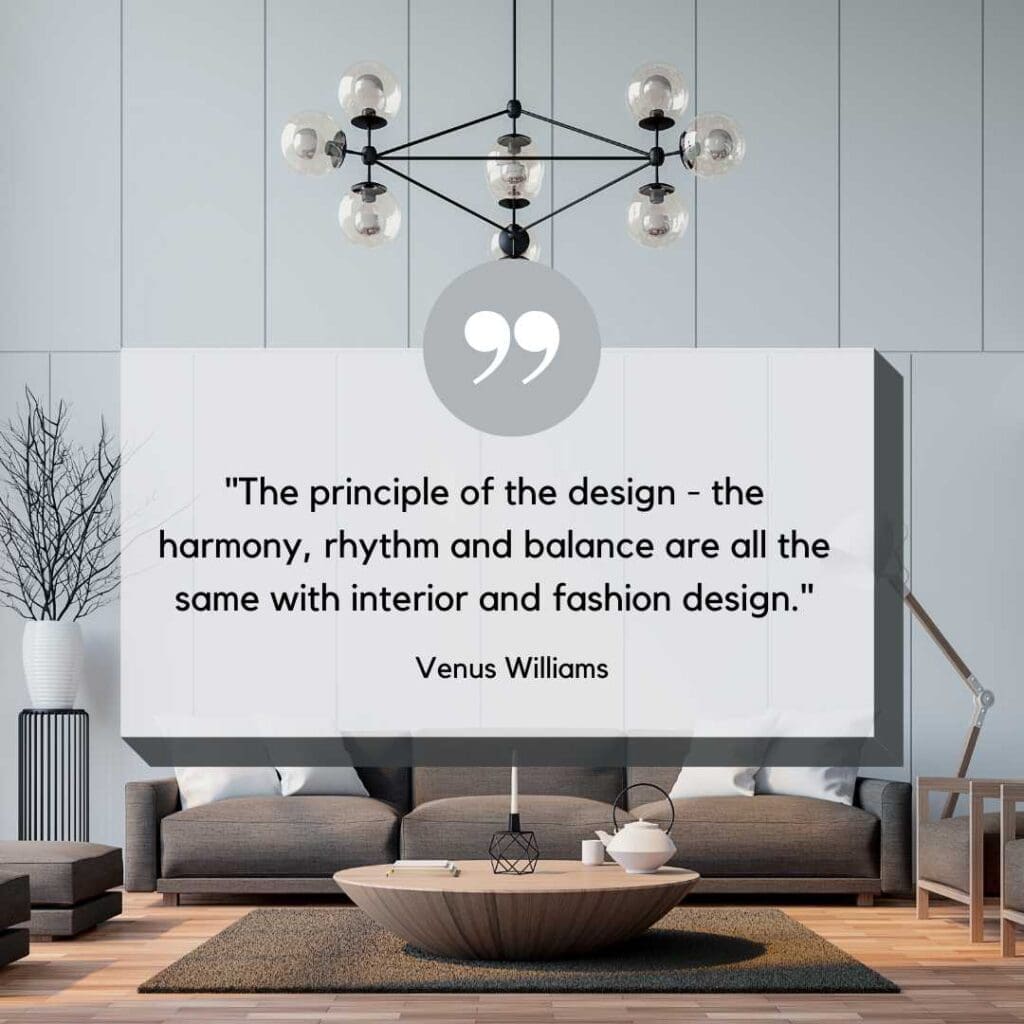 "The principle of the design – the harmony, rhythm and balance are all the same with interior and fashion design." – Venus Williams
"A product can live on one great idea. An interior needs 1,000 great ideas to really live, which makes interior design a whole orchestration of this art of juxtaposition, placement, and combination." – Marcel Wanders
"Architecture is basically the design of interiors, the art of organizing interior space." – Philip Johnson
"Without an open-minded mind, you can never be a great success." – Martha Stewart
"I never set out to do interior design; I just do what I do, and some people come along and want me to work with them." – John Rocha
"Fashion and interior design are one and the same." – Iris Apfel
"Have nothing in your house that you do not know to be useful, or believe to be beautiful." – William Morris
"I don't get my inspiration from books or a painting. I get it from the women I meet." – Carolina Herrera
"Fashion is kinda a joke. I don't get too bogged down in the clothes. For me, it's one big art project, just a canvas to show that fashion should have a brand which has someone behind it who cares about different contexts. Social things." – Virgil Abloh
"Simple is complicated" – HEDoffice
"We're not doing outrageous fashion; I make sports clothes that are relatively conservative, clothes that everyone wears." – Calvin Klein
"The important thing is to take your time and not get stressed." – Diane von Furstenberg
"Design is the method of putting form and content together. Design, just as art, has multiple definitions; there is no single definition. Design can be art. Design can be aesthetics. Design is so simple, that's why it is so complicated." – Paul Rand
"I look at every piece of furniture and every object as an individual sculpture." – Kelly Wearstler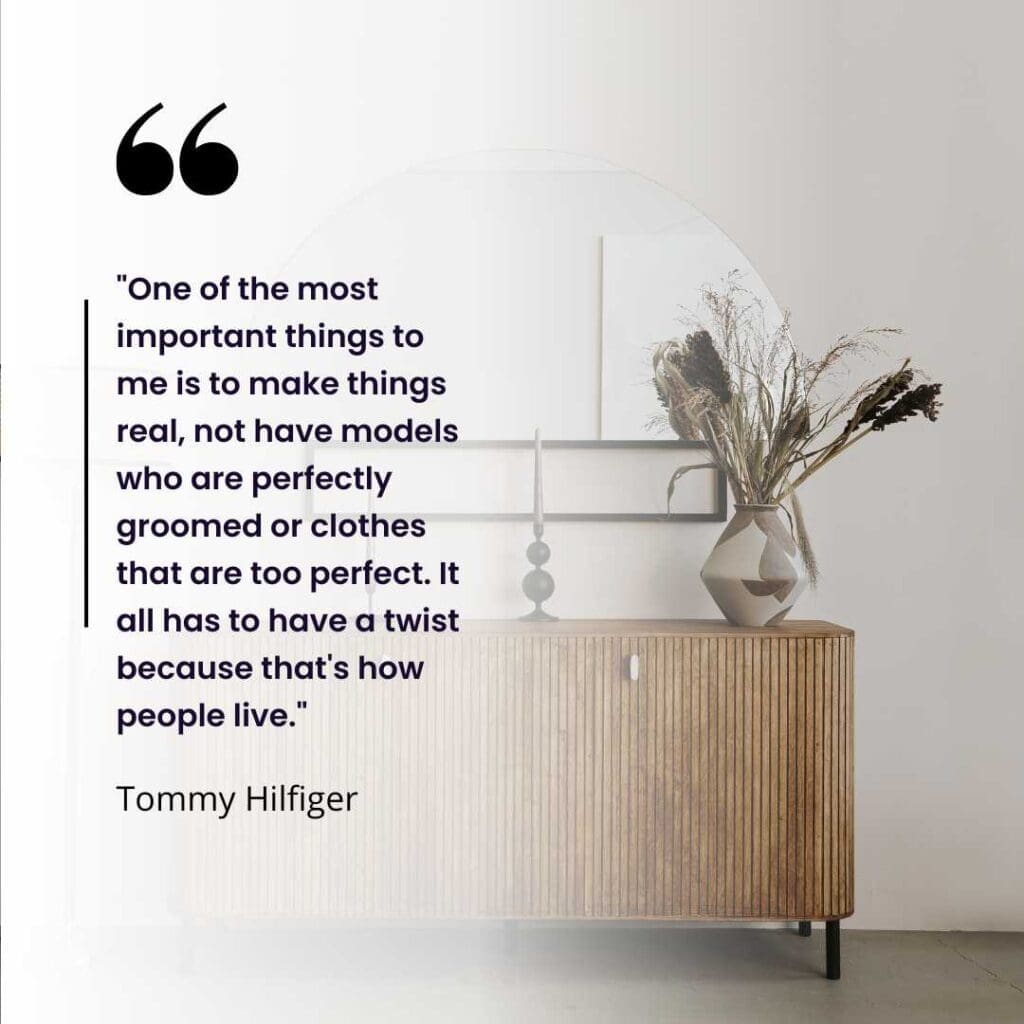 "One of the most important things to me is to make things real, not have models who are perfectly groomed or clothes that are too perfect. It all has to have a twist because that's how people live." – Tommy Hilfiger
"When you buy things that are expensive, like a sofa or something that really feels like an investment, you need to keep it as plain as possible, as simple as possible. Make sure that it's a clean design that will work with whatever style you want it to." – Nate Berkus
"I am so excited to extend myself behind the scenes as a designer and to – as my father puts it – finally have a real job." – Lady Gaga
"Your work is going to fill a large part of your life, and the only way to be truly satisfied is to do what you believe is great work. And the only way to do great work is to love what you do. If you haven't found it yet, keep looking. Don't settle. As with all matters of the heart, you'll know when you find it." – Steve Jobs
"I never had the dream to be a great designer. My focus was just to do beautiful things." – Christian Louboutin
"I think it's the responsibility of a designer to try to break the rules and barriers." – Gianni Versace
"I admire the courage and self-reliance it takes to start your own business and make it succeed." – Martha Stewart
"Over the past 20 years, I have noticed that the most flexible, dynamic, inquisitive minds among my students have been industrial design majors. Industrial designers are bracingly free of ideology and cant. The industrial designer is trained to be a clear-eyed observer of the commercial world – which, like it or not, is modern reality." – Camille Paglia
"I just use fashion as an excuse to talk about politics. Because I'm a fashion designer, it gives me a voice, which is really good." – Vivienne Westwood
"Architects design houses. I live in a home." – Peter Eisenman
"Men have no concept of how to design things for the home. Women should design the things they use." – Eva Zeisel
"My homes are similar in style because the same design principles run through all areas of my work." – John Rocha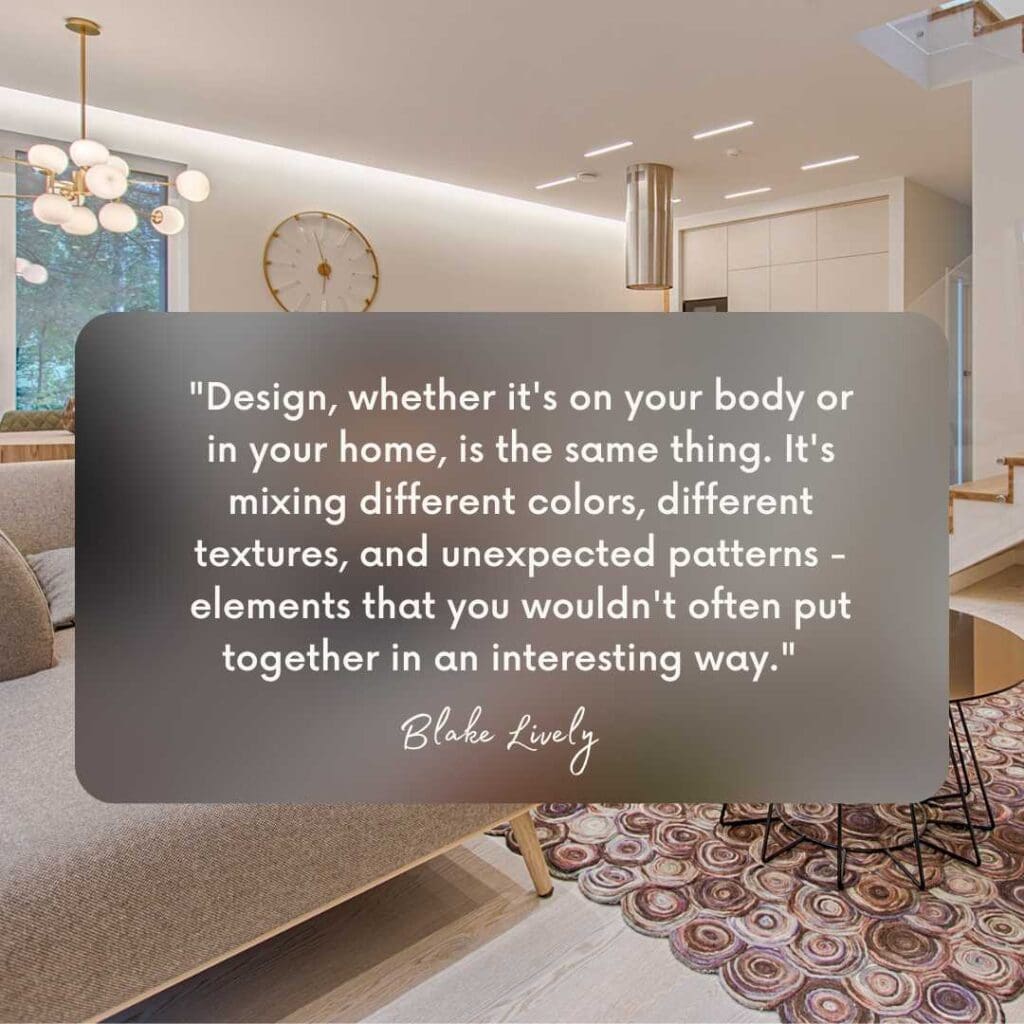 "Design, whether it's on your body or in your home, is the same thing. It's mixing different colors, different textures, and unexpected patterns – elements that you wouldn't often put together in an interesting way." – Blake Lively
"I think it's very important that whatever you're trying to make or sell, or teach has to be basically good. A bad product and you know what? You won't be here in ten years." – Martha Stewart
"I don't have a formula to pass on. I always did it my own way. Even today, I hold my independence close. It's what's most precious to me. Passion. Risk. Tenacity. Consistency. This is my professional history." – Giorgio Armani
"To whom does design address itself: to the greatest number, to the specialist of an enlightened matter, to a privileged social class? Design addresses itself to the need." – Charles Eames
"My favorite things in life don't cost any money. It's really clear that the most precious resource we all have is time." – Steve Jobs
"Graphic design is the paradise of individuality, eccentricity, heresy, abnormality, hobbies and humors." – George Santayana
"Study nature, love nature, stay close to nature. It will never fail you." – Frank Lloyd Wright
We hope our curated collection of 51 inspiring home design quotes has given you many ideas and insights for your next decor project. From the importance of color and texture to the beauty of simplicity and functionality, these words of wisdom offer a range of perspectives on what makes a home truly special.
So, whether you're a seasoned interior designer or just starting, we encourage you to draw inspiration from these quotes and create a space that reflects your unique style and personality. Remember, the key to great design is to never stop learning and exploring new ideas.
Find out more about how Mondoro can help you create, develop, and manufacture excellent home decor and furniture products – don't hesitate to contact me, Anita. Check out my email by clicking here or become a part of our community and join our newsletter by clicking here.
Mondoro gives out a FREE Lookbook to anyone interested. You can receive a copy of our latest Lookbook by clicking here.
Listen to our Podcast called Global Trade Gal. You can find it on all major podcast platforms. Try out listening to one of our podcasts by clicking here. 
Subscribe to our Mondoro Company Limited YouTube Channel filled with great videos and information by clicking here.
Frequently Asked Questions
What are home decor quotes?
Home decor quotes are phrases or sayings that are used to decorate the walls, shelves, or other areas of a home. They are often used to add a personal touch to a living space and convey a particular message or sentiment.
What are some common themes of home decor quotes?
Some common themes of home decor quotes include love, family, friendship, motivation, inspiration, and positivity.
What is the purpose of using motivational quotes for home decor?
The purpose of using motivational quotes for home decor is to inspire and uplift the people who live in or visit the home. They can help create a positive and encouraging atmosphere and remind people to stay focused on their goals
What are some popular types of home accessories quotes?
Some popular types of home accessories quotes include those related to love, family, friendship, motivation, inspiration, and positivity. They can be printed on pillows, wall art, decorative signs, and other home decor items.
How can home decor quotes be used in different areas of a home?
Home decor quotes can be used in different areas of a home, such as the living room, bedroom, kitchen, and bathroom. They can be displayed on walls, shelves, and other surfaces, and can be incorporated into different types of decor, such as rustic, modern, or eclectic.
Can home decor quotes be customized to suit individual preferences?
Yes, home decor quotes can be customized to suit individual preferences. They can be personalized with names, dates, or other details, and can be designed to match the color scheme or theme of a home.
Are there any benefits to using home decor quotes in a home?
Yes, there are several benefits to using home decor quotes in a home. They can help create a positive and encouraging atmosphere, add a personal touch to the decor, and serve as a reminder of important values or goals
Related Questions
What Are Some Things They Do Not Teach You In Business School?
I have learned so many things in running my own business that I was never taught in any business school or any business course. Things like how you are always to blame when something goes wrong because you are the boss, or how you need to be able to change with the times or how any failure you are ultimately responsible for. Many think being your boss is easy, but the truth is that it can be really tough and difficult to be an entrepreneur.
To discover more about this, you can read our blog What They Do Not Teach in Business School About Being Your Own Boss by clicking here.
What Are Some Traits Of A Successful Product Designer?
A trait of a successful Product Designer is understanding who they are designing for and why they are designing it. They are also humble and gracious to listen to another person's ideas while at the same time understanding clearly what they want for their designs and why.
You can read more about being a successful product designer by reading our blog Traits of a Successful Product Designer, What You Need to Know by clicking here.